A Day In The Life: Rihanna's Diamonds World Tour Concert and Ursula Stephen Salon Grand Opening! PLUS Motions Giveaway Winner
Wednesday, May 8, 2013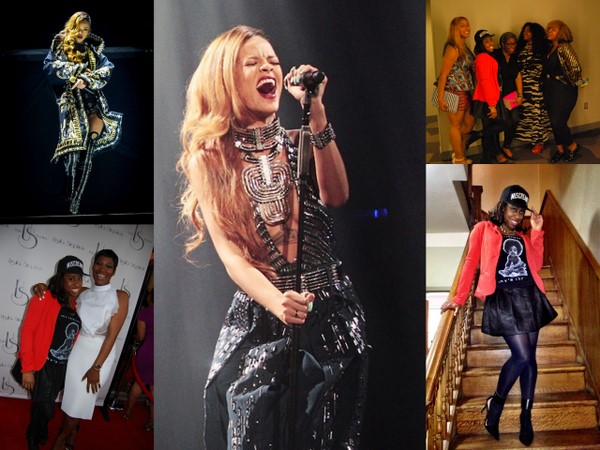 Glamazons,
Last night was pretty amazing. If you were following on Instagram, you know firsthand that I hit the town and partied with Ursula Stephen and the amazing folks at Motions before dancing and singing in the audience at Barclays Center at the performance of Miss Rihanna herself. I had a blast!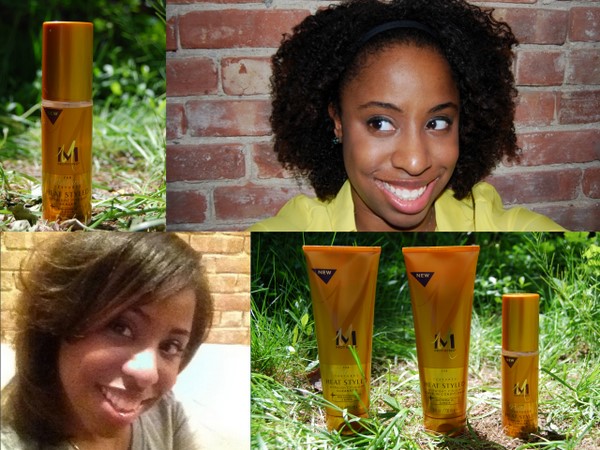 Can we start from the beginning, though? First step: beauty prep. Since Motions just launched their new Motions Straight Finish Line (which I reviewed and gave away here), select bloggers went from curly to straight for the concert. I went straight here using the products, which I loved, and added a couple of extensions for a full, glamorous look.
Amazingly my hair stayed straight with all the dancing I did last night! A couple bloggers said the products make for a good "snap back" (meaning their hair went back from straightto curly easily and there wasn't ample heat damage) so I'm looking forward to seeing how my hair reverts back.
And for my outfit, I wanted to channel Rihanna's look when she stepped out to Phillipe Chow wearing a FUKK hat, a 3.1 Phillip Lim orange shearling bomber jacket, Givenchy 'Rottweiler' print tank top, leather shorts, and Saint Laurent Paris 'Escarpin' ankle cuff strap pumps.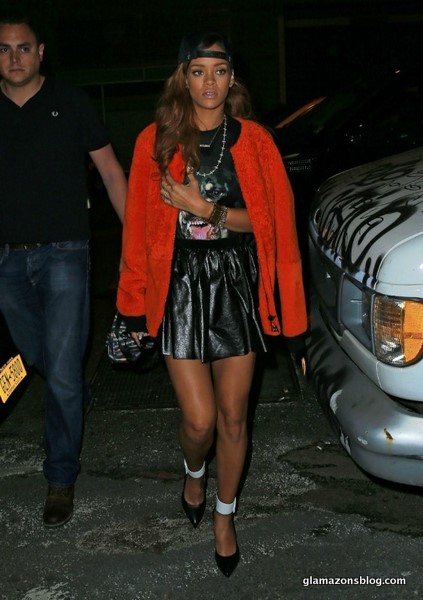 She slayed that!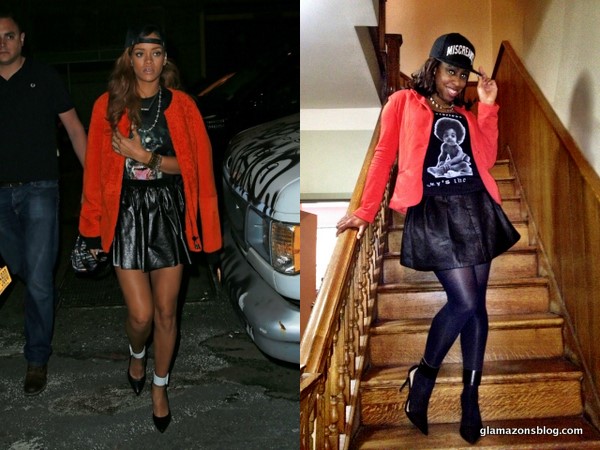 To pay homage, I wore an orange blazer, my Forever 21 'Biggie' t-shirt, Christina of LoveBrownSugar's 'Miscreants' cap and Zara ankle strap pumps. I switched things up a bit with a leather flirty skirt to add my own spin.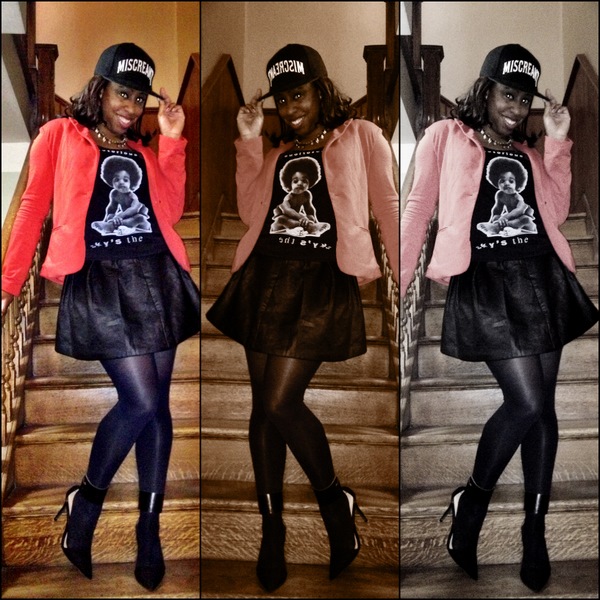 What do you think?
The festivities began on a party bus in midtown where I met up with some of my favorite blogger boos, including Glamazon Andrea, Julee of Huffington Post, Danielle of Hello Beautiful, Eileen of Miss Whoever You Are and Melshary.
We sipped champagne and marveled over each other's hair. Natural hair is so pretty whether curly or straight as evidenced by some of my favorite bloggers like Danielle of Style and Beauty Doctor, Ty of Gorgeous in Grey and Hello Beautiful, Christina of LoveBrownSugar, Felicia of This That Beauty, Taren Guy, Lexi of Lexi With The Curls and more who straightened their hair for the concert.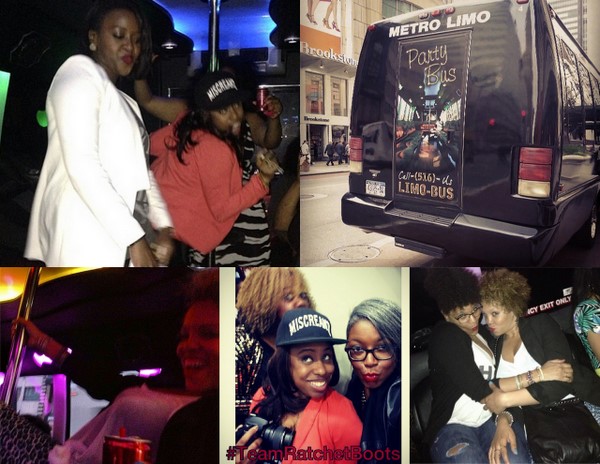 Instagram Source: Style and Beauty Doctor/Gorgeous in Grey/Miss Julee
After dancing to Rihanna's songs ("Pour It Up" rocks so hard!) and ahem, having a little fun on the pole (don't judge!), we arrived at the grand opening for her hairstylist, Ursula Stephen's salon.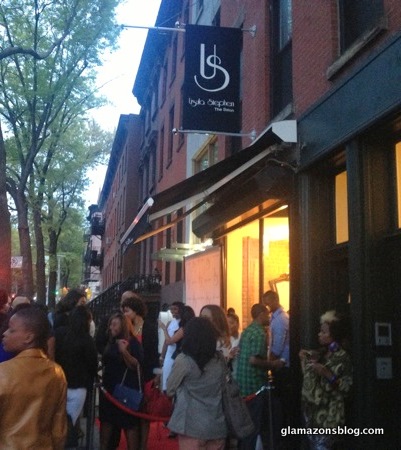 The Glamazons have known and loved Ursula forever and are so proud of her! Lucky for Brooklyn that she'll be bringing her expertise and creative vision to the area (afterall, she came up with the trend-setting cut that launched Rihanna into the stratosphere of superstardom).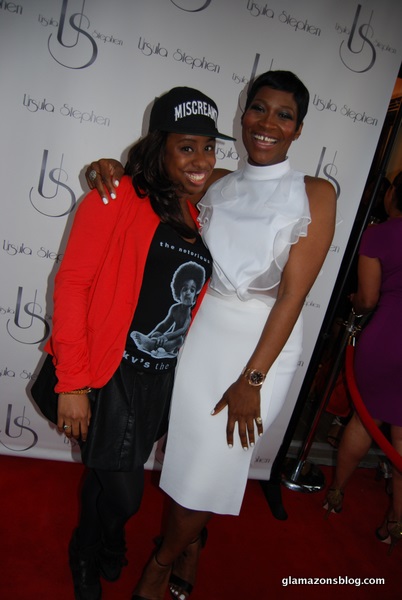 She told us her salon is all about pleasing the client: "I'm there to help build on what [my clients] know, clear up any myths they've heard about, and most importantly, get them the look they want and make sure they leave happy." Love it!
Ursula Stephen: The Salon is located at 66 Lafayette Avenue. It pays homage to Ursula's storied career as a celebrity hairstylist with covers that she worked on framed on the wall (below behind Christina and I).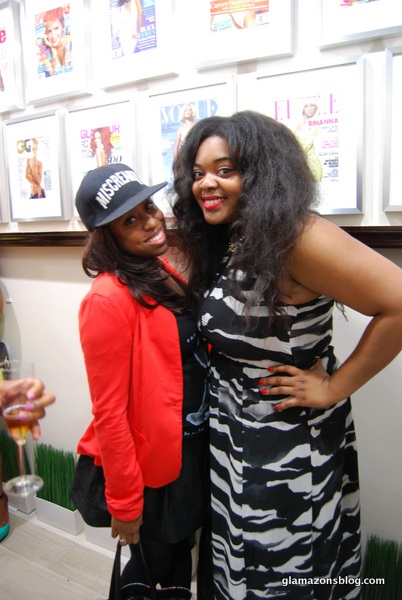 Some are even signed by Rihanna herself: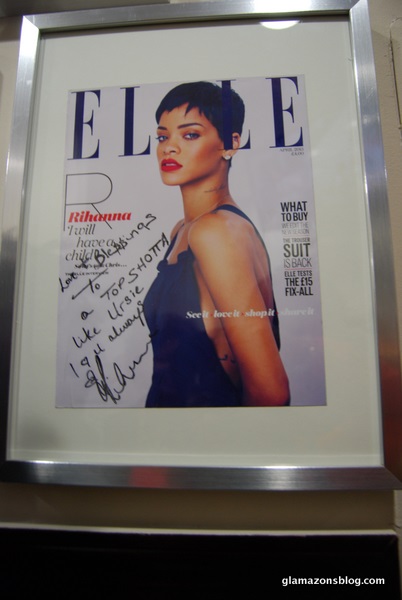 What a cool touch! Check it out and tell her Glamazon Jessica sent you!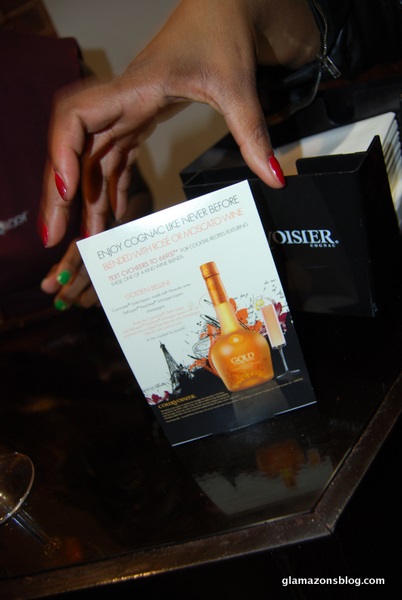 After mingling and enjoying delish Courvoisier cocktails, we headed back onto the party bus to Barclays Center! The energy was electric (the kids call this being "turnt up") as we were all bursting with excitement to see Queen Rih.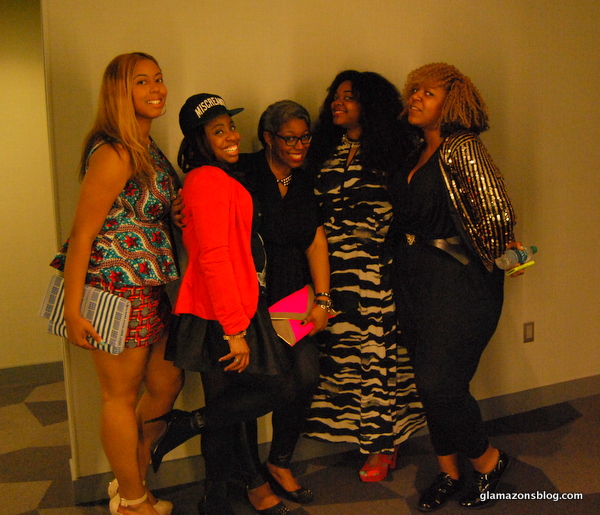 Lexi, Ty, Christina, Danielle and I giving face on the suite level of Barclay's Center.
Upon arrival, we were ushered to a suite, complete with food, wine, cupcakes and the new "RiRi Woo" lipstick (review coming soon!). You know I was the happiest girl in the world (dessert, lipstick and good food and wine are all I truly want in life).
A$AP Rocky kept the crowd hype especially when he performed "Problems." And then, Rihanna hit the stage.
She performed some of my favorites from "Jump" to "Where Have You Been?" and please believe, Glamazons, I danced the entire time. I don't think I sat down once!
The stadium turned into a rave party when Rih performed "We Found Love." It was amazing to see the whole crowd jumping up and down and fist pumping without a care in the world. I'll forever love that song!
I was equally obsessed with Rihanna's outfit changes. One of my favorite looks was her glorious Givenchy coat in black and gold that's just so show-stopping and regal:
And she closed the show performing "Diamonds" while sparkling in this Lanvin jumpsuit and a Lanvin Dedale Silver-Tone Swarovski Crystal Necklace:
She looked so beautiful and glamorous.
Rih said it was her last show of the tour and she truly went out with a bang. I loved when she told us her Mom was there (who is just as fabulous, hunny) and when she waved and smiled at everyone at the end of the show. For all her bad-girl moments, she seems like a sweet, charming, fun-loving girl at heart.
And it doesn't hurt that her hair stays flawless!
Speaking of hair, I am so happy with the results of Motions Straight Finish! It's my go-to product whenever I go straight now. Have you tried it? Tell me what you think of it in the comments.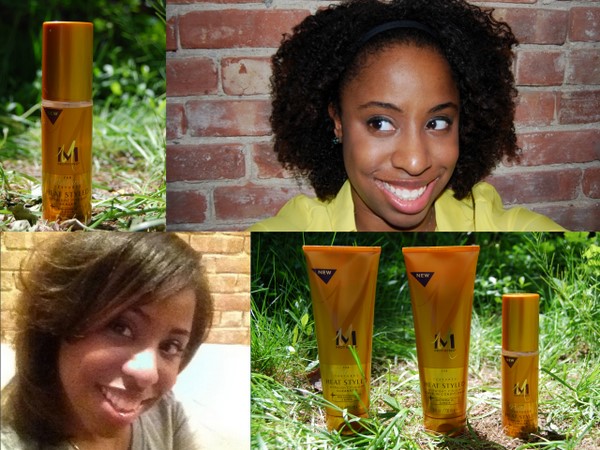 And now for the Motions Straight Hair Finish giveaway winners…
Congratulations Tasha, Kimberly C., Rebecca and Alona B.! Check your inbox for information on fulfillment. Thanks to everyone who participated in the giveaway!
Check out more pictures from last night:
–
Big thank you to the wonderful folks at Motions!
Kisses,
Glamazon Jessica
Disclosure: Product samples were gifted by Motions for review. All opinions herein are my own.
View Related Posts:
[fbcomments width="600" count="off" num="15"]