A Day In The Life: Black Girls Rock! 2012 with Kerry Washington, Eva Longoria and Taraji P. Henson
Monday, October 15, 2012
Glamazons,
There are times when my busy, crazy, out-of-control life gets a little surreal. One of those times is when I spend all Saturday afternoon cuddled up on the couch watching the entire first season of "Scandal" featuring Kerry Washington on Netflix and then, that evening I'm standing like two feet away from her on the red carpet. Yes, theee Olivia Pope. Like, where does that even happen?
The taping of BET's "Black Girls Rock" was one of those moments. Last Saturday evening, I hopped on the D train to Paradise Theater in the Bronx for the annual awards show which highlights women of color doing extraordinary things in their communities and careers.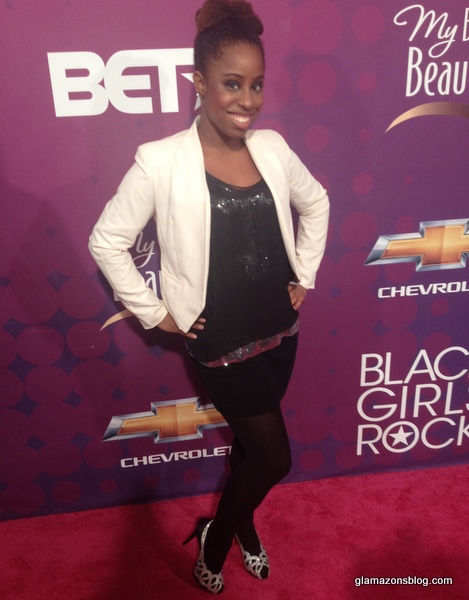 Since the dress code is always glitz and glam, I went for a look that was fancy but still a bit business (channeling Olivia Pope…yes, I'm obsessed). I wore a shimmery tank from Jimmy Choo's collaboration for H&M with a black miniskirt and sleek white blazer. I was practical (my grandma would be proud) and wore black tights since it was frrreezing. Still had to give the kids a moment though so I rocked my Christian Louboutin sparkly peeptoe pumps. Finally, I threw my hair in a sleek top knot, gave myself a smoky eye and nude lip and was ready to go.
Perfect dressy outfit for an evening gagging over stars and fashion (except…I need to bring flats next time. I was ready to saw my feet off at the ankles by the end of the night).
Of course, when I first arrived and could still feel my toes, I couldn't have been more geeked to check out the pink carpet. It was pure yet delightful chaos with celebrities literally coming in one second after another and serving for the sea of loud/demanding paparazzo. Let's get into my favorite looks, shall we?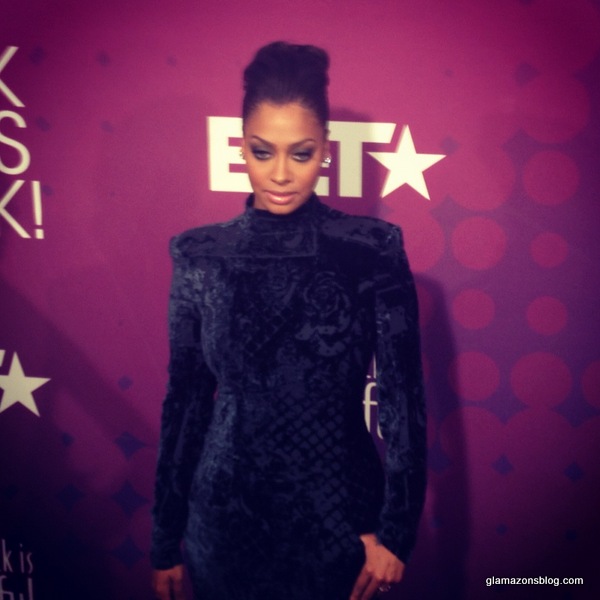 Lala was one of the first to hit the pink carpet and one of the best looks of the night. She gave a sultry, dark, Fall moment in a Balmain turtleneck mini dress, sleek hair and smoky eye makeup.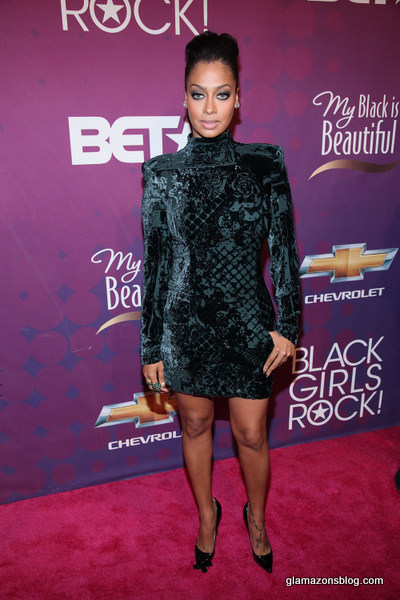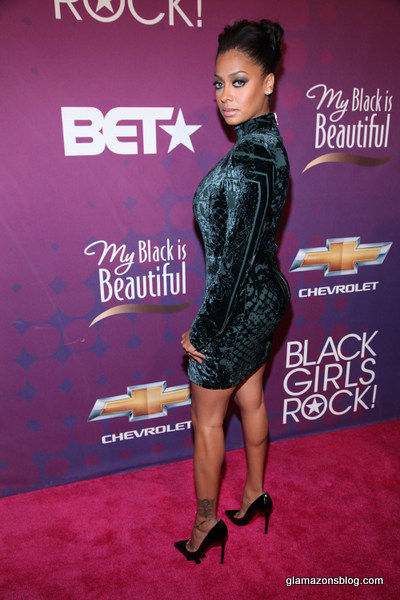 Get into her over the shoulder pose. Yasss! GLAM.
OK, at first I was all "106 & Park is still on? Does it NEED four hosts?!" but I found the new hosts, Paigion, Miss Mykie, Shorty and Bow Wow (yes, the rapper Bow Wow), to be super charming, humble and sweet. Love this shot of them!
Ms. Gabrielle Union. She knows how to take a picture, Glamazons, which is why I'm going to ignore the Aunty wig and praise her for that fabulous Zoolander stare. When you work the cameras like this, all hair mishaps are forgiven.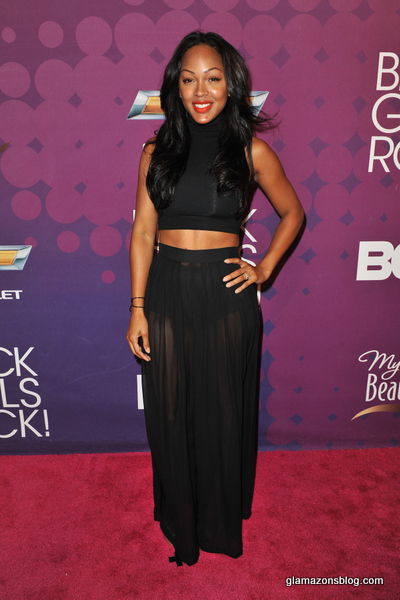 Meagan Good showed off her abs in a black turtleneck crop top and sheer maxi skirt. Not as dressy as I'd love for "Black Girls Rock" but at least she's not in leggings. GLAM.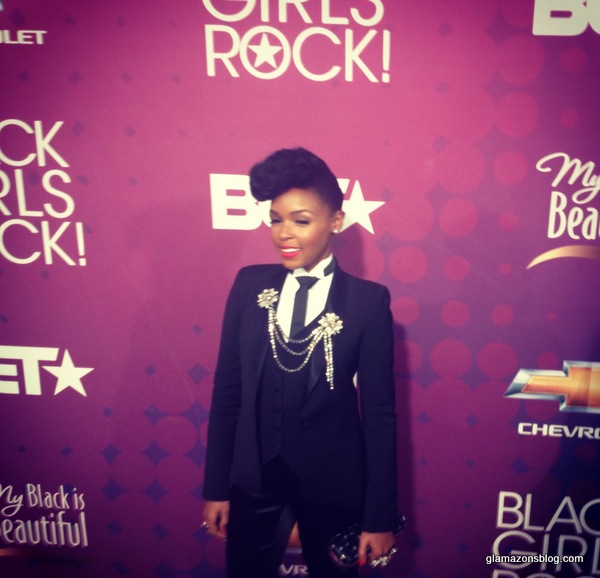 I was so excited to see Janelle Monae it's ridiculous. I must've really felt like we all became Covergirls when she did. Seriously, every picture on my phone was fuzzy because I was essentially screaming at her like a schoolgirl.
The singer exhibited such poise and grace as she worked her red lipstick, natural updo and signature black and white suit for the cameras. Adorbs. GLAM.
Ciara is really trying to be high fashion, y'all. Please humor her. The singer, who actually crushed her performance during the show, came in a Kanye-colored (ahem, that means black and white) cape, dress AND pants. She rocked it with a sleek updo with blond highlights.
Nun meets rockstar? Ciara, girl. This ain't it.
I mean, she has legs for days and the prettiest facial structure. If there was ever a time for a sparkly minidress and bouncy ponytail, "Black Girls Rock" was it. SHAM.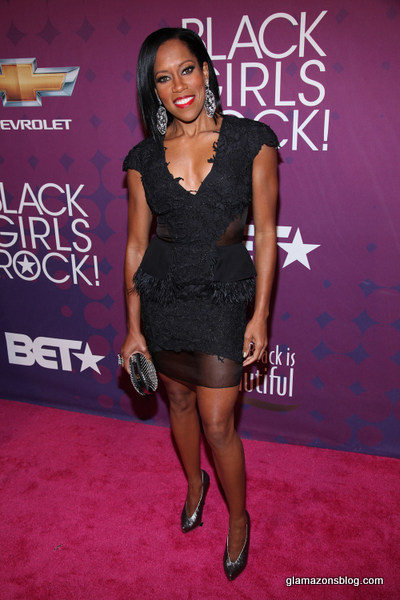 Regina King's body is sickening. I really want to trade physiques.
She wore the cutest black peplum dress complete with a v-neckline and sheer inserts on the side. When you got it, flaunt it. GLAM boots.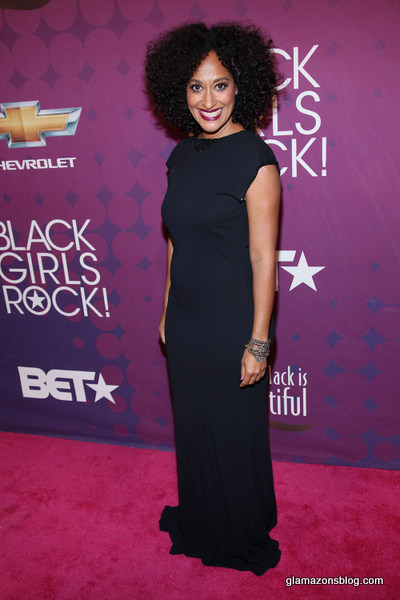 Tracee Ellis Ross whisked onto the red carpet and started hugging and air kissing people with her voluminous curls swaying in the wind from side-to-side. Of course, this reminded me of our her mother, Diana Ross so I gagged.
She wore a fitted black gown with short sleeves and a high neckline, accented by deep plum lipstick. That shade of lippie gave me life. GLAM.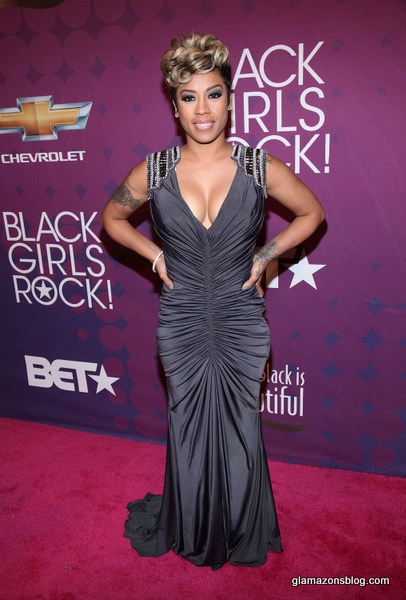 Keyshia Cole is super gorgeous in person. Love truly agrees with her (her boo, Daniel Gibson treats her like gold) because her skin was glowing. And isn't her makeup flawless?!
She wore a fancy floor-length gown with ruching down the center, embellished shoulders and a sassy plunging neckline. Her blonde ringlets really complimented her face. GLAM GLAM GLAM.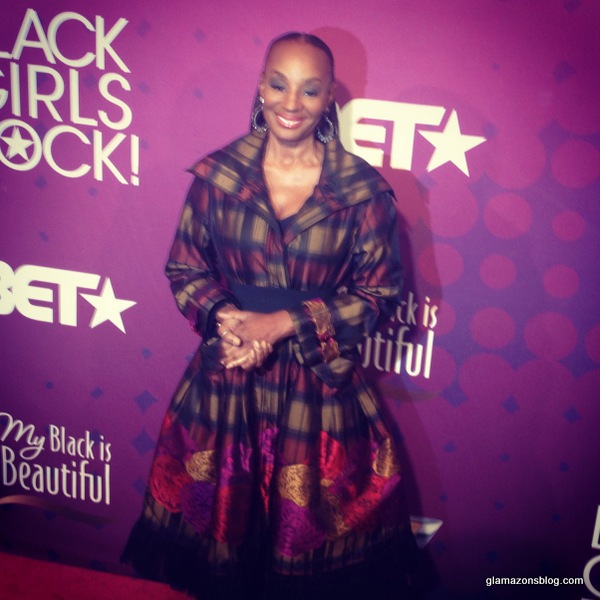 Confession: I'm obsessed with Susan Taylor. I remember at my first job she came by and gave me a hug to welcome me during my first week. Here she was, the woman who brought me to tears every month in her inspirational column and I was a 'nobody' from a small town, getting salads for people for a living…and she was going out of her way to acknowledge me? Amazing!
To this day, I love her humility, grace and energy and was so happy to see her honored that evening. Doesn't it go without saying she gets a lifetime of 'GLAMs'?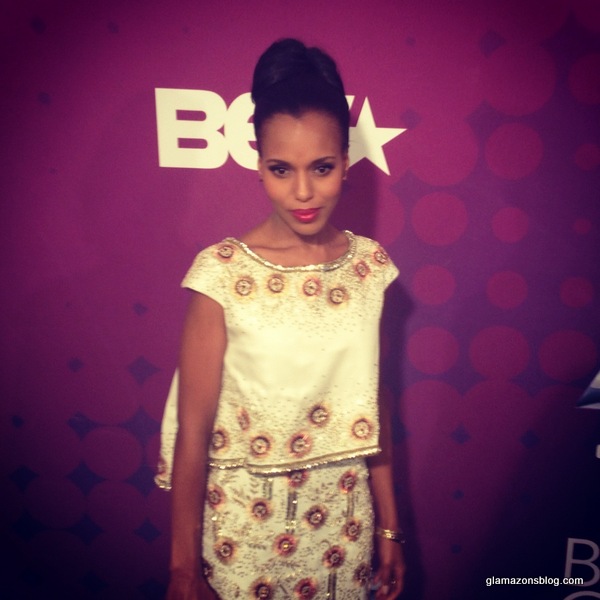 Olivia freaking Pope. In the flesh. Kerry Washington brought so much energy to the red carpet with smiles and 'hey girls' to all her famous friends (reminded me of when I reunite with my girls at blogger events).
But it's her look that I loved the most. The "Scandal" star slayed in winter white with a Marchesa multicolor embroidered shift dress.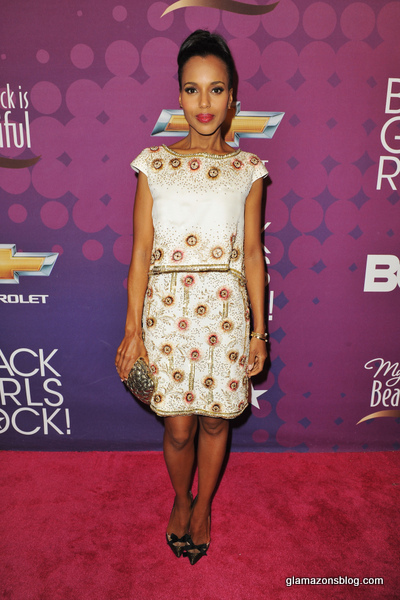 She topped it off with a red lip and…what do you know? We both were wearing high buns. Now that I've ran into her twice, I consider us besties. Maybe I can be a walk-on in the next season of "Scandal"! Would be my reason for living.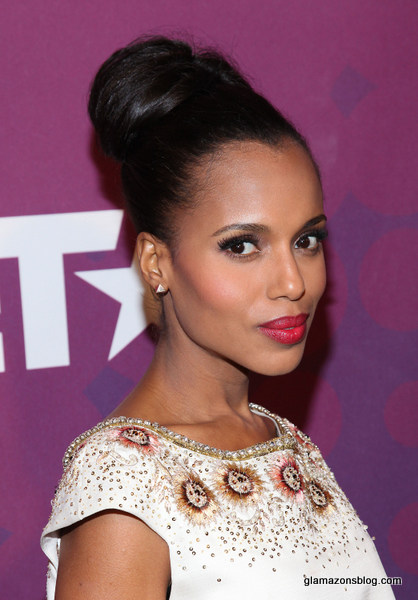 She's obvs GLAM.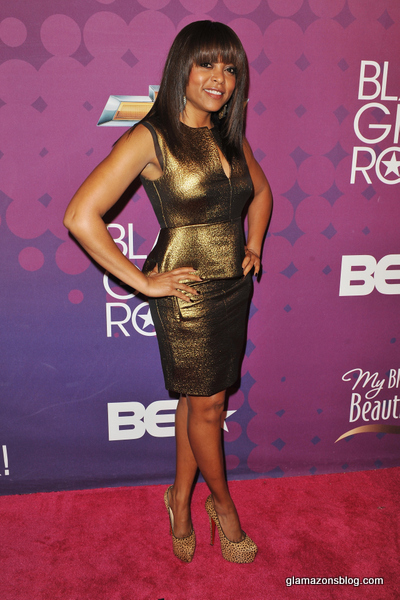 Taraji P. Henson was not far behind Kerry. Anyone who has met Taraji will tell you she's a riot. She's just as bubbly, outgoing, loud, funny and down-to-earth in person as she comes across on film.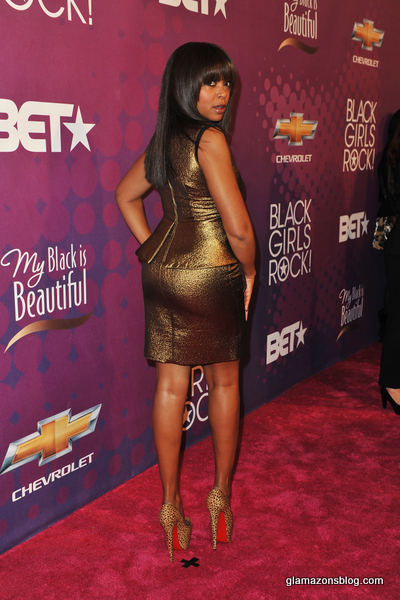 She showed off her enviable figure in a Diane von Furstenberg Fall 2012 'Delian Jacquard' dress in gold. The dress boasts a super flattering peplum waist, a deep neckline and super tight fit.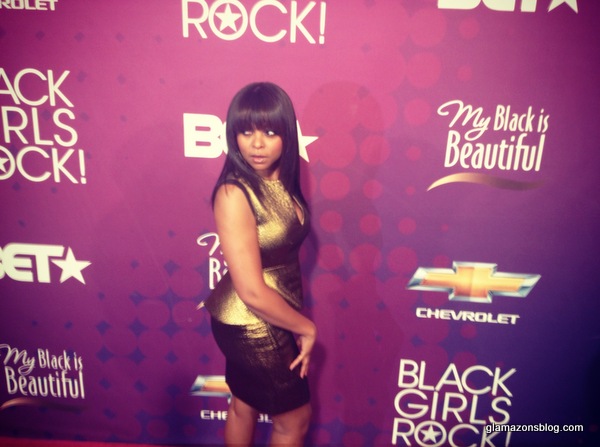 Yes. Yes. Werque. GLAM!
Eva Longoria closed the red carpet in an angelic Dana Budeanu dress with feathery accents and an open back. I thought the dress was elegant and sweet on Eva though the silhouette doesn't do much for her figure, in my opinion. She complimented the look with nude pumps and a red lip. Charming. GLAM.
Amaze red carpet, right? I also loved the performances, especially Ciara's (it had surprises, galore) and a moving tribute to women by Anthony Hamilton, Eric Benet and Luke James. It was phenomenal!
Check out more pics from the stage and red carpet below…including the legendary Dionne Warwick (stopped breathing for her) plus peep Tracee Ellis Ross' perfect host outfits (that white short suit!):
—
Go to bet.com/blackgirlsrock for more! So Glamazons, are you tuning into the show November 4th 8P EST?
What do you think of the red carpet? Who are you most excited to see?
Kisses,
Glamazon Jessica
Image Source: Getty/BET Style Instagram.
View Related Posts:
[fbcomments width="600" count="off" num="15"]