#CaribbeanCrawl: Carnival is Just as Incredible As They Say PLUS What I Did To Prep
Thursday, March 6, 2014
Glamazons,
The #CaribbeanCrawl has been a dream come true overall but Tuesday was the pinnacle. On Carnival Tuesday in Trinidad, I played mas for the first time with Yuma Immortal. Trinidad Carnival has been on my bucket list for years — I'm so glad I finally invested in the trip.
I woke up early (I'm talking 5:00 am) on the morning of to do my makeup. Danielle gave me a cat eye with eyeshadow from the Make Up For Ever flash palette and I dusted Lexi's Inglot gold eyeshadow on my lids and added a bit of color to my lips with MAC Cosmetics 'Odyssey' lipstick.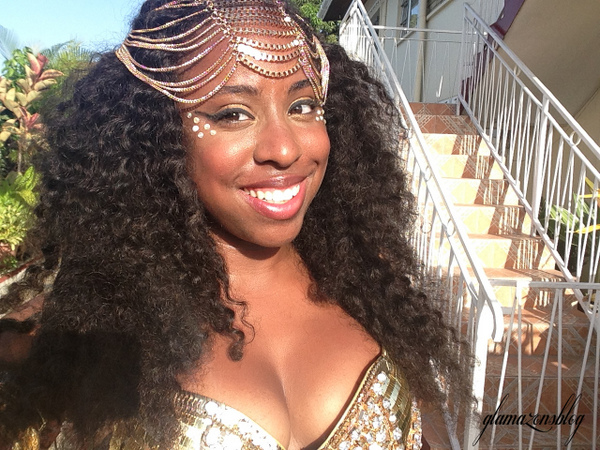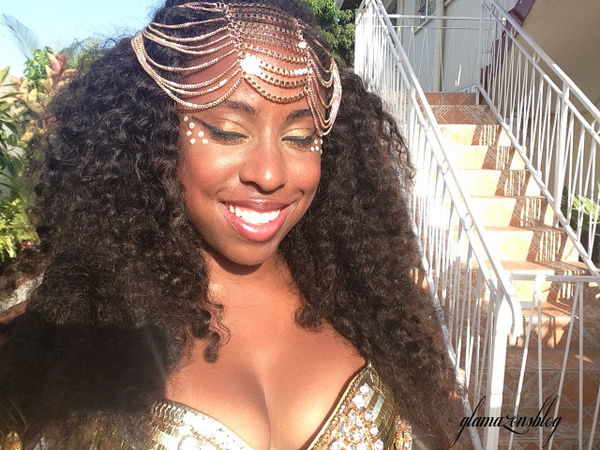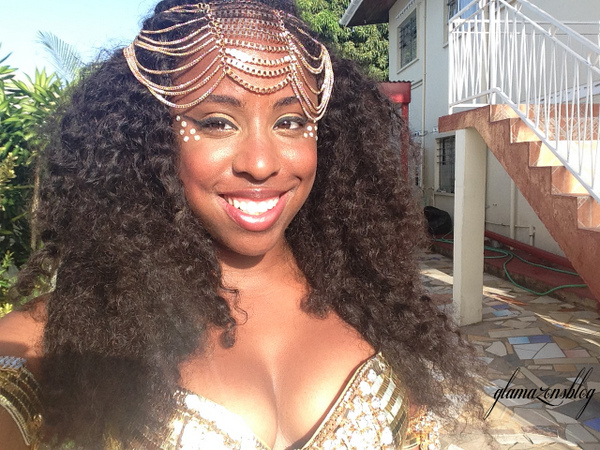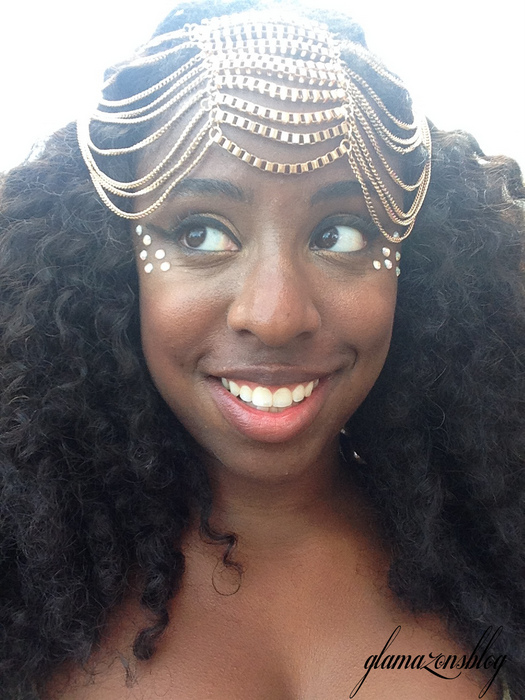 Then, we got dressed up in our costume: a gold bra and panty set replete with crystal embellishment and a gold draped head chain.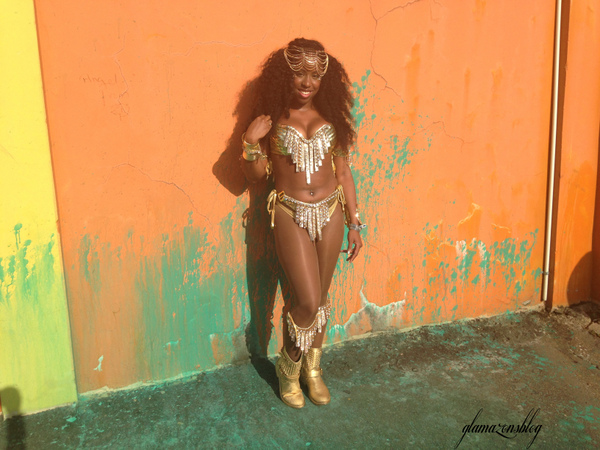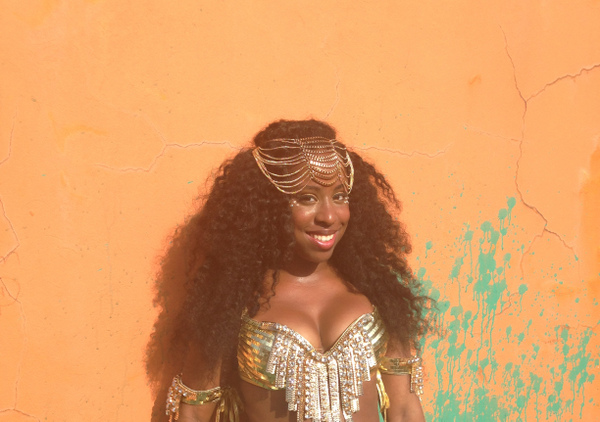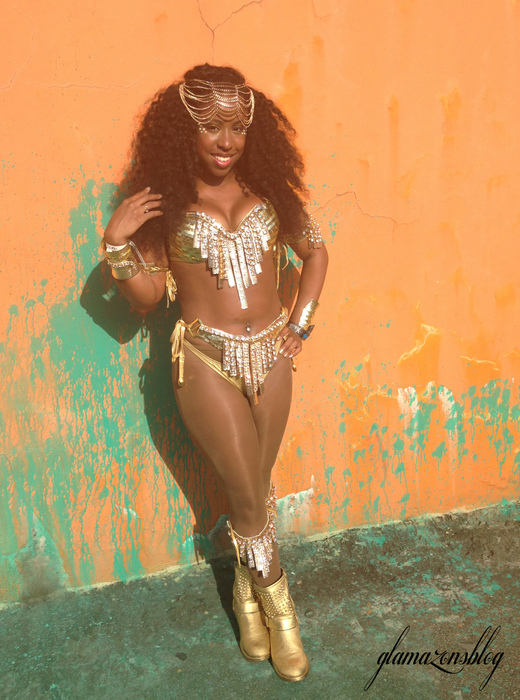 We felt beautiful dressed up to meet the Yuma band…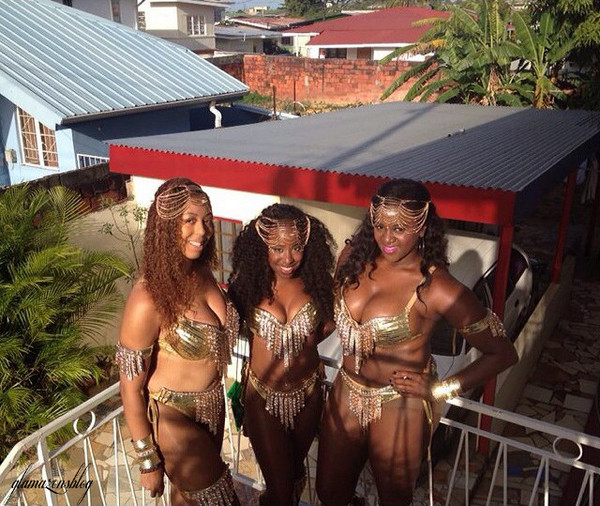 …but the real beauty was on the road when all the costumes came together. Check out a few pictures: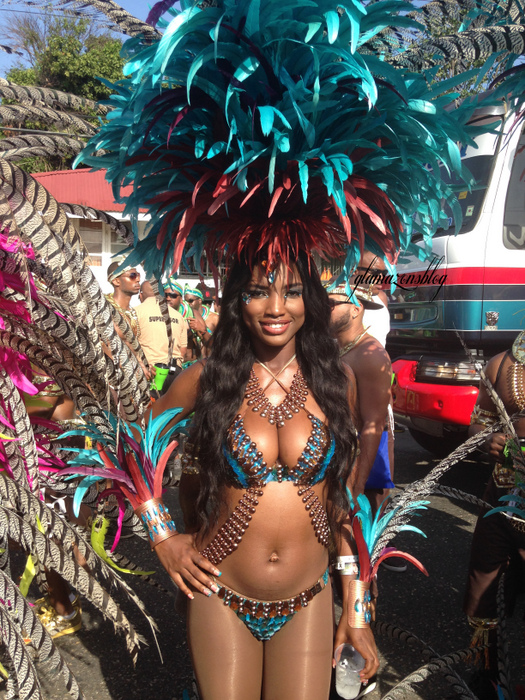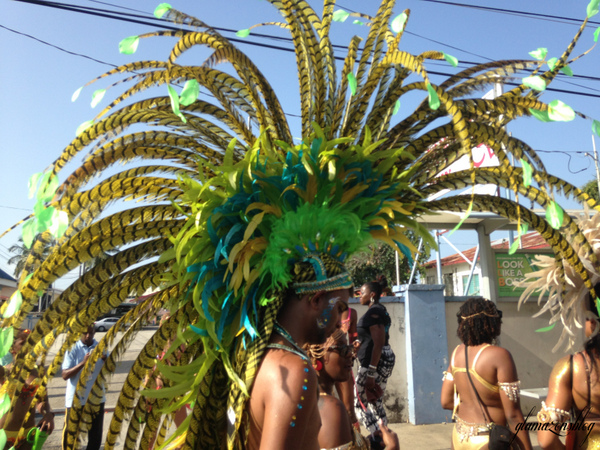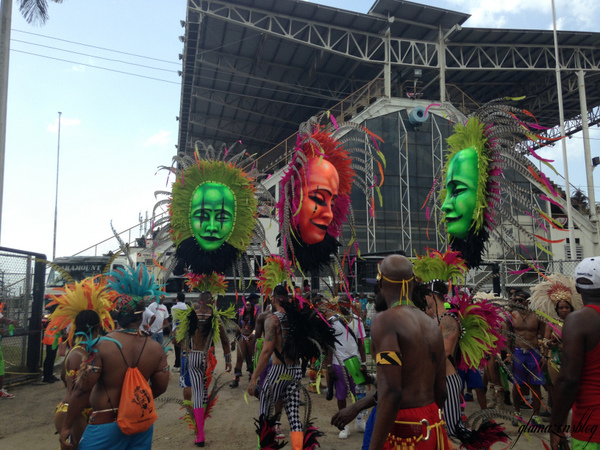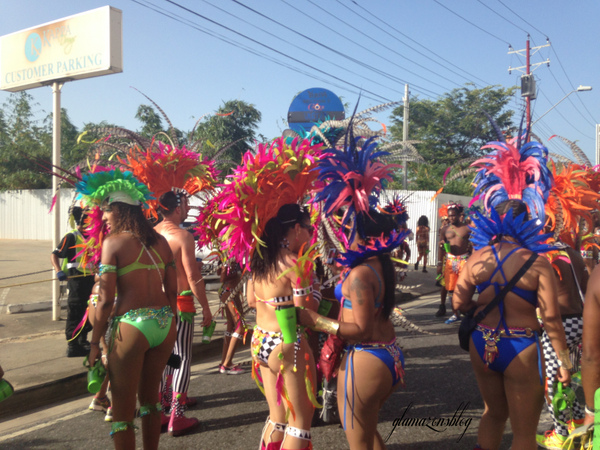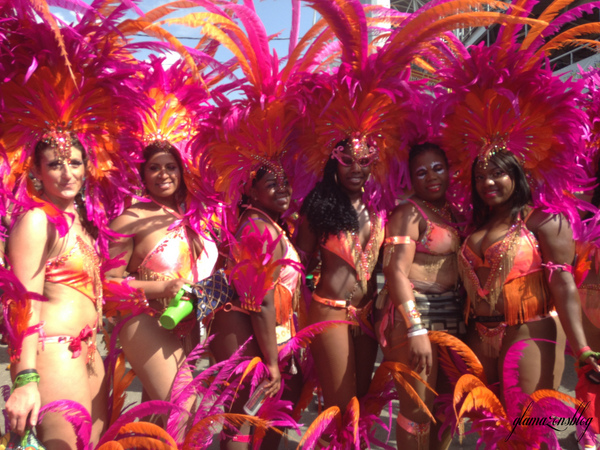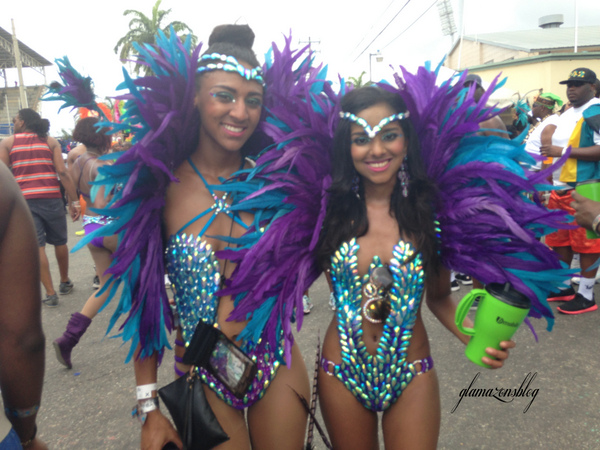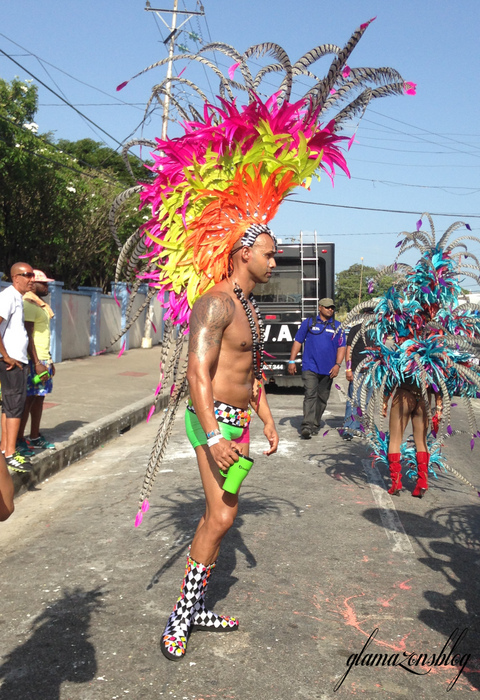 The makeup was just as arresting. Carnival masqueraders spared no expense in looking as festive and extravagant as possible.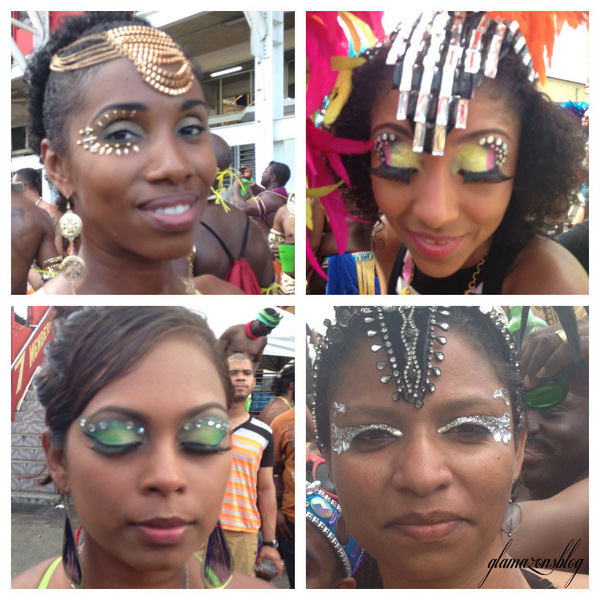 My favorite part was jumping on the stage. We had to be on the stage at the Socadrome for no more than fifteen minutes, and they were the most fun fifteen minutes…ever!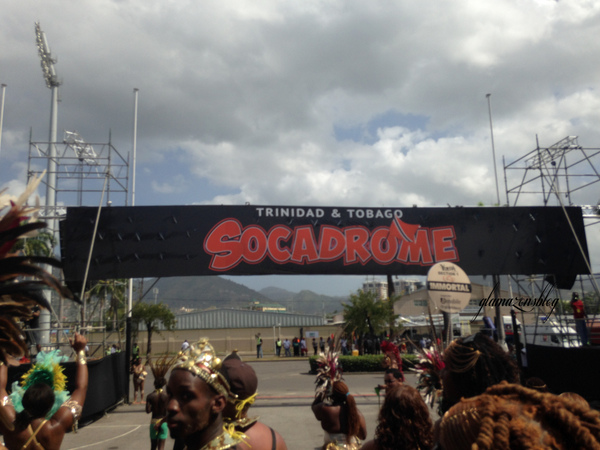 I was immediately swept up in the euphoria of everyone celebrating, jumping and dancing together in these exquisite headpieces and costumes. It was exhilarating! I'll never forget it.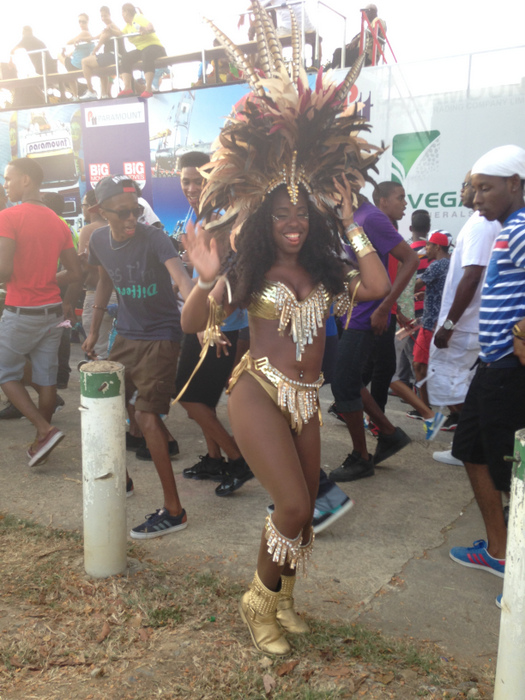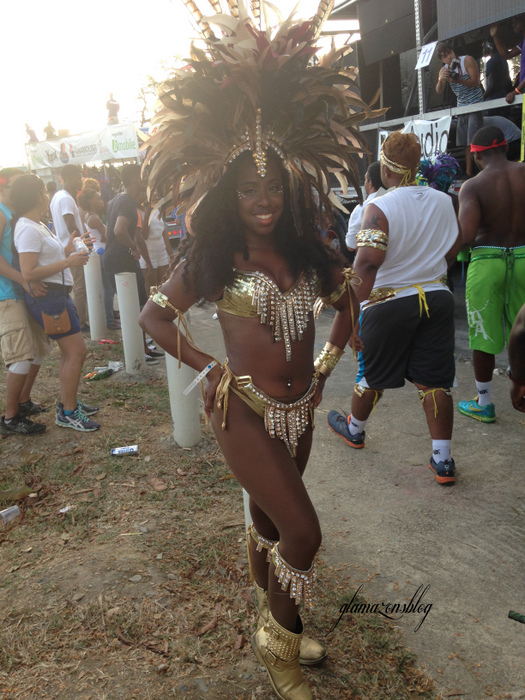 We danced for twelve hours straight with our beautiful band, Yuma, that kept the food coming, the top shelf drinks flowing and music blasting. There were several music trucks with DJs, drink trucks and yes, bathroom trucks. Everything you could ever need was on the road!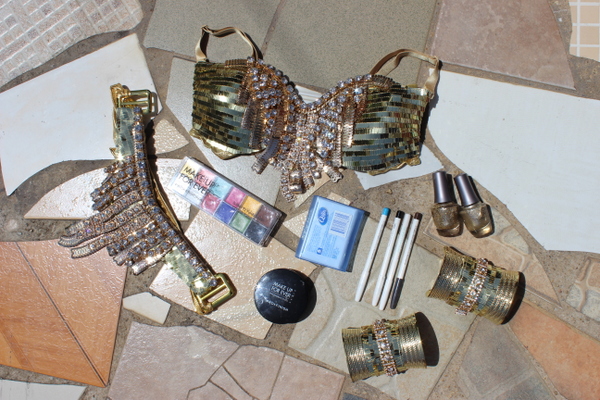 BTDubs, we prepped for Carnival for days so everything was perfect on Tuesday morning. Here's some tea on what we did to get ready to play mas and a checklist if you play mas in the future:
-Wear stockings.
We picked up flesh tone stockings to look polished but mostly to not feel like we were completely naked.
-Embellish to your heart's content.
Carnival gives you free reign to get as glitzy and glamorous as you want. We picked up gold body glitter and face jewels to add even more sparkle to our costumes.
-Be good to your feet.
Your feet will hurt. You're dancing and walking for hours! I survived in my JustFab boots (which I spray painted gold) and Dr. Scholl's inserts. God bless 'em both!
-Set your makeup with powder so it doesn't run.
It's super hot during the day in Trinidad and you don't want your beautiful makeup you worked so hard on to run down your face. The horror. After Danielle beat my face with Make Up For Ever, she dusted it with Dior matte long-lasting airy powder finishing spray to keep it in place. Win!
-You can wear earplugs if you'd like.
Some people bring earplugs since the speakers on the trucks are so loud. You can still hear the music but the base is muffled.
-Grab your strongest deodorant.
No shade to myself but when you're on the road all day, in the heat, dancing…chile, you won't be smelling like roses. You need something strong and Degree Clinical Protection fits the bill. It kept me smelling fresh all day.
-Double-sided tape and nippies are your friends. Your best friends.
Since the bras don't offer full coverage and you're moving a lot on the road, I suggest investing in some double-sided tape and cute Nippies so there are no slips and surprises.
-Have safety pins and sewing kits on deck!
We picked up our costumes after our fete on Friday night, and waited for hours on line to get them Saturday afternoon (to be fair, Yuma is one of the bigger bands so you may have a different experience). Since we didn't have a lot of time between Saturday and Monday for tailoring, we had to make adjustments on the fly. Safety pins and a small sewing kit were lifesavers.
-Be about that sunscreen life.
Even after applying sunscreen every two hours, I still got so tanned that there were light spots on my face where the makeup jewels were. I would've definitely got burned if I hadn't worn my Banana Boat Sunscreen (which was easy to apply because it's a spray). It's an absolute must.
-Finally, drinks lots of water.
Funny story: on Carnival Monday, we came back to Danielle's grandmother's house before the sun set and she was so confused. She asked: "Did you not find the band?" LOL! We found the band but were worn out and done for the day — unacceptable to Grandma. (The next day for Carnival Tuesday, after giving us safety tips and sweet compliments about how we looked, she joked "Don't come back early, we won't let you in!").  The key to staying out all day without collapsing? Hydration. I realized the combination of heat, dancing and drinking left me exhausted on Monday so I drank a ton of water on Carnival Tuesday and lasted until the end. In case you were wondering, Grandma was super proud.
That's it! Any other Carnival tips, Glamazons? Feel free to share in the comments.
What a weekend! I headed to Barbados with sore legs and paint-stained clothes but it was totally worth it. Stay tuned for a travel post on Barbados. And thank you Trinidad for an amazing experience I'll never forget.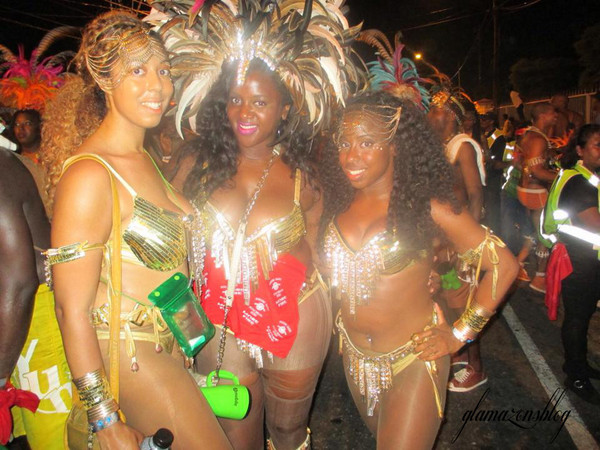 Kisses,
Glamazon Jessica
View Related Posts:
[fbcomments width="600" count="off" num="15"]