A Day In The Life: Essence Black Women in Hollywood Luncheon with Oprah, Gabrielle Union and More Presented by Lincoln Motor Company
Tuesday, February 26, 2013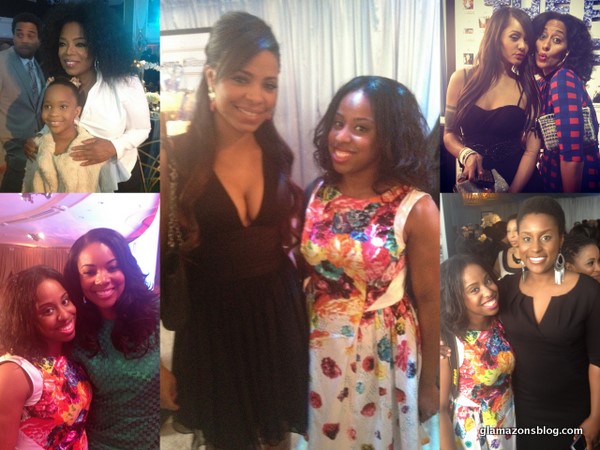 Glamazons, The last few days have been a dream! I was invited to attend the Essence Black Women in Hollywood event on behalf of its top sponsor, Lincoln Motor Company. The event is one of the highlights of Oscars week because aside from all the glamour and Hollywood vibes, you can feel all the love and friendship and sisterhood in the room.
I remember tearing up (I cry easily!) reading Will Smith's speech to honor his wife Jada Pinkett-Smith at the luncheon a few years back and praying to God that I could be there one day. I knew not only would I get to meet some of my favorites, but I could leave feeling inspired and motivated to achieve greatness in my own life.
I am so blessed that I was invited to attend this year and it was more inspiring than I even imagined!
OK from the beginning…
The day of the event I woke up in an amazing room at the Hotel Sofitel (you haven't slept until you've laid in one of those plush beds. I needed that after #NYFW!). I got dressed in my new fave Prabal Gurung for Target dress before rushing downstairs to leave for the luncheon. More deets on my look here.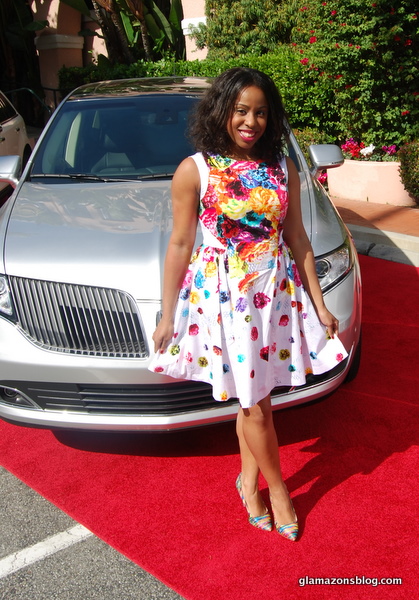 I joined a group of bloggers including Angel of Concrete Loop, Latoicha of Luxe Tips, Sekou of Simply Rides and Karen of Karen Civil and we were chauffeured to Beverly Hills Hotel for the event in the new Lincoln MKZ, which happens to be my dream car and comes replete with a retracting roof and gorgeous split-wing grill.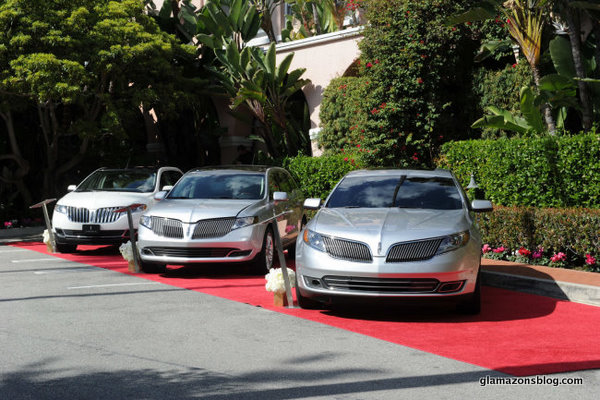 After snapping pictures on the red carpet with the beautiful Lincoln rides, we came inside for media check-in.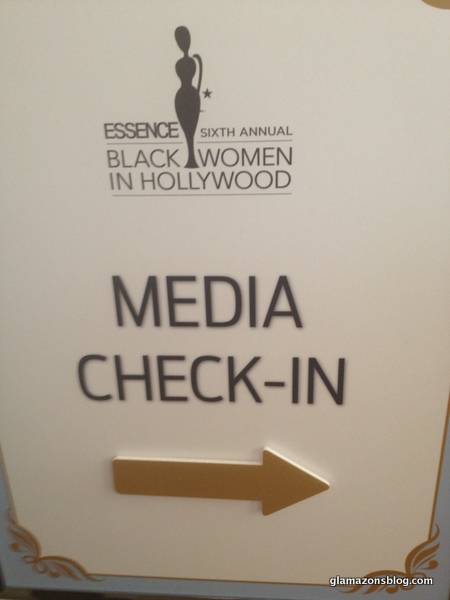 There, I ran into folks from Target (and went on and on about how much I loved Prabal Gurung's collab) and Bevy Smith (who I interviewed here).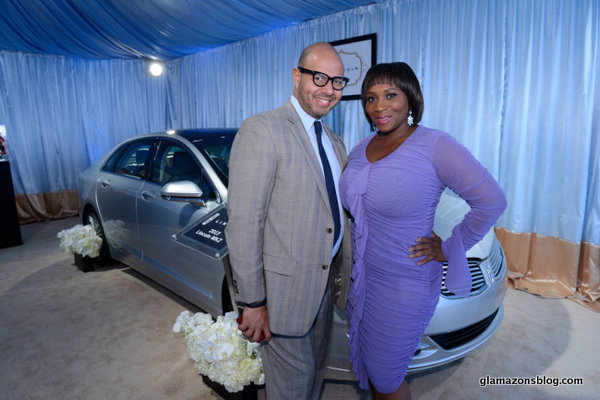 The lovely Bevy (above with Emil Wilbekin…tip, tip) was hosting the Lincoln blogger lounge, which is where we headed after the red carpet.
The lounge had champagne flowing like Beyonce's Superbowl hair, a L'Oreal makeup booth, a Prabal Gurung for Target stop (where they were giving away jewelry) and the Lincoln MKZ as the centerpiece.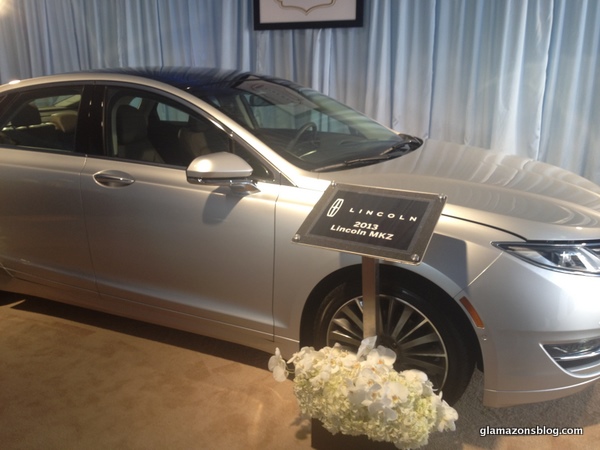 And we had too much fun posting pics on Instagram using #EssenceRedCarpet so they could show up almost instantly on the "The Power of Our Presence" board: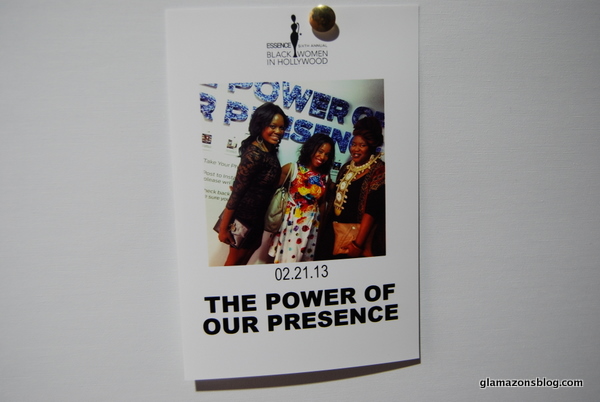 We went Instagram crazy.
Once the celebs started pouring in, things really got insane.
Check out a video from inside the Lincoln blogger lounge hosted by Bevy Smith including interviews with Alfre Woodard, Keke Palmer and more:
—

—
Fun, right? The energy in the lounge was amazing!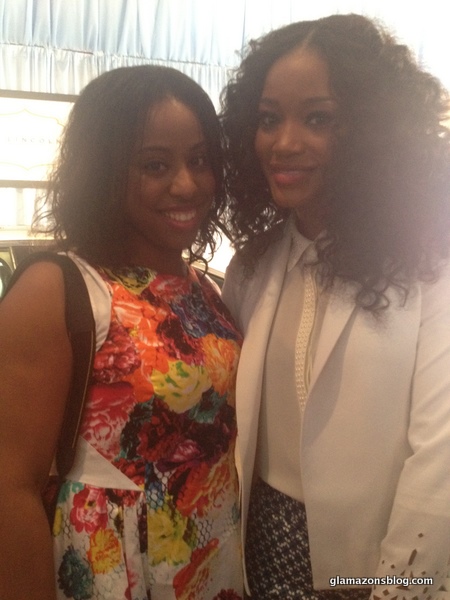 I met Keke Palmer who said she's super excited to play Chilli in the new TLC biopic.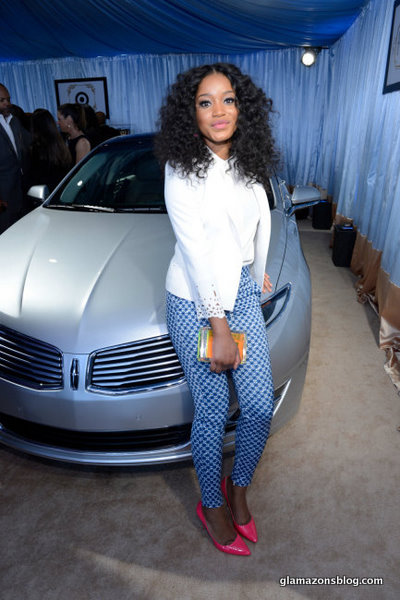 I'm certain she'll do her justice.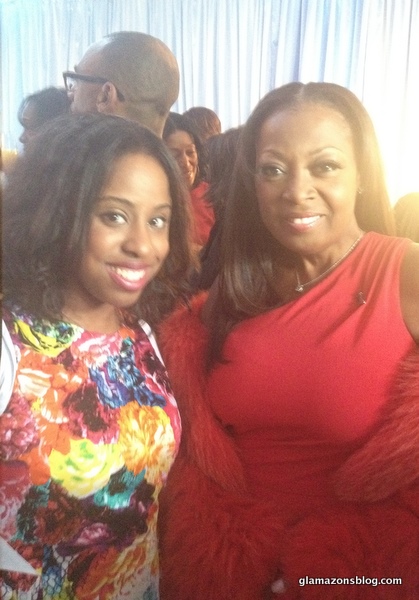 Star Jones was really sweet and said she's wearing red for 28 days in February to spread awareness about heart disease. Love that!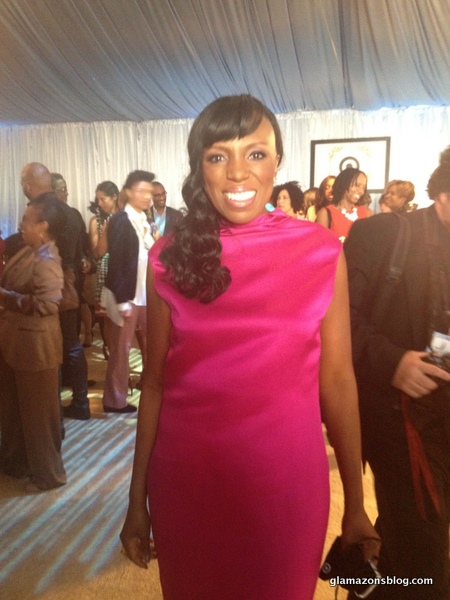 I ran into the incredible Mikki Taylor who is an honorary Glamazon and blog godmother to us. Isn't her hair fab? She emceed the luncheon and did an amazing job per usual.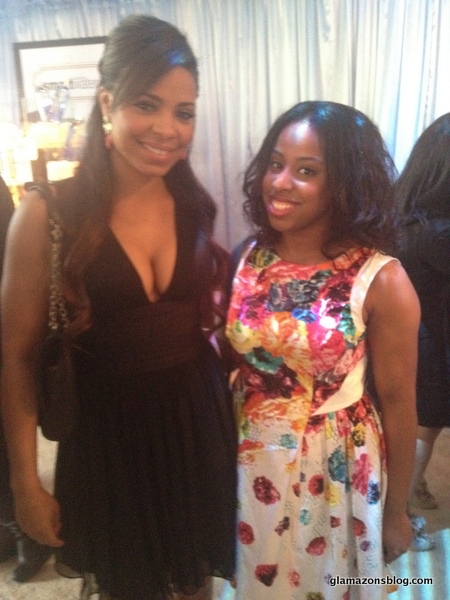 Sanaa Lathan was drop-dead gorgeous in person. Of course, I had to tell her how much I loved "Brown Sugar." I may or may not have shared a few quotes from the movie (I definitely thought that's what my life was going to be before I moved to New York, lol).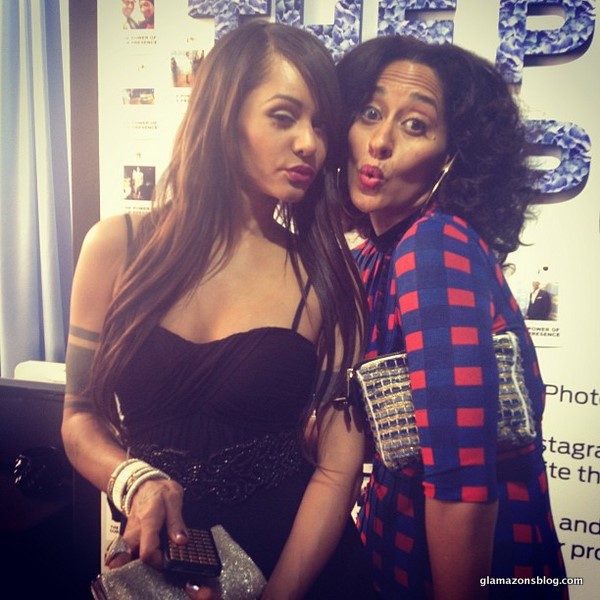 I felt like I walked into an episode of "Girlfriends" when I caught Tracee Ellis Ross and Persia White doing fun, silly poses in front of the photo booth. My hair idol, Ms. Ross, was wearing a Prada dress. Get into her fashun moment!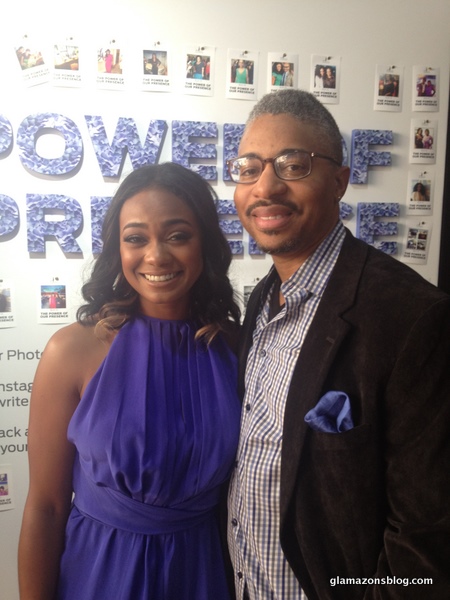 Sekou of Simply Rides met Tatyana Ali. They'd make a cute couple, right?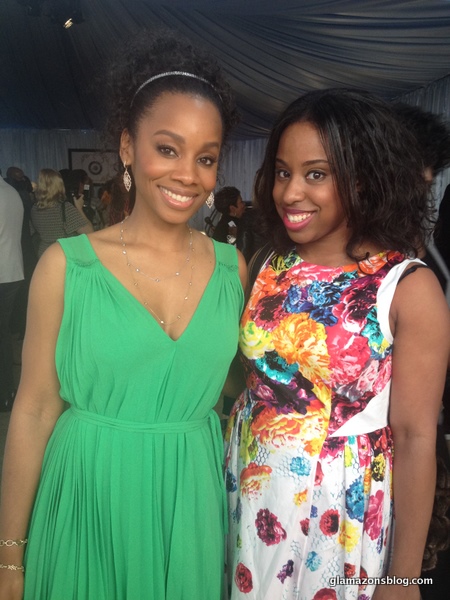 My niece will gag when she learns I met Princess Tiana aka Anika Noni Rose who looked gorgeous in a Carmen Marc Valvo dress.  Look at that glow!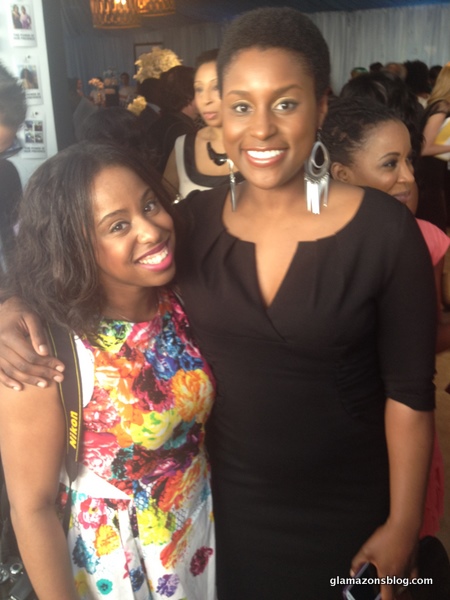 And I literally ran to meet Issa Rae of "Awkward Black Girl" to tell her how I crack up laughing at her show! I told her I always write it about for Clutch which she reads and loves (!!). Such a great moment.
I think I froze when Blair Underwood walked by (why is he so fine?). I also chatted with Lala (rocking a sexy Moschino dress) before heading to my seat.
I barely got situated before I realized I was sitting just a table behind Oprah. *faints*
It was pure pandemonium when she walked in with grown men and women running behind her like she was giving out free cars and rent checks.
And umm, I was definitely one of them.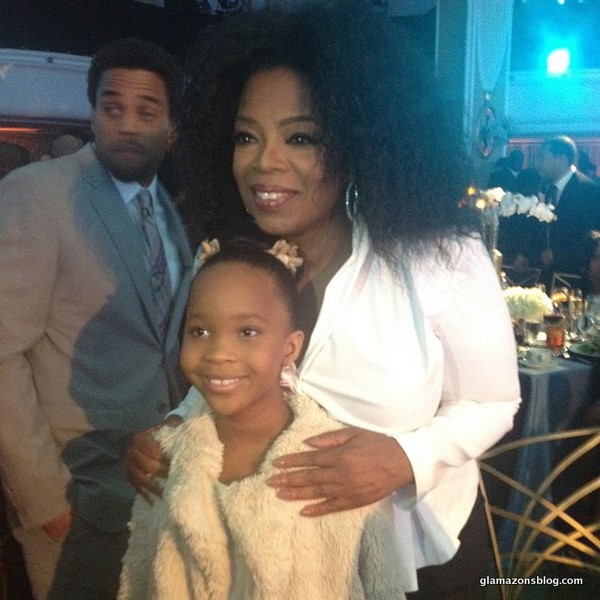 I snapped her hugging Quvenzhane Wallis (who is so adorable!) and check out the photobomb from Michael Ealy. Crazy!
Oprah is Queen of the World in my mind but in person, she's so warm, friendly and easygoing — completely unfazed by the frenzy she causes everywhere she goes. My girls and I were like, "does she realize she's Oprah?"
She didn't seem pompous or self-absorbed at all as she watched the Awards ceremony, genuinely moved by all the speeches and humbled by the tribute to her.
And about those speeches…
The best part of the event hands down were the beautiful, moving and honest speeches the honorees gave as they accepted their awards. Each honoree was acknowledged with a montage of her work and kind words from her friends and colleagues. So sweet!
I loved everything about Gabrielle Union's speech from her opening line ("This is kind of like being at your own funeral") to her incredibly real and honest story of finding peace after her divorce. She had to learn to be "fierce and fearless" on the inside, instead of just pretending to be. Love that!
Here's the transcript of her powerful speech:
We live in a town that rewards pretending. I had been pretending to be fierce and fearless for a very long time. I was a victim masquerading as a survivor. I stayed when I should have run. I was quiet when I should have spoken up. I turned a blind eye to injustice instead of having the courage to stand up for what's right. I used to shrink in the presence of other dope beautiful women. I used to revel in gossip and rumors, and I lived for the negativity inflicted upon my sister actresses or anyone who I felt whose shine diminished my own.
It's easy to pretend 'to be fierce and fearless because living your truth takes real courage. Real fearless and fierce women admit mistakes and they work to correct them. We stand up and we use our voices for things other than self promotion. We don't stand by and let racism and sexism and homophobia run rapid on our watch. Real fearless and fierce women complement other women and we recognize and embrace that their shine in no way diminishes our light and that it actually makes our light shine brighter.
So many of us in this room are sisters. We don't always get to see each other and its good to see you here today. Women who we've laughed with, cried with, and struggled with, thank you for not turning your back on me, thank you for not tap dancing on my misery, even when I wasn't always returning the favor.
I enjoyed Mara Brock Akil's speech where she spoke openly about how television networks aren't always willing to support black programs. Despite the setbacks, she pursues her passion for writing TV shows about the black experience anyway. Persistence! She also said the cast of "Girlfriends" all deserved Emmys and I totally agree!
Oprah's speech was incredibly poignant. She revealed that after she interviews people, they almost always ask "Was I okay?"
She said that's because at the core, we all want to know that what we're saying matters and is seen as important. She ended saying: thank you for showing me that I matter and what I say is important. So humble!
After the event, I chopped it up with Gabrielle Union (in her pretty vintage Versace dress!)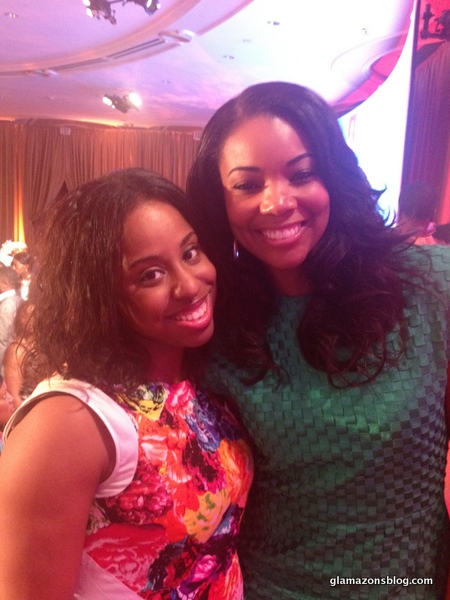 I congratulated her on her award and her inspiring speech.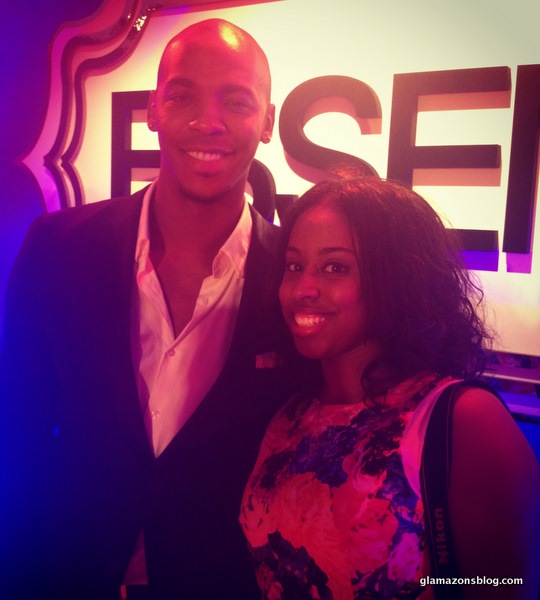 I also ran into the handsome Mehcad Brooks who admitted he was depressed when he started out in Hollywood (poor baby!) until Alfre Woodard gave him the advice that his life shouldn't revolve around his career.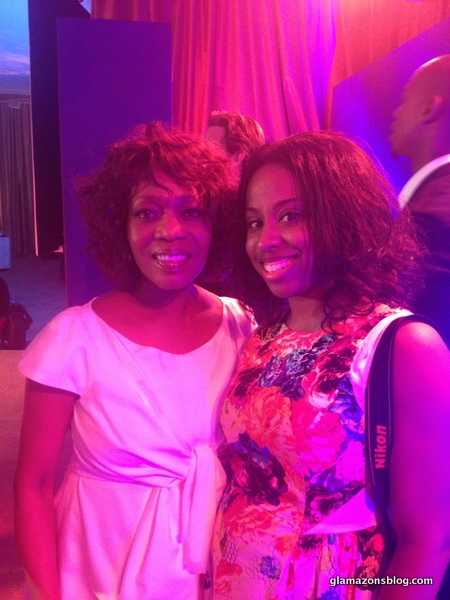 And speaking of Alfre Woodard, her speech was so hilarious but full of wisdom! Afterwards, she gave Latoicha of Luxe Tips and I advice on balancing our careers and love lives and she seemed genuinely touched when we told her how much she inspired us. Talking to her was the highlight of my day.
The event was definitely star-studded and glamorous but the lessons I learned from talking to these accomplished women meant so much more to me.
Check out more pictures from the luncheon below:
What an amazing day!
Thank you so much to Lincoln Motor Company and The Chamber Group for inviting me.
Kisses,
Glamazon Jessica 
View Related Posts:
[fbcomments width="600" count="off" num="15"]