What to Do, See and Avoid in Los Angeles
Tuesday, January 2, 2018
Glamazons, Can I be honest here? I never really liked LA. I thought a trip to LA was basically like walking into your television screen. Everyone's *Hollywood*, the clubs are impossible to get into, no one seems to have the job or the house or the car they say they do, the list goes on. Have you seen the "Sex and the City" episode where they go to LA and end up buying fake designer bags and nothing is as it seems — not even the guy Carrie's dating who pretends to be rich but as it turns out, he was actually just house-sitting? That was pretty much my opinion of Los Angeles. Until…my last visit.
So, to be fair, I had never experienced LA beyond Hollywood, and I had only traveled there for work. This time, I stayed for about 5 days after my work duties were over and y'all, I fell in love. LA is absolutely beautiful, good vibes, down-to-earth people, delicious tacos, the list goes on. Why was I so hard on the West Coast?
Here's a quick recap of my trip and tips on what to see and do in Los Angeles.
Andaz West Hollywood: This is by far my favorite hotel that I've stayed at in LA. Not only are the views breathtaking, but the room service is also phenomenal. And that pool…it's so serene and peaceful it doesn't even feel real. The second runner-up is a toss between the Roosevelt Hotel (another gorgeous pool) and the Redbury, where I ran into Common and Frank Ocean in the lobby, and ordered Katsuya every night to my room.
–

–
You May Also Like: That Time I Ran Into Frank Ocean, J.Cole and Common at the Redbury Hotel [Review]
Gracias Madre: It's vegan but don't think for a second they sacrifice flavor. I had the crispy potato chorizo taco and had to order it twice, it was so tasty. I still daydream about that meal sometimes. As for the popular restaurants you always hear about: Roscoe's is actually delicious and totally worth the wait. I love a good burger, but In-N-Out is honestly overhyped. Sorry, don't @ me.
–

–
Griffith Observatory: So, I'm really into the landscape in LA, it's breathtaking! I went to Griffith Observatory at my friend Alana's suggestion and whoa. I literally stopped in my tracks to take in the sunset. You can see the Hollywood sign so clearly. The views are out of this world.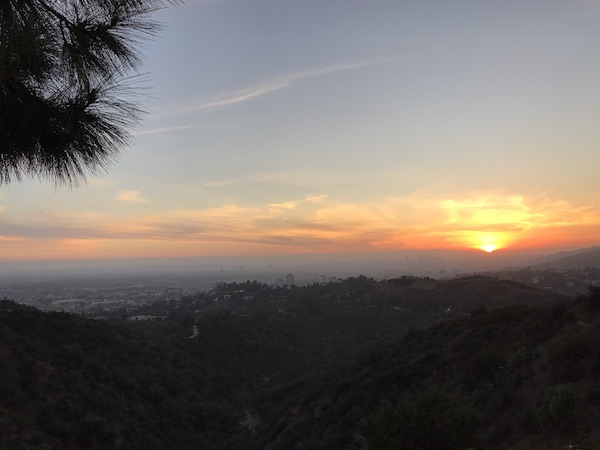 Runyon Canyon: When it comes to working out in LA, all your fave classes are all there like Soul Cycle and Barry's Boot Camp BUT I really loved hiking up Runyon Canyon. It's a great workout and beautiful scenery all in one. Depending on which trail you take, the hike can be tough (beginners, stick to the paved road as my friends warned) but it's totally worth it to see that view at the top. I also love people-watching: LA has the cutest little families and their pets going for weekend hikes. If you don't want crowds though, you can hike at Griffith Observatory or Topanga Canyon instead.
–

–
Street Festivals: I love street festivals (blame all those years I lived in Brooklyn) so it's no surprise that I enjoyed the Taste of Soul LA while I was in town. My amazing friend Yasmine took me and we had a grand old time eating hot dogs, drinking fresh fruit juice out of pineapples, and taking in all the sounds and sights. I think some tourist experiences are good (and even necessary when visiting a place for the first time) but I'm way more interested in what the locals like to do for fun. So, suffice it to say, I enjoyed being one of the few out-of-towners at the festival: I saved money (because who has time for Hollywood prices?!) but also got to experience a more authentic social scene in the city.
Some helpful tips for Los Angeles travel:
-DO let your body adjust to the time change.
If you're from my side of town, I recommend staying up past your East Coast bedtime the first (or second) night so your body can adjust to the new time zone. If not, your trip will consist of you passing out every night and waking your friends up at ungodly hours every morning.
-DO bring a jacket for the nightly change in weather.
LA is cold at night. I repeat: LA is cold at night. Did everyone know this but me? If you're going to be out late, grab a leather jacket *and* a scarf to ward off the nightly chill.
-DON'T forget to factor in traffic.
Guys, when I was in LA for the Teen Vogue Summit, I was terrified I was going to miss my first panel because of traffic. Traffic is an epidemic in Los Angeles. It took us an hour and a half for a ride that should've been 20 minutes. My driver was like… "Oh, you don't live here, huh? Because you would've known to leave earlier." Fail. I learned my lesson (Though I still made it an hour before everyone else arrived, lol). Leave in advance because you will be sitting in traffic and watching the time go by. Bright side: great time to pull out a good book.
-DO enjoy the nightlife but proceed at your own risk.
You guys may have noticed I didn't have nightlife in my list of things to do and that's for a couple of reasons. First, I usually go to LA for work so there's almost always an event I have to cover in the evening. If there isn't something on the schedule already, it's 100% likely that I'll just pass out in my hotel because I haven't adjusted to the time zone yet (see above). And even if somehow I magically stay up, I'm not a big LA club person because I feel like you have to look like an extra in a Pharrell video to even make it pass the doorman. I prefer house parties because they're so much more fun and intimate and no lines involved. But that's just me!
Glamazons, what are your LA travel tips? Anything I left out? Tell me everything!
Outfit Details – Dress: gifted from Avec Les Filles (sold out but love the blouse and skirt in that same print) | Shoes: Zara (love these) | Sunglasses: Tnemnroda.
Kisses,
Glamazon Jessica
Outfit Post Images: Kaye McCoy
View Related Posts:
[fbcomments width="600" count="off" num="15"]