#UAECrawl: Where to Stay in Abu Dhabi @StRegisAbuDhabi
Wednesday, October 21, 2015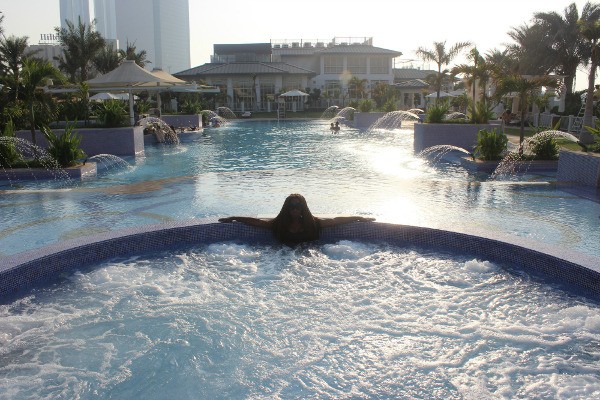 Glamazons,
I can't wait to tell you guys everything about my trip to Abu Dhabi and Dubai for #UAECrawl last week. If you read my Travel Prep post, you know I had a ton of exciting activities planned! While I didn't get to do all of them because my stay was pretty short, I have to say the experience was nothing short of amazing – totally worth it! One thing I immediately loved about Abu Dhabi and Dubai is that both cities have an affinity for all things luxury, which I'm sure you can tell by their towering skyscrapers, state-of-the-art train system and famous gold souks. I was happy to fully dive into that luxe life with a stay at the opulent St. Regis Hotel Abu Dhabi. Such an awesome experience!
Here are 5 things I loved about my stay in the 5-star resort hotel:
1. Refined, Elegant Decor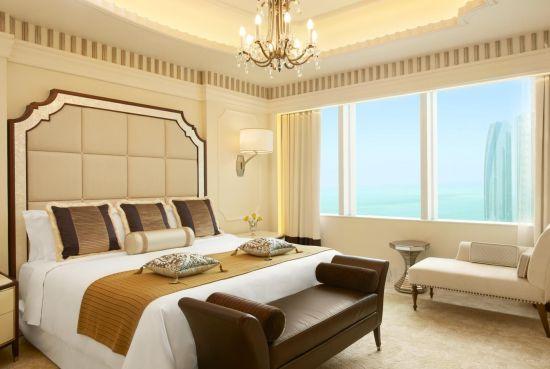 The chandeliers, marble bath, gold and navy bedding and plush couches were all so arrestingly beautiful I never wanted to leave the room!
As elegant as the decor was, it was also pretty modern. We had a lot of fun with the remote control-operated curtains, which I turned into a stage for an impromptu Beyonce performance (because what else do you do at sleepovers but dance to Beyonce?!). There was a TV literally inside the mirror in our bathroom – how cool is that? And all the TVs had this message: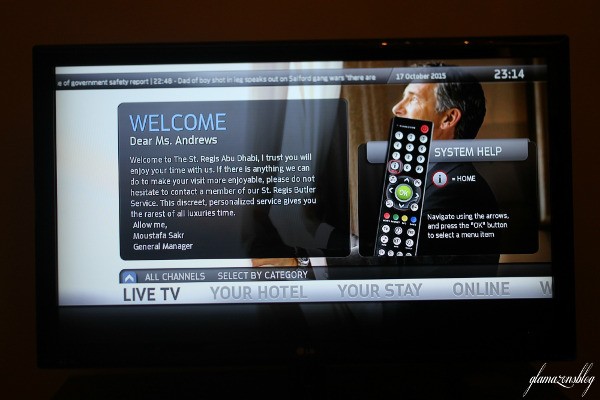 Can you even? Also, we were welcomed with macaroons so…it was pretty much heaven.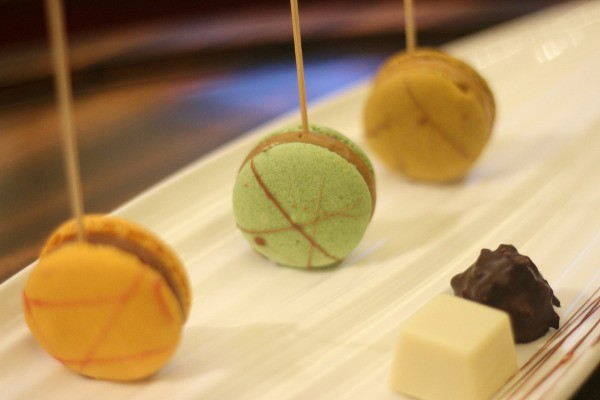 2. Incredible Service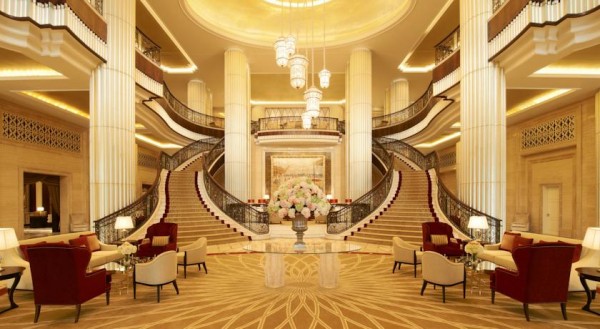 Upon walking into the stunning hotel lobby, we were greeted with a refreshing drink while we retrieved our keys from the kindest concierge ever. Once settled, we were assigned a personal butler who catered to our every need. I'm pretty sure I would've missed my morning flight if it wasn't for him. The concierge also helped us plan an evening of visiting the mosque and squeezing in a souk shopping trip, complete with directions and a set schedule. The service was truly impeccable.
3. Beautiful Panoramic Views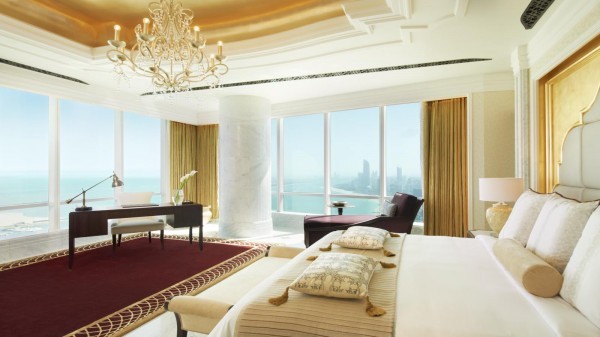 The view in our hotel room was unreal. The entire city of Abu Dhabi stretched out before us and in the corner, you got a gorgeous glimpse of Corniche Beach. I tried to capture the waterfront views on Snapchat (@DressUpWithJess) but  pictures and even video fails to do them justice.
4. Relaxing Spa Services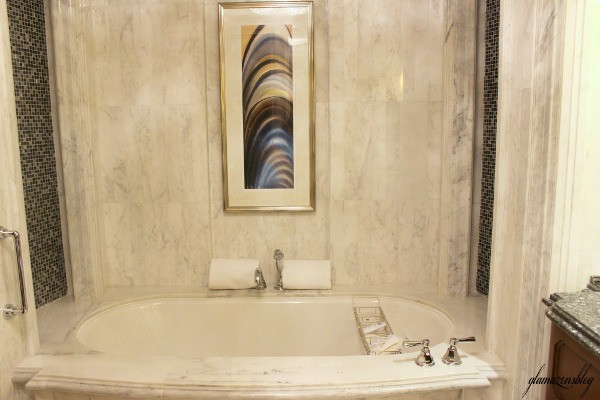 Along with our gorgeous marble tub, the hotel offered a wide variety of spa services. I especially loved the bath menu featuring indulgent drawn baths (and one extravagant $1,500 drawn bath served with caviar and Krug magnum champagne). I'm so good for reading a great book in the bathtub so I loved it all!
5. Nation Riviera Beach Club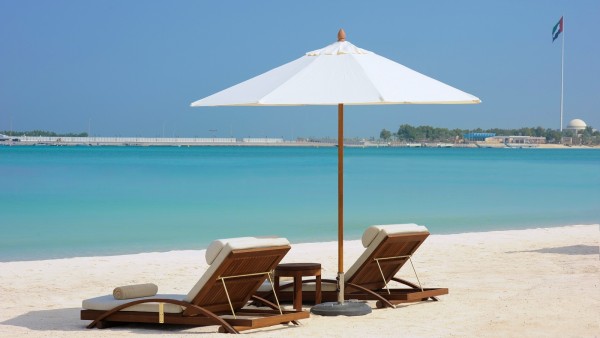 I thoroughly enjoyed being in the desert, visiting landmarks and even partying on a yacht during #UAECrawl (more on all this later) but I had to make time for the beach (my favorite)! The Nation Riviera Beach Club was the perfect opportunity. The Corniche beach is so beautiful and serene, and we pretty much had a little section all to ourselves.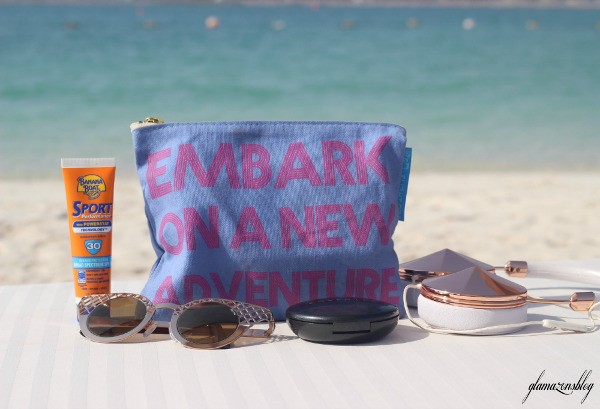 The service was impeccable yet again: we were walked to a cabana where towels were laid out for us.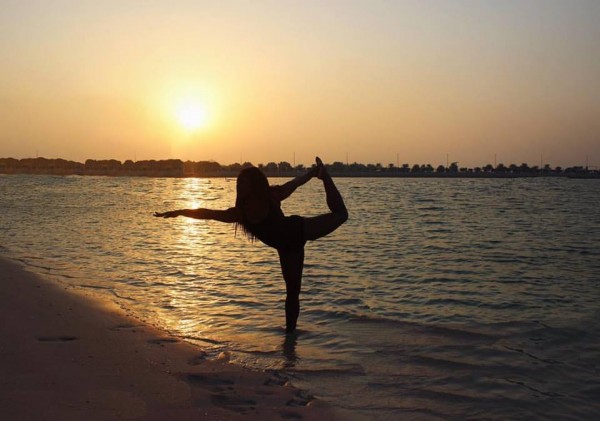 It was so peaceful that I went back and hit a few yoga poses while the sun set.
When we were ready for a dip in the pool, we swam up to the pool bar and relaxed in the jacuzzi. It was perfect.
My only regret is not staying more days at the St. Regis Abu Dhabi to enjoy the delicious buffet breakfast, see the Abu Dhabi suite (the world's highest suspended hotel suite) and eat seafood at Catch, but I'll be back.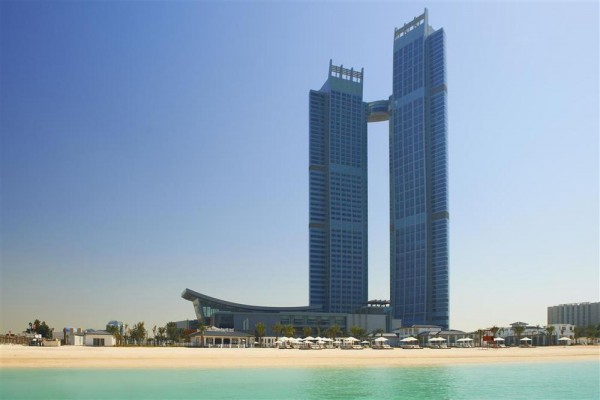 In the meantime, check out more pictures from our trip on social media under the #UAECrawl hashtag. Have you ever stayed at the St. Regis hotel? How was your stay?
St. Regis Abu Dhabi | Twitter | Facebook | Instagram
Kisses,
Glamazon Jessica
Images: Yours Truly Where Noted. St Regis Abu Dhabi.
View Related Posts:
[fbcomments width="600" count="off" num="15"]