H&M Finally Launches E-Commerce in the US: 10 Must-Have Pieces To Buy!
Thursday, August 1, 2013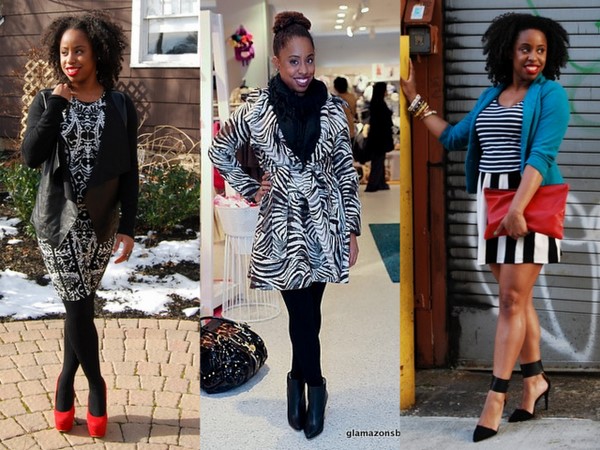 Glamazons, Glamazons, Glamazons.
This day will go down in history as the day we can finally shop online at H&M.
I know what you're thinking. I already spend half my paycheck at H&M (above, I'm wearing an H&M dress, Lanvin for H&M trench, Maison Martin Margiela for H&M wedges and an H&M skirt) so it's not like the absence of an online store stopped me. But now that they've finally launched e-commerce, things are only going to get better (or worse, depending on if you're looking at my closet or bank account).
My obsession with fast fashion has grown tremendously in the past couple of years, no doubt fueled by the ease of shopping online. Now that H&M finally put their hat in the ring, I'll be shopping there nonstop…maybe.
To be honest, the selection isn't as amazing as what's in stores just yet (but that should improve) and the functionality leaves something to be desired (they'll work out those kinks though). BUT that didn't stop me from immediately picking out 10 things worth adding to your cart this morning.
Here's what I saw so far and LOVED:
1. H&M Short Jersey Dress, $17.95
Cute colorful print bodycon dress that can be dressed up or down? I'll take it.
I love that this coat blends two trends: the ubiquitous army green color and fab quilted leather sleeves. You can throw it over your dresses and separates this Fall and take your outfit to a new level of chic.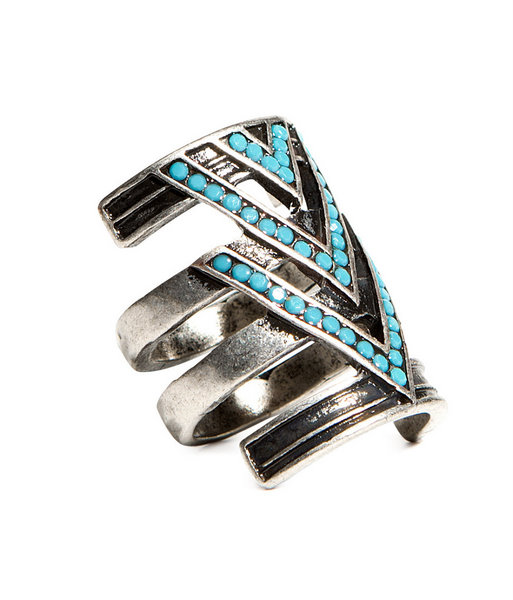 This statement ring is adorable for its pop of turquoise color and trendy tribal feel. And it's only $6! Yes, please.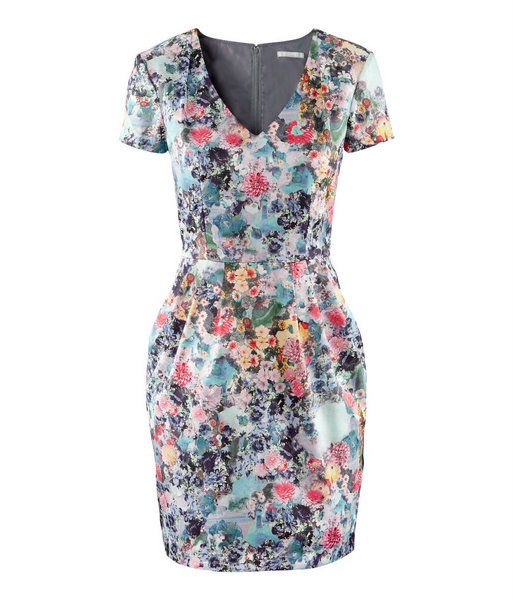 So I actually own this dress, lol, and I'm living for the shape, the pretty pastel colors and floral print. It fits like a dream!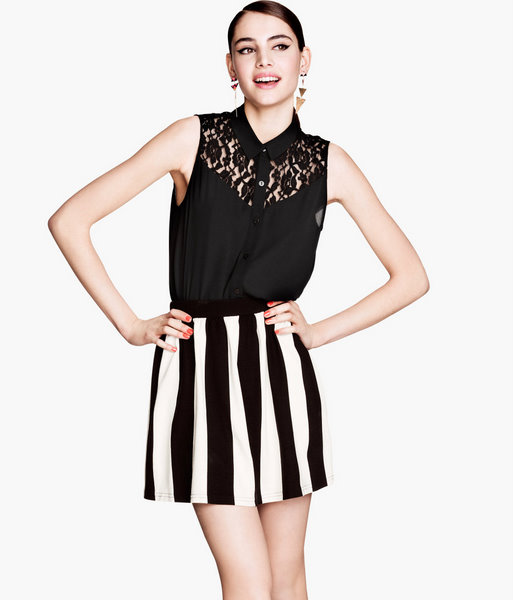 Umm, I may have this too. I love it because the silhouette is easy, breezy and the black/white color palette is easy to mix and match with bright colors. I even wore it for a mixed print look here.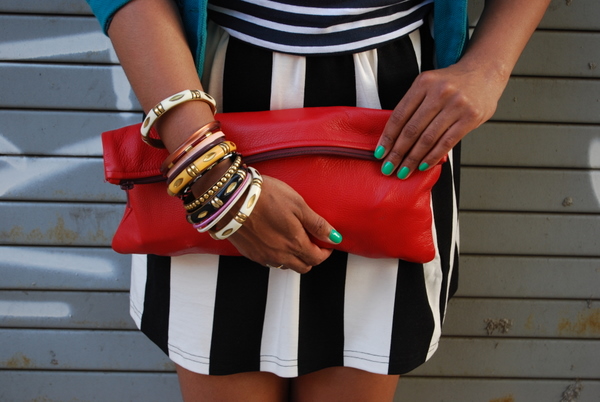 One of my favorites!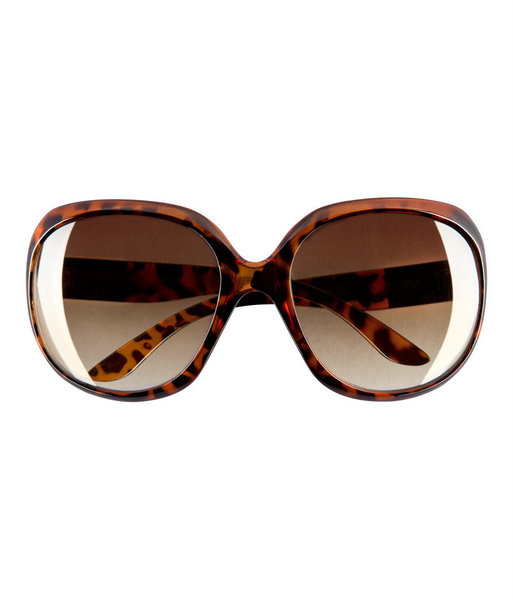 You can never go wrong with a luxurious pair of oversized sunglasses, and these are only 10 bucks and come in brown and black. I'll take both, thanks!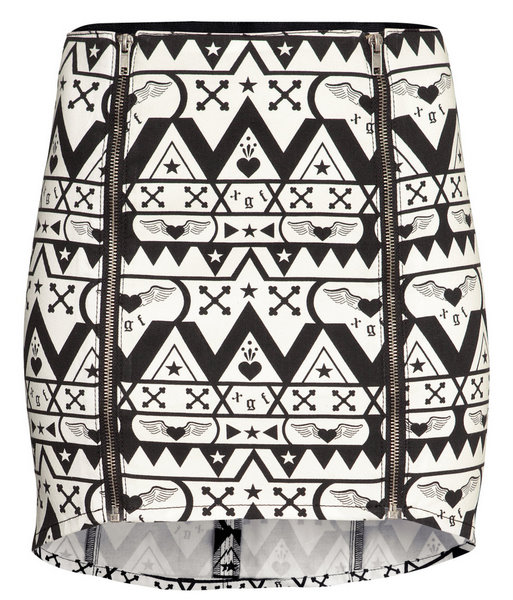 I'm partial to sexy printed skirts and this cute find has a punk-rock spin with crosses, hearts, wings and zippers. How adorable would this be with a black tank top and red leather jacket? I need it!
Denim jackets can be so boring and expected, but details like an oversized collar, exposed zippers and quilting give this one new life. Obvs, the imitation leather sleeves are everything too. Imagine this thrown over a floral dress for an edgy/girly contrast. Perfection.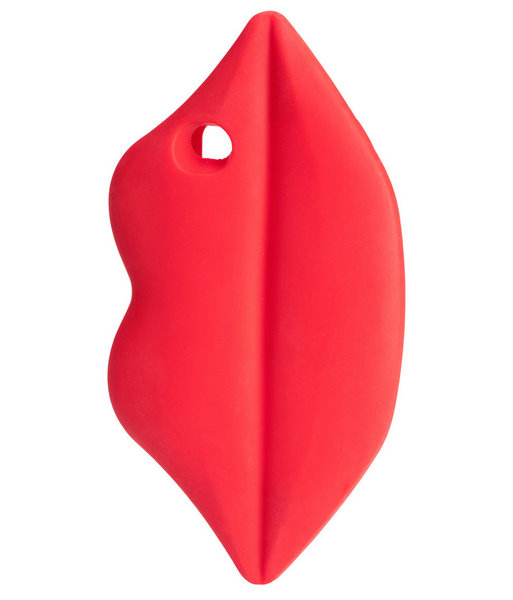 You say iphone case, I say adorable accessory. Though expensive for a phone case, this find can add a fun pop of color to your look. And the lips are so cheeky and adorable. Want.
10. H&M Pumps with Studs, $29.95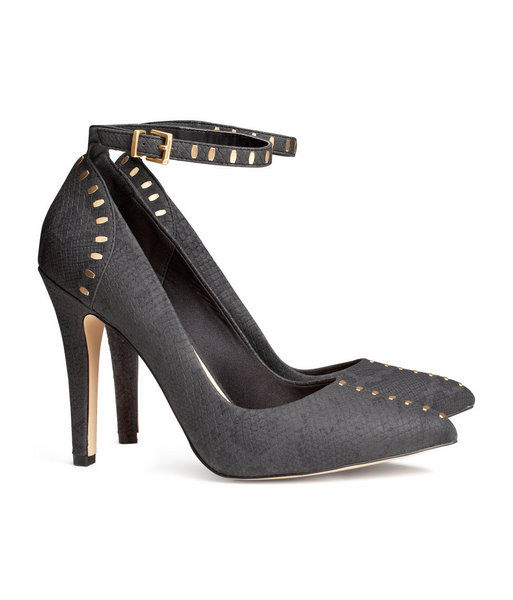 I am head over heels in love these pumps for Fall. Let me count the reasons why: the gold studs, the grey hue, the faint snakeskin print, the pointy toe. These shoes manage to be girly (they're Mary Janes!), tough (studs) and luxe all at once. This is the first thing that made my shopping cart.
What are you getting via e-commerce on H&M, Glamazons? Shop here.
Kisses,
Glamazon Jessica
View Related Posts:
[fbcomments width="600" count="off" num="15"]