Rachel Zoe Tells Us How She Got Her Start in Fashion at American Express Cardmember Fashion Show
Monday, September 17, 2012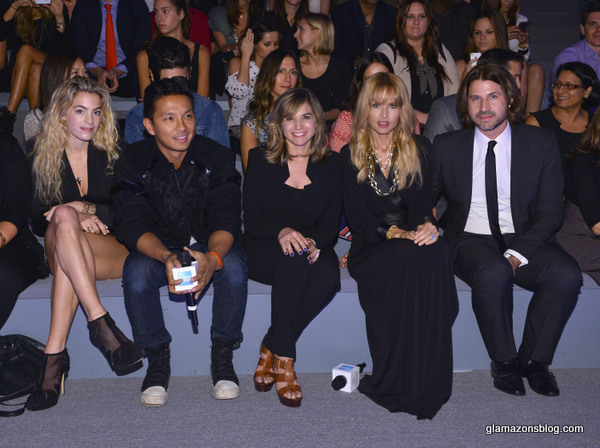 Glamazons,
I barely survived New York Fashion Week. By the time it was over, the heel cracked on my favorite shoes, my family and friends damn near filed a missing person's report and I hadn't seen my bed for more than two hours at a time…in a week.
But before I left Lincoln Center for the last time, got a full night's rest and spent the next day at the spa, I went to one last event: the American Express cardmembers only Rachel Zoe show.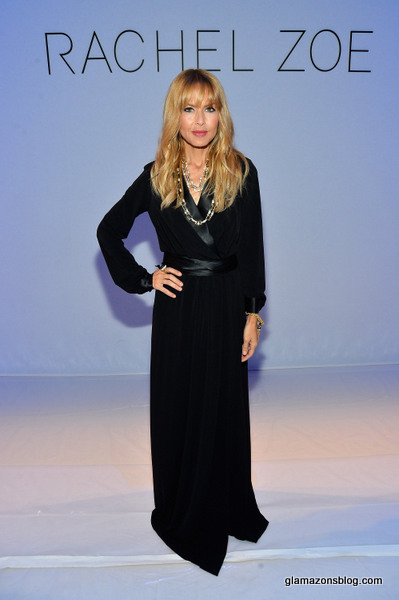 And it was one of my favorites!
First off, I got the tickets because my glamazing friend Danielle of The Style and Beauty Doctor, who has the best luck in life, won them on Twitter. She had to go to Poland (#fancy) but passed the tix off to me and Christina of LoveBrownSugar. So sweet!
We couldn't pass them up so we put on our heels and hit Lincoln Center for one last time this season. As soon as we walked in, we were greeted by bartenders pouring glasses of Veuve Cliquot.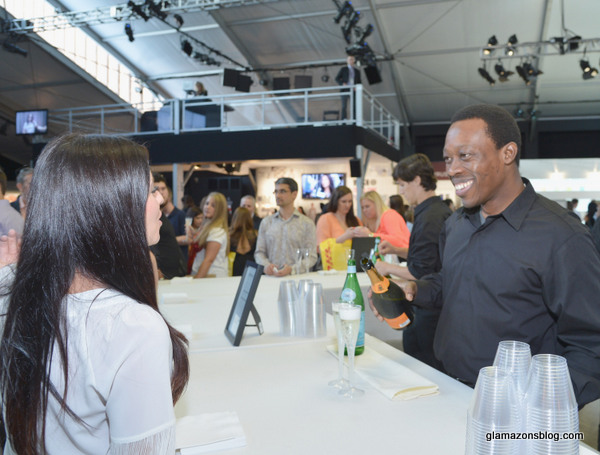 DJ Chelsea Leyland played the tunes…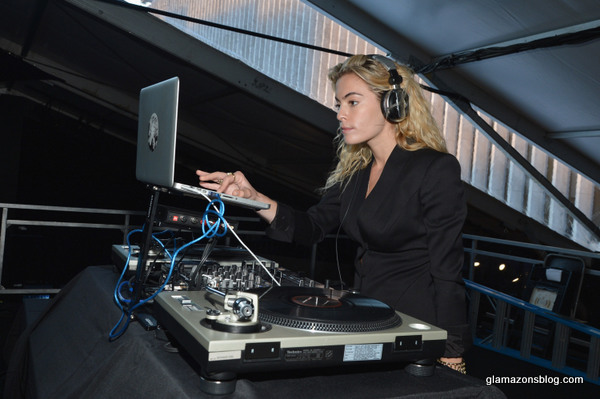 …while we danced and enjoyed hors d'oeuvres.
Oh and of course, we snapped pics!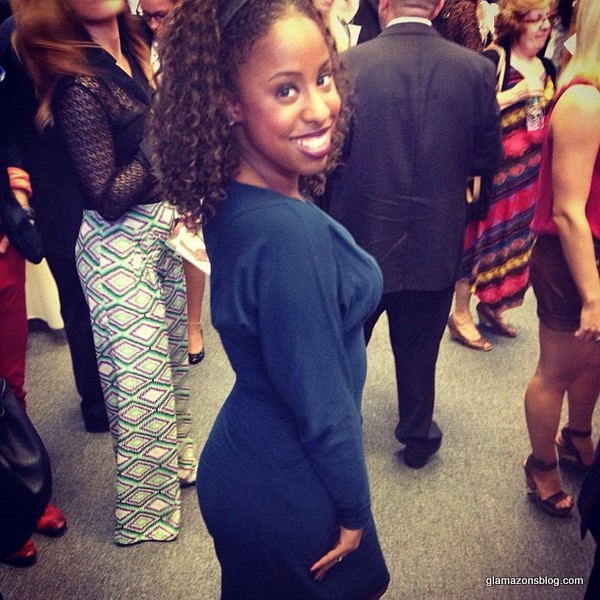 Me giving the kids a Fashion Week diet snatched moment!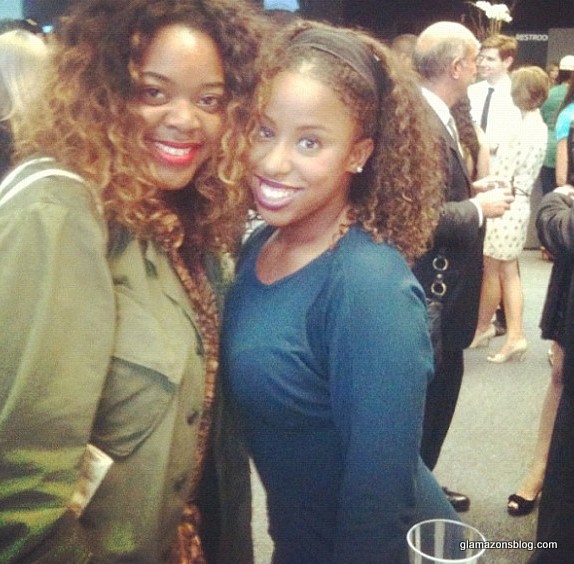 Love for LoveBrownSugar!
After our photoshoot, we headed into the theater to get a glimpse at Rachel's new collection.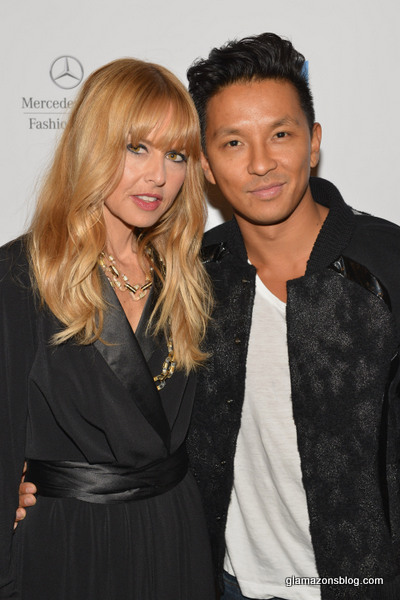 Before the show, Rachel had a Q&A with her bestie, only one of my favorite designers, Prabal Gurung who she affectionately calls Prab.  After getting over the fact that fashion icons I follow and have written about for years were talking casually like right in front of me, I actually picked up several jewels from their interview. Here are a few excerpts:
On how she realized her love of styling by dressing a childhood friend…
"I couldn't stand that [my friend] was wearing Adidas uniforms everyday—no offense, I love Adidas—so I went to his house when he wasn't home, went up to his room to his closet, and laid out outfits for Monday through Friday: sweaters, button downs, loafers, khakis and all of that. I forgot about this story until his mother told me five years ago. In college, I was a sociology major. It's not like today where interns come to work and go to fashion school. It wasn't like that for me. It was all just for the love of fashion. And the fact that I was able to make a career out of it was the biggest difference ever."
On why she decided to design and how she got her start…
"I think it was because of collaborating so often with designers. A lot of my clients just looked at me and said I don't understand why you don't just do this with your name on it. I first said, I don't want to play in that arena. These [designers] are friends of mine for ten to fifteen years. I don't want to play with them on the floor.I don't want to be in the tents. So scary. No way! And then I said, you know what? I see a space I want to design in, a space for contemporary wearable clothes that look designer but don't cost designer. I'm still getting the hang of it and I couldn't love it more. I'm really putting a message out there, what I believe and what I believe women should look and feel like."
On the inspiration behind her latest collection…
"I wish I could be like these designers that go: 'I went to Morocco, to the furthest part of Morocco and from this one bead, I developed 45 looks because of the hue of the bead.' [laughs] But I am not that person. I have in my bank, in my memory, in my brain, I have these women that I've idolized in fashion like Jane Birkin. These women, these incredible icons from the 50s and the 70s, and that time period! I love the music, I love the style, I love the cool, I love the ease and I love the glamour. And that has always been what I love. It's what I wear. It's how I think. It's how i feel. So as a designer, it's always kind of 'OK, where is this woman right now?' In this collection, it's Jane Birkin on the Amalfi Coast. She's got oversized bags, floppy hats and fedoras, incredible shoes, blue and black and white [colors]. There's a lot of mod. It's about an attitude so I go from there."
–
I always wonder how people get their start in this industry. I think it's so cool that Rachel was flexible enough to work in an area outside her degree when she realized how passionate she was about fashion.
And how cute is the story of her styling her friend? She really is a natural at it.
She's great at designing too, which is clear after one look at her Spring 2013 collection. There were so many wearable pieces that I could see in my wardrobe immediately, from jumpsuits to maxi skirts to sequins for day.  Check out some pieces below:
 Which looks do you love, Glamazons? Tell me in the comments!
Kisses,
Glamazon Jessica
Photos: Mike Coppola/Getty Images.
View Related Posts: