5 Ways To Style A Bright Colored Blazer
Friday, February 24, 2012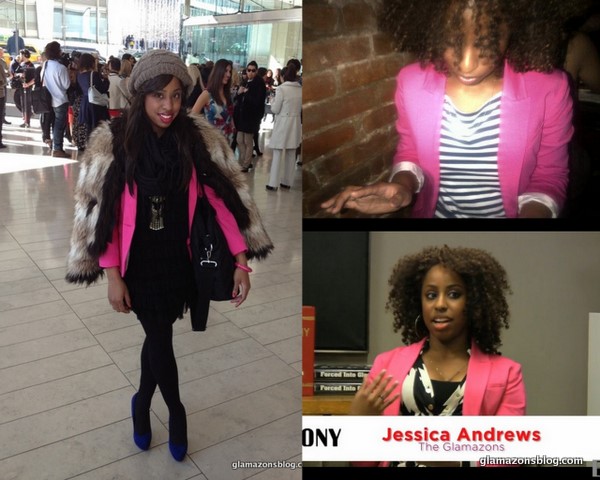 Glamazons, of all the purchases I've made recently (yes, I've done a bit of spending), I'm super excited for my pink blazer from H&M. SO excited that I've already worn it three times: at my friend Sandrine's birthday party (top right), to appear in a roundtable video for Ebony.com (bottom right) AND to attend the Rachel Roy Fall 2012 show at New York Fashion Week (left).
Each look was different. Sandy's party called for a casual moment so I rocked the blazer with a navy and white striped dress from H&M. I went more sophisticated for Ebony.com and paired the blazer with my white and black printed Diane von Furstenberg dress. I kept it funky at Fashion Week with cobalt blue Aldo pumps, my Forever 21 black ruffle dress and my Lanvin for H&M fur on top. But each time, the blazer felt fresh, vibrant and fashion-forward. I LURVE it!
Many of our fave Glamazons have incorporated a bright blazer into their wardrobes like Beyonce, June Ambrose, Lala Vazquez, Kim Kardashian and Whitney Port. It's the PERFECT piece for transitioning through seasons (hey, we ARE almost in March) because it will keep you warm in colder temperatures and it just screams Spring!
Here are some fun ways to style your blazer:
1. Keep it simple!
You can always rock your blazer with a white t-shirt and jeans (and a killer pair of heels!) like Beyonce for a fun look. Chic, simple and super stylish, this look keeps the attention right where it should be: on that fabulous blazer!
2. Colorblock!
Take a cue from June Ambrose and match your bold blazer with an equally bright bottom for an attention-grabbing yet stylish look.
3. Pair it with a printed top.
Some colors and prints are simply made for each other (hello, red and leopard!) so mix the two together without fear like Lala with her cobalt blue blazer and printed tee.
4. Throw it over a bright, colorful dress.
Don't be afraid to have an 'in living color' moment by pairing a bright blazer with a dress that mixes more bold colors together. Root the look with some nude or black heels and it will be surprisingly chic and Spring-ready.
5. Add some contrast with black and white separates.
Nothing makes a bright color stand out more than pairing it with white and black.
Check out these 6 outfits for inspiration:
Will you add a bright blazer to your wardrobe, Glamazons? How will you style it?
Kisses,
Glamazon Jessica
View Related Posts:
[fbcomments width="600" count="off" num="15"]