3 Outfit Ideas for ALL Your Thanksgiving Plans #OOTD
Monday, November 21, 2016
Glamazons,
I am unusually excited for Thanksgiving this year. Normally the mere thought of holiday season approaching gives me a serious case of hives. It means I have just a few weeks to finish all my Christmas shopping and the end of the year is on the horizon (which brings on a different type of panic attack altogether).
I'm typically the first one to kick up my feet and stay clear of the kitchen madness, but I finally feel confident enough in my cooking abilities to pitch in. And get this: my family has made me responsible for ALL the sides this year. Yes, greens, beans, potatoes, tomatoes, you name it! I'm anxious and a little terrified. #PrayForMe
But just because I'll be whipping up some good food in the kitchen doesn't mean I won't look fabulous doing it. I still want to play up the glam factor in something relaxing. So what's a girl to do when she wants to be comfortable while looking impossibly put-together? 
Here are a few tips to remember: 
– Layer, layer, layer. I don't know what's going on with this weather lately. I wake up freezing but by mid-afternoon, I want to jump in somebody's pool. Piling on sweaters, scarves, and hats will help keep you warm and cozy in the freezing outdoor temps. And as soon you step inside, you can peel them off without any fuss. 
– Dark colors are your BFF. We all know how forgiving a dark color palette is. Dark hues make you look svelte while camouflaging those inevitable food babies. I love getting in the holiday spirit with a few season-appropriate shades, like burgundy, olive green and orange. 
– For shoes, leave the stilettos in your closet. There's nothing worse, or more painful, than standing in six inch heels all day because you wanted to look cute. A good block-heeled bootie is sturdy enough to not kill your feet and you can still dress them up for a fancier dinner. Major key. 
Let's get into a few outfit ideas for Turkey Day:

 
Thanksgiving With Your Family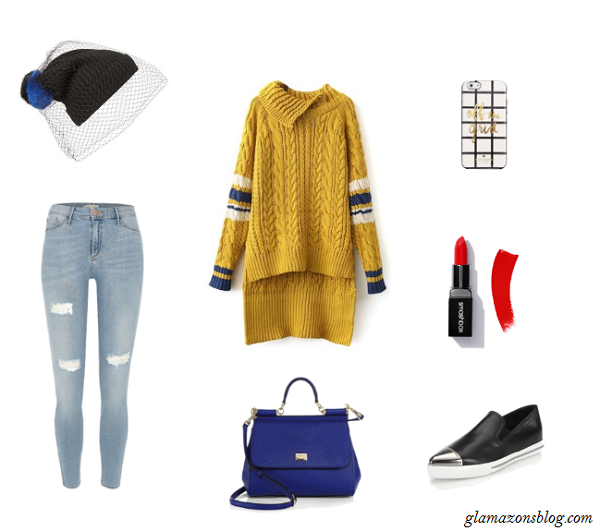 For a laid-back dinner with your family, a knit sweater goes a long way; it's forgiving but cozy. Pair yours with stretchy jeggings that will give you some breathing room as you go back for seconds. And finish the look with metallic-toe sneakers and a veiled beanie for a fun vibe.
Friendsgiving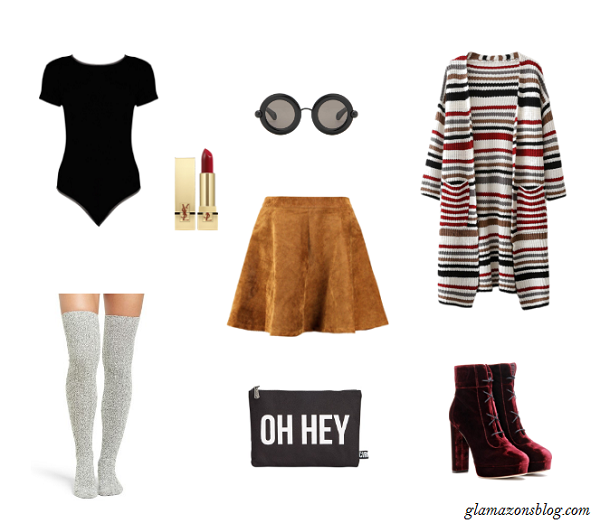 I don't know about you, but I love dressing to thrill when I'm with my girlfriends. The key is to keep things cute without overdoing it. Opt for a lightweight skater skirt layered underneath a chic cardigan. Throw on some stylish accessories like a statement clutch and circle sunnies.
Thanksgiving With Your Boyfriend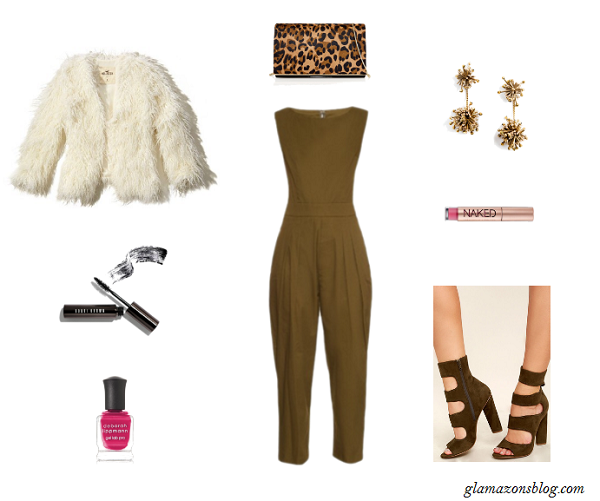 Whether you're hoping to win over your boyfriend's family, or just look elegant at an intimate dinner for two, a jumpsuit is a versatile option that instantly adds a level of sophistication to your outfit. A plush crop jacket adds dimension to your look and a pop of pink lip shows off your personality.
–
Do you have any exciting plans for Thanksgiving? What are you going to wear? Give me all the deets in the comments! 
Keeping It Fashionable,
Glamazon Briea
View Related Posts:
[fbcomments width="600" count="off" num="15"]