Get The Look: Every Stunning Natural Hairstyle From Texture On The Runway
Monday, February 29, 2016
Hey Glamazons!
As you may already know, I, Glamazon Ashley, am the new resident curly girl here at Glamazons Blog. I love anything curly hair-related so I couldn't wait to attend Naturally Curly's Texture on the Runway event at New York Fashion Week. A full-fledged celebration of natural hair, the annual fashion show and afterparty was sponsored by Target this year. I was lucky enough to take a peek at all the hair prep backstage before the show, and I loved what I saw!
Get the scoop on all the amazing looks at Texture On The Runway:
Dark and Lovely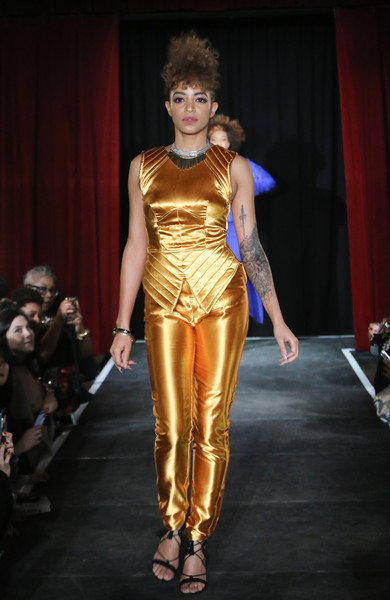 Inspiration: Inspired by Coming To America, the hairstyles for Dark and Lovely's segment were fit for queens.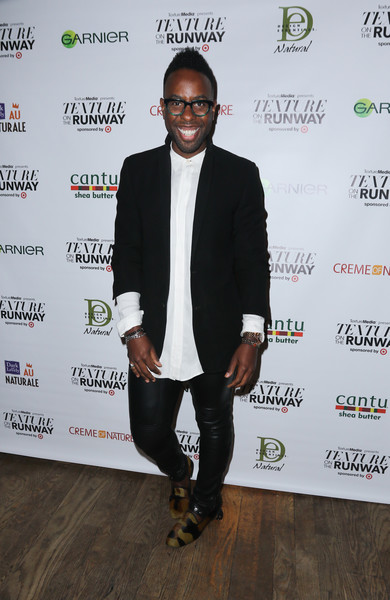 Johnny Wright, celebrity stylist and artistic style director for Soft-Sheen Carson (pictured above), told me: "Texture on the Runway is a great way to celebrate diversity on the runway. It's the perfect opportunity to do so. We collaborate with designers, while telling stories with different textures of hair and clothing. However, we're now doing it on the runway."
Indeed the clothing told a captivating story as the brand collaborated with Samantha Black of Project Runway fame.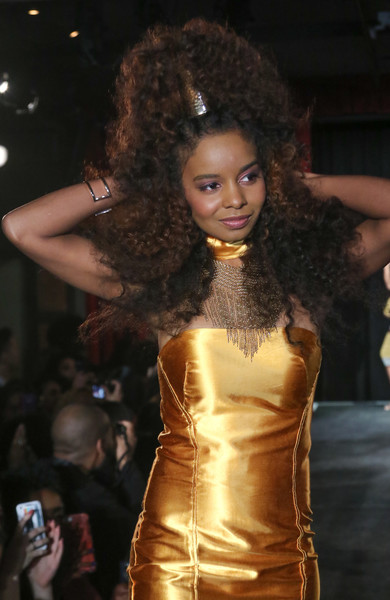 Products Used:
Dark and Lovely Au Naturale line which Wright says "takes the guesswork out of styling and caring for natural hair."
Dark and Lovely Anti-Shrinkage line "provides curl definition and elongation while hydrating the hair for up to 7 full days," Wright explained.
Creme of Nature
Creme of Nature worked with designer David de la Cruz, whose line was created as a love letter to New York.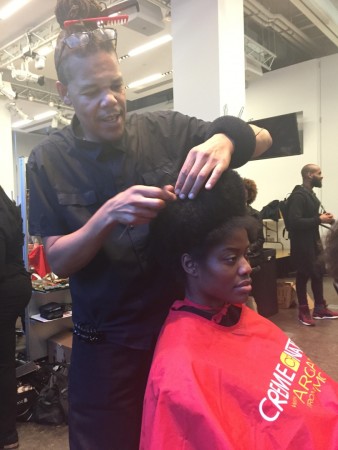 Chuckie Amos, celebrity hair stylist and lead stylist for Creme of Nature (pictured above), explained: "David's line is an ode to New York, a love letter, during a time when textured hair was expressed the most: the 70s. The styles we're creating today also have an 80s feel. We're giving you geometric Grace Jones, Rocker Linda Ronstadt, a socialite disco feeling and the Diana Ross afro. We're showing you texture in a cool way! We're creating looks that are more fashion and exciting. It's NYFW! Fashion should be at the forefront."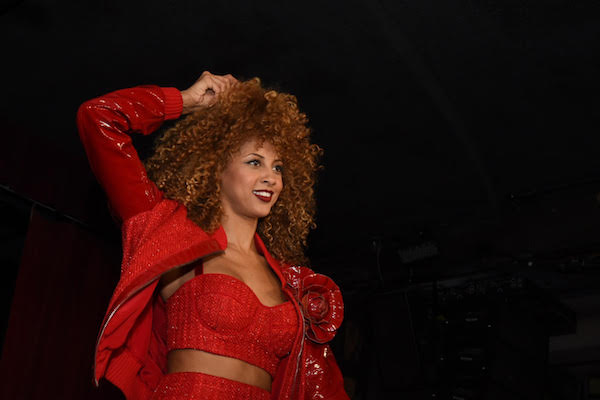 Image: Joe Chea
Products Used:
Creme of Nature Butter-licious Curls "to help curls and coils stay buttery and cool"
Creme of Nature Spray Gloss Mist
Creme of Nature Perfect Edges
Cantu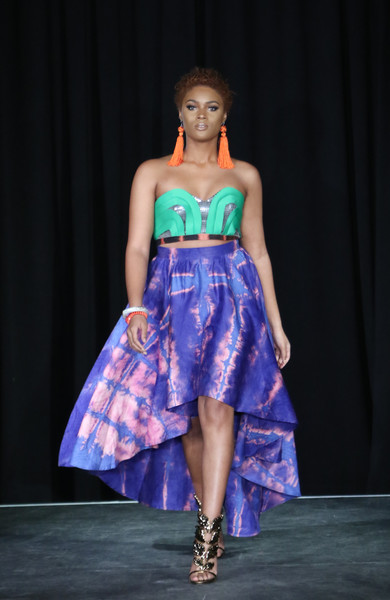 Inspiration: Cantu went for simple yet edgy looks that could work for women with all different lifestyles and hair lengths. The models dressed in designs by Suakoko Betty, whose designs Glamazon Jessica wore here.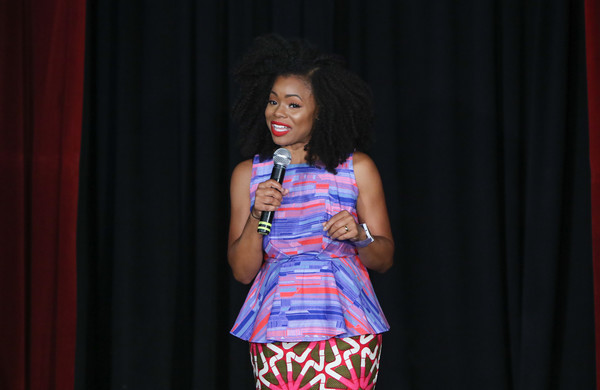 While doing amazing finger coils on a model, Maria Antoinette (pictured above) shared:"I love the style on newly naturals or anyone that just recently big chopped. It allows you to see the true texture of the hair and the elongation that you desire."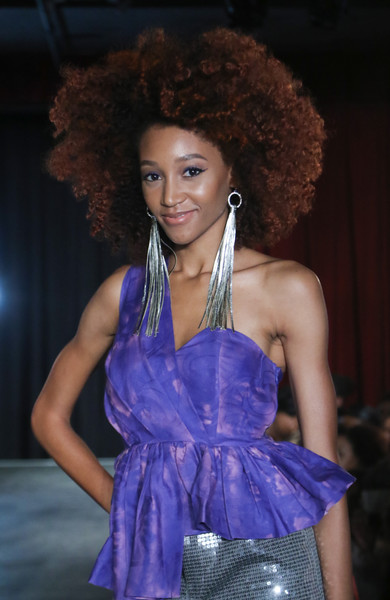 Products Used:
Cantu Come Back Curl Revitalizer
Cantu Curl Activator Cream
Cantu Twist and Lock Gel
Milani Cosmetics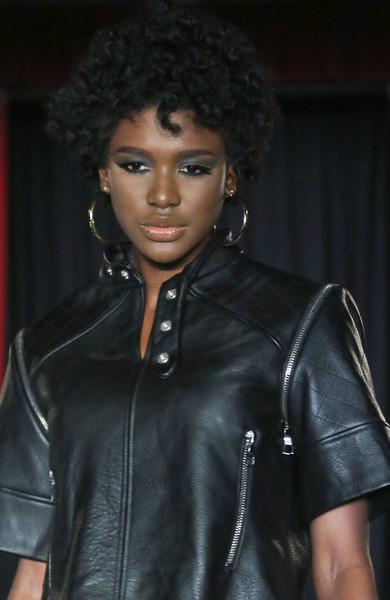 Milani Cosmetics was the sole makeup provider for the Texture on the Runway event, creating 5 different looks for the featured brands.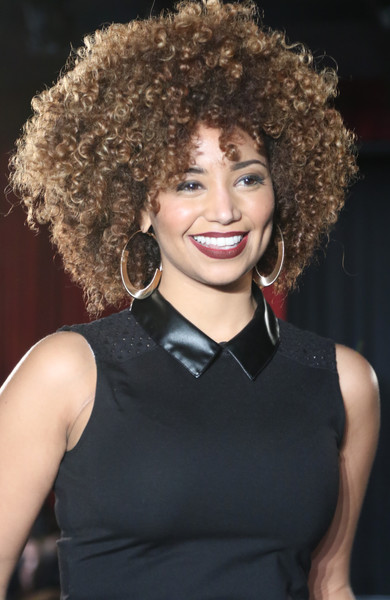 According to lead makeup artist Joy, they wanted natural, luminous skin with strong lips and graphic eyes. Their goal? Keep the looks fashion forward, achieve a smooth and even complexion, and add in pops of color.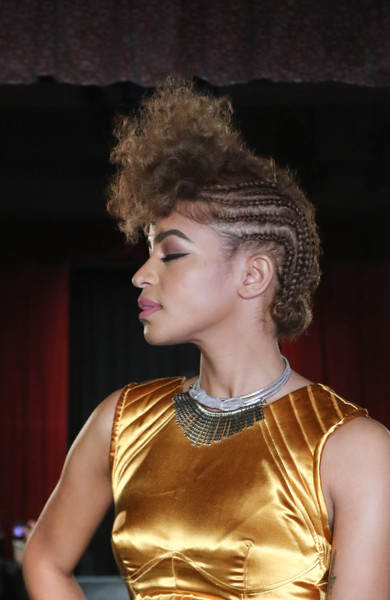 Products Used:
Milani Cosmetics Primer (Prime Perfection Hydrating & Pore Minimizing was used on dry skin, Prime Shield Mattifying & Pore Minimizing was used on oily skin)
Milani Cosmetics Prep, Set & Go Transparent Face Powder
Milani Cosmetics 2 in 1 Conceal + Perfect Liquid Foundation
Amore Matte Lip Creme
Glamazons, don't you just love all these looks? Stay tuned for a full recap of the show!
xo,
Glamazon Ashley
View Related Posts:
[fbcomments width="600" count="off" num="15"]