#NYFW: Marc Jacobs Spring 2015 is Ready For Battle
Friday, September 12, 2014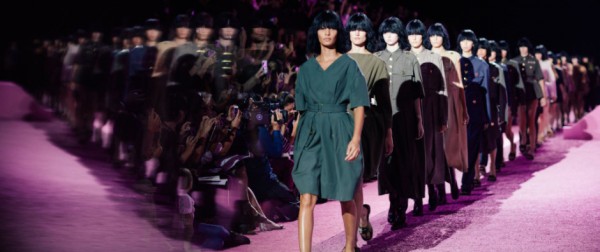 Glamazons,
It goes without saying that Marc Jacobs is the show everyone looks forward to the most at New York Fashion Week. And the hype is always warranted: MJ is consistently fresh, innovative and basically, the epitome of postmodern cool.
In a season that praised innovation (whether in the form of a play, block party or original dance routine), Marc was the most creative of all: he included Beats by Dre headphones in every seat so guests could hear the vocal narrative (created by record producer Steve Mackey) that went along with the show.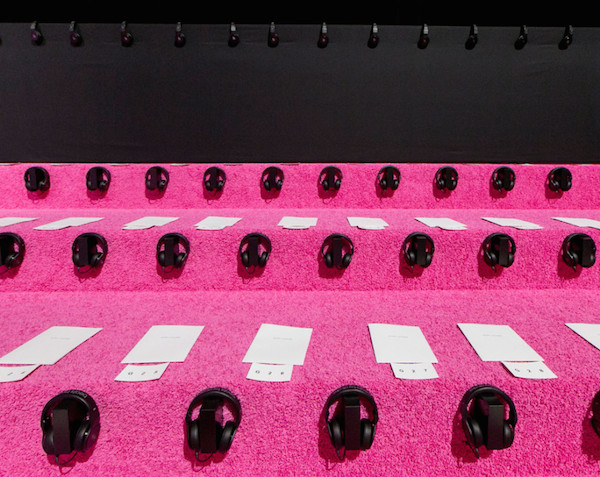 His goal, according to Style.com, "was to put everybody in their own world. It's what you make of it." That's a huge departure from the usual Fashion Week experience which is all about sharing, sharing, sharing, whether on social media, through a glance across the runway at your editor friend or with a whispered reaction to the co-worker sitting next to you. To be in your own world, hearing a narrative you can't post in 140 characters, is a markedly different experience.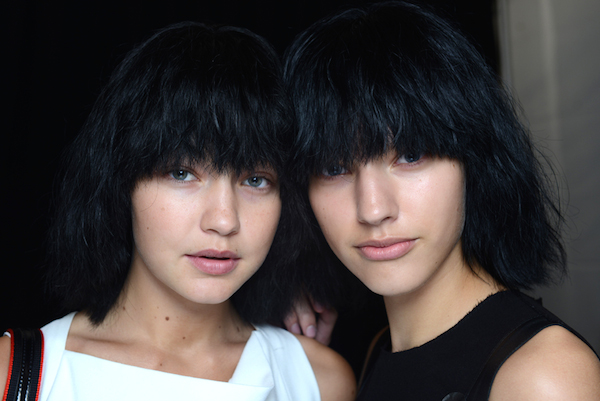 And the unique elements didn't stop there: Marc Jacobs models (including Kendall Jenner, Joan Smalls, Karlie Kloss) marched down the runway without makeup — and we don't mean the "no makeup" makeup look. We're talking bare skin.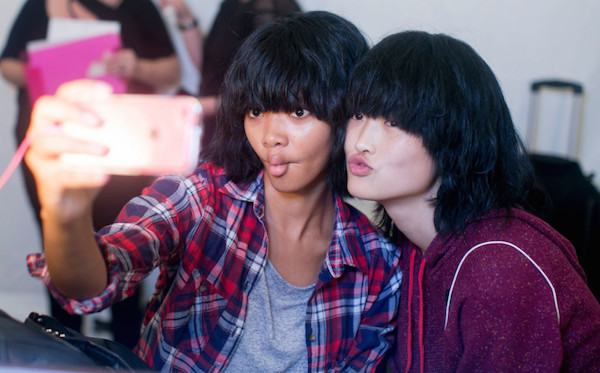 Selfie Time! #nomakeup #nofilter
Francois Nars keyed the show and admitted "we only applied moisturizer," explaining: "With Marc we always take it to the extreme, we've done bold looks in the past, but this season we wanted to make a statement by not applying anything."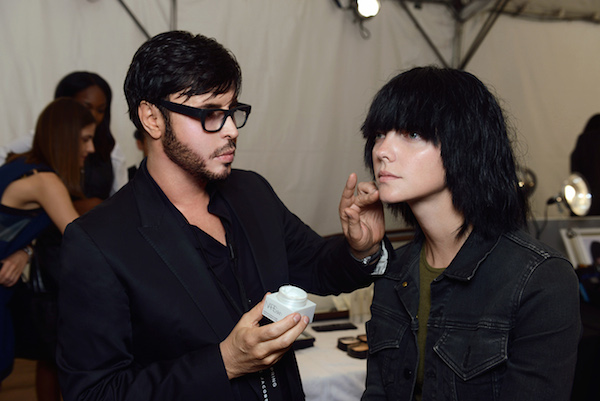 Can you even fathom what that experience must've been like for NARS artists? I imagine Marc saying "we're going with bare faces this season," and Francois Nars walking him through a pared-down makeup look with glowing skin, a nude lip and neutral shadow before Marc interrupts like "no, we just want lotion." Insert mouth drop. Like, do the artists just pick up their things and leave?!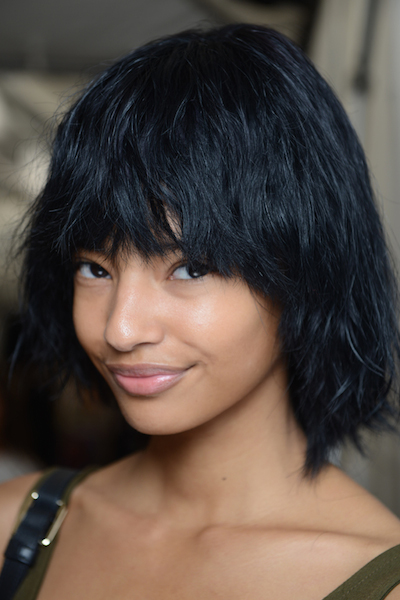 To his credit, Francois Nars supported the movement: "This goes back to one of the looks that I've always loved – bare skin, nothing on the face, lips or eye, just beautiful skin – I love makeup but I also love seeing women without makeup," he said. "To me, it's a great way to show fashion.  It works so well with the clothes and the hair. Who knows, maybe next season we will go back to a full face of makeup. I love having the flexibility to do this, we are not locked into applying makeup. I like the idea that what you see is what you get." He's a smart man to be flexible when it comes to Marc, because each season brings new inspiration and a totally new aesthetic.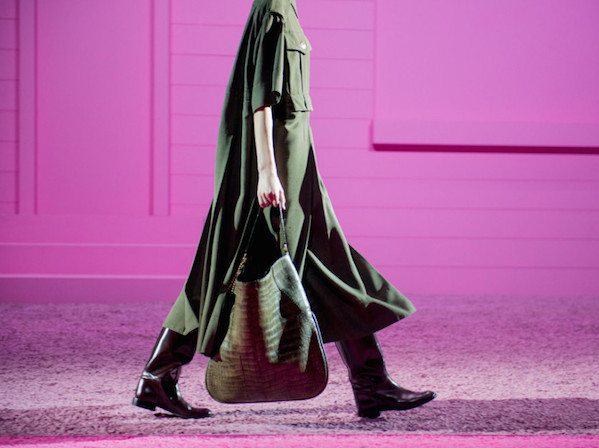 Here are the deets on Marc's latest: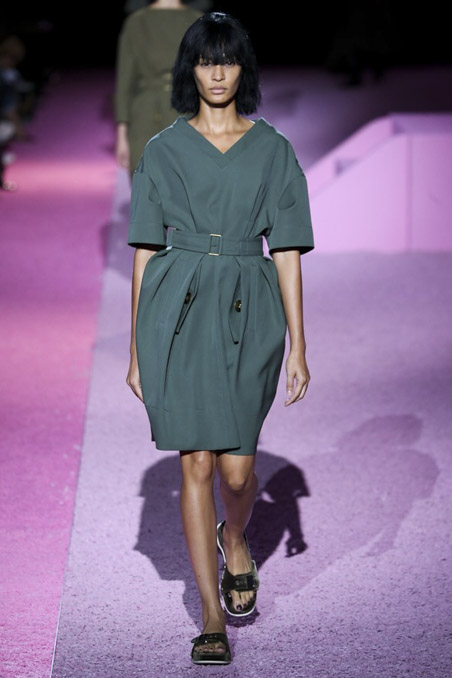 Inspiration: The narrative was inspired by John Smith's 1976 short film, "The Girl Chewing Gum," where a narrator, assumed to be the director, instructs pedestrians, cars and birds while the camera follows them. The clothes? A nod to fatigue-wearing Grace Slick who protested the Vietnam War in the '60s. With ISIS and #Ferguson looming in our nation's consciousness, maybe Marc's military clothes are a sign of the times.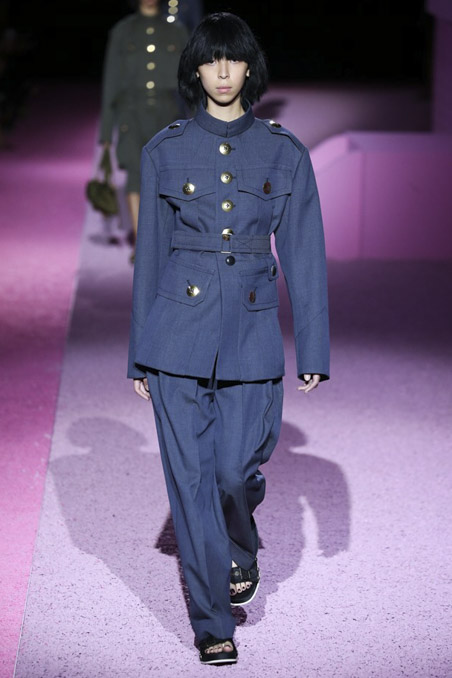 Key Pieces: V-neck dresses belted at the waist, dresses with oversized cargo pockets and shiny metal buttons, military-inspired jackets worn over slouchy pants, crocodile hobo bags, webbed belts, cargo pants belted at the waist paired with knit bandeau tops, metallic mini dresses with balloon hems, glittery Dr. Scholl's-inspired slides, low-slung crossbody bags with metal studs. Color palette was all olive, khaki, navy, brown and gray. Models wore shaggy black bob wigs with blunt bangs.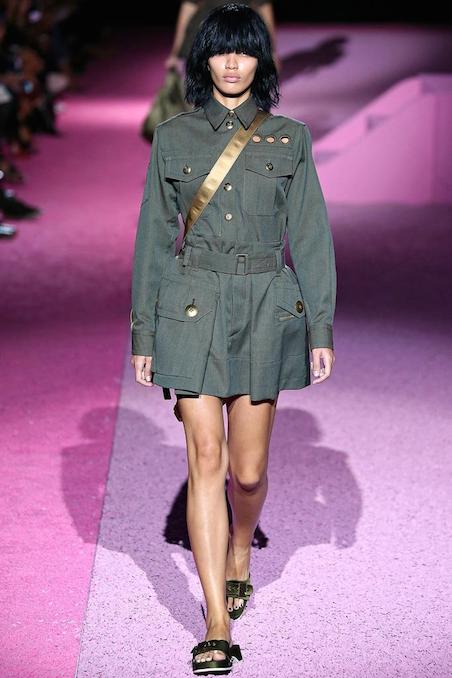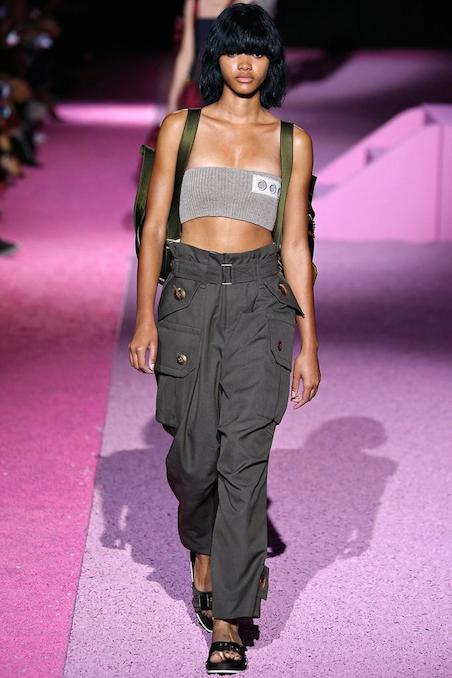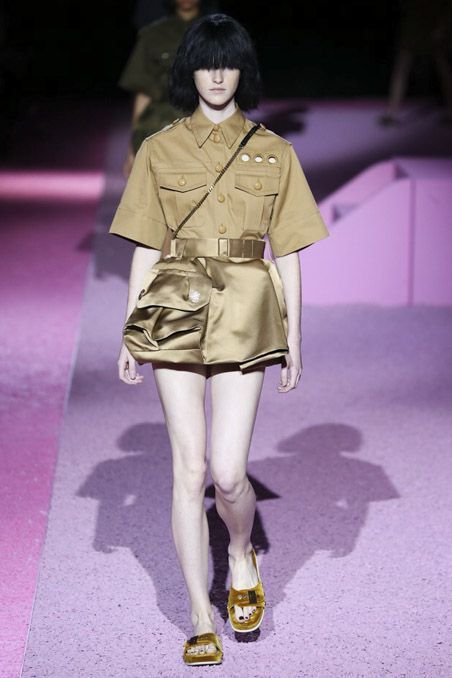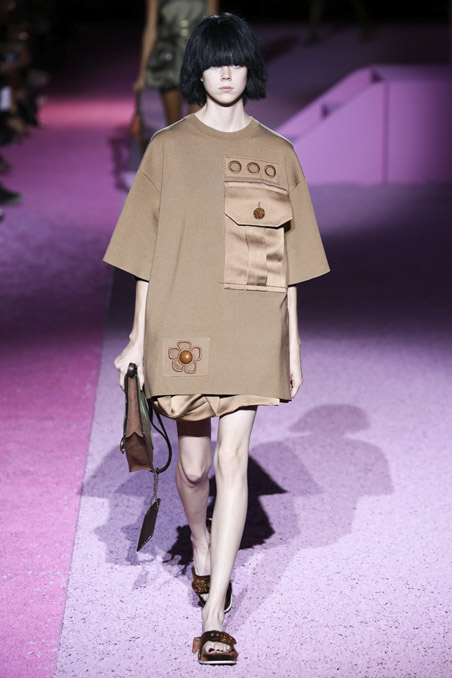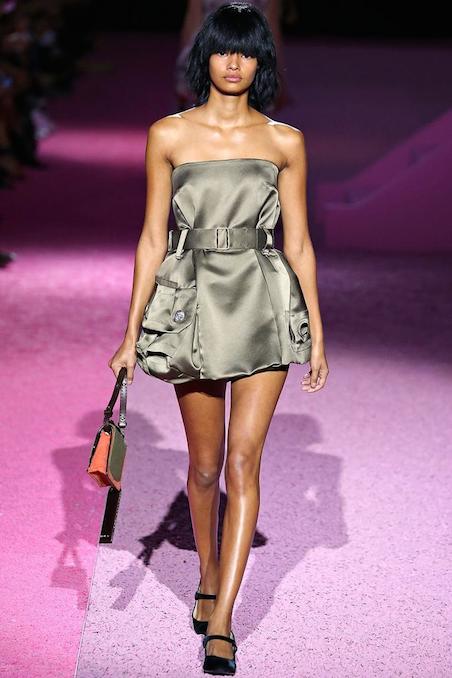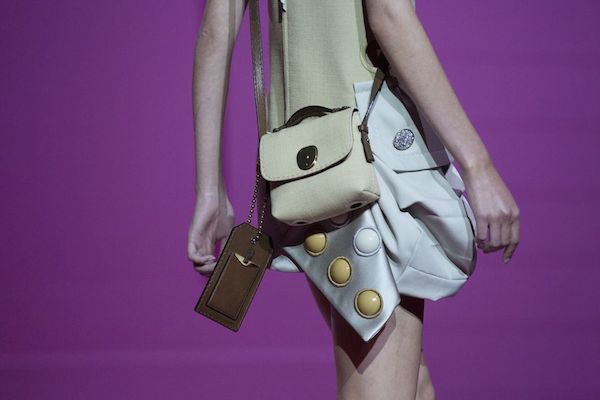 Who We Could See Wearing The Collection: Victoria Beckham, Olivia Palermo, Kristen Stewart, Miley Cyrus, Kate Moss, Sarah Jessica Parker. 
Check out more pieces from the collection: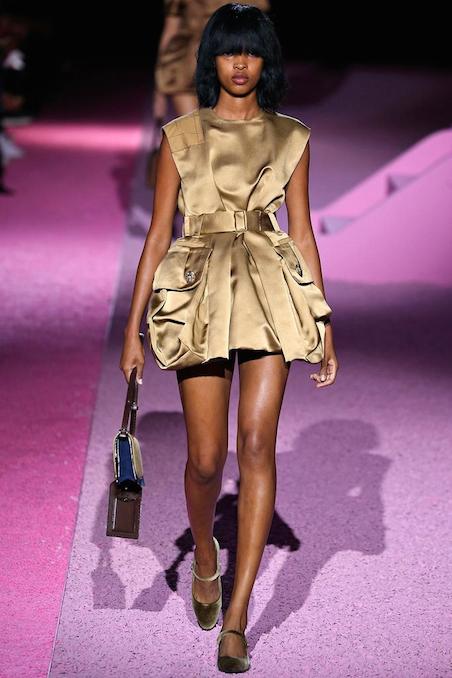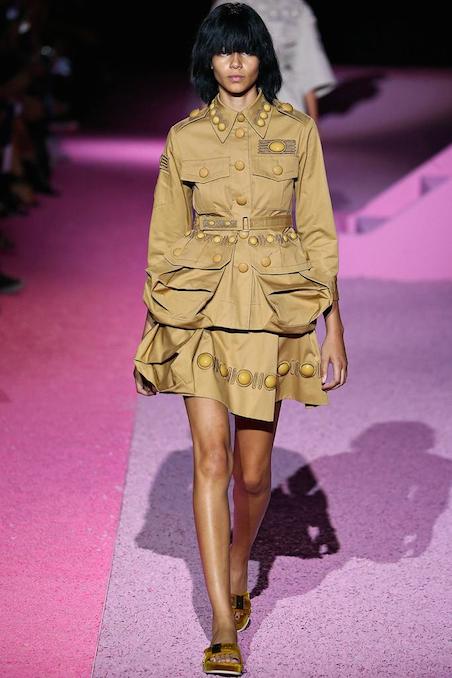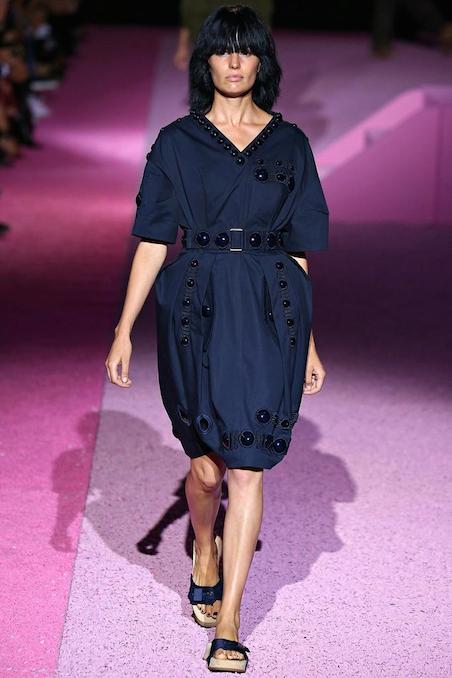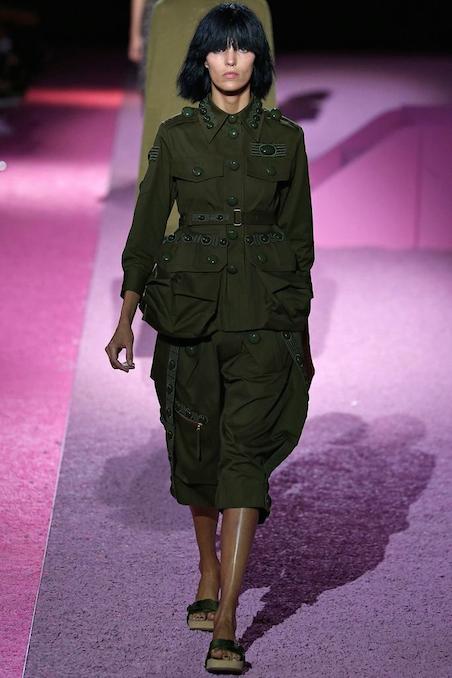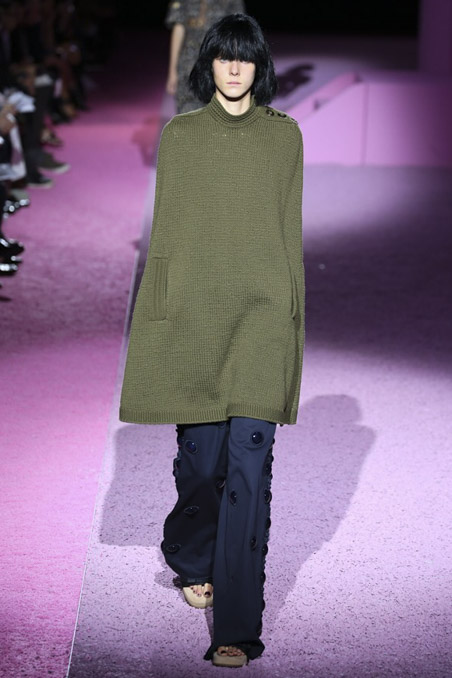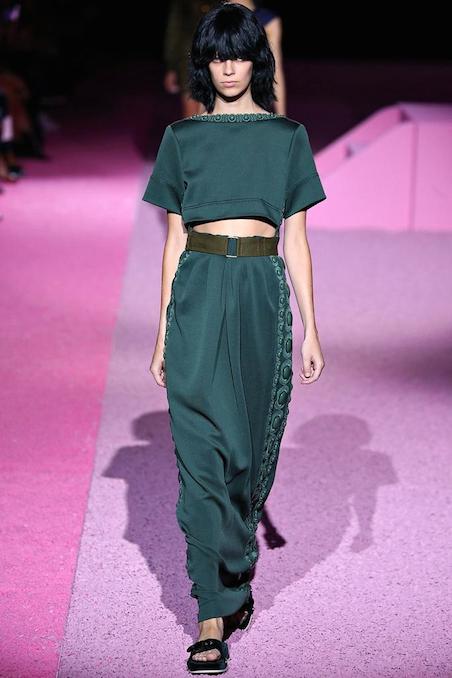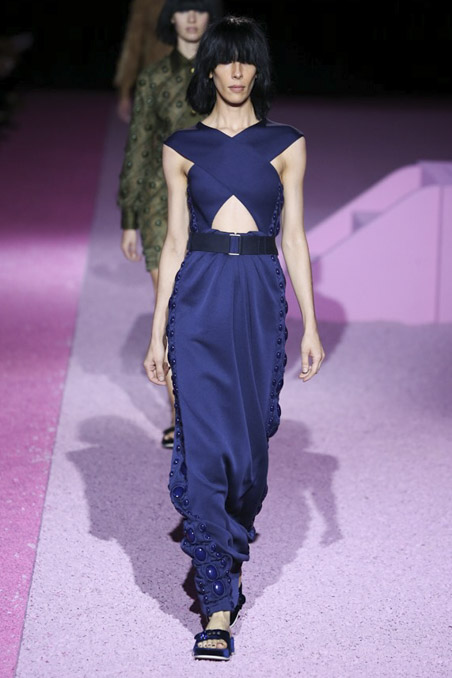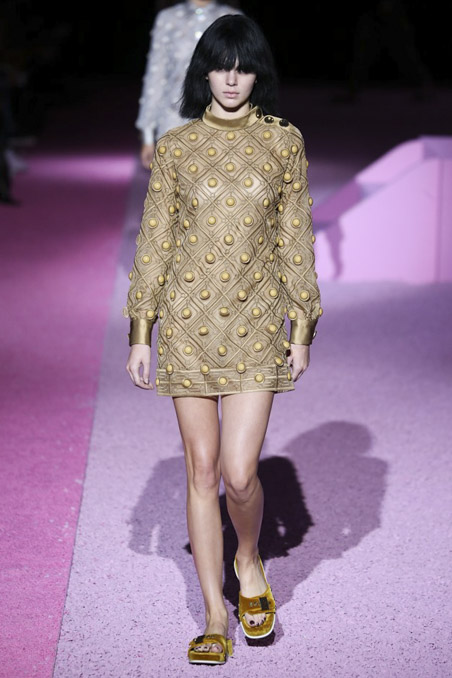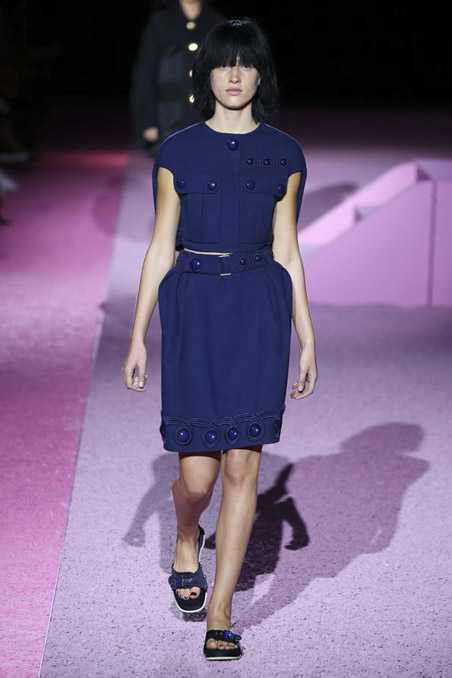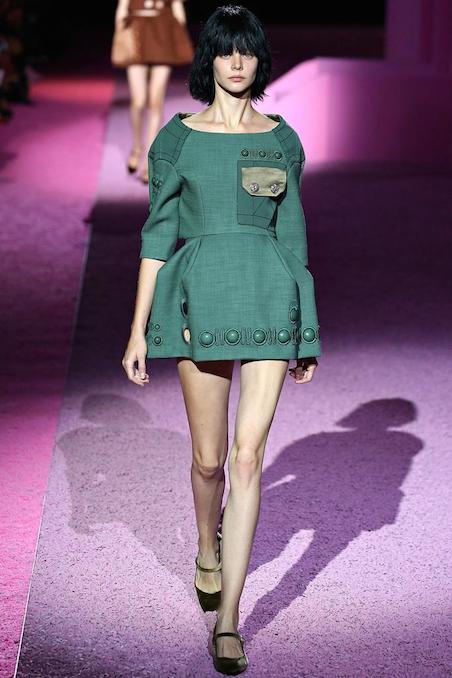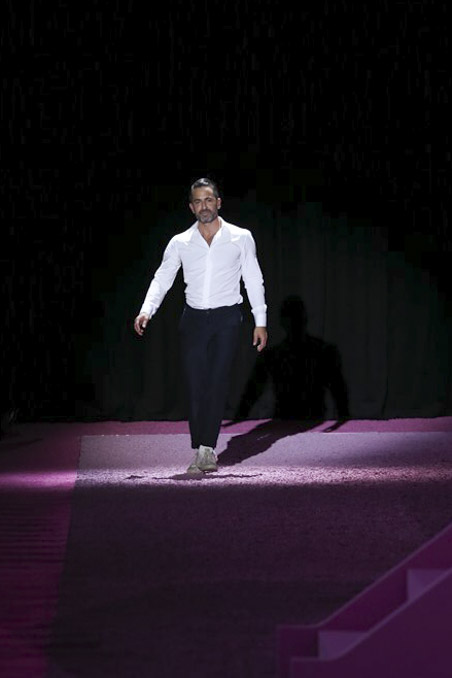 Do you love it as much as I do?
Kisses,
Glamazon Jessica
Images: Vogue/Style.com
View Related Posts:
[fbcomments width="600" count="off" num="15"]