FIRST LOOK! MAC The Simpsons Full Collection #MACandMarge
Friday, August 22, 2014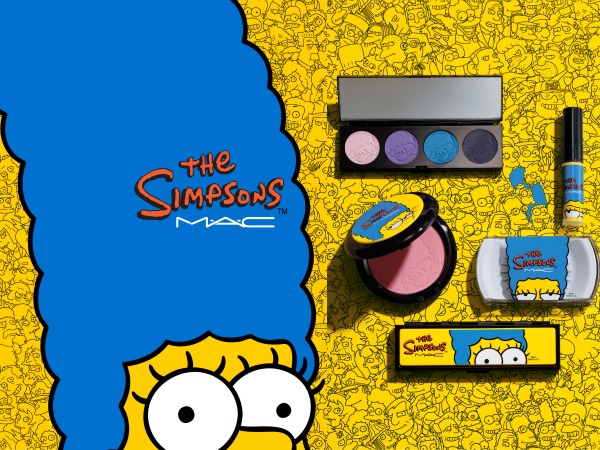 Glamazons,
It's almost here! It's almost here! *jumps up and down in heels* MAC Cosmetics' first collection inspired by blue-haired matriarch Marge Simpson hits online on August 28th and stores on September 4th!
The powers that be at MAC sent over all the images and product names from their upcoming MAC The Simpsons collection! And the line, which includes eyeshadow, lipglass, blush and nail stickers, is as beautiful and bold as Marge herself. Get into it!


Ladies, gentlemen and Rigellians, once in a generation does a cultural invasion of such magnitude define the planet, a common unifier of friends, strangers, countries and galaxies. On the occasion of its 25th anniversary, M·A·C honours the one, the only, THE SIMPSONS! Time sure does fly in the blink of a – well, blinks of a three-eyed fish, so we are celebrating the country's favourite animated family with a vivacious colour collection that screams That Trillion Dollar Look when you hit the town for a fine dinner at The Frying Dutchman…or Krusty Burger. Our classic formulas and finishes you love are to blue dye for with an animated twist. Be the best Sideshow You with satin pink Powder Blush for face, a classic 7 Lash and two special-edition Eye Shadow x 4 in frosty greens, cool blues and purples that glimmer and gleam like a Screaming Yellow Honker. Electric shades of Lipglass gleam with radioactive vibrancy in creamy orange, flashing fuchsia, blue violet and neon lime yellow. New Nail Stickers starring the most beautiful of Bouviers, Marge, set the finishing touch. All in limited-edition packaging that can be described in one word: Eeeeexcellent.
MAC The Simpsons Eyeshadow Quad: Marges Extra Ingredients (Harpooned Heart: light baby pink (lustre), Sexy PB & J: mid-tone bright violet (veluxe pearl), Beehive Blue: mid-tone bright blue (veluxe pearl), Vivacious Vacuum Cleaner Bag: deep navy (frost) – $44.00 US/$53.00 CAD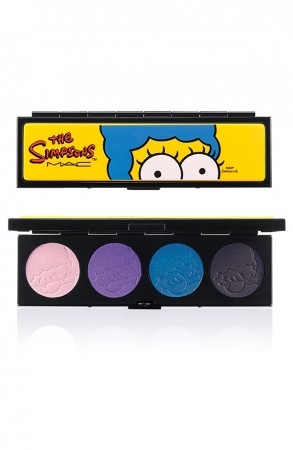 MAC The Simpsons Eyeshadow Quad: That Trillion Dollar Look (Lisa's Spikes: lime green (frost), Apple Squishee: mid-tone Kelly green (frost), 2 Dozen and One Greyhounds: dirty olive green (veluxe pearl), Chalkboard Dreams: deep blackened teak (velvet) – $44.00 US/$53.00 CAD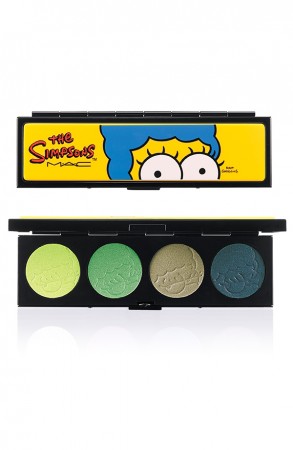 MAC The Simpsons Lashes, 7 Lash – $18.50 US/$22.00 CAD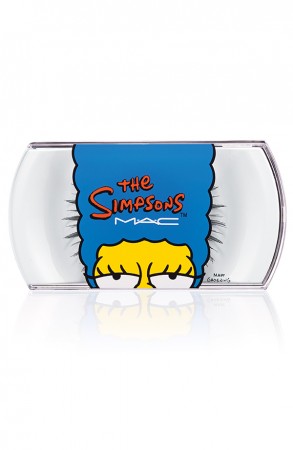 MAC The Simpsons Lipglass in Grand Pumpkin, bright creamy orange – $16.50 US/$20.00 CAD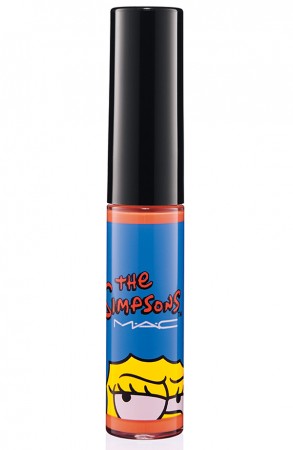 MAC The Simpsons Lipglass in Itchy & Scratchy & Sexy, electric blue violet – $16.50 US/$20.00 CAD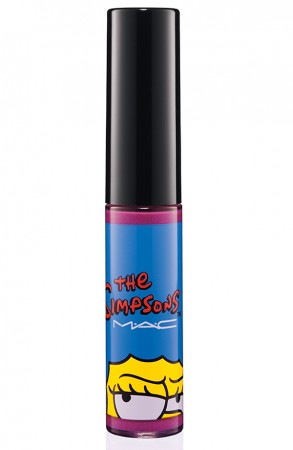 MAC The Simpsons Lipglass in Nacho Cheese Explosion, bright neon lime yellow – $16.50 US/$20.00 CAD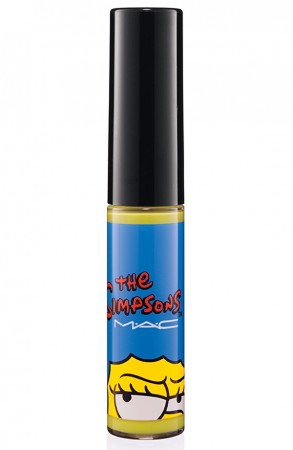 MAC The Simpson Lipglass in Red Blazer, bright fuchsia – $16.50 US/$20.00 CAD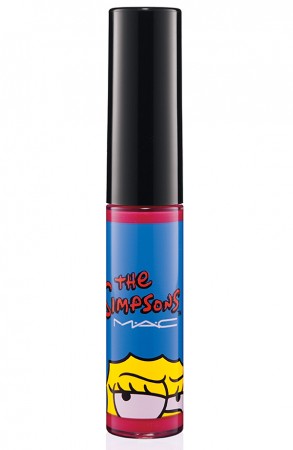 MAC The Simpsons Nail Stickers: Marge Simpson's Cutie-cles, $16.50 US/$19.00 CAD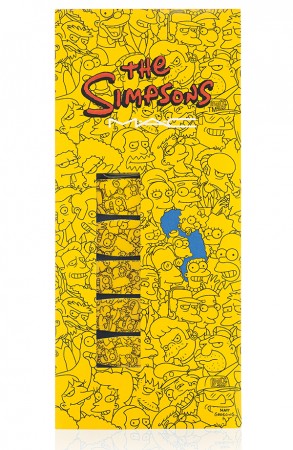 MAC The Simpsons Powder Blush in Pink Sprinkles, cute blue pink (satin) and Sideshow You, light peach coral (satin) – $24.00 US/$28.50 CAD (online only)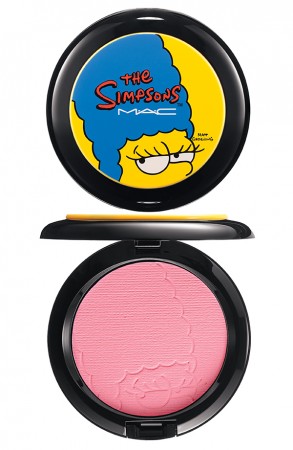 LOVE IT ALL! Glamazons, what are you picking up? Can't wait to shop the collection when it goes on sale online on August 28th, in North America stores on September 4th and internationally in September 2014.
Kisses,
Glamazon Jessica
View Related Posts:
[fbcomments width="600" count="off" num="15"]