8 Things to Do in Reno, Nevada #GlamazonTravel
Tuesday, January 30, 2018
Glamazons, So, you may have seen this already on my Instagram Stories but I totally switched things up this year as far as traveling goes. Usually, I like to head to warmer destinations in the winter (Team #stretchyoursummer) and in the past, I've been to Cuba, The Bahamas and Jamaica during cold months in NYC. This year, I decided to head somewhere a bit frigid: the mountains of Reno, Nevada with the Curators of Cool collective. I got a few "Girl, WYD?" texts when I told my friends about it LOL, but I'm glad I went. I was actually surprised by how much fun a getaway can be in colder temps, and there are few things as beautiful as snow-capped mountains. I'd been skiing once before but this time, I mostly hung out at the lodge, got way too excited on the ski lift, and took in the breathtaking views of Lake Tahoe. And when we weren't hitting the slopes, there was still a lot to do: a distillery, a magic show, a nightclub, an escape room, lots of great food, and the list goes on. There was never a dull moment.
Check out a few recommendations below for what to do in Reno, Nevada:
Grand Sierra Resort & Casino: We stayed at the GSR — the largest hotel-casino in Northern Nevada — and it was perfection. They have a gorgeous pool and hot tub, a dreamy spa and full-service gym, a casino downstairs, entertainment right inside the resort (we went to a magic show), a fun nightclub (more on this later), and they're building an ice rink. It's centrally-located in downtown Reno, which was super convenient. Of course my favorite part was the views of the mountains as soon as you walk outside. Customer service left a bit to be desired at times, but all in all, I really enjoyed my stay there.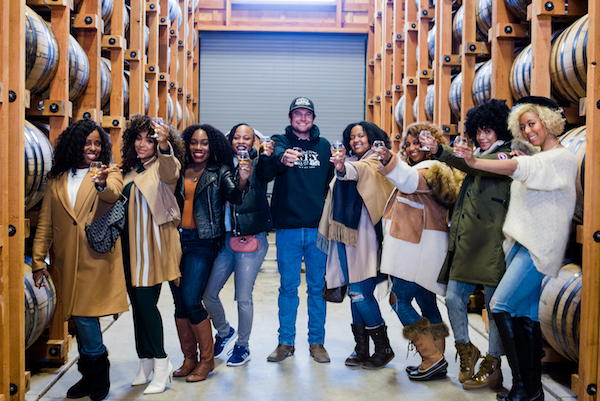 Frey Ranch Distillery: This was probably my favorite moment of the weekend. Frey Ranch Distillery is a charming family-owned business and the owner, Colby Frey, produces quality spirits (vodka, gin, whiskey and absinthe) with grains grown right on his gorgeous farm. I'm not usually a whiskey person, but even I thought it was super smooth. It was amazing to take a tour of the distillery and see how everything is produced. I'm still in awe of the science behind it all! Colby's dedication to growing the family business is just heart-warming (it's been in the family since the mid-1800s before Nevada was even a state!). And I was super inspired by the fact that he supplies grain to other distilleries; people would view it as enabling the competition but there's such a sense of community in Reno that he's happy to do it. Another thing: his farm brings in revenue, so he doesn't rush to produce liquor just to make money, thereby sacrificing quality in the process. He let us taste whiskey that's been aging for 4 years! Anyway, they host tastings and tours on Saturday from noon to 4pm, and I highly recommend going. And if you go closer to 4pm, then stop along the stunning tree-lined road on your way out and catch the sunset.
Frey Ranch Distillery | Instagram | Twitter
The Depot Craft Brewery & Distillery: We headed to another brewery/restaurant for dinner and the food was phenomenal. Literally, Lexi and I couldn't stop eating the brussel sprouts (sautéed in maple sherry vinaigrette with bacon bits…my Lord). The drinks were excellent (especially the beer) and it makes sense: The Depot is the first combined brewery and distillery in Nevada. Owner Brandon Wright took us on a tour of the brewery and his passion for it is contagious. I really loved the ambiance, especially the murals by the outside eating area — just gorgeous. It's pretty popular so I recommend making a reservation. It's a great spot for a date night or just to hang out with friends.
The Depot Craft Brewery & Distillery | Instagram | Facebook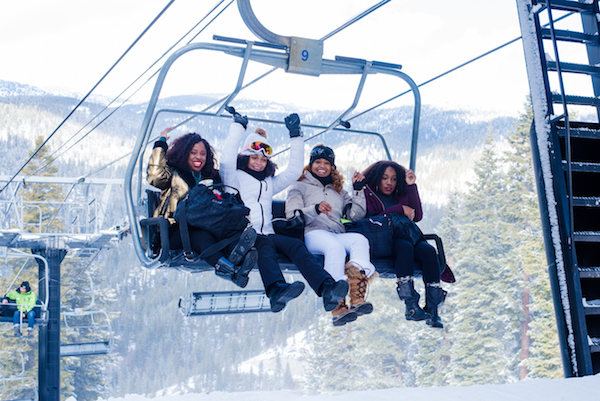 Diamond Peak Ski Resort: So I mentioned I skied once before but I'm no expert. That said, I loved Diamond Peak ski resort. They have advanced runs for the ski obsessives (like the black diamond courses) but the resort is also really great for beginners. The crew took a ski class before hitting the slopes, and the instructors seemed super helpful. Lexi and I got to hang out in the ranch and it was everything: great food and a bar with warm drinks. Also, my obsession with ski lifts was born here; the view of Lake Tahoe from the lift is magical. If you're traveling with family, it's also kid-friendly. The kids with their little skis on the mini-slopes were so adorable!
Diamond Peak Ski Resort | Instagram | Twitter
LEX Nightclub: I'm starting to feel like I only party on vacation (otherwise, I'm too tired from life) but as an infrequent party-goer, can I just say it's a major hack when there's a club right in your resort? And a good one at that. My friends had to drag me out to Lex nightclub, but it was so worth it. The DJ kept us dancing all night long (what time difference?) and though he was from NYC, he threw in a couple of local hits and the crowd loved it. My favorite part was the fact that the (transparent) dance floor was on top of an indoor pool. How fun is that?! Lex Nightclub is also good for celeb spotting; T.I. and Big Sean were there recently and a few days after we left, the Ying Yang twins came by.
Lex Nightclub | Instagram | Twitter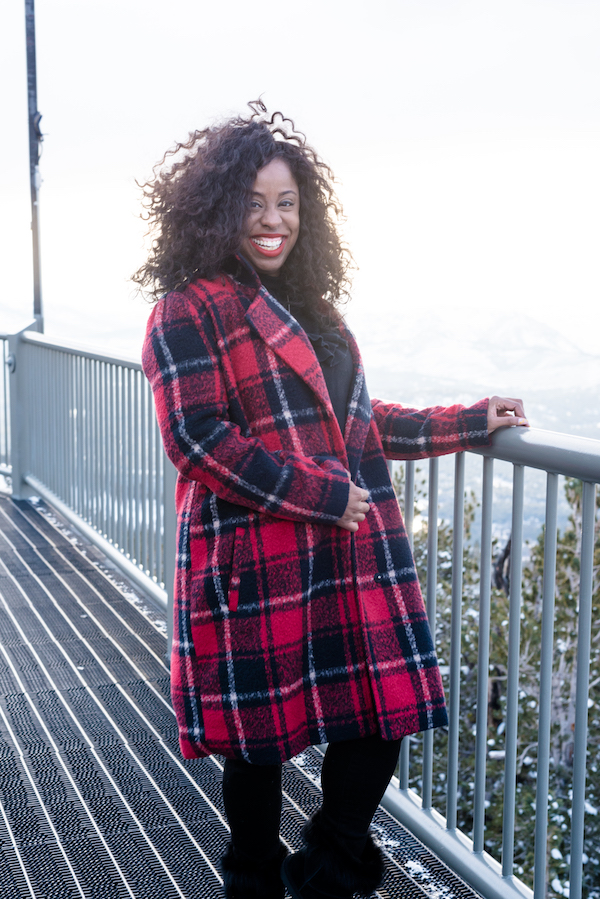 Heavenly Ski Resort: You know how they say when you get older you turn into your parents? Well, I'm definitely transforming into my Dad in that I appreciate views and nature so much more now. Seriously, I could spend the whole day taking in views and sometimes, my Dad and siblings will literally do just that…for an entire day when we're on vacation. Anyway, I say that to say: you have to see the view of Lake Tahoe from Heavenly Ski Resort. You just have to. It's one of the most spectacular views in the world, and once you're there, it's easy to see why — especially from the ski lift. It's also the region's largest ski area, with 87 runs and 30 lifts (spread between California and Nevada) so great for hitting the slopes.
Heavenly Ski Resort | Instagram | Twitter
Liberty Food & Wine Exchange: OK guys this is my favorite restaurant in Reno. The food is incredible — everything is freshly made and delicious. Literally, we were trying to take spices home. They have a meal plan delivery service and I'm like, do you guys come to NYC? LOL. Do yourself a favor and get the roasted cauliflower, then come back and thank me personally. They offer a unique eating experience with sharable plates so you can try a little bit of everything and see what you love. Also, the ambiance! There are huge black-and-white photos on the wall of beloved icons like Prince, David Bowie, Muhammad Ali, Jimi Hendrix. I actually wish I could go back there right now.
Liberty Food & Wine Exchange | Instagram | Facebook
Puzzle Room Tahoe: Are you into escape rooms? I first heard of them in Harlem, but I'd never been to one before visiting Puzzle Room Tahoe in Reno. I did a poll on my Instagram stories and was pleased to learn most of you love them, too. The puzzle was pretty difficult to figure out but also thrilling. I totally recommend it for group trips; it's a bonding experience because you have to rely on each other's skills and expertise to make it out. I'm excited to go to a local one with my family now, so much fun!
Puzzle Room Tahoe | Instagram | Twitter
Have you ever been to Reno, Glamazons? Anything I missed I should check out next time?
Kisses,
Glamazon Jessica
Special thank you to the Curators of Cool Collective, Yelp Reno, and Argentum Partners for planning the most amazing trip.
Photos: Joe Chea
[fbcomments width="600" count="off" num="15"]