8 Last Minute Halloween Costumes You Can Find In Your Closet (or DIY!)
Friday, October 27, 2017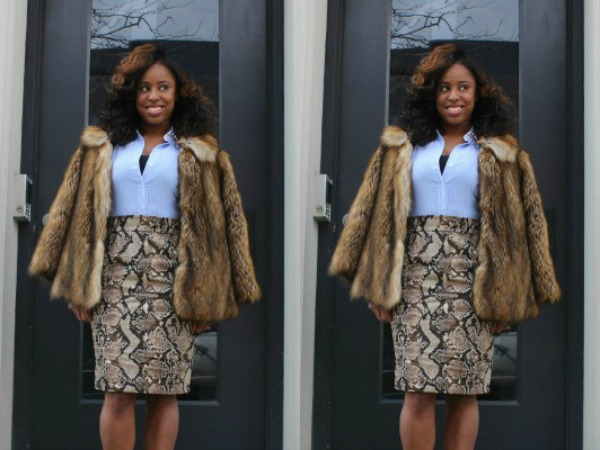 Hey Glamazons, Confession: Halloween is one of my favorite holidays! Everything from watching classic scary movies to satisfying my sweet tooth, you name it and I'm here for it. Halloween is also one of the only times that me and my girlfriends get to just be silly and dress up for a carefree night on the town — and believe it or not, we do it in DIY Halloween Costumes.
I get so much excitement out of putting together the perfect costume. However, thinking of a look that's 1) creative and 2) isn't cliché is easier said than done. But no need to worry! I've come up with eight fun costume ideas you can piece together with items you likely already have in your closet. A plus: you'll actually want to wear them again once Halloween is over!
Frantically searching for a Halloween costume? Get into these 8 DIY Halloween Costume ideas:
1. '20s Flapper
Why not channel the glitz and glamour of the roaring '20s a la Josephine Baker? Go in your closet and dig out that fringe mini. You know, the one you love but haven't worn in months because it's a little too extra for just any ole Saturday night? Yes, that one. Now throw on a luxe fur stole, metallic turban and sparkling stilettos to really sell the decadence of this era. Want to make the look even bolder? Opt for dramatic statement jewels and a sultry lip. Voila! You're good to go.
2. Congresswoman Maxine Waters
It goes without saying that Maxine Waters is everyone's favorite auntie in our head. Because suit separates are probably already a part of your daily office attire, this one should be super simple. Pair tailored black slacks with a stylish blazer and practical pumps. Incorporate a few ladylike add-ons like a pearl necklace and matching earrings. And don't forget your watch to reclaim your time when folks get out of hand — it's only right!
3. Carrie Bradshaw
You know that tulle skirt hanging in your closet? Pull it out for a costume that pays homage to Carrie Bradshaw. For this look, let the skirt do the talking by keeping the rest of your outfit understated. Style it with a pink tank top, strappy heels and a nude lip. Pull it together with a silver belt and blend in a textured clutch for added flair. Bonus points if you commit to ordering Cosmos all night long.
4. Solange
Solange is the queen of a good unapologetic slay. All you need to transform your look is a few of the million and one hair clips (or bobby pins) you have scattered around your room. To stay true to her style, throw on a brazen statement tee with a pair of boyfriend jeans and block heeled sandals. Be sure to keep your makeup subdued with barely-there lipgloss and just a bit of highlighter. Done and done.
5. Foxy Brown
If ever there was a face of '70s style, Pam Grier was it. Take a cue from Foxy Brown herself and style a red jumpsuit with a gold chain belt and shiny platform pumps for an ultra-chic look. Flashy gold jewels will add the necessary drama. And if you're really ambitious, quote "I'm a whole lot of woman!" to spark up a convo.
6. Holly Golightly
What better excuse to get all dolled up than with Audrey Hepburn's beloved Breakfast at Tiffany's character? Take your favorite little black dress – we all have one – and complement it with glam accessories like opera gloves, a feminine statement necklace and shining tiara. Give a nod to her signature cat-eyed frames with a pair of your own. A stuffed cat serves as the perfect finishing touch to slay the character and really make the look come to life.
7. Masquerade Ball
I've been wanting to create a masquerade themed look forever! To execute this costume flawlessly, opt for a sequin mini and throw in a few over-the-top accessories like a dazzling clutch and gold face mask. Neon nail polish will draw attention, while a dark vamp lip will add just enough intrigue to keep things interesting.
8. Rosie the Riveter
A casual denim shirt is the perfect opportunity to pull off a Rosie the Riveter costume. If you need a quick costume for a Halloween party, this is one that is fashionable yet still fairly easy to pull off. All you have to do is pair that denim shirt with a red and white polka dot bandana, casual jeans, and a fierce red lip. A few statement pins will totally bring the look together. 
–
What are your Halloween plans, Glamazons? What are you dressing up as? Share your costume ideas below!
Keeping It Fashionable,
Glamazon Briea
Main Pic: Glamazon Jessica dressed as Cookie Lyons from Empire
View Related Posts:
[fbcomments width="600" count="off" num="15"]