How to Get an Invite to a NYFW Show
Friday, September 22, 2017
Glamazons,
Why do I feel like NYFW was all a blur? I attended show after show this season, running around NYC and working for the day job. It was a LOT of work — challenging, exhausting but totally rewarding at the same time. Some highlights? I went to Prabal Gurung for the first time and it was awesome to see his new political slogan tees ("I Am a Michelle") and it was an honor to be in the same room as Gloria Steinem. I also really loved the Delpozo show, where neon gowns floated down the runway, juxtaposed against a white wall, as sun streamed in and a live band played in the background. It was a moment. One of the biggest questions I got during NYFW was…how does one get invited to a show? It's definitely a process, and it took me quite a few years to make it into a show, and even longer to get a seat. But looking back, it's all totally worth it.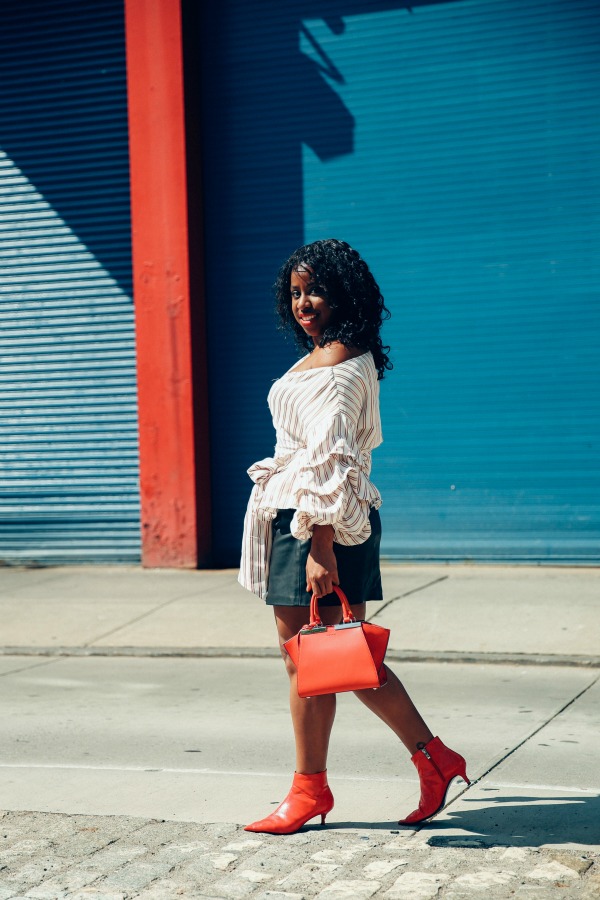 Top: Alexis via Rent the Runway Unlimited | Skirt: H&M | Boots: Zara | Bag: Fendi via The Outnet | Lipstick: MAC Cosmetics | Hair: Indique
Check out 5 tips for getting invited to NYFW below:
1. Develop relationships with brands all year long.
People often make the mistake of sending invites during Fashion Month, without nurturing relationships all season. If you've been covering and working with a brand prior to Fashion Week, it's much easier to secure an invite or even a seat at the show. A lot of the editors, influencers and bloggers you see at fashion shows work with these brands on a regular basis.
2. Request well in advance.
I'm so guilty of requesting at the last minute, and let me tell you, it serves no one. If you remember DKNY PR Girl (my fave!), she had an entire series dedicated to last-minute (and crazed) requests. The big shows start fielding requests mid-August, so be sure to send your emails out then. It definitely increases your chances of securing an invite.
3. Look for presentations.
As Fashion Week changes, and brands start looking to different (and often) smaller venues, it's become increasingly hard to snag a seat at the show. That said, presentations are much easier to get invited to. There's a steady flow of traffic so brands can expand the invite list. The best part? Everyone can see the designs up close. And since they usually last about an hour or two, you can come and go at your own pace.
4. Don't rule out parties and events (just be sure to arrive early).
When I look back at my craziest NYFW memories, they're always at a party or late-night event. This season, I was right in front of the stage for a Lil Kim performance and the season before, I almost lost my limbs to see Migos hit the stage (long, sad story). The parties are indeed fun and memorable, and much easier to get into than fashion shows. Just arrive early. That's literally the only way you'll make it in, even with your RSVP.
5. Actually follow up with coverage.
The worst thing you can do is simply forget about the brand or fashion show once you've attended. Again, it's important to nurture that relationship 24/7. So, if you got invited to a fashion show, be sure to cover it on your platform and follow up by sending a link to your PR contact. They'll really appreciate it, and the small gesture goes a long way in securing your invite for next season.
Any other NYFW tips? Feel free to share in the comments.
Check out more photos from my experience at NYFW: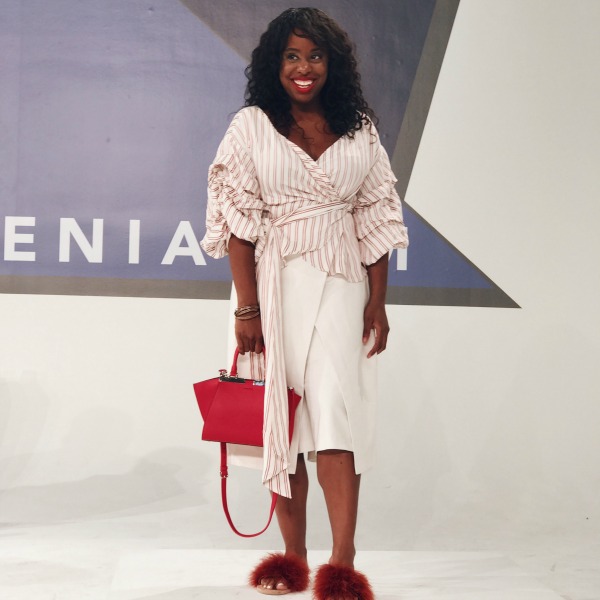 One thing I REALLY loved about NYFW is collaborating with Rent The Runway for their Unlimited program I raved about here. I was able to mix and match some of my favorite pieces from their Unlimited selection (which is huge and increased daily) — and I could send it back in for a replacement once I was done wearing it. This shirt was a huge hit at Fashion Week, and I styled it above with a leather skirt and here with Tibi capris and my favorite Brother Vellies sandals.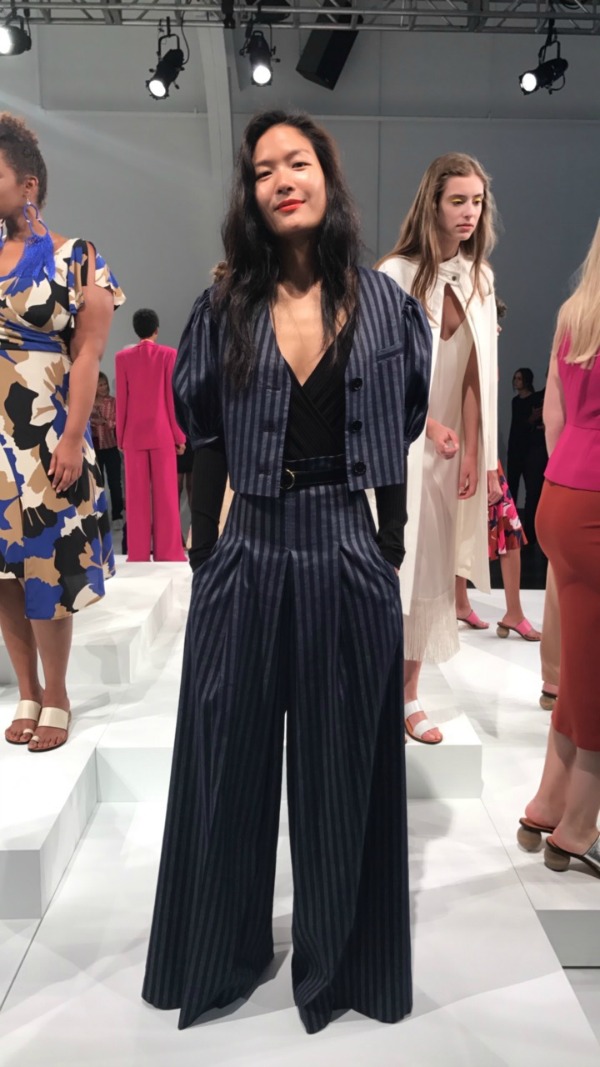 This is my favorite look from the Tracy Reese Spring 2018 show. To celebrate diversity and combat xenophobia, Tracy asked models to tell us about their ethnic background in their native language. It was such a beautiful celebration of diversity, and helped us all connect with the models in a genuine and powerful way. I loved it!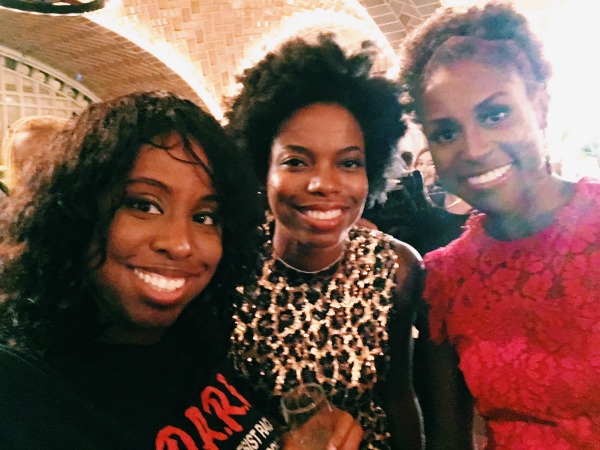 One of the best parts about Fashion Week is randomly running into celebrities you love at events. I felt like I walked into my television when I spotted Issa Rae ("Insecure") and Sasheer Zamata (formerly of "SNL") at the Kate Spade presentation. I'm still reeling from the "Insecure" Season 2 finale!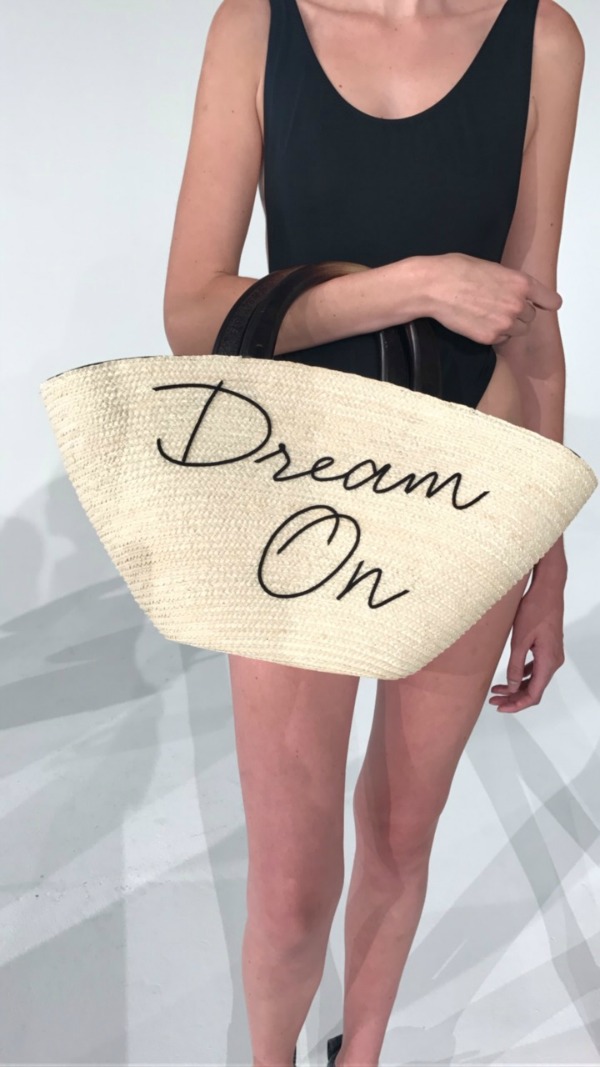 You guys know my obsession with Eugenia Kim. Her "Sunny Side Up" hat is one of my all-time faves. This season, I'm in love with the bag options (the "Dream On" tote is adorable!) and guys, I got to meet her! She used to work at one of my favorite magazines, and she left editorial to do design. Career, life, bag goals.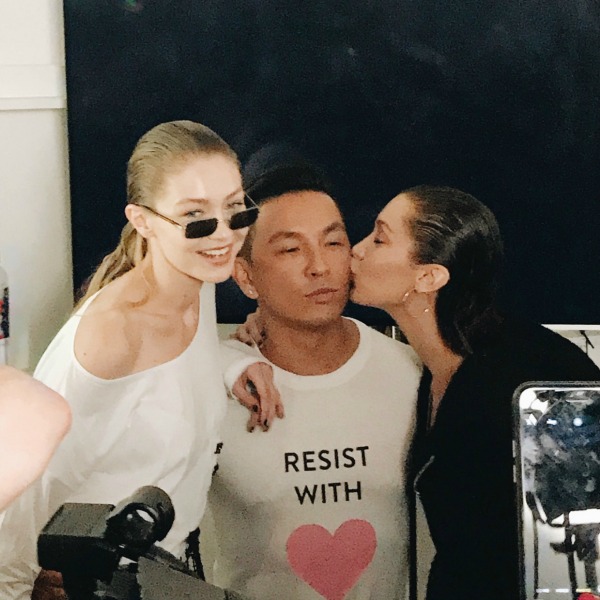 The Prabal Gurung show was a dream come true. He showed playful cut-out skirts, vibrant sheer ruffled dresses, artfully-draped colorblock gowns, and sparkly metallic sets. Gloria Steinem and Deray Mckesson sat front row, Ashley Graham walked, and we caught up with Andrej Pejic backstage. Michaela from Life of a Lady Bear captured this flick of Gigi and Bella Hadid with Prabal Gurung, it was such a lovefest backstage! Definitely a show I won't forget!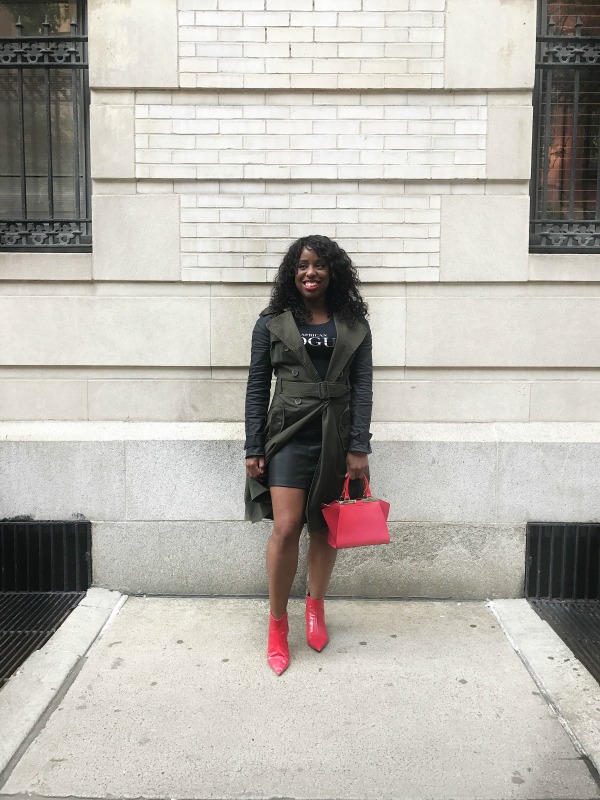 My love affair with trench coats and red boots is never-ending. Love this Fendi mini-bag from The Outnet! And yes, it's time for several African editions of Vogue in different countries, don't you agree?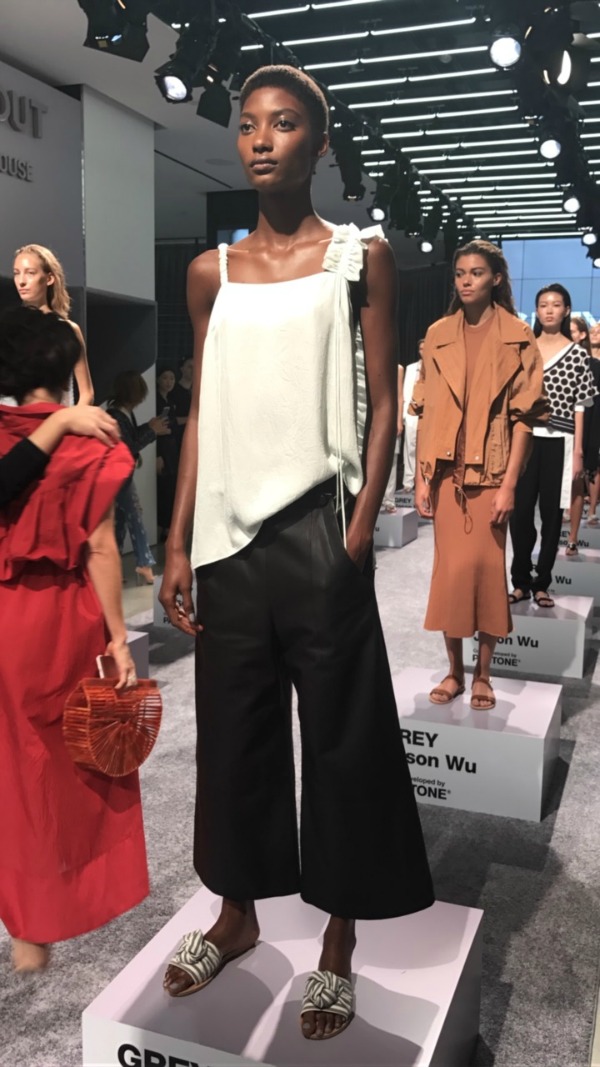 The clothes were all so wearable and cute at Grey Jason Wu, and we got a first look at his collection inspired by the Pantone color grey. I want it all!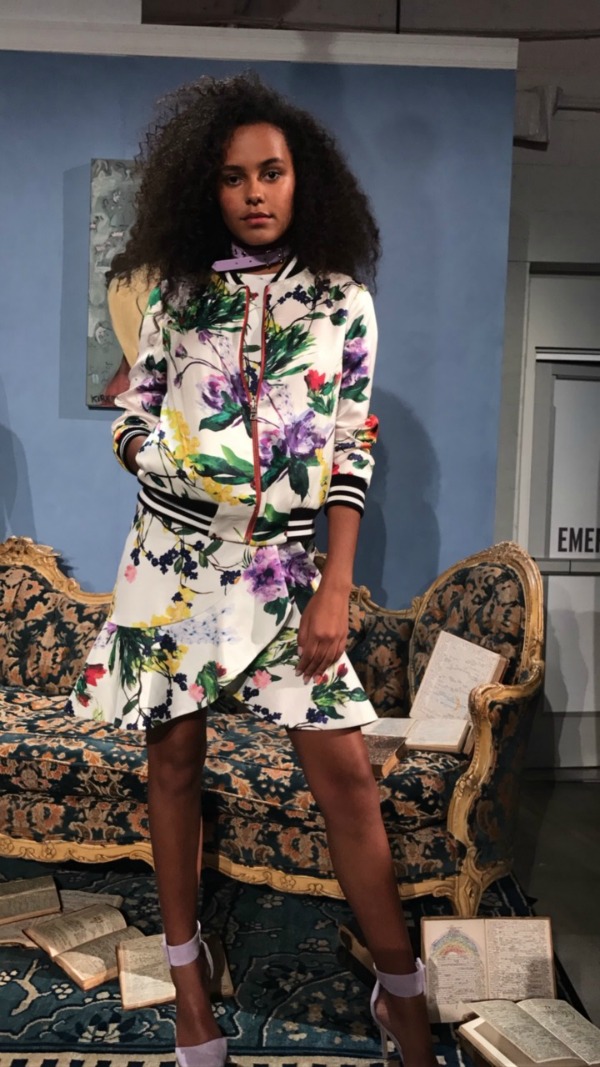 Loved seeing Ava Dash (Rachel Roy and Dame Dash's daughter) modeling for alice + olivia! The floral sets and belt chokers were adorable.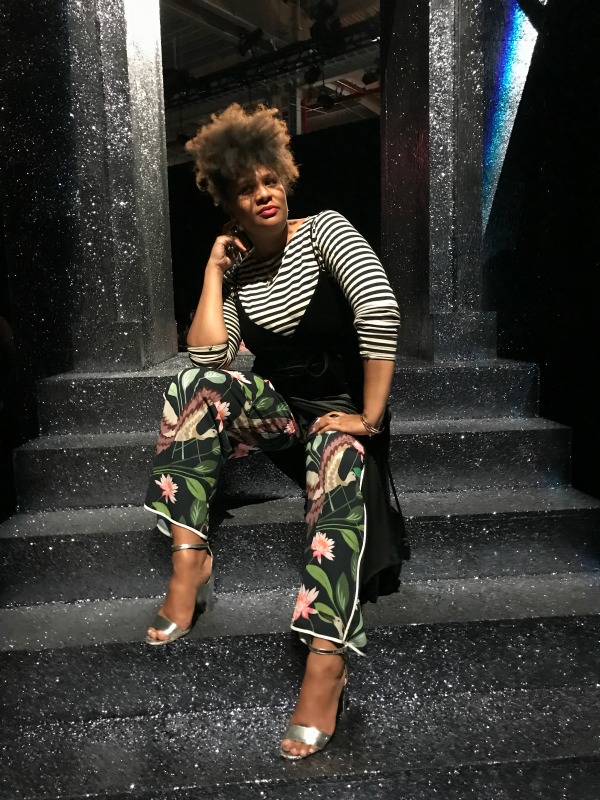 My friend Essence Fashion Director Julee Wilson giving me life after the Coach show.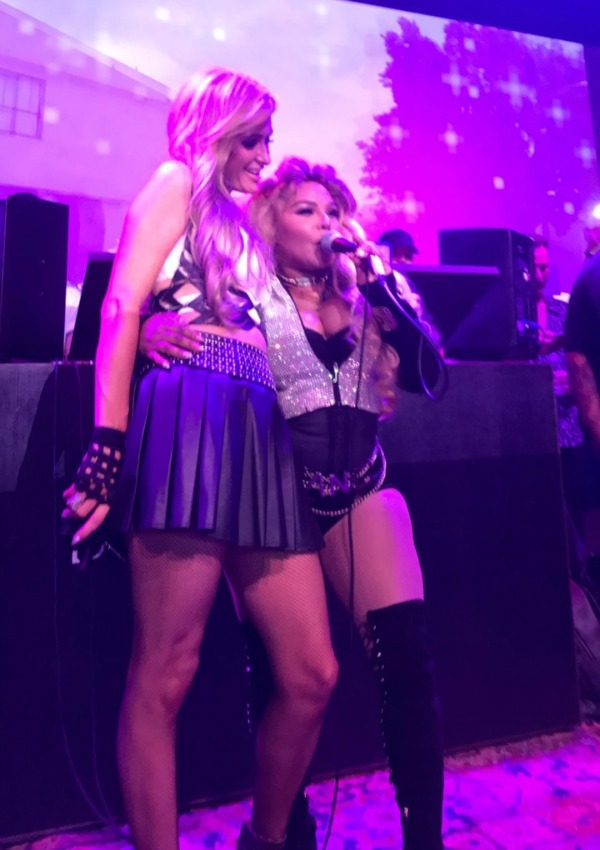 I ended NYFW with a performance by Lil Kim and a Paris Hilton sighting: it was like the '00s all over again. Such a crazy, brutal, exciting, challenging, whirlwind week — and I wouldn't have it any other way!
Kisses,
Glamazon Jessica
View Related Posts:
[fbcomments width="600" count="off" num="15"]