12 Ways to Look Stylish Even in the Freezing Cold #NYFW
Tuesday, February 21, 2017
Glamazons,
This season of New York Fashion Week was pretty insane. I was going to more shows than ever for my day job so it really felt like a marathon running around the snow-covered city from early in the morning to the wee hours of the night. Stay tuned for a very honest post about the highs and lows of NYFW, and how much it's changing. It was unlike any other Fashion Week experience, and I've been going for over 10 years!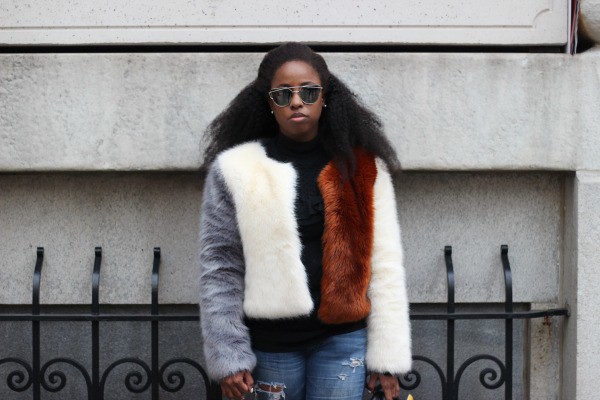 But my favorite part of this season — besides seeing all the amazing clothes come down the runway — was getting dressed. It's definitely challenging to figure out an outfit that will shield you from the frigid weather while still looking cute and NYFW-worthy. Everywhere I went, people kept asking me 'who's your coat by?' or 'where are your jeans from?' and they were surprised when I said H&M or ASOS. You don't have to spend a ton of money to look great, and I'm all about affordable dressing.
Here are a few ways I was able to upgrade my winter look this season, and save some coins:
I love the idea of statement coats, from colorblock faux furs to bright-hued bombers to pea coats with unexpected fur details. Graphic tees will always be my favorite, especially when they carry a powerful, political message. Can I be honest? Jeans, pants, tights, knit hats: they're all functional but they can feel so boring. That said, I love these stylish upgrades: embroidered or patchwork jeans, slogan tights, sweeping wide leg pants, hats with pom poms. The most popular shoes of the season were undoubtedly ankle boots, and I also have a thing for pom pom sneakers. The new chandelier earring trend is a great way to upgrade your winter look, and be sure to pair them with everything, especially casual, sporty pieces. And finally, I'll never get over leopard print coats, off-shoulder shirting, and pleated shiny skirts. Sorry not sorry LOL.
See any trends you love here, Glamazons? Stay warm!
–

–
Kisses,
Glamazon Jessica
Outfit Credits: Coat: Line & Dot via Rent the Runway | Sunglasses: Missguided
View Related Posts:
[fbcomments width="600" count="off" num="15"]