What I Wore: The #1 Jacket You Should Buy For Spring #OOTD
Wednesday, March 30, 2016
Jacket: Topshop | Skirt: ASOS (Similar) | Clutch: Tibi (Old but love this one) | Shoes: Christian Louboutin (Similar) | Sunglasses: Target
Glamazons,
If you invest in one piece to transition to spring, you truly need a leather jacket. It is the single most versatile item in your wardrobe, and I'm not exaggerating in the least. I wore mine over a floral dress on Easter, over a suit jacket for a job interview (I'll tell you more about this later!), to go to yoga, to run errands, to hit concerts and more. I love it most when it contrasts with dainty, feminine pieces like this neon skirt, and edges your look up a bit.
It's so fitting I shot this in New York City (specifically, Harlem) because it's such a quintessential NYC look. Everyone has a tough edge to them here, and you kind of need that just to survive — especially in the fashion industry. Don't get me wrong, I'm a nice fashion girl and I just don't say that without actually living it. I make a point to be kind to everyone from the editor-in-chief to the intern. BUT there are times that call for you to be a bit assertive, to truly go after what you want with confidence and urgency. And I'm so glad I developed that muscle over the ten years I've been here. Yes, you read that right. It's been ten years since I moved to NYC for college. Can you even?!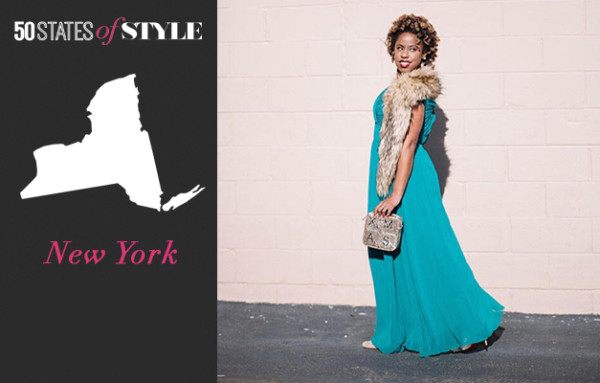 And it's total kismet that on my ten year New York-aversary, Styleblazer named me most stylish in New York City in their annual 50 States of Style series. I'm so honored and over the moon for this feature, especially as a NYC transplant. My style has evolved so much over the years I've lived here from earthy Bohemian (LOL, those were the college years) to my current style, which I'd describe as romantic, retro and yes, edgy. It finally feels right.
I truly became a woman over these last 10 years, and there's no better setting for my coming-of-age story than Manhattan. For every incredible opportunity that would happen nowhere else in the world, there was a moment where I wanted to break down in tears and go crawling back to my Dad's house in New Jersey never to return. But I'm so glad I stuck it out. That isn't to say I'll live here forever. Eventually, I may move back to the suburbs. But I'm bringing my edge — and my leather coat — with me.
What's your #1 Spring essential, Glamazons? Does it relate to your personality at all?
P to the S – if you need more inspo for transitioning to Spring, check out our guide here.
Love you, mean it!
Glamazon Jessica
Photos: Augusta Sagnelli 
View Related Posts:
[fbcomments width="600" count="off" num="15"]