How To Deal With Rude People At Fashion Week #NYFW #AskTheGlamazons
Tuesday, February 16, 2016
Glamazons,
This was going to be a post where I just vented about the downside of New York Fashion Week. I was going to explain what it's like to be declined for show after show despite working hard to build relationships with publicists all year. What it felt like to work at The Magazine — the top publication in its niche — and get ignored when Fashion Week rolls around.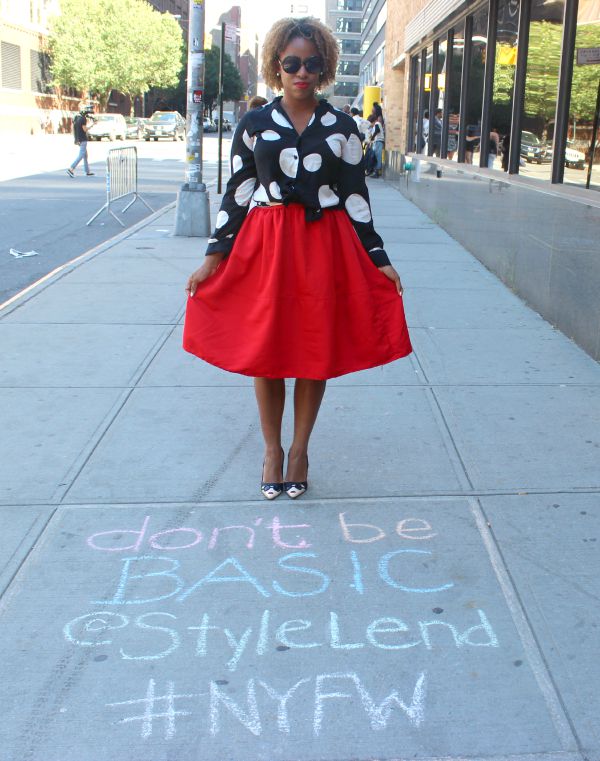 I was going to share how it feels to work for a fashion director with a storied career, and watch her be denied the respect she deserves after 20+ years in the industry. All because the magazine caters to black women.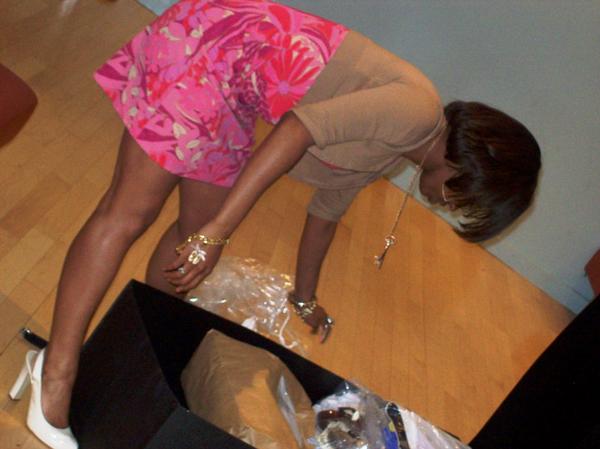 Packing trunks during my days at The Magazine
Back then, I felt lucky just to be at the tents at Bryant Park. But after fighting so long to be recognized and getting an 'In' at shows, I'm experiencing a different kind of rejection. It's the moment when the same publicists that "adore" you via email see your face and realize you don't look like them. And suddenly, they treat you horribly.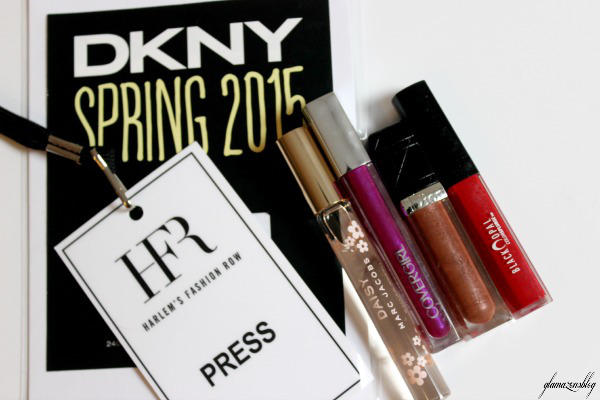 A few invites to shows where I always feel welcome…
Those publicists don't care about the press hits you gave them, or the many years you've worked in the industry. They've decided that based on your looks, you don't belong. It's the fashion industry version of the paper bag test.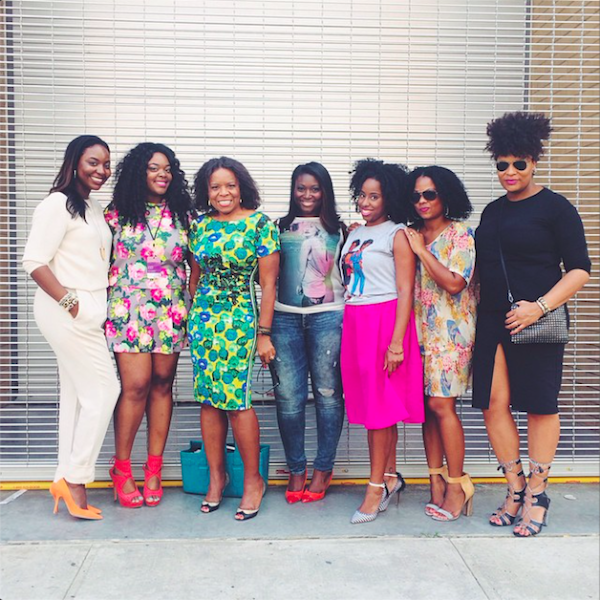 Black editors and bloggers at Fashion Week that all belong at Fashion Week
Even this season, I learned that writers — who were given an invite and a seat at a show — were turned away when they showed up to the door. They were told the show was at capacity (which I highly doubt given that seats are often empty and it's not like they were super late). Why were they really turned away?
A couple seasons back, a famed celebrity stylist, who usually gets front row, didn't receive any invites from a major fashion PR agency. How is that possible?
And it happened to me this week. I showed up to a fashion show that shall remain nameless, and the publicist told me I wasn't on the list. I called my boss, who RSVP'd me, and told her. My boss was outraged and confused. How could that happen?
But I knew exactly what went wrong.
The PR rep assumed that, given my Afro and brown skin, I couldn't possibly be on the list. That was followed by a quick skim (why bother searching?!) and dismissal.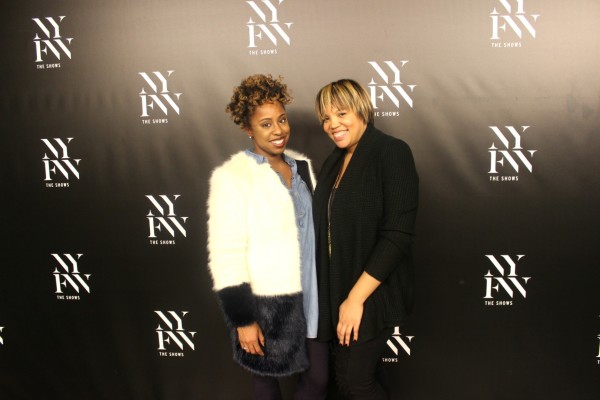 Glamazon Andrea and I at Fashion Week this season
After fifteen seasons, clips in major publications, relationships with designers and a successful blog Andrea and I built from the ground up (after a conversation in Chipotle, LOL!), this publicist decided I don't belong at Fashion Week. Just because of how I look. This is the kind of subtle racism that goes on everyday at Fashion Week.
I eventually got backstage (surprise! my name was there after all). My boss was full of apologies but I had already let it go.
I refuse to let other people's hateful mindsets discourage me. I know what I'm capable of. And even if I hadn't accomplished anything yet, I know who and whose I am. Why should I let anyone make me feel differently?
So many of us experience this type of discrimination, and we deal with it silently. Don't get me wrong. I'm grateful to live my dreams and attend the shows I watched with my mother as a kid. But the negativity takes its toll, and sometimes I dread even showing up to Fashion Week.
New York Fashion Week is only a series of presentations and shows that I attend for work. It shouldn't feel like The Hunger Games.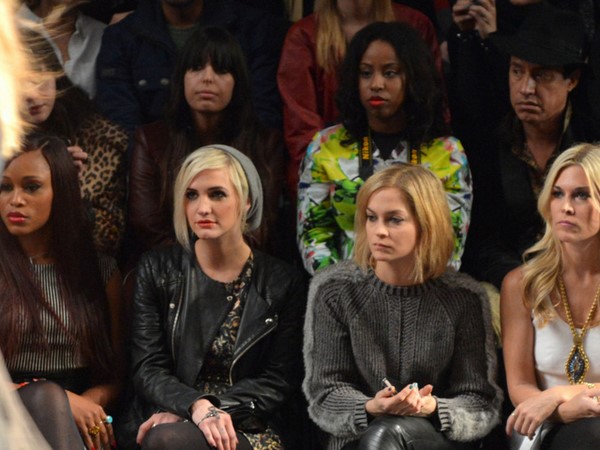 After grappling with this problem season after season, I got tired of dwelling on the negativity. So this post isn't about that. Yes people are rude, condescending and often racist at Fashion Week. And plenty of posts have been written about it. But what happens next? How do you deal with it? And move past it?
I found some answers this week when I met Ty Hunter. He's Beyoncè's stylist, and the genius behind the Ty Lite. Our interview was totally about all that (I'll link to it when it goes up).
But what really moved me was the rest of our conversation. Ty shed light on his positive attitude, and how it gets him through the Fashion Week battle zone.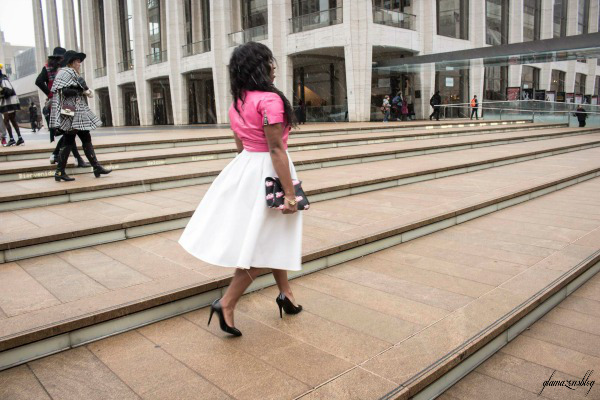 Here are some words of advice culled from our convo (and some of my own life lessons!) to help you fly above Fashion Week rudeness.
1. Counter with a compliment.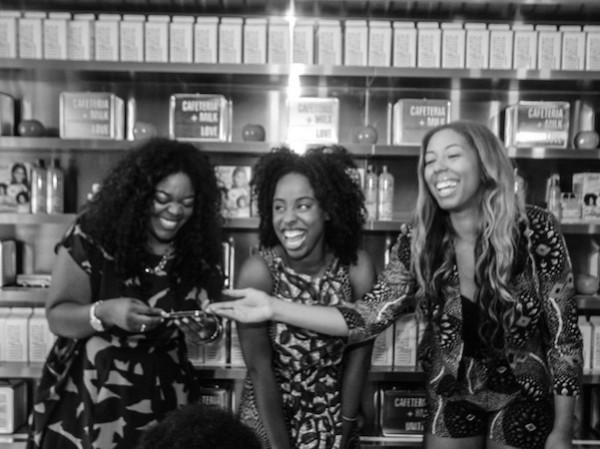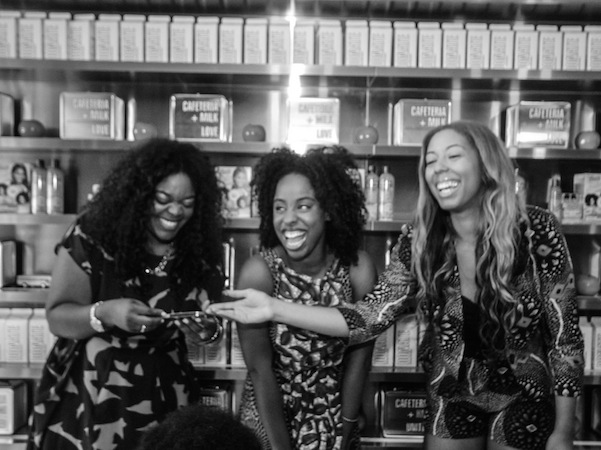 Be a fashion girl that smiles.
As Mikki Taylor always says, don't meet people on their page. Every time you compromise yourself and let negativity in, you've let that hater win. Be genuinely nice in the face of rudeness. It disarms people and makes them realize how foolish they're being.
People think you have to be rude to be successful in fashion when it's completely unnecessary. Ty Hunter is proof. He believes his kindness helped open doors that might have otherwise been closed to him. It comes back around.
I'm also proof. I decided early on that I'd be a 'nice fashion girl.' I smile. I'm not intimidated or threatened by other successful women. I celebrate them. I don't talk down to my interns. I shower them with support, encouragement and advice that will help them grow. And it definitely comes back to me tenfold.
2. Stay focused on your goals.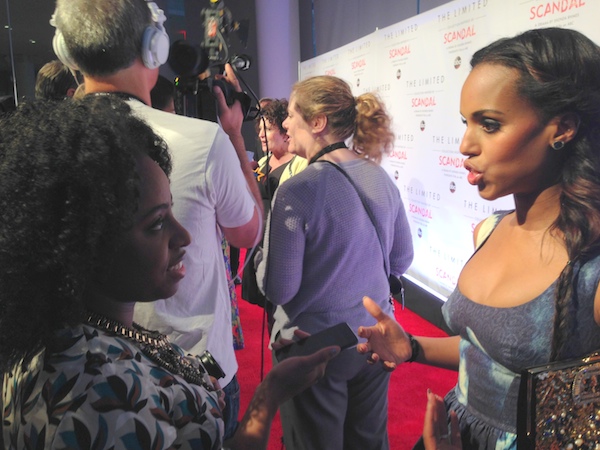 Interviewing Kerry Washington at a Fashion Week event
Yes there are publicists that work with me all year and don't invite me to shows or give me standing or treat me differently once they realize I'm black. But none of that stops me from achieving the goals I came to New York City to pursue. Don't let those micro aggressions distract you from your ultimate goal. When I look back, those moments no longer faze me because I soldiered on in spite of them.
3. Work so hard that they'll have no choice but to recognize you.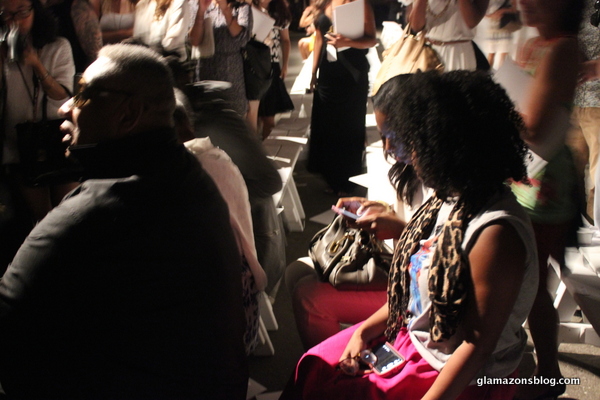 In my assigned seat behind Andre Leon Talley after getting standing the year before…chile 
Story: so a publicist who was super friendly over email finally met me in person, and her whole attitude changed. She even insulted my work saying that the major publication I was writing for "didn't count" because I was contributing online instead of in print. That happened. And it hurt.
But I kept working and started contributing to more outlets and saw my blog gain more success. That same publicist that belittled me now sends me pitches and invites to her shows. And I decide if I want to cover them. Keep doing the work and eventually people will have to acknowledge you.
4. Don't internalize it.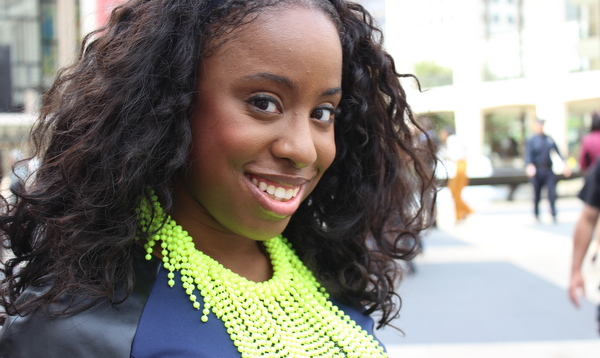 All smiles at Lincoln Center
I'm sure you've heard it before but there's nothing truer: when people are rude to you, it usually has nothing to do with you. They're stressed or unhappy or dealing with a condescending boss. And they're using you as an emotional punching bag. Negativity is contagious. Don't take on their mess.
5-Actively fight stress.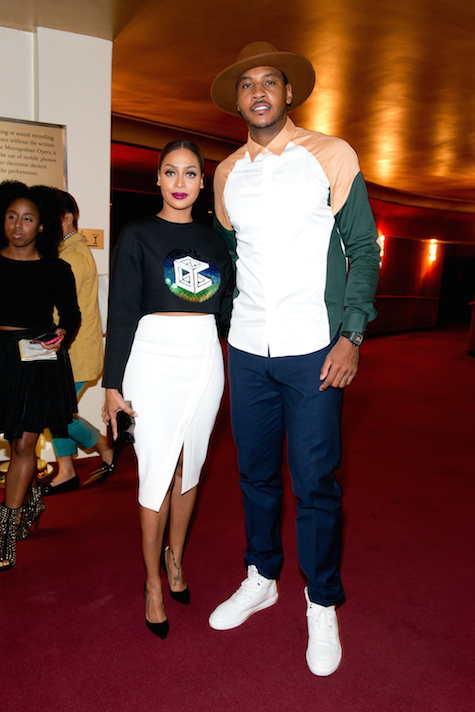 I was so stressed and worried about work in this pic I didn't even realize I was photobombing them, SMH!
Another story: So Glamazon Andrea is my virtual yoga coach. And I texted her the other day when I was nauseous at my hot yoga class. She (correctly) assessed that the nausea I was experiencing was a sign of stress leaving my body.
I was terrified to learn that I'm so filled with stress and anxiety that I'm having a physical reaction to it. Sadly, I'm not alone. A lot of fashion folks are on edge. Many can't sleep from anxiety.
Ty told me he doesn't let people stress him out. He rejects their frenzied, anxious energy and protects his peace. It's smart because not only is it healthier, you perform better when you're calm and focused on getting the job done.
—
Glamazons, I hope this helps. I wrote it for you but also, so I can go back and look at it myself. I'm not there yet. This wisdom is from my grandma, my parents, my aunt, Ty and Mikki.
Me? I'm still fighting the urge to retaliate, or swear off Fashion Week altogether. I'll probably re-read this before every Fashion Week season. I'm trying to do better everyday, and this is a start.
Have you experienced rudeness and rejection at Fashion Week? How do you deal with it? Would LOVE to hear from you in the comments. 
Kisses,
Glamazon Jessica
P.S. I told Ty he should write a book and honestly, I'd be first in line to buy it. So much wisdom and positivity! To sum up our conversation: "Always stay gracious, best revenge is your paper." Noted.
View Related Posts:
[fbcomments width="600" count="off" num="15"]