#GlamazonTravel: The Emirates A380 Plane To Dubai Has a Shower Spa! [Review]
Monday, May 11, 2015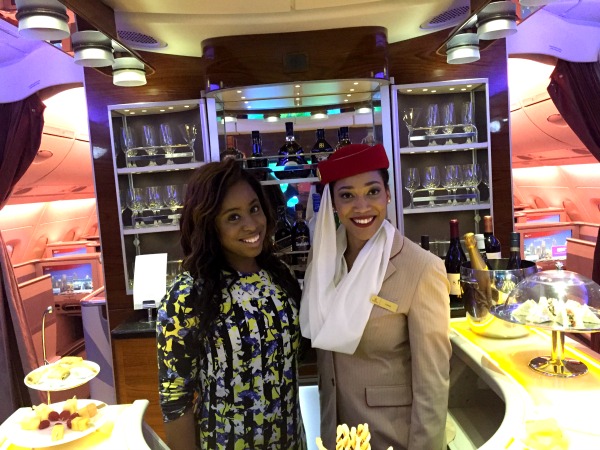 Glamazons,
I'm not sure if I mentioned this yet but I'm heading to Dubai and Abu Dhabi in October. Eek! I'm obviously BEYOND excited! I can't stop looking at pictures of one of the most fascinating luxury travel destinations in the world from the famous Miracle Garden to the stunning Sheikh Zayed Grand Mosque! But one thing I was admittedly a bit concerned about is the flight. The flight clocks in from 13 to 20+ hours and that's a long time to be in the air, right?! My longest flight ever was Tokyo, which was 24 hours, and though I love flying and don't suffer from anxiety or fear at all (I actually find it relaxing!), I have to admit I got a bit stir crazy once we hit 15 hours. The great news about Dubai is that the Emirates airline flies there directly from JFK, and the Emirates A380 aircraft is nothing short of amazing.
You May Also Like: #GlamazonTravel: Travel Tips Every Jetsetter Knows
I got the chance to preview the Emirates A380 aircraft to celebrate its fourth daily service from JFK to Dubai. Love is an understatement. The plane has several award-winning amenities from its shower spa to its family-friendly gifts. Here are 5 things I loved:
1. The Shower Spa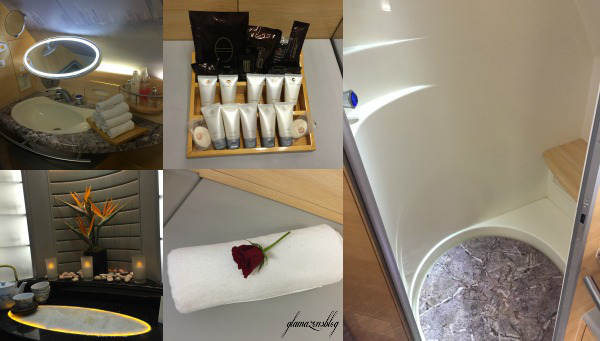 Glamazons, I usually go out of my way to avoid the bathroom on airplanes. But the shower spa in the Emirates A380 plane is as beautiful and luxurious as a bathroom in a 5-star hotel. The beauty products, floral decor, candle lighting, marble shower floor (and wooden seat!) make it feel like a spa oasis on the middle of the airplane. This is one bathroom I'd love to visit on a plane!
2. The Toys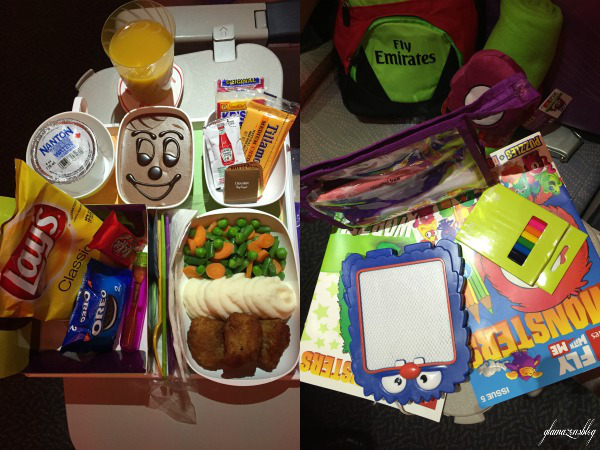 As my Glamazon Moms know, no one's more restless on a long flight than children. Emirates is super family-friendly with a lovely assortment of toys and food selected specifically with children in mind. And the best part? They let your kid keep his/her book bag full of toys even after you reach your destination. Love that!
3. The Food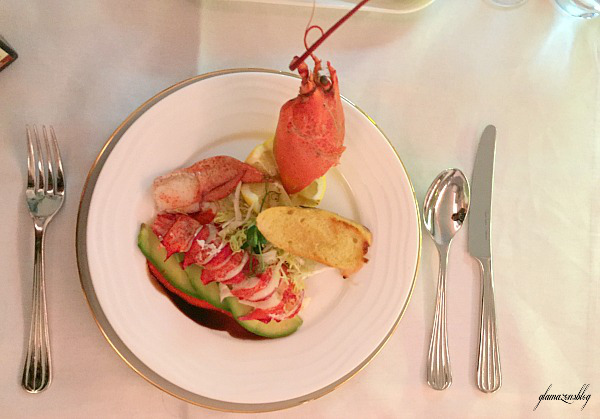 I was super impressed that your Emirates plane ticket includes amenities like food, drinks and Wifi (so many airlines charge extra these days)! The food isn't your run-of-the-mill airline snacks either: I spotted lobster, steamed veggies, baked potatoes and more served on the plane.
4. The Spacious Seating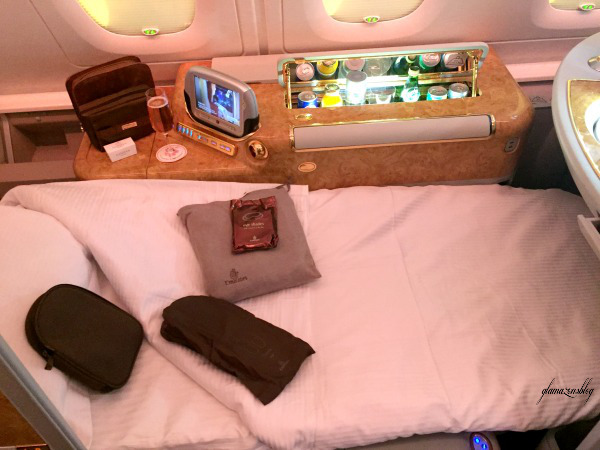 From first class (where you have your own section and a "Do Not Disturb" sign) to economy which has spacious seating and plush head and arm rests, Emirates makes sure you're as comfortable as possible on your flight — a huge relief given the long duration of flights to Dubai.
5. The Drinks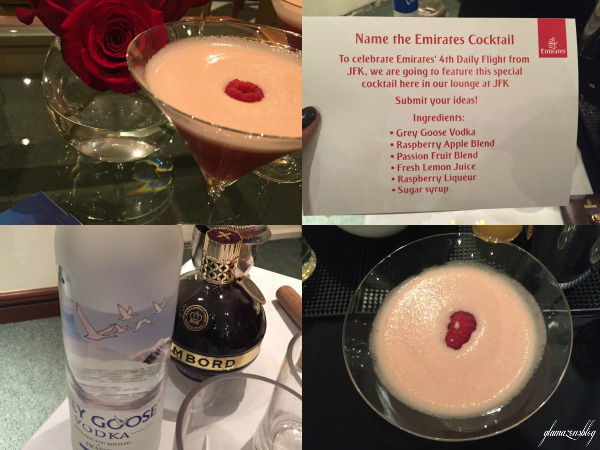 So in honor of their fourth daily flight from JFK to Dubai, Emirates created a raspberry passion fruit martini, formulated with only 4 ingredients and served by Zuma's mixologist Theo Von Ungern-Sternberg. It was sweet and strong with just a touch of spice. It's the first thing I'm ordering once I board my flight. Get the recipe below:
Raspberry Passion Fruit Martini
1.5oz Vodka
1.5oz Raspberry/Apple Blend (Fresh Raspberries and Cloudy apple juice)
1oz Passion Fruit/ Lemon Blend (Fresh Passion Fruit puree and fresh lemon)
1oz Framboise Liqueur
–
It's so good! Get more info on Emirates luxurious flights HERE. Would you consider flying Emirates when traveling to Dubai, Glamazons?
Kisses,
Glamazon Jessica
View Related Posts:
[fbcomments width="600" count="off" num="15"]