#GlamazonTravel: Prepping for My Weekend Trip to Jamaica #SoBeautifulinJamaica
Tuesday, March 3, 2015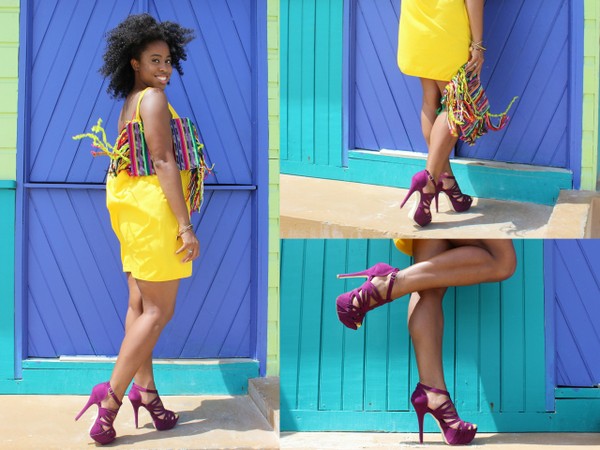 Colorblocking in Montego Bay last July
Glamazons,
I can't contain my excitement because in T-minus three days I'll be back in Jamaica. And eating again at Pier One (remember I got the coconut-crusted fish with mango-ginger sauce last time? Delish!). I'm going on a fabulous "Ultimate Indulgence Jamaican Getaway" with Strength of Nature, and I can't wait to eat at Pier One, go on the Catamaran cruise, visit the beautiful Rose Hall Great House and get the scoop on the latest and greatest from Soft & Beautiful Botanicals, African Pride, Beautiful Textures and Elasta QP. *squeal*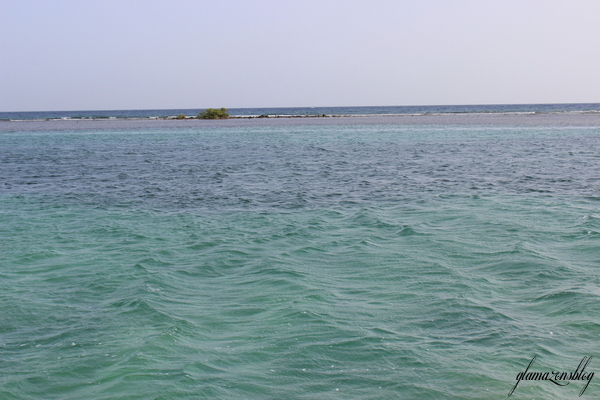 Beautiful blue water from my last Jamaica stay
I'm SO excited in fact I've already packed (I know you're not surprised by this). Here are just a couple things I'm bringing on my trip:
African Pride Olive Miracle Silky Smooth Edges
I first tried African Pride Edge Control during our #NolaCrawl at Essence Fest and I've been hooked ever since. It lays my edges down without buildup and keeps them there all day no matter the weather. I always keep one in my purse (THAT serious). Snag one HERE.
–
[show_lookbook_widget id="193032″]
–
Go Pro Hero Camera
Glamazons, I hit the jackpot about a week ago when I got a GoPro from the great folks at Lincoln Motor Company. The camera is waterproof so it's ideal for activities, and takes high-quality images and videos. It will absolutely come in handy when we go river tubing. Get it HERE.
–
[show_lookbook_widget id="193028″]
–
Rent The Runway
It's no secret now that I'm obsessed with Rent The Runway (I JUST rented this amaze dress for Essence Black Women in Hollywood). This time, I'm all about their curated section for warm weather getaways. It's perfect because I can rent beautiful garments just for the vacation and send them back once I get stateside. I picked up the most beautiful DVF maxi for our cruise, for next to nothing! Can't wait to share pics with you guys! Get into it HERE.
–
[show_lookbook_widget id="193052″]
–
Degree MotionSense Anti-Perspirant & Deodorant, Invisible Solid
Listen, Linda…all the heat and activity takes its toll so a Glamazon likes to be prepared with deodorant I can rely on. Since I'll be in sleeveless pieces everyday, I love that Degree goes on clear and it has MOTIONSENSE™ Technology that responds to your body movement. A must! Pick one up HERE.
–
[show_lookbook_widget id="193036″]
–
Flight 001 F1 SpacePak Clothes Bag
We all know I have an overpacking problem as most fashion girls do. I plan to carry on my suitcase since it's only a weekend stay and honestly, that wouldn't be possible without Flight 001. It holds up to two weeks of clothes in a compression pack, which definitely comes in handy when I need to pack multiple outfits for each day and still have room for shoes and beauty products. What a Godsend.  Shop HERE.
–
[show_lookbook_widget id="193040″]
–
Nair Hair Remover Lotion with Aloe and Lanolin
Remember I told you guys I was trying a hair growth vitamin to grow my hair out? Well, I decided on Biotin for reasons I'll share in another post and my afro is getting bigger by the second! It's going great…except my hair grows just as fast on my legs (#lesigh). Since Nair is strong yet gentle and moisturizing, it's my go-to for hair removal and smooth legs! Get it HERE.
–
[show_lookbook_widget id="193044″]
–
Beautiful Textures Texture Manageability System
So I'm rocking these beach waves in Jamaica and I know you're thinking: you're going to trust your leave-out to stay straight in all that heat?! Yes, yes, I am. I straightened my hair with Beautiful Textures TMS System (more on this later) and I'm telling you, it lasts. I already rocked it in LA and even went to the beach and ran at one point and my hair stayed straight. I also noticed it looks shinier and stronger thanks to nourishing ingredients like aloe vera, coconut, olive, soy, argan oil and shea and mango butter. You don't know how happy I am that I can try new hairstyles on vacation and don't have to worry about my hair reverting in the heat. I'll post pics on Instagram during the trip to keep you guys updated on how my hair holds up! Grab a TMS system HERE.
–
[show_lookbook_widget id="193048″]
–
You May Also Like: Here's What Beautiful Textures TMS Does For Your Hair if You Wear It Curly
Shop my prep products below:
–
[show_shopthepost_widget id="578156″]
–
OK, those are my must-have items for Jamaica trip prep. Anything else I should bring? Have you done any of the activities I have planned i.e. visiting Rose Hall Great House, going on the Catamaran cruise, etc.? What should I expect? Would love to hear from you in the comments!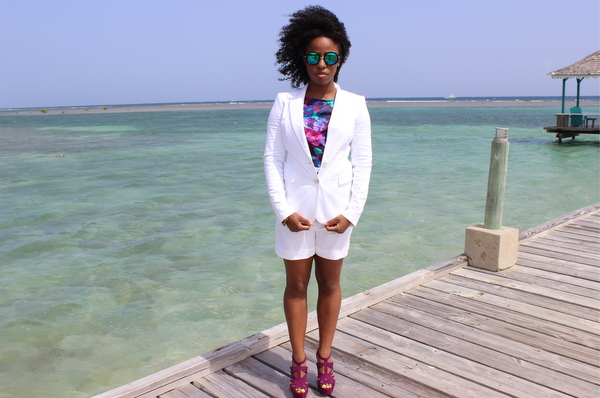 On the deck in MoBay
Kisses,
Glamazon Jessica
View Related Posts:
[fbcomments width="600" count="off" num="15"]