A Day in The Life: Jamaica with Strength of Nature #SoBeautifulinJamaica @VisitJamaicaNow
Monday, March 9, 2015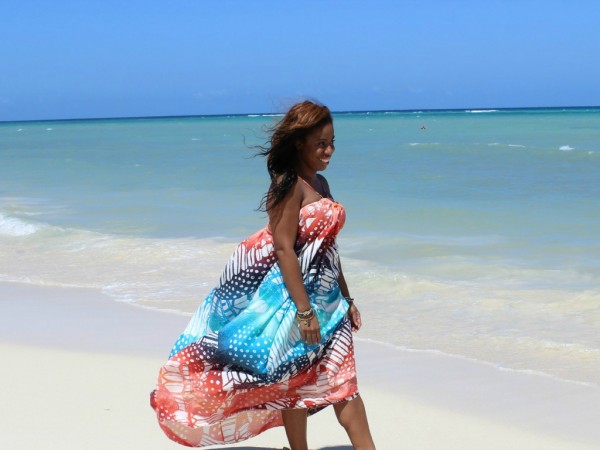 Glamazons,
I found the anecdote to treacherous snowstorms in NYC that deplete the city's kale supply and eventually turn into a mass of black slush: Jamaica. When last week's snowstorm hit, I was pulling two (yes, two) suitcases full of clothes into a cab to head to Montego Bay with Strength of Nature. Talk about a great escape! The journey to get there did not go as planned, but I ended up in Paradise for three days and I can't think of a better way to spend the weekend. AND when I got back, New York City had warmed up. It's like we brought the sunshine back with us! But let's start at the beginning.
You May Also Like: #GlamazonTravel: Prepping for My Weekend Trip to Jamaica #SoBeautifulinJamaica
I won't spend too long on the horrors of our flight there. To sum things up, there was a 6-hour wait sitting on the tarmac, no food (but it's amazing how you can subsist off of pretzels and cookies for 15 hours) and hilarious and angry rants from fellow passengers as entertainment. But we got there safely, and isn't that all that matters?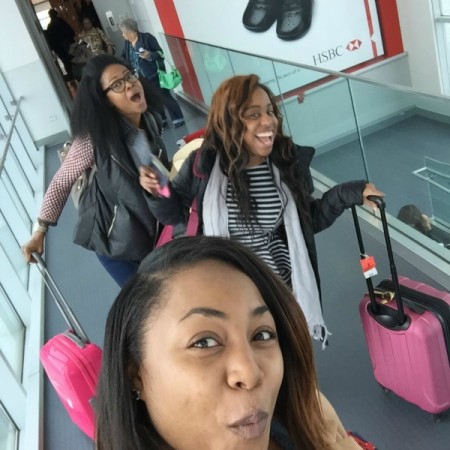 Kela, Felicia and I were all smiles on our way to the plane…little did we know the shenanigans that were in store for us!
Once we arrived at Royalton White Sands Resort, they immediately offered us a glass of champagne and ushered us to a private Diamond Club beach for a late night dinner. Once my feet hit the sand and I heard the sound of waves in the background, memories of that 6-hour tarmac wait faded away.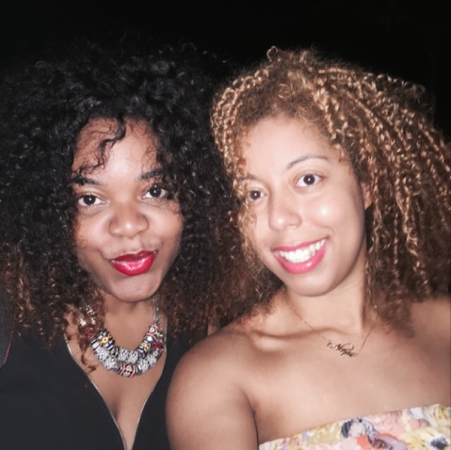 Here's Christina and Lexi at the dinner awaiting my delayed arrival
The next morning, we met up for breakfast at the beautiful Royalton White Sands Resort, and had our choice of fruit, eggs, pancakes, pastries and more. It was a mini-reunion and I got to meet up with good friends like Patrice of Afrobella, Paula from Juicy Magazine and so many more!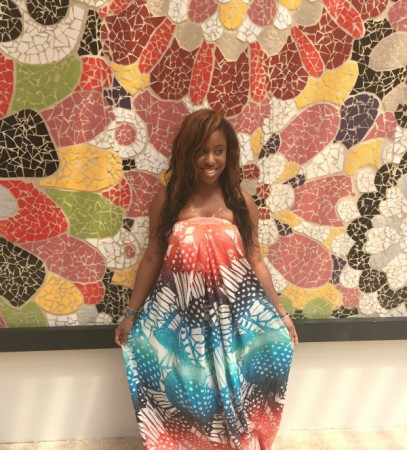 Posing in front of a Solange wall at the breakfast
We headed in a meeting room for one of my favorite highlights of Strength of Nature trips: a Q&A with brilliant hairstylists Felicia Leatherwood and Pamela D. Hogan. You may remember when Felicia enlightened me on the rich ingredients in the TMS system HERE.
You May Also Like: Here's What The Texture Manageability System Can Do For Your Hair if You Wear It Curly

I got so much great info on protecting and caring for natural hair from them AGAIN.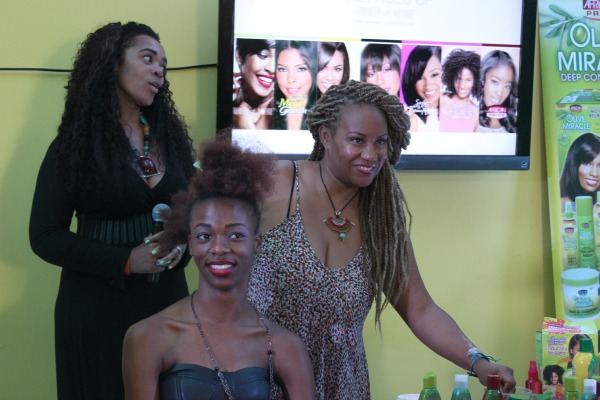 Felicia Leatherwood working her magic
Here are a few quick bullet points:
-Use a moisturizer first (like Beautiful Textures Tangle Taming leave-in conditioner or Elasta QP Olive Oil Mango Butter Conditioner) before applying oil (I love Soft & Beautiful Botanicals olive oil or coconut oil) to seal in the moisture. Think of oil as a coat you put on before you head outside: you put your clothes on first and then your coat.
-Put Soft & Beautiful Botanicals coconut oil on your ends before wrapping it up at night to save you from having to get your hair trimmed constantly.
-You don't need a lot of oil on your hair. Most women apply too much. Put two to three drops in your hand, massage it between both hands and just pull it through the hair.
-Some products work better for different textures. If you have Type 3 curls (a looser curl pattern), Beautiful Textures moisture butter will work great on your curls. If you have Type 4 curls like me (coily, kinky strands), Soft and Beautiful Botanicals deep conditioning masque works wonders.
-We are supposed to lose 80-100 strands of hair a day. If you don't comb through or detangle your afro for two weeks, those strands are in there. So when you finally comb/detangle it, expect hair to come out. Do not panic. LOL!
I also learned about a few Strength of Nature products that are blowing up internationally that I want to try out (I know you're shocked there's a hair product I HAVEN'T tried, lol!). Their Profectiv Growth Renew Hair Restoration System is apparently great for growing back your edges and generally achieving healthy, full, thick hair. And their Profectiv Mega Growth line (which is #1 in Nigeria) is great for strengthening the hair and reducing breakage. I can't wait to try and report back so stay tuned!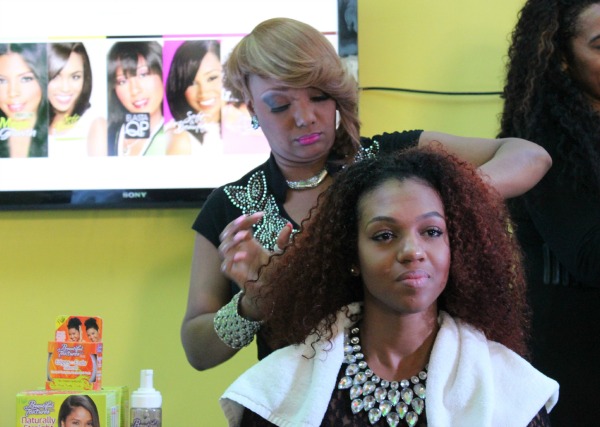 Pamela D. Hogan hooking up the model's springy curls
After the demo, it was time to relax. Christina, Lexi and I met up with Christina's Mom and BabyBrownSugar (!!) who were hanging out on the beautiful private beach. I wore a DVF Oasis Maxi via Rent The Runway: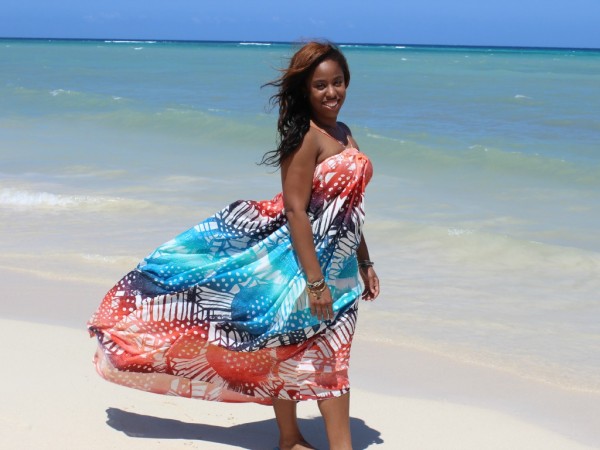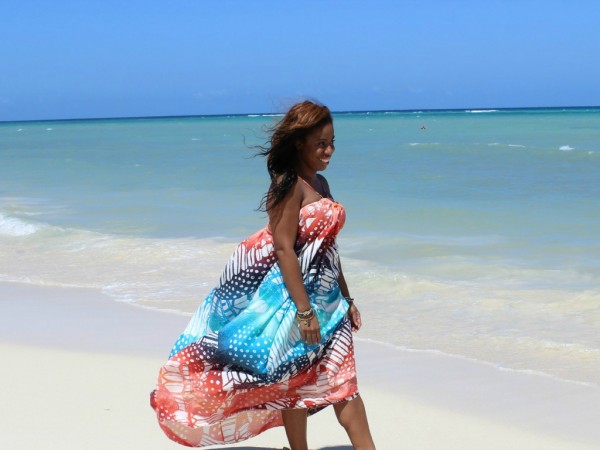 And Cadence walked on Jamaican sand for the first time. Her reaction to the new sensation was so adorable and priceless!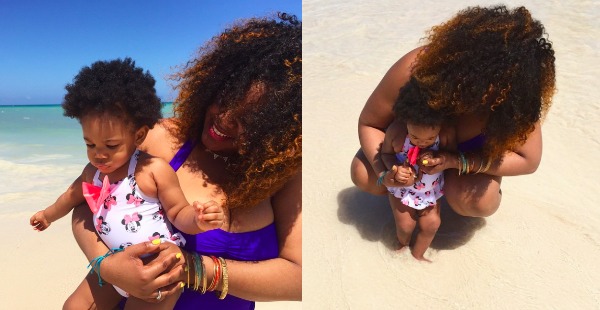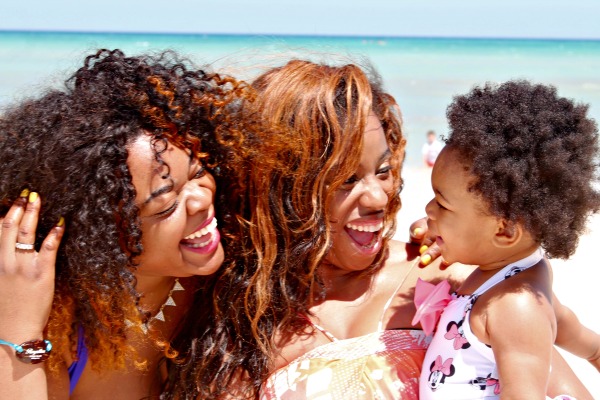 You guys know how much I love beach time so I make sure to protect my hair and skin from the prolonged exposure to sun and salt water.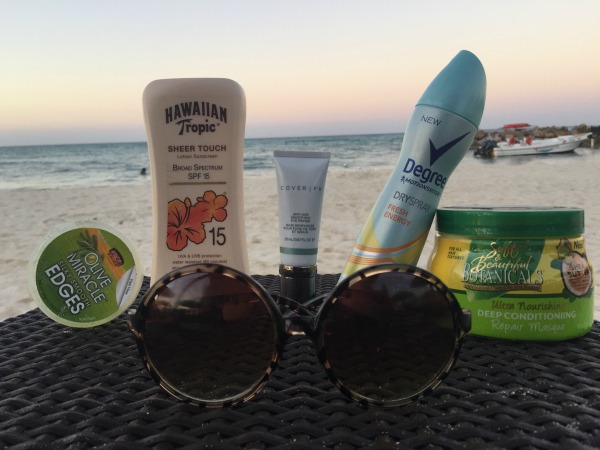 I use Hawaiian Tropic sunscreen which goes on smooth, Soft & Beautiful Deep Conditioning Masque because the conditioner works as a protective layer to keep my hair from absorbing so much chlorine/salt water, Degree Dry Spray so I smell fresh in all that heat (but keep in mind it's super strong especially when first sprayed!), Cover FX eye primer to keep my makeup from running when I sweat, Aldo shades of course and lastly, African Pride Silky Smooth edges to keep those edges laid!
You May Also Like: African Pride "Beauty and The Beat Suite" with Kelly Price #NolaCrawl
Post-beach we headed to the Catamaran cruise with Island Routes. Guys, it was epic. We danced to Beyonce's 7/11, took selfies with #CaptainBae, drank ridiculous amounts of rum punch, took in the panoramic views and had an amazing time!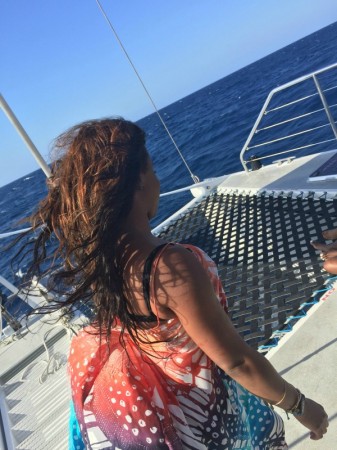 Getting my whole life on the cruise ship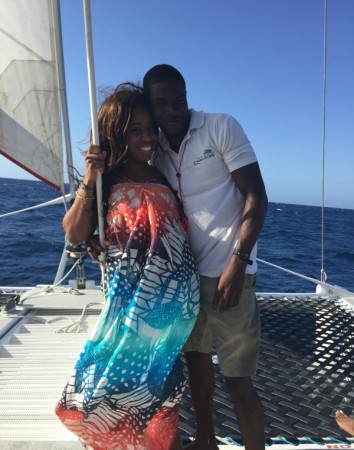 Hanging out with a member of the Island Routes crew! Feeling irie! 
We docked the boat at Margaritaville and like the daredevils we are, Christina, Lexi and I decided to go down the famous slide. Camila Crews, Strength of Nature marketing manager, and Taren Guy joined us and guys, it was exhilarating! So glad I finally did it! We hung out on the trampoline and met the coolest lady from Canada who told us our next crawl should be for Caribana…I'm sold!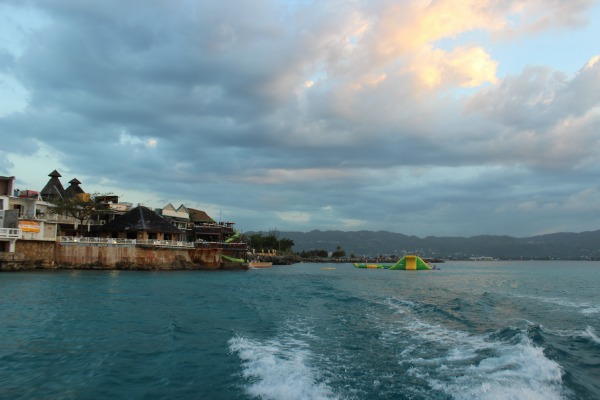 One last view of the trampoline and Margaritaville as we sped away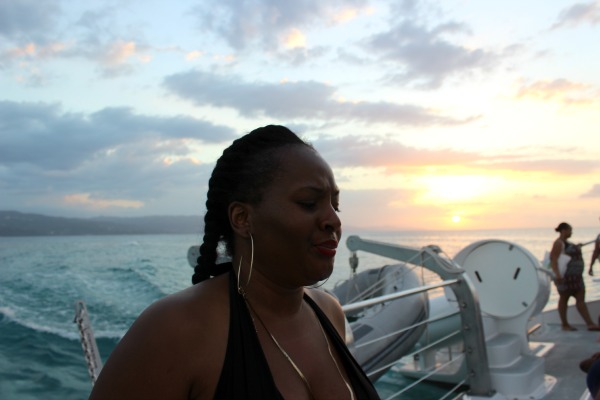 Paula dropping jewels of wisdom, per usual, while we chatted on the boat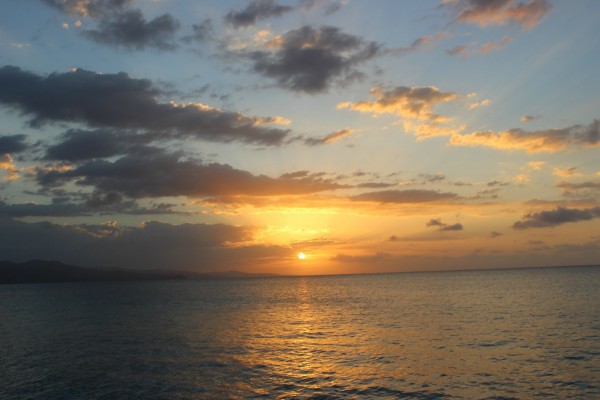 The breathtaking sunset
Back on the boat, we watched the sunset and then headed back to the hotel for dinner at Zen, the resort's Japanese/Hibachi restaurant.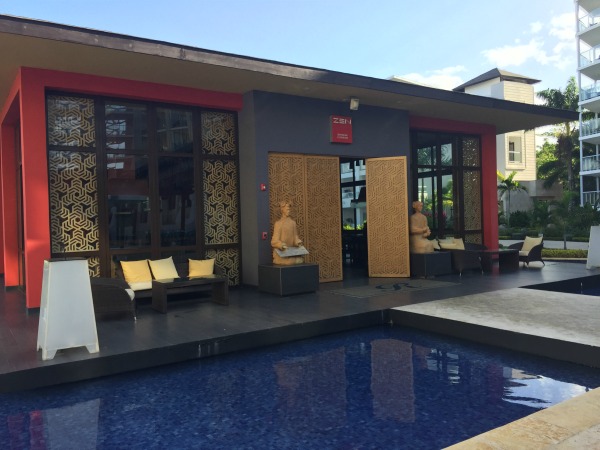 The food was delicious! We celebrated Afrobella and Christen of Divas and Dorks' birthdays. Lexi impressed us all by flipping an egg and cracking it perfectly.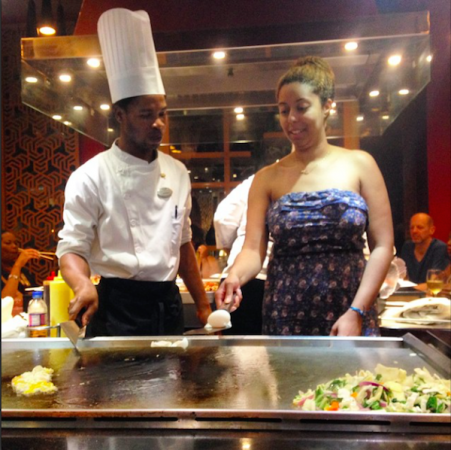 And I got a drink sent from an admirer who worked there. The drink had "Cal Me" (no room for the second 'L'!) written in chocolate: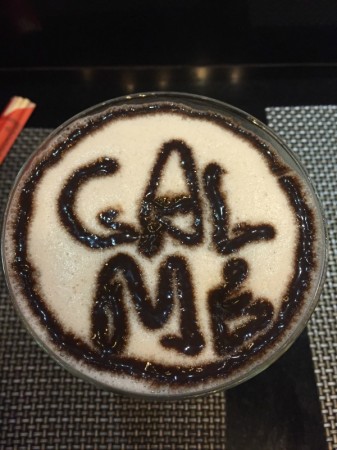 Chocolate is indeed the way to a woman's heart.
The next day, we woke up to a new adventure: River Bumpkin Farm with Island Routes. We traveled on the most beautiful roads to the stunning landscape which is nestled in the middle of the lush Trelawny forests. There, we suited up for a day of tubing along the gentle river.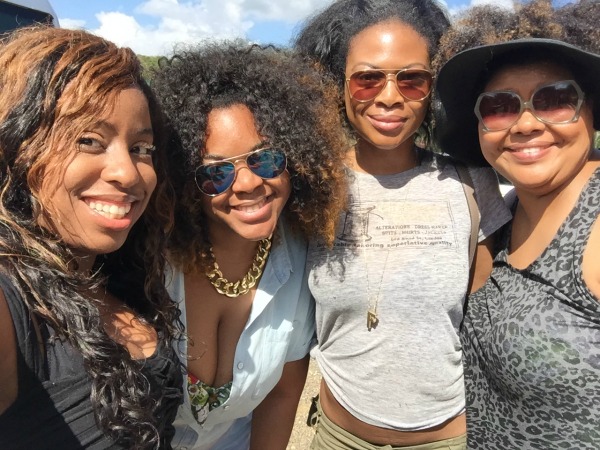 Christina, Felicia, Patrice and I before our tubing and biking experiences!
The landscape was stunning and serene, from the fresh water rushing down small cascading waterfalls to the majestic bamboo trees stretching out over the river. The scenery was unlike anything I've ever seen!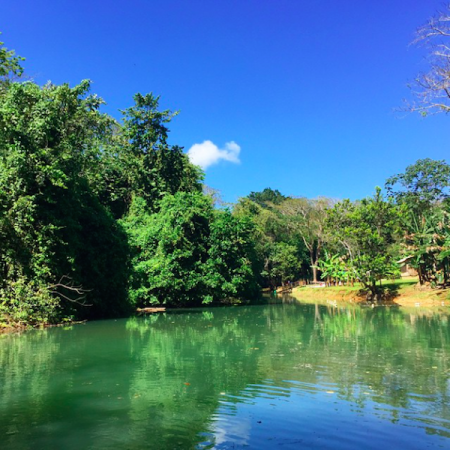 There were adventurous moments (like when Christina, Lexi and I swung off a cliff on a rope like Tarzan and jumped into the river!) but mostly, the experience was peaceful and relaxing. It felt so great to connect with nature, especially when we got limestone massages and facials with the sound of rushing water in the background. My skin felt supersoft after!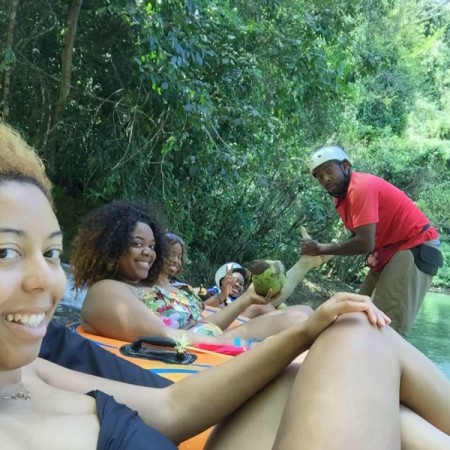 Glamazons, I have to take a minute to shout out our tour guide because he is EVERYTHING. Everyone on staff has a river bumpkin (a play on 'country bumpkin') nickname, and our tour guide's nickname is "Surprise," because he's full of surprises. Indeed, he surprised us with snacks while we were tubing like sugarcane and fresh fruit, and he gave us coconut water (with lime!) and bamboo straws.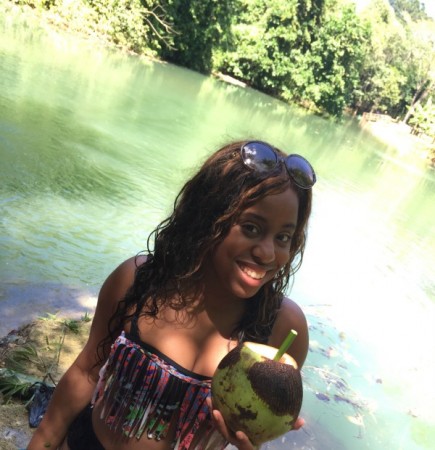 He let us tube further down the river so we could grab our smartphones for pics while he treated us to limestone foot/leg massages and facials. And finally, he made us bouquets with flowers he chopped down and tied with bamboo strings. He even carved a message in the flower stem of my bouquet (Lexi joked this meant that I was the bride and they were my bridesmaids, LOL).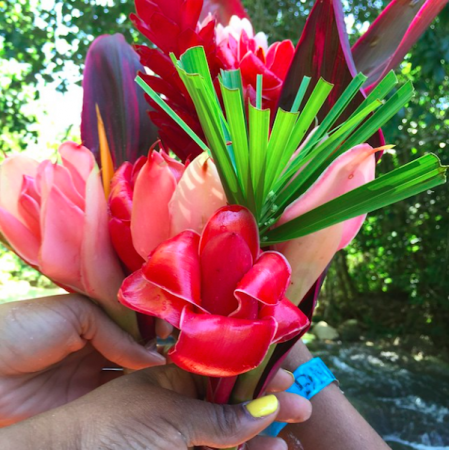 He called it the 'VIP' tubing experience. When you do river tubing with Island Routes (because you must!), ask for 'Surprise,' he won't disappoint!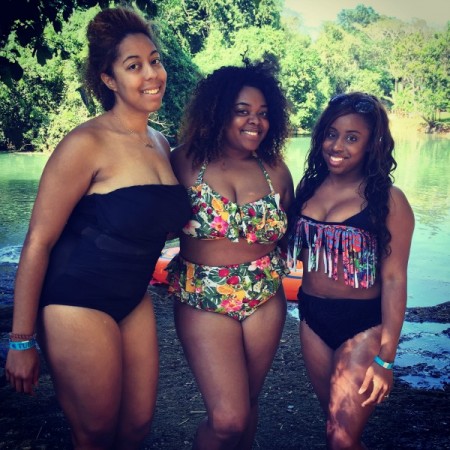 After tubing, we had a lunch of jerk chicken, rice and peas, fruit punch and the best sweet potato soup I've ever had.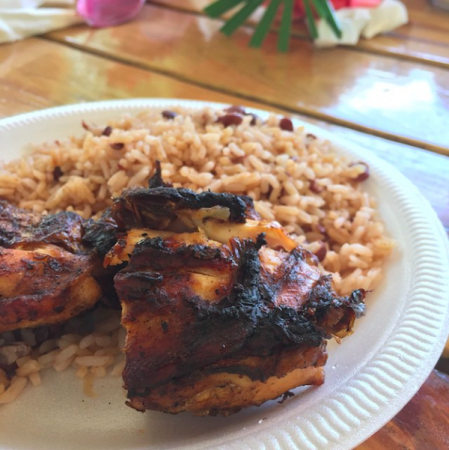 Back at the resort, we headed to the beach for some down time. I couldn't believe African Pride Silky Smooth edges was STILL holding up in all that sun, so I did a quick collage to show you guys the before and after. The hold is unreal and the ingredients are nourishing so your hair isn't hard, flaky or dry after.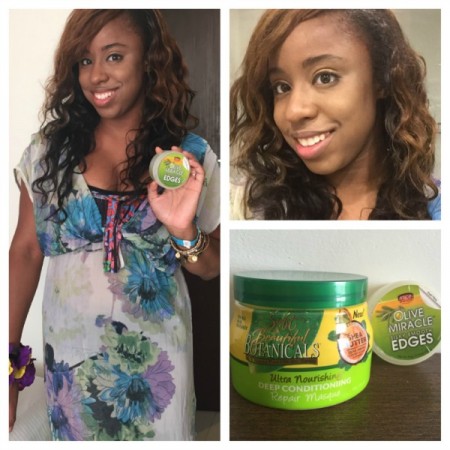 At the beach, Christina, Lexi and I showed off our black swimsuits in a pageant pose, LOL: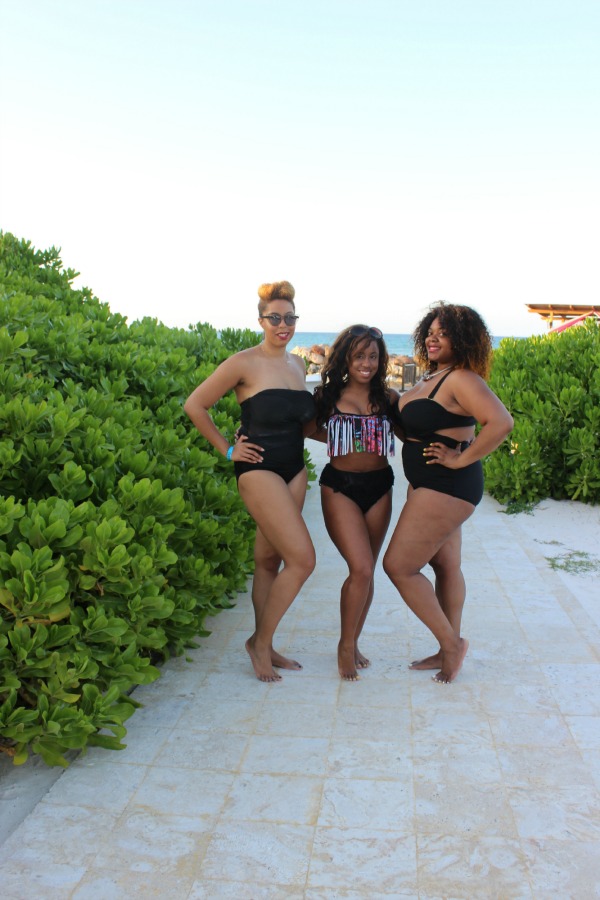 Christina: GabiFresh x SwimsuitsForAll | Lexi: Miraclesuit | Me: River Island
And we did a quick video shouting out the hair products that kept our hair laid all day long (after swimming, tubing and jumping off a cliff!). Watch it HERE.
We ended the trip officially with a farewell dinner at Pier One, the restaurant I first visited in Montego Bay last July (I blogged about last year's dinner at Pier One HERE). We enjoyed honey-glazed chicken, rice and peas, yams and salad. After dinner, we recreated Solange's wedding picture (because of course we did) on the stage and I snapped pics with friends like Paula and Kadidja!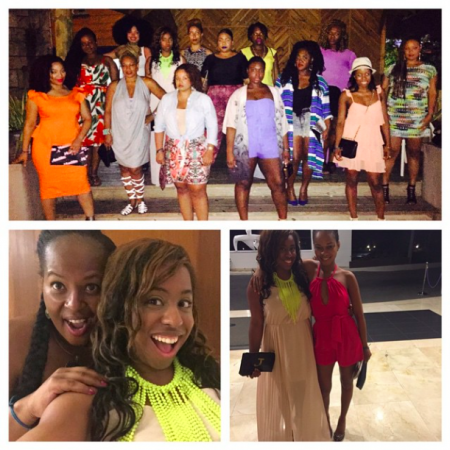 Everyone is so beautiful! A few ladies headed to the club but I was exhausted (and generally, I'm a 'grandma' as my friends say) so I went back to the hotel for an epic night of sleep! The next morning, I got a chance to take in the beautiful resort: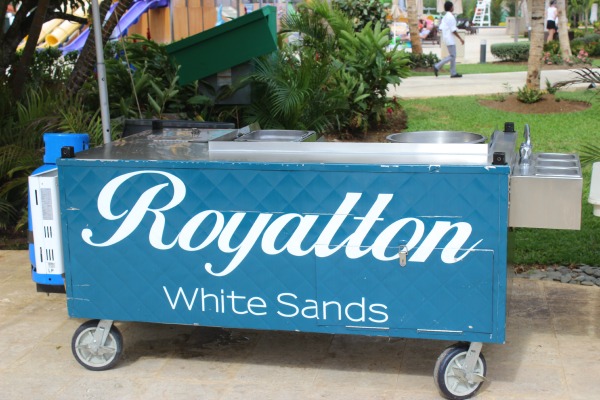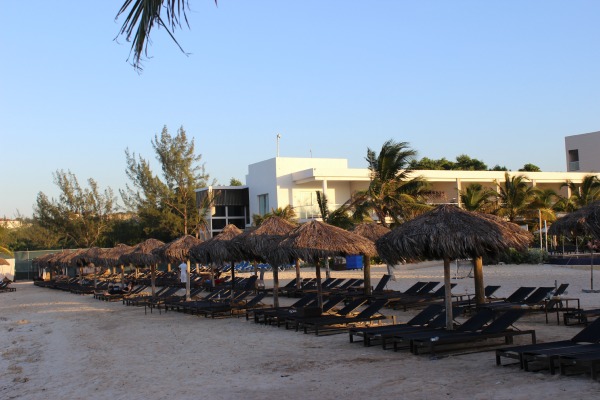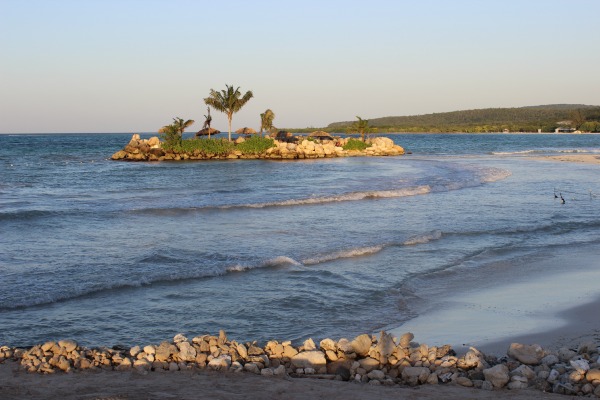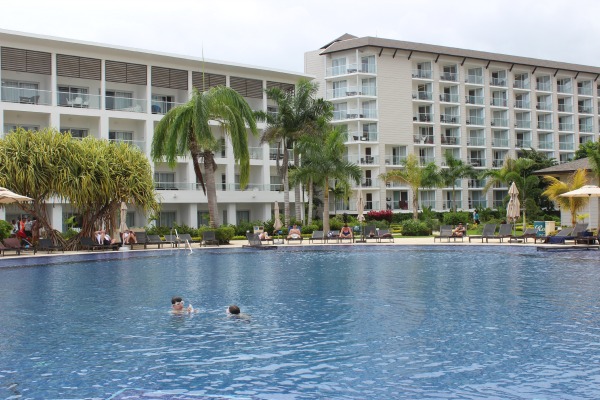 I love that Royalton White Sands Resort is family-friendly: they have an entire activity center for kids, and jacuzzis and pools for adults. And the decor is so modern and stunning.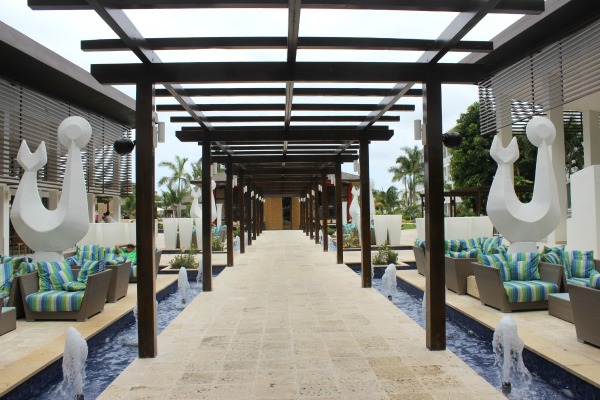 Before we headed back to the airport, we took an epic #WeAreBlackHistory reunion pic: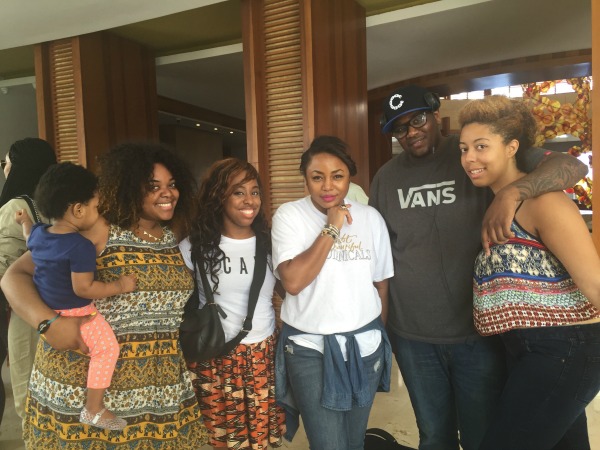 Fun times. Jamaica, you have been good to me! Until next time!
A huge thank you to Helen C. Shelton and Finn Partners, Strength of Nature, Royalton White Sands Resort and Island Routes for the incredible experience!
Shop all the products I used and clothes I wore on vacay here:
–
[show_shopthepost_widget id="594360″]
–
Have you been to Jamaica? What are your favorite things to do on the island? Let's chat in the comments!
P.S. For more pics, check out my Instagram page:
–

–
P.P.S. So many great blog posts from my girls on the #SoBeautifulinJamaica trip! Check out more beautiful vacation pics in recaps from Lexi With The Curls, Gorgeous in Grey, Madame Noire and Culture Blaze.
Kisses,
Glamazon Jessica
View Related Posts:
[fbcomments width="600" count="off" num="15"]