What I Wore: Snow Day
Monday, February 2, 2015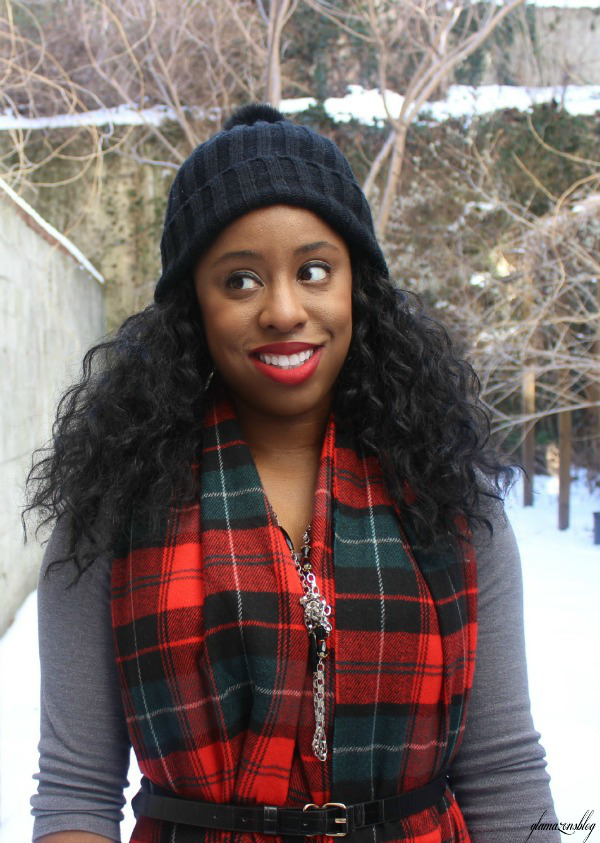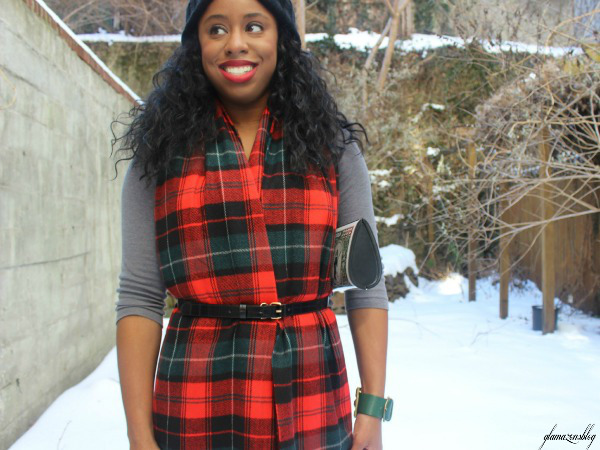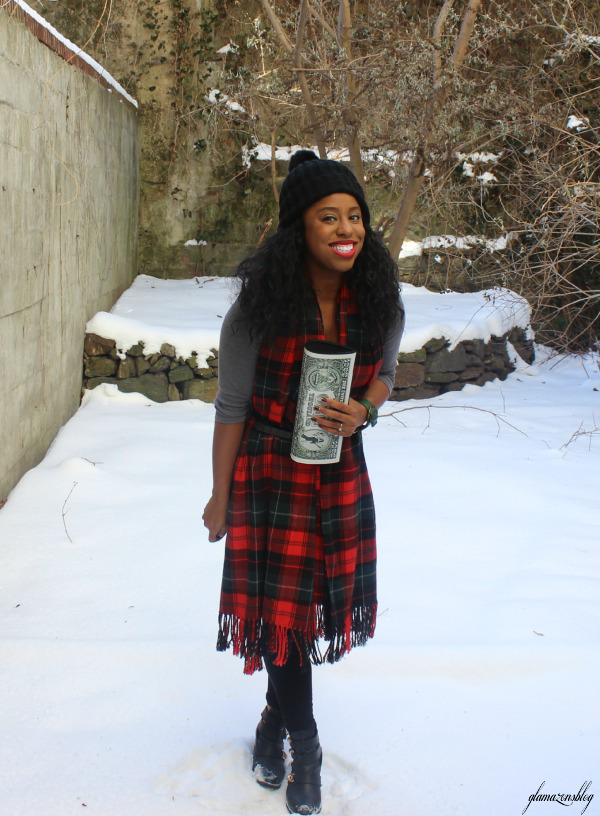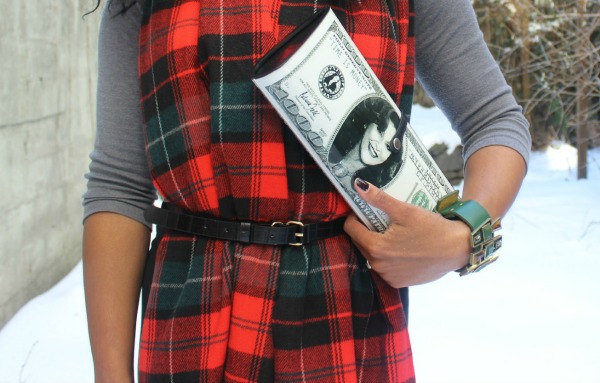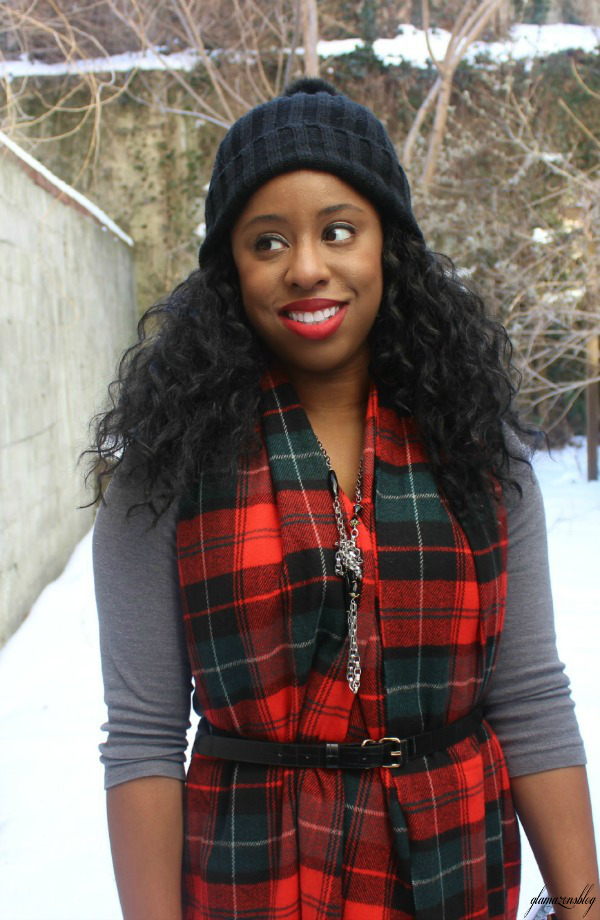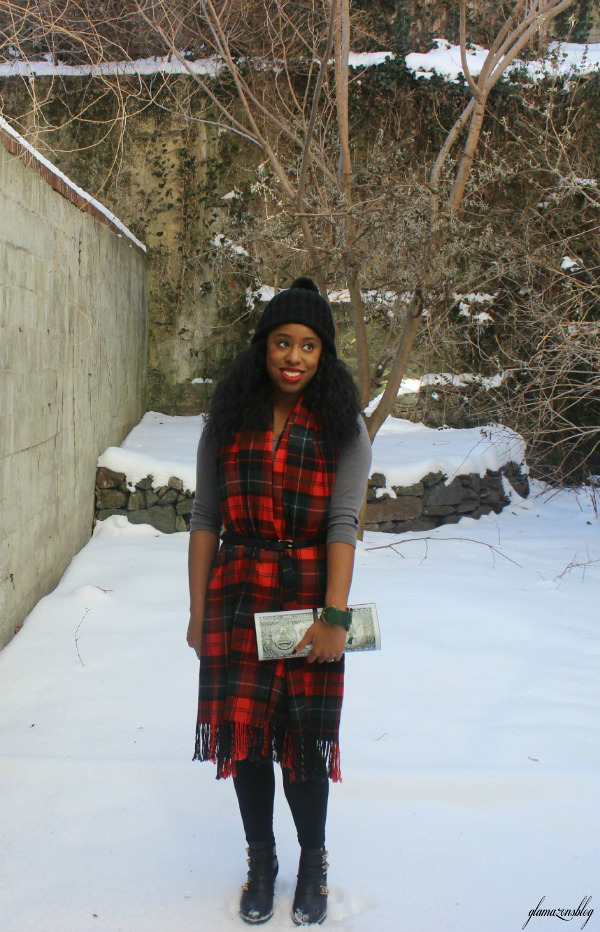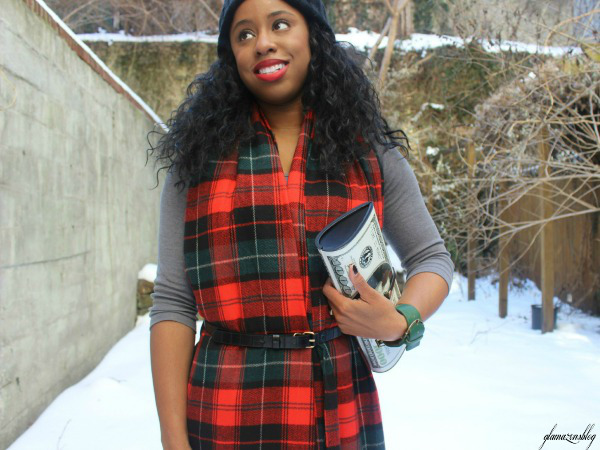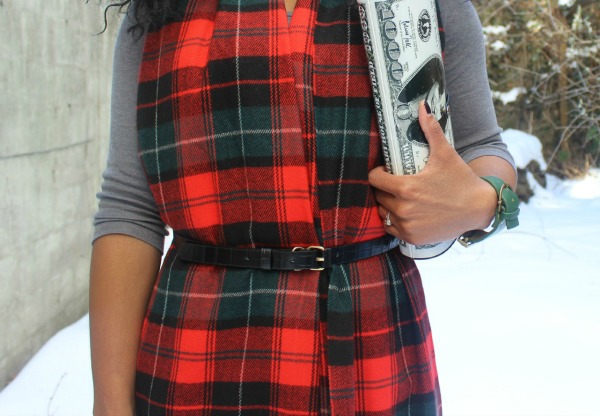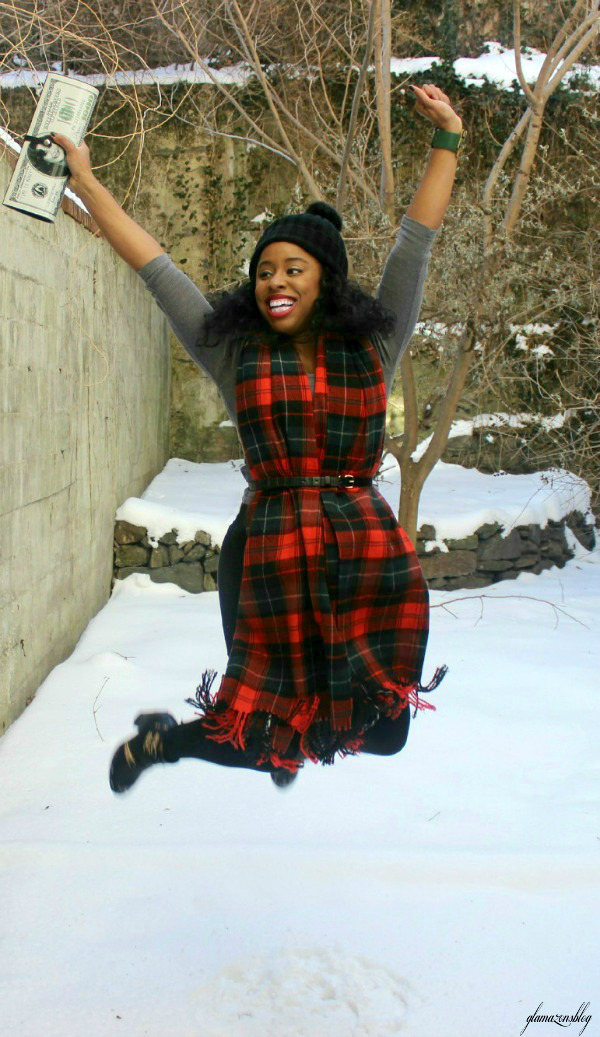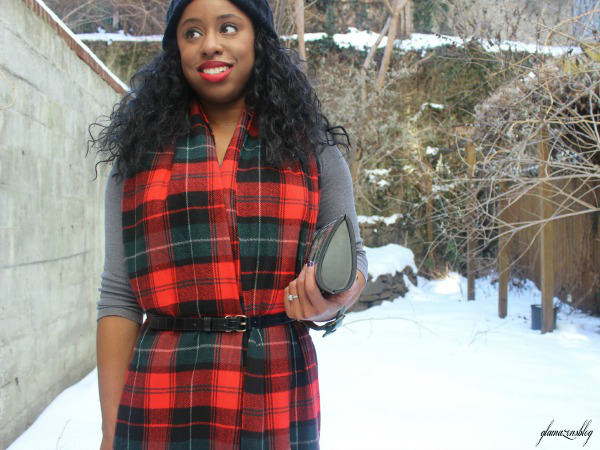 Top: Old but love this one | Scarf: Old but love this one | Belt: Forever 21 | Skirt: Forever 21 | Leggings: H&M | Boots c/o Just Fab (Zyree) | Clutch c/o Patricia Field (also worn here) | Cuff c/o Lia Sophia | Necklace c/o Esbe Designs Jewelry 
Glamazons,
I have a confession to make: I love snow. I'm sure you guessed this from the way I'm cheesing and jumping up and down in this outfit post. But even the biggest snow critics have to admit, it's pretty beautiful to watch from your window. During Juno, I woke up from an epic nap, watched the snowfall from the window and fell in love with how peaceful and serene my street looked blanketed in white. And what a privilege to do so in NYC with our ever-increasing homeless population (after finishing up a work day on 42nd street, I'd walk by and see homeless people squeezing in between buildings for shelter from the cold. That sight alone will make you appreciate having a roof over your head in the winter).
And honestly, if you can blast your heat or curl up in front of the fireplace, you're lucky. I remember one snowstorm when our boiler wasn't working. It gave me a new appreciation for the magical properties of a good space heater. *shudders* But anyway, besides the fact that you can hibernate inside during snowstorms and watch the snowfall through your window, there are other reasons to embrace and, dare I say it, even enjoy the snow! Here are five.
1. You can tap into your inner 5 year-old.
One of my favorite snow day traditions is going outside to play in the snow with my oldest goddaughter. As soon as she turns her back, I immediately hit her with a snowball to commence an epic snowball fight with the sole purpose of getting her to erupt in a fit of giggles. And she loves to get in a sled and slide down the hill. Or make a *struggle* snowman (we can never get the face right). Those kinds of memories are priceless to me.
2. Snow days are days off from work.
I'm quite the homebody these days. I love a good day spent watching Netflix, scrolling through Twitter, catching up on my favorite books and blogs and even doing yoga in the living room with my sister. My Dad lights the fireplace and we're all inside the house, enjoying each other's company and doing a lot of nothing. As busy as life can get, a day to slow down and spend time with the people you love is a very good thing.
3. You can marvel over how fast the snow melts in record time in NYC. And eww, why is it yellow?
Wait, I'm serious though. I went to Penn Station two days after the snowstorm and there was not a hint of snow on the ground. Like, where did it go that fast?! And can we talk about the snow that does stick around? It turns yellow and black. And then, there are the puddles. I always try to leap over them like a ballerina (yes, I'm a hot mess) but my foot ends up landing in that bottomless pit of murky, black water and everyone gives me a look that's half sympathetic, half 'you did this to yourself.' Sigh.
4.  It's an excuse to bake. Or is that just me?!
I always get the urge to bake whenever it snows, and drink ridiculous amounts of hot chocolate. And I have a valid excuse ("It's snowing! We need cookies"). My cousin made sweet potato pie, and my aunt baked cake so maybe, it's a family thing. But any scenario that leads to guilt-free baking and/or chocolate indulgence is a win.
5. You can give life in layers.
I love the summer — swimming, laying on the beach, eating at sidewalk cafes — but let's be honest: the styling options are always better in the winter. The winter is when NYC's most stylish women stroll by giving life in a tailored coat, a glamorous faux fur stole or hat, elbow-length leather gloves and round sunglasses. And you're like, werrrrque! When I go to midtown, or the Upper East Side, or downtown, it's like a parade of real-life Olivia Popes that I'm more than happy to join. I get excited about layering (I've been wanting to wear this scarf/belt combo since forever!) and pulling out my favorite pair of snow boots. And I feel like I'm living my most luxurious, Cookie-esque life whenever I throw this coat on.
Glamazons, do you find anything redeeming about the snow? Do you love it like I do? What's your go-to routine when snowstorms hit? Any snow day memories? Or are you like 'bye, girl – when is Spring coming?!' Share in the comments!
Kisses,
Glamazon Jessica
View Related Posts:
[fbcomments width="600" count="off" num="15"]