Glamazon Guide: How To Look Cute in the Bitter Cold
Friday, January 9, 2015
Glamazons,
I saw a few tweets come across my timeline that, if I'm being totally honest, hurt a bit. People were saying it's impossible to dress cute in the cold and that's completely untrue! In fact, just yesterday, I was looking a hot mess at Christina's house (no makeup, hair in a questionable french braid) and I wrapped a pashmina around my head, draped it over my neck and threw on sunglasses. Suddenly, I'm channeling Elizabeth Taylor and I'm warm! And there are plenty less dramatic ways to look cute in the cold like those adorable hats, faux fur trim coats, touch tone gloves and on and on! I've included my fave things below. Listen, it's bad enough that we have to survive a brutal arctic blast (that'll affect 200 million people this week!), we don't have to feel frumpy on top of it.
Here are 5 tips for looking cute in the cold:
1. Go luxe (and warm) with a little faux fur trim or a faux fur hat.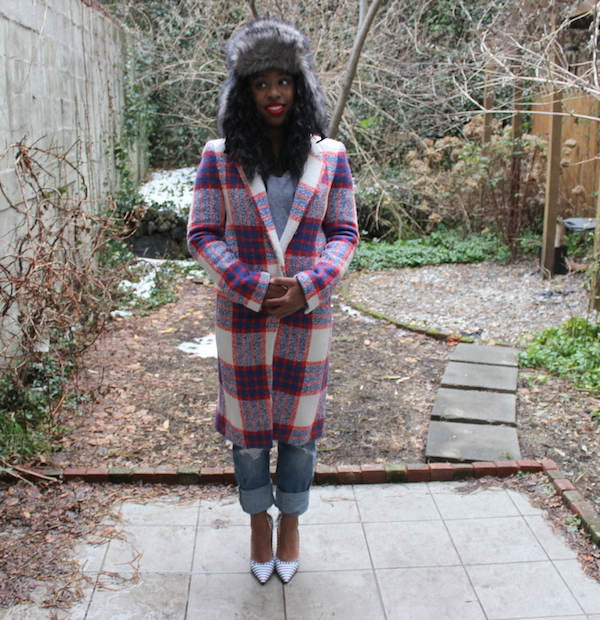 Image Source
Faux fur adds an instant touch of glamour to any look, and it's super warm. If you don't want to invest in a faux fur trim coat, get a stole or scarf and throw it over your favorite coat.
–

–
2. Get an oversize scarf that feels like a blanket.
I need to buy a cup of hot chocolate for whoever came up with the oversize scarf trend. Now, you can wear your blanket outside. Does it get any better? And in case you're nervous that you'll look like Lenny Kravitz in his now-infamous scarf, rest assured: oversize scarves don't have to be gigantic, just big enough to cover your upper body.
–

–
3. Get a beanie that shows your personality.
The new beanies blow your standard black knit hat out of the water. They come with adorable pom-poms, or an eyes, nose and ear to mimic a bunny, or a clever saying (love the "Damn Gina" hat). Conversation starters that still keep your head warm? Sign me up.
–

–
4. Make your gloves a pop of color.
A pop of color is the perfect way to bring some life into your winter wardrobe. And gloves are your best option, since they're the most noncommittal accessory. If you have a black coat, go for some red or leopard print gloves. A bright coat? Colorblock with gloves in a complimentary hue. And if you're tech-obsessed like me, get a touch tone pair.
–

–
5. Throw on some cute snow boots.
Image Source
Snow boots are normally pretty awful, but they don't have to be. Opt for sleek black boots, or a stylish pair with studs, metallic color or quilting.
–

–
That's all you need to look stylish and warm during this Arctic Blast. Any other tips, Glamazons? How are you keeping it cute in the cold? Would love to hear from you!
Kisses,
Glamazon Jessica
View Related Posts:
[fbcomments width="600" count="off" num="15"]