10 Things I Learned About Cuba #GlamazonTravel
Wednesday, January 7, 2015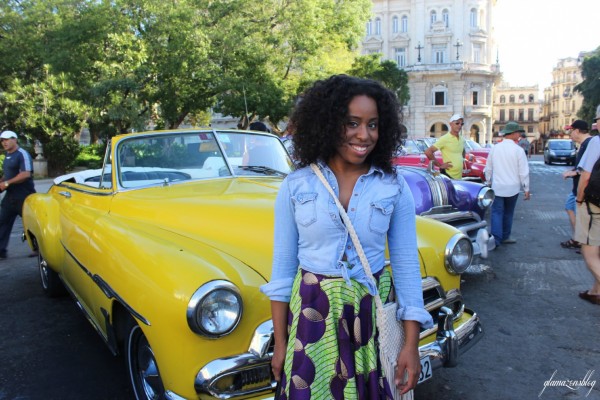 Glamazons,
It's really amazing I whittled this list down to 10 things — I learned so much! If you follow me on Instagram, you know I spent New Year's in Cuba. Before I left, I spent way more time than I'd like to admit researching the history and culture (read: gazing at the beautiful photos of Old Havana). The island was even more spectacular than I imagined.
You May Also Like: How To Prep For Travel To Cuba, If You're Coming From The U.S.
Before I get into the 10 things I learned (and the endless number of things you MUST do if you visit!), I have to disclose that I traveled there legally through a people-to-people ambassador program. Click HERE for more info on the current restrictions in place for legal travel from the U.S. (as of January 2015). It's something I'd recommend if you want to have a fixed itinerary (approved by the government) of educational activities to guide your experience on the island. You won't have the free time to create your own schedule, but you will be exposed to restaurants and activities you might not have considered on your own. And you'll gain a wealth of knowledge from tour guides.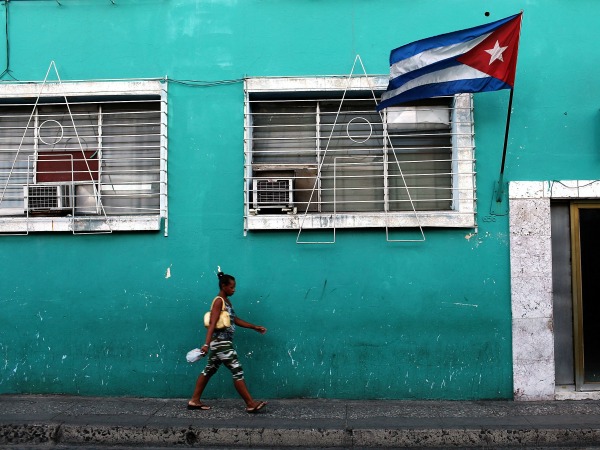 OK, now that we've got that out of the way, here are 10 things I learned in Cuba (and a handy To-Do list in case you're traveling there):
1. Nothing is more beautiful than Old Havana.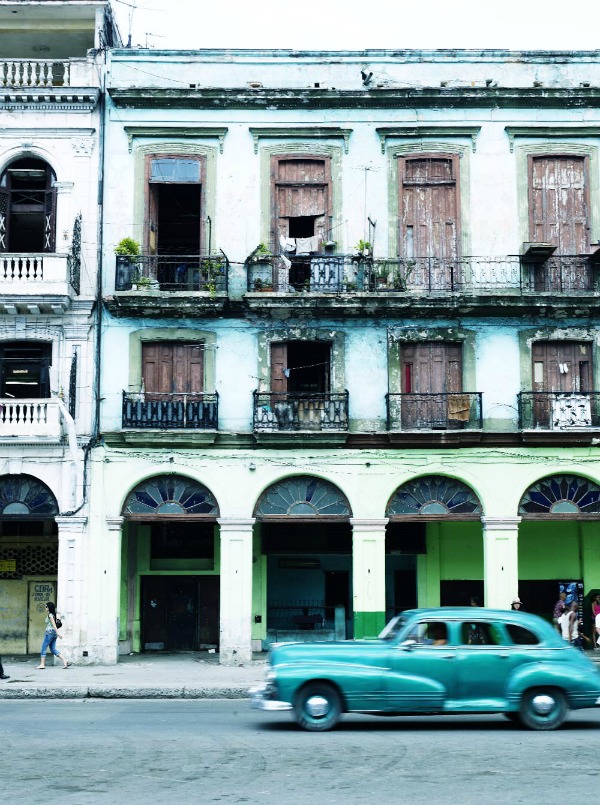 The photos I stalked on Pinterest didn't do Havana justice. Visiting old Havana feels like walking into a painting, or onto an old movie set. There is beauty everywhere. The colonial architecture, marked by its Spanish influence, will simply take your breath away. Even the dilapidated buildings in the capital, which are in desperate need of restoration, are mesmerizing in their ruin.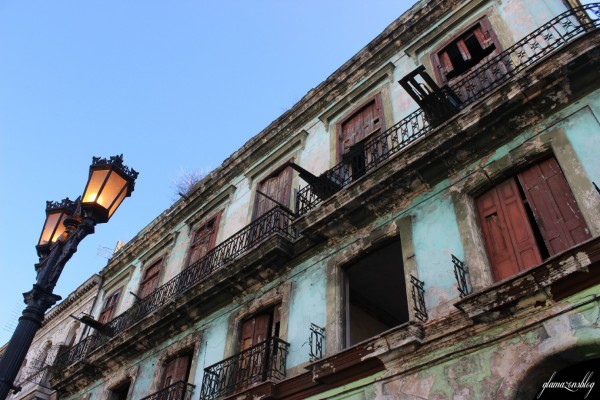 The walls are bright and colorful. The balconies are iron-wrought (like a favorite U.S. city of mine) and everyone hangs laundry on them. A Texan we ran into at our hotel called them "laundry museums," which was kind of fitting: Cubans are just living their everyday lives but to us, their homes are veritable works of art.
To Do: Take a walking tour of the capital to marvel over the beautiful architecture and discover the history behind its famous buildings.
2. The people are also beautiful. And friendly.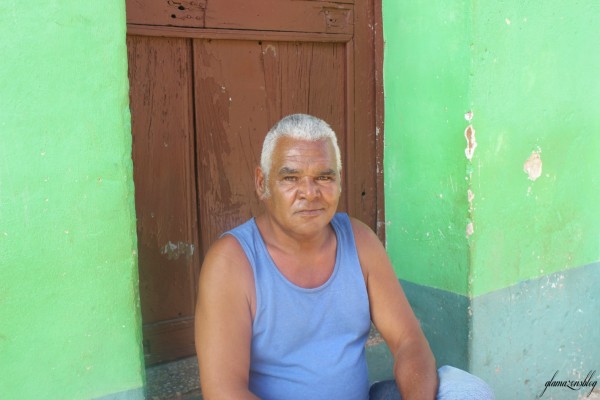 I came across quite a few Cubans who could easily be models with their handsome features, sun-kissed skin and full, textured hair. They were friendly, warm and welcoming. When they learned I was American, they were even more eager to make sure I enjoyed every second of my stay on their island.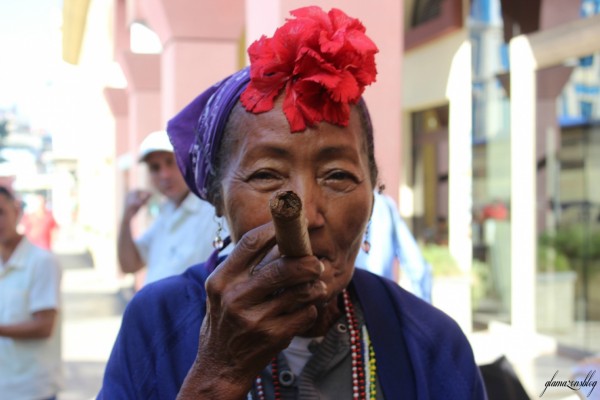 I met a few kind-hearted people that I genuinely consider friends and can't wait to see when I go back (yes, I'm going back! And shout out to Alain, Alexis and Pablo! LOL).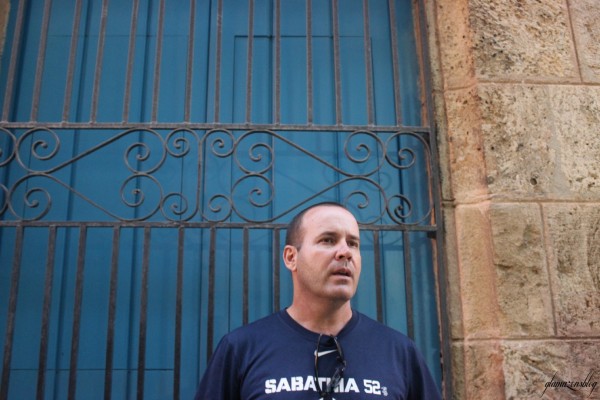 My amazing tour guide Alain
Some Cubans speak English but I still think you'll have a richer experience if you have a working knowledge of the Spanish language.
To Do: Interact with the locals, start conversation and make friends.
3. Prepare for the very best car sightings you'll ever see.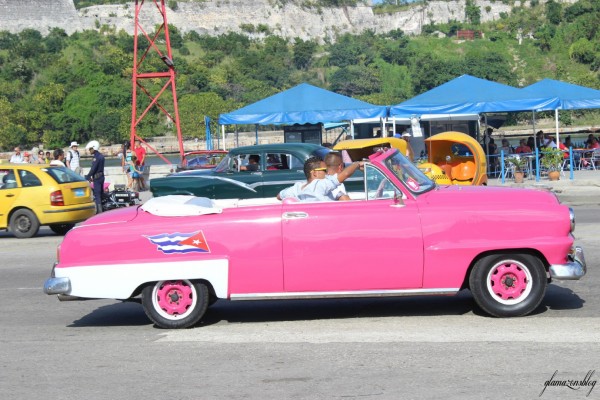 Cuba's classic cars are a sight to behold! I can't tell you how many conversations I abruptly stopped to get a picture of a 1957 Pontiac zooming by. The pre-revolutionary American cars rule the road thanks to a U.S. sanction in 1961 that made importing cars and parts between the United States and Cuba illegal.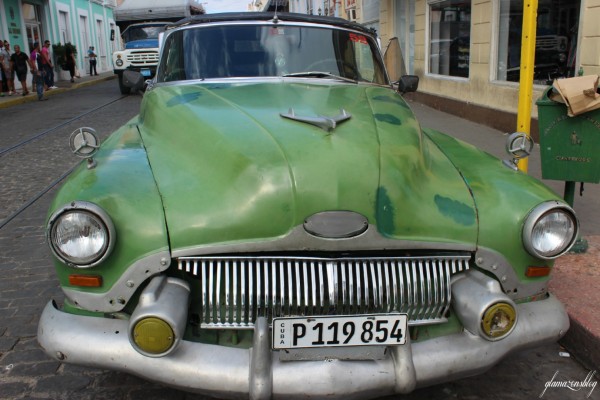 The cars are now so iconic that tourists (and Cubans celebrating weddings or milestone birthdays) pay drivers for rides. Even the two-seater bici-taxis are cooler than anything I've ever seen!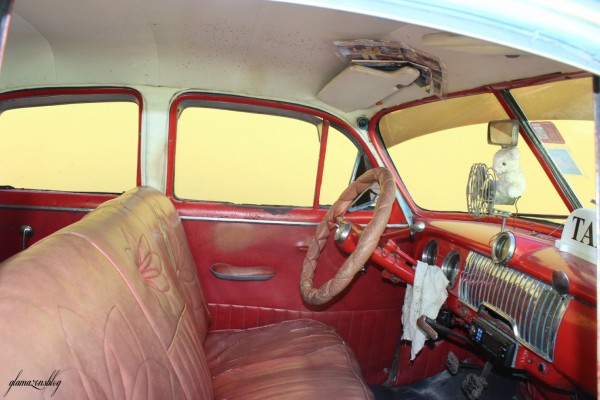 To Do: Take a spin in a classic car or on a bicycle taxi. 
4. Cuba has an incredible art scene.
I could spend all day fawning over the beauty in Old Havana but there's more to Cuba than colonial architecture and old cars. The arts are the island's prized possession, and successful artists enjoy great fame and fortune. I fell in love with the work of Kadir López, who was recently profiled in The New York Times. He restores old American signs that were torn down during the Revolution and superimposes photos on them. I'm kind of obsessed with his Havana Monopoly board and his oversize Rubik's cube with American presidents.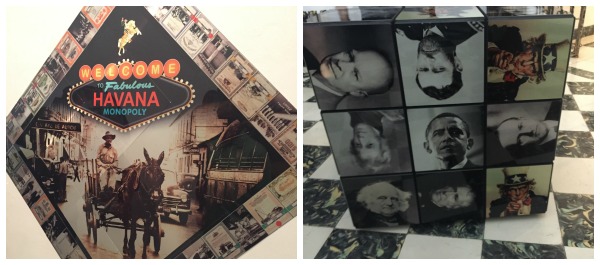 Another favorite was Ramsés Morales Izquierdo, from Trinidad, Cuba, who creates brilliant and provocative political cartoons. Most of Izquierdo's cartoons center around the Cuban government though he recently created a poignant cartoon about democracy in Ferguson, Missouri you can view HERE. Love!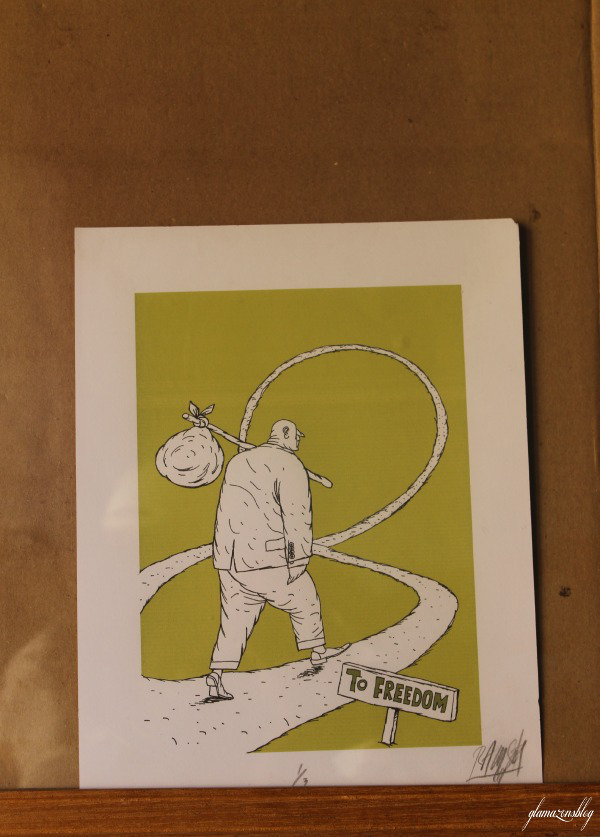 The artist I loved the most (and it was hard to choose!) was José Rodriguez Fuster, who is heralded as the Picasso of the Caribbean. His entire home is covered in vibrant, colorful mosaics from the stairs to the walls and tables. I had the honor of meeting him while he was painting in his oil room. What a prolific and supremely talented artist!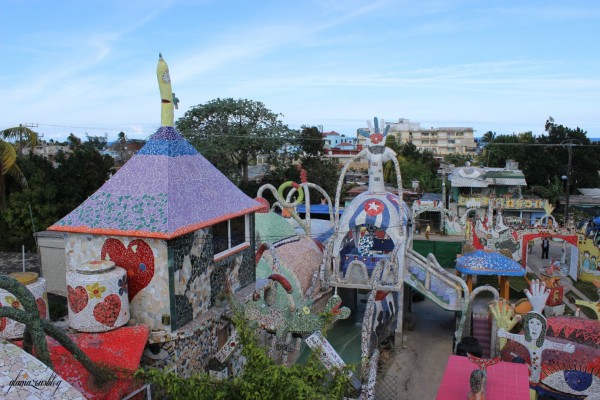 I also saw the Ballet Nacional de Cuba for only 30 CUCs (more info on the two forms of Cuban currency HERE). On the 56th anniversary of the Revolution, the dancers performed a hauntingly beautiful rendition of "Swan Lake," which brought the audience, including founder Alicia Alonso, to their feet. I'll never forget that moment!
To Do: Go on an art tour of Havana. Attend a performance at the Ballet Nacional de Cuba.
5. Give!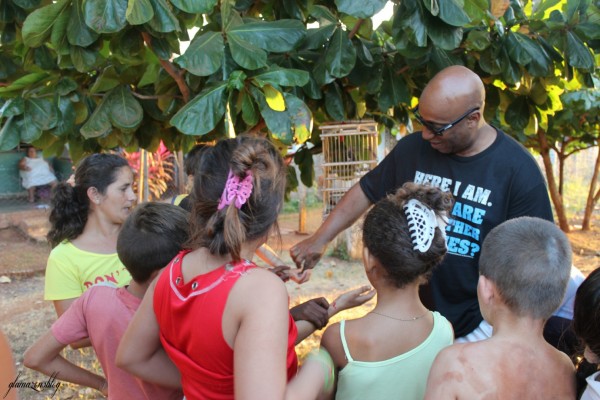 I always kept a few CUCs handy in my purse for tipping. And I'm not just talking wait staff (in fact, gratuity was included at most of the restaurants we visited). I tipped people dancing and singing on the street and Cubans who were nice enough to pose for pictures.
And remember the advice a Glamazon gave me about bringing my own toilet paper (thanks @naijapeach!)? It definitely came in handy as some bathroom stalls had no toilet paper in them. In most cases, there were people outside the bathroom handing out very small squares of toilet tissue in exchange for tips, and that's how they make their living. I tipped them, even though I had my own tissue handy (more info on the proper way to dispose of toilet paper in Cuba HERE).
To Do: Always keep single CUCs for tips. If you feel moved, you can also bring new or lightly-worn clothes and toiletries to donate to the Patronato synagogue for charity.
6. Eat at the island's famous restaurants.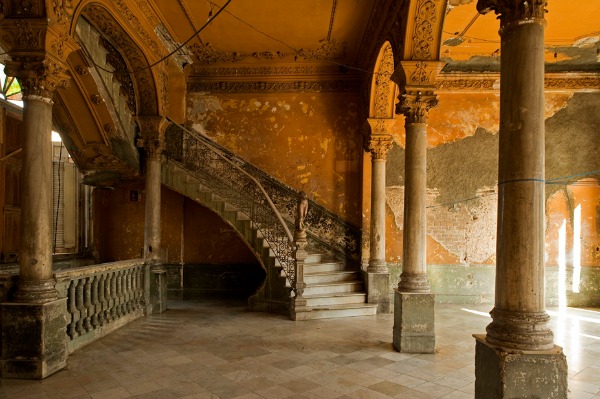 Cuba gets a bad rap for food, thanks to state-run restaurants. In fact, there's a saying that the best Cuban food is in the United States. Ouch! I'm happy to report that there IS great food in Cuba at the paladars (restaurants run by self-employers, often out of their living rooms). La Guarida is one of the best and most popular. It's actually the set of the internationally-acclaimed Cuban film, "Strawberry & Chocolate," and it boasts a stunning cracked marble staircase. But the real draw is the tasty food: I had lobster, Moors & Christians (black and white rice) and plantain. Everything was delicious. Beyonce and Jay Z also ate there during their stay in Cuba.
I also learned not to underestimate hotel eateries! I had the best mojito of the trip at the hotel I stayed at in Havana: Parque Central.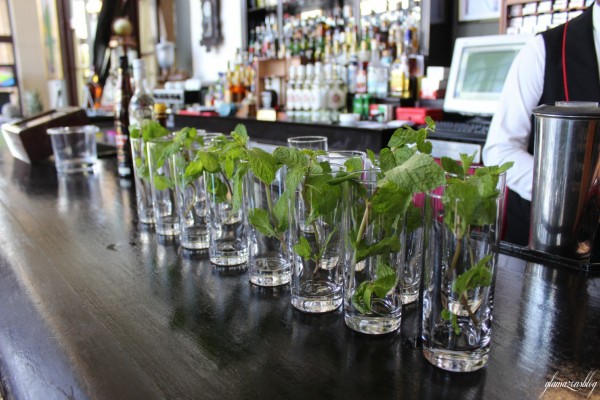 And I had an amazing family style lunch at Hotel Nacional La Baraca, accompanied by live music. We enjoyed chicken, yuca, plantain, rice and beans. It was one of the best meals I had on the island!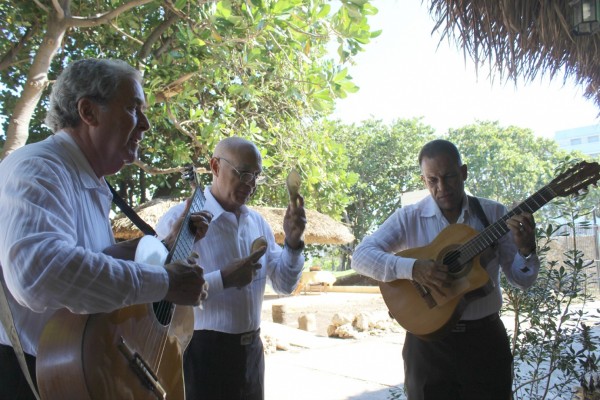 To Do: Don't leave Havana without visiting a paladar (loved La Guarida and Rio Mar!) and Hotel Nacional for lunch or dinner. 
7. The Malecon has the best people-watching.
I swear I had dreams about the Malecon before I went to Cuba. The famous seafront promenade really captures the spirit of Cuba. Life happens along the Malecon. You'll spot friends hanging out, locals just gazing out at the sea and young lovers kissing (as our tour guide said, if your house is full of people, the Malecon is where you go for relative privacy and anonymity). The Malecon is especially lively at nighttime. It's a great place to interact with the people of the island or just take in the breathtaking views.
To Do: Hang out at the Malecon on Saturday night.
8. Read up about the revolution.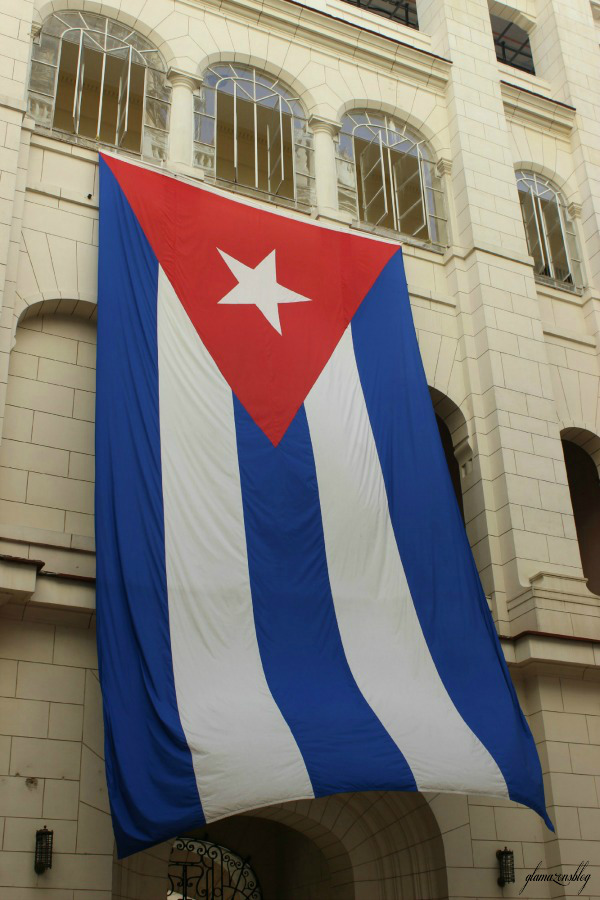 Cuban culture is inextricably linked to the Revolution: the corrupt government led by Fulgencio Batista that preceded it, the Communist regime that followed it and the strong sense of nationalism it fostered among Cuban citizens. You'll have a much better understanding of the Cuban way of life if you read up about the revolution before your trip. And when you arrive in Cuba, there's no shortage of museums and monuments dedicated to that armed revolt.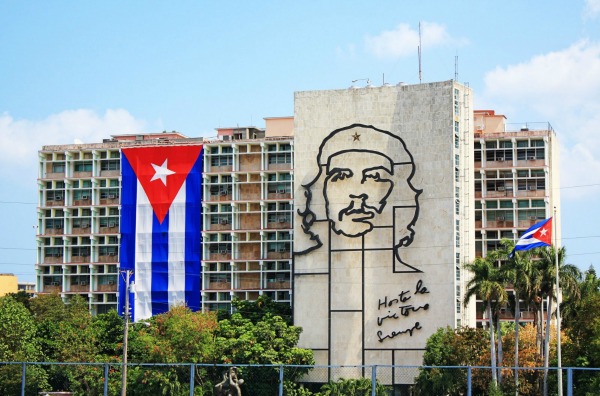 The Plaza de la Revolución, or Revolution Square, is a must visit. It houses the 109m (358 ft) tall memorial to José Martí, a poet and writer who is considered a national hero. There are two iron sculptures: one of revolution leader Ernesto "Che" Guevara with the words "Hasta la Victoria Siempre" (Towards Victory Forever) next to it, and another of Fidel Castro's confidant, Camilo Cienfuegos, next to the words "Vas bien Fidel" (You are doing well, Fidel). More than one million Cubans stand in the square on May 1st, International Workers' Day, to hear Fidel Castro and other leaders speak.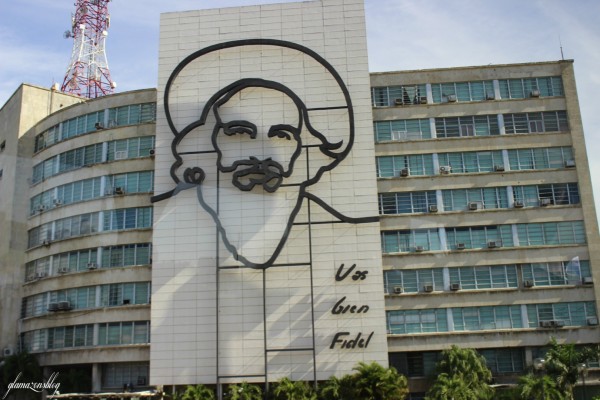 History buffs will love the Museo de la Revolución, which used to be the Presidential Palace! There, you'll find relics like the boat that Fidel used to come from Mexico to Cuba to start the revolution, an engine from the U.S. aircraft that was shot down above Cuba during the Cuban Missile Crisis, jeeps seized from Batista's army troops, actual bullet holes and more. It's a chilling yet powerful ode to the revolution that overthrew Batista's government and commenced Castro's reign over the island.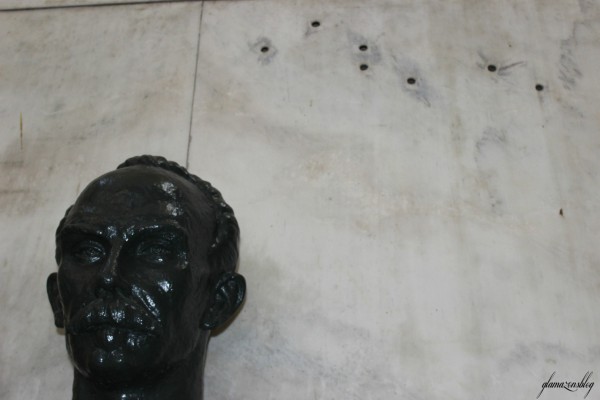 A bust of José Martí next to bullet holes
But you don't have to go the museum or the square to see remnants of the revolution. They're everywhere from billboards to posters to t-shirts.
To Do: Visit Revolutionary Square and the Museo de la Revolucion. Read up on the revolution before traveling to Cuba. 
9. Cubans love Ernest Hemingway as much as I do.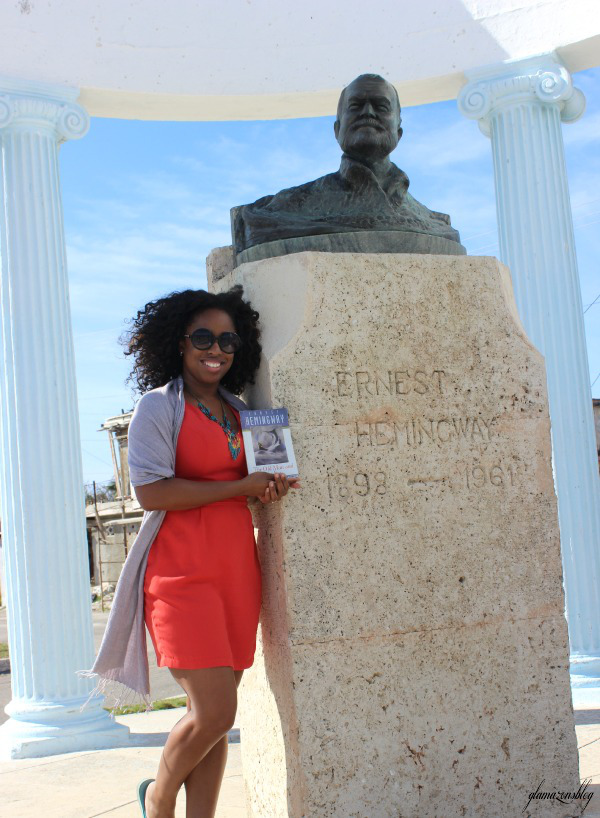 Being a true nerd with my The Old Man and The Sea copy next to a statue of Hemingway
As a fan of Ernest Hemingway, I was thrilled to see the way Cuba honors the great American author, who lived on the island from 1939-1960. He wrote some of his most famous works there including From Whom The Bell Tolls and The Old Man and the Sea.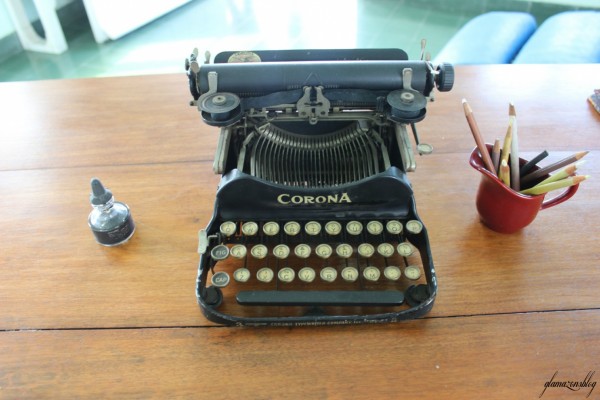 His villa, Finca Vigía, is now a museum where you can see his typewriter, his fishing boat ("Pilar") and his now-empty swimming pool where Ava Gardner used to swim naked (so the story goes…). We also went to Cojimar, the village where Hemingway docked his boat and the inspiration for The Old Man and the Sea.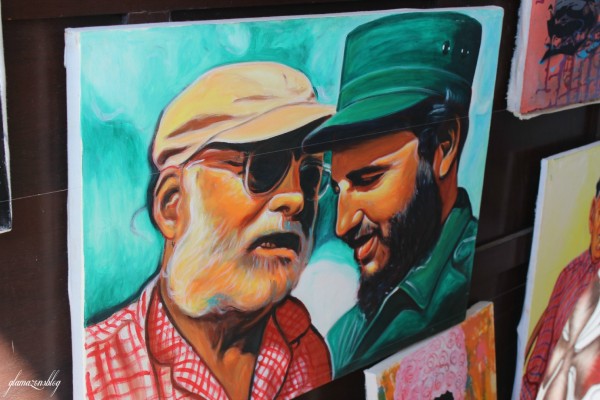 A painting of Hemingway and Castro at a store in Cojimar
Like any writer, Hemingway loved a good drink (lol!) and frequented La Floridita and La Bodeguita del Medio, which both pay tribute to him with statues and handwritten notes.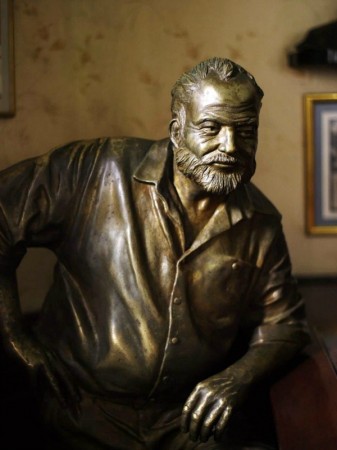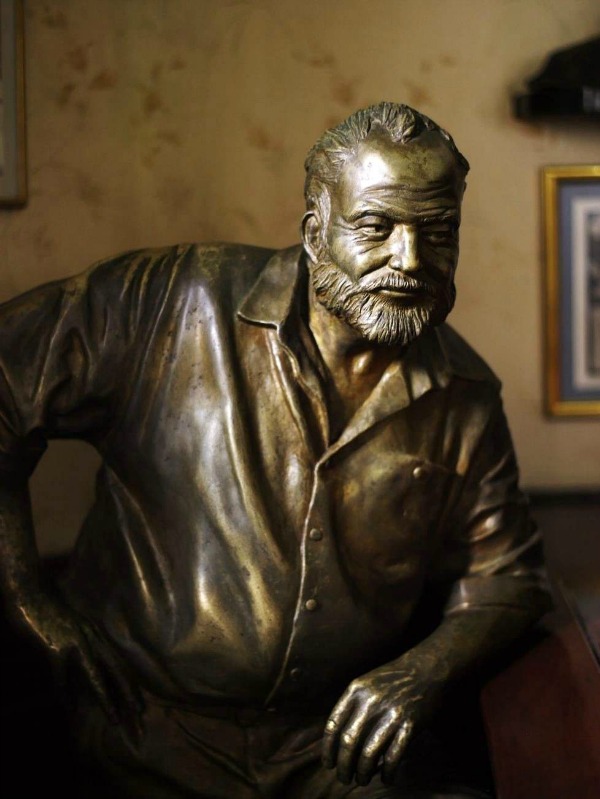 I loved seeing where Hemingway lived and hearing stories about his time on the island – priceless experience!
To Do: Visit Ernest Hemingway's villa and get his favorite drink, the mojito, at one of his watering holes, La Floridita or La Bodeguita del Medio.
10. There's still time for laying on the beach.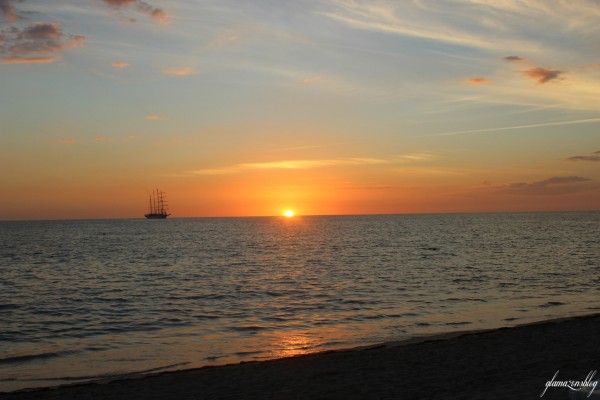 You know I'm so guilty of going somewhere hot, finding a beach and laying there the whole time (#beachbum life). The great thing about Cuba is that the arts, food, dancing and sightseeing actually rival the beach. But that doesn't mean you can't make time to visit one. I swam in the warm water and watched the sun set over the beach in Trinidad, but I hear nothing compares to the powdery white sands and tranquil clear blue waters of the Santa Maria beach and the Varadero beaches. I have to go there next time!
To Do: Head to the Santa Maria beach or the beaches in Varadero, Cuba.
*Bonus: Cubans love to dance.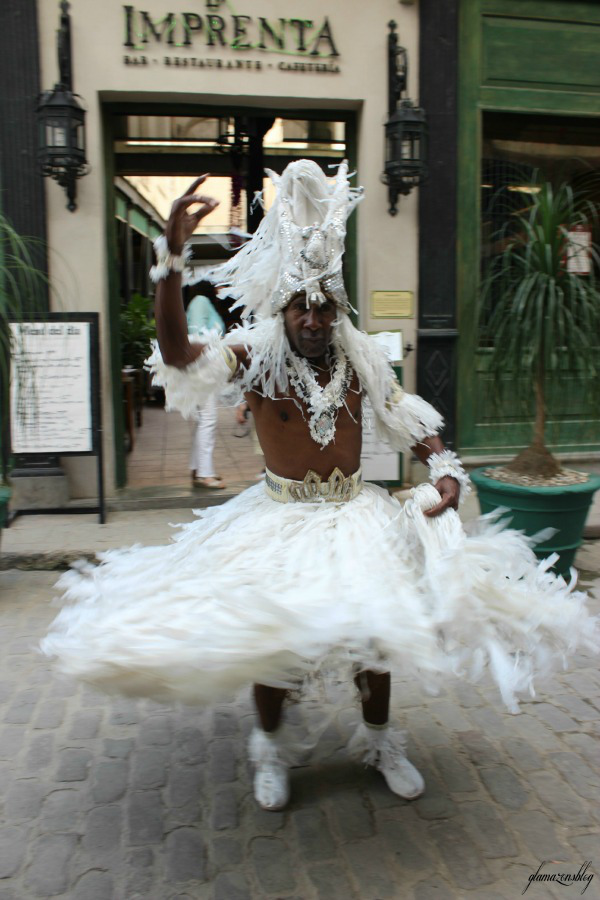 It's not really a bonus, I just had more than 10 points! You guys know how much I love dancing and Cubans love it too. There was dancing (on stilts!) in San Francisco Square: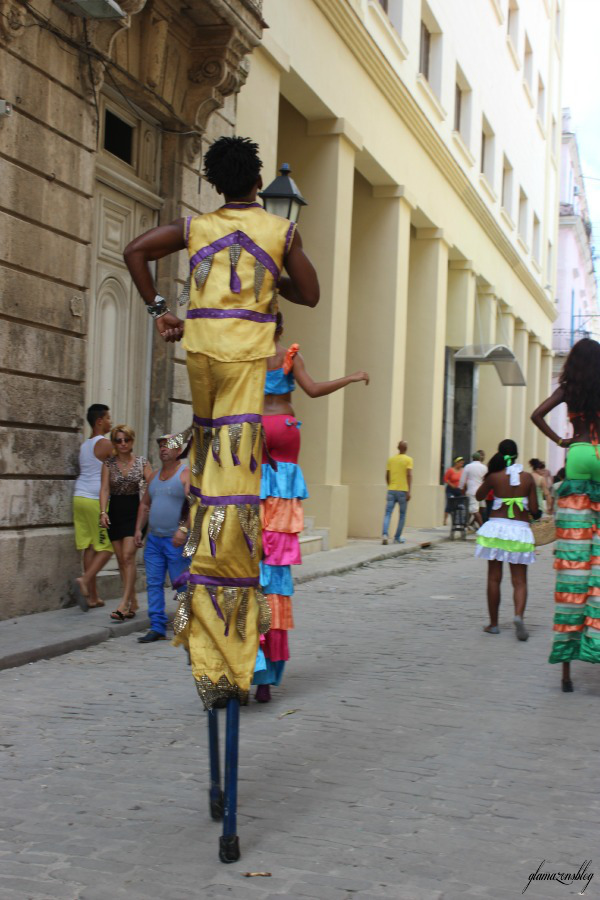 And I attended a salsa dancing class in Trinidad, Cuba. Listen, I thought I had salsa dancing down before but I learned quite a few new moves at the class, some of which I have yet to perfect.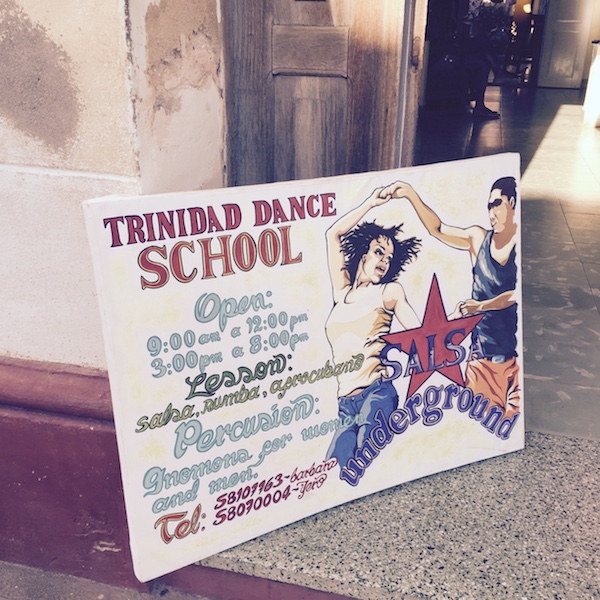 I put them to use at the extravaganza we went to in Cathedral Square on New Year's Eve. Dancers performed a choreographed piece and then guests swarmed the stage to salsa dance until the night ended. We danced until our feet hurt!
To Do: Take a salsa dancing class and head to Callejon de Hammel or San Francisco Square to see the locals dance in the street.
–
Whew! A lot of info, right? I told you guys I learned so much. And this is only the beginning. I'll do more in-depth posts about the hotel I stayed in (Parque Central), my time in Trinidad, Cuba, all the paladars I ate at, and much more. I had so many memorable experiences, and I was only there for 7 days!
Any questions about my experience in Cuba? Hit me in the comments. Have you been to Cuba? Anything I missed and should schedule for my return trip? Would love to hear from you! 
Kisses,
Glamazon Jessica
View Related Posts:
[fbcomments width="600" count="off" num="15"]