My Holiday Wishlist: Flight 001 Space Saver, Cape Dress, Treadmill Desk & More!
Tuesday, December 23, 2014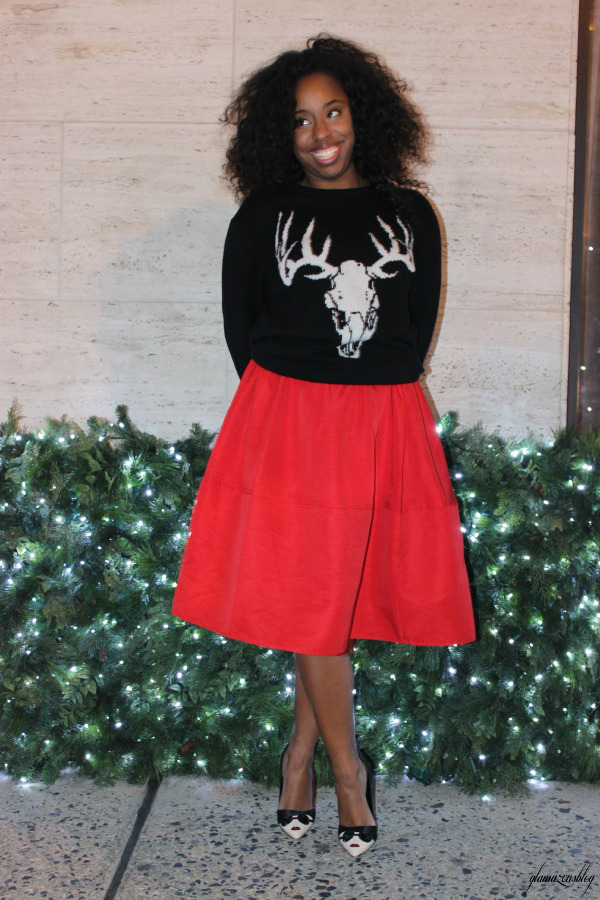 Me being more nice than naughty…hoping Santa notices.
Glamazons,
I love giving gifts to people that are important to me. It thrills me to see their reaction and to know they feel appreciated and loved. That's why we make such a big deal of gift giving on this blog (take one glance at our gift guide roundup and you'll see we take the holidays very seriously). BUT I'd be lying if I said I didn't have my own holiday wishlist. Given my obsession with shoes and travel and Solange's wardrobe, of course there are a ton of items I'm eyeing for the holidays. The bright side? Thanks to the many holiday sales happening now, I can afford to get just a few items for myself. Nothing wrong with treating yourself every now and then, right? Right. But in case Santa's reading, here's my official list:
1. Carry-On Luggage
Confession: I already bought this (hey, it was a gift to myself!) but it's amazing how much you can fit in the hardcover carry-on suitcases. They flatten your clothes so the bags easily fit in the overhead compartment. AND if you get the rolling suitcases, you don't have to lug them through the airport. I simply roll them and even put my purse on top. Hands-free for the win! Get it HERE.
–
2. Flight 001 'Spacepak' Space Saving Travel Pouch Set
Glamazons, if you've ever jumped on top of your suitcase to close it, straining every muscle in your body to hold it down long enough to zip it closed, you know why I need this space-saving pouch. On top of my questionable packing skills, I try to pack extra clothes for travel outfit posts…so yea, I actually needed it yesterday. The award-winning pouch compresses up to two weeks worth of clothes. Watch this video (in awe) and become a believer. Get it HERE.
–
3. A Bright Coat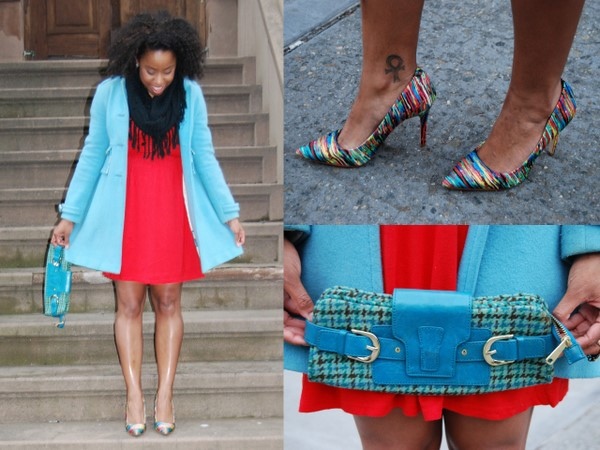 I live for the holiday season but once it's over, I'm like ugh why is it still cold?! When the weather's unbearable, nothing picks me up like a bright coat. It brings a touch of vibrant summer style into the colder season, and truly lifts my spirits. And the great thing is you can get away with black/gray basics underneath. The coat makes the outfit!
Shop below:
–
4. A "Quit Your Day Job" Shirt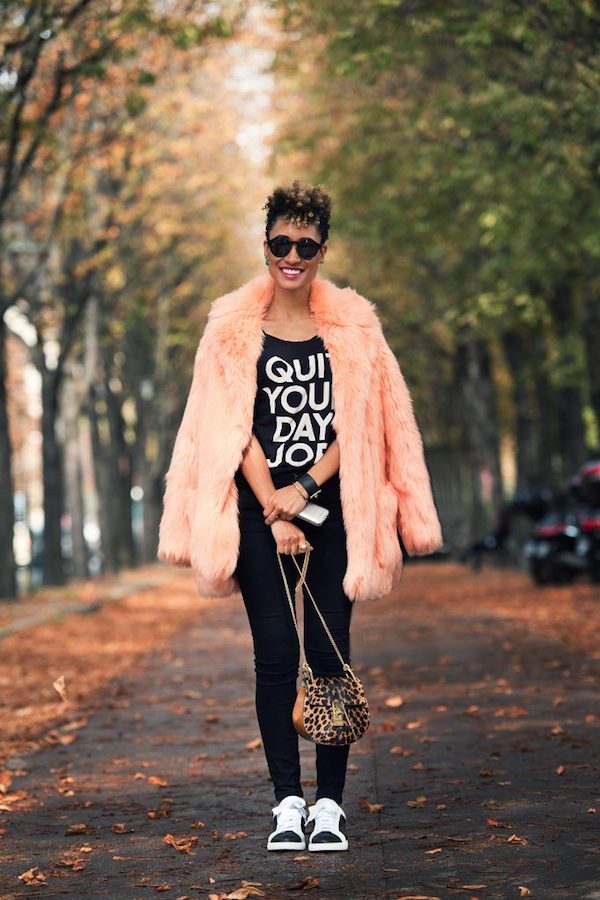 I feel like this is the perfect addition to my collection of entrepreneur-friendly shirts, right next to my "Full Time Blogger" sweatshirt. I'm all about quitting your day job (but saving first so you're financially sound), jumping out on a limb and doing the work you love.
Shop HERE.
5. A LoveCortnie Clutch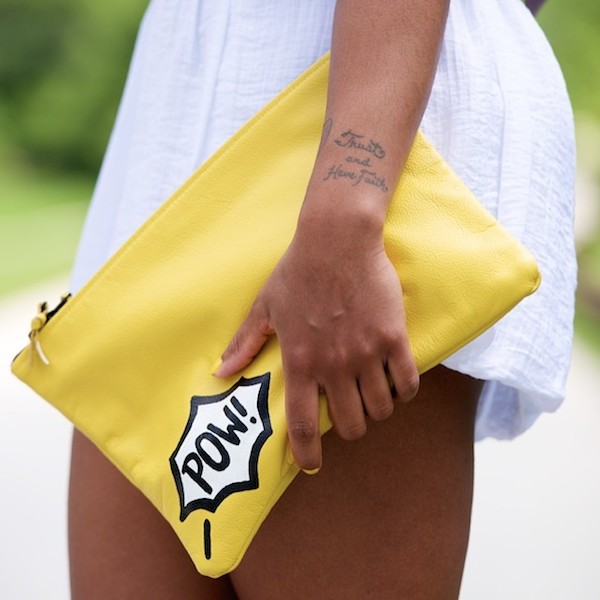 I've been a fan of LoveCortnie clutches since I first spotted this "Boom" clutch on my friend Blake's blog. Since following the brand, I've found quite a few clutches from leopard to fur that are just gorgeous! I also love supporting small businesses with talented, passionate entrepreneurs at the forefront. Cortnie Elizabeth, who we featured in our roundup of black small businesses, also runs a fab style blog, Style Lust Pages. Love her style!
Shop HERE.
6. Treadmill Desk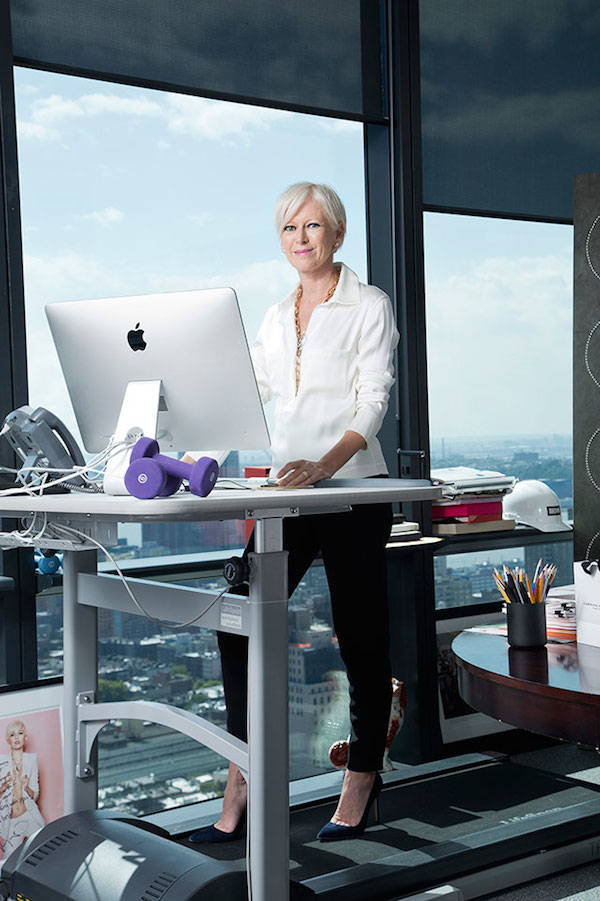 The other day, when I had the great fortune of getting a massage at the spa, the technician remarked on all the stress in my shoulders and neck, and then promptly asked if I worked at a desk on my computer all day. Of course, the answer was yes and I could clearly see the strain it's putting on my body. Besides alleviating some of that upper back pain, a treadmill desk can also keep me focused (so I've read), active and fit. Joanna Coles, editor-in-chief of Cosmopolitan, loves hers! Need it.
Get it HERE.
7. Christian Louboutin Nail Polish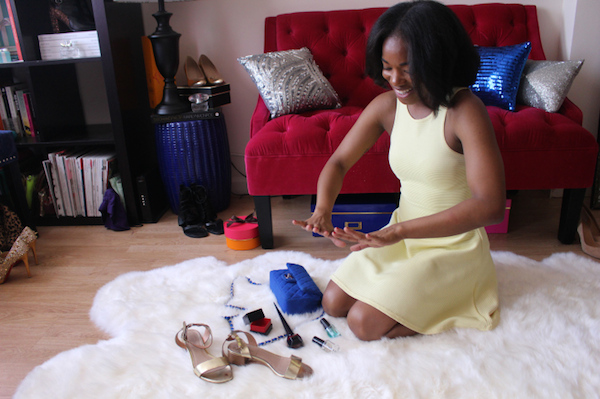 I know this may be hard to believe since I'm such a Christian Louboutin enthusiast, but I had no plans of picking up the nail polish. I lose my mind over the shoes but do I really need to drop $50 on some nail polish? Apparently, yes. After seeing this review on Channing in The City, I learned that it's gel-like, shiny and it lasts long (for two weeks without a gel top coat! like what?). And the bottle is just so pretty.
Get it HERE.
8. Canon 50 MM
Glamazons, I'm still getting to know this whole photography thing, but I've been hearing great things about the Canon 50 MM lens. It's super sharp since fixed lenses are sharper than zoom lenses, and it's wider aperture helps eliminate camera shake and make for more focused images. Plus it's lightweight and affordable. Sold! Get it HERE.
–
9. Cape Dress
I tire of wearing sequin frocks whenever I have to get dressed up so I'm HERE for a new stylish look. I love cape dresses for the same reason I love cape blazers: they're regal, bold and oh-so-fancy. They instantly take your look to another level. And yes, Solange got me hooked! Shop below:
–
10. Pardon My Fro cards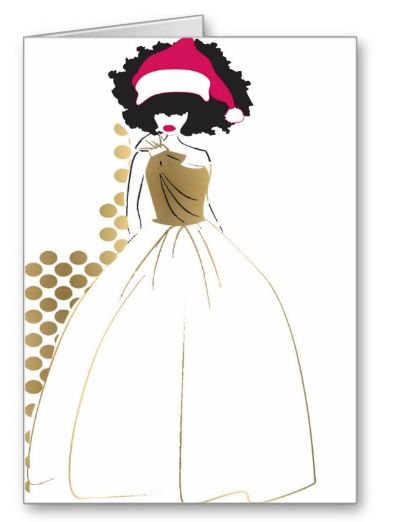 Don't tell my friends but I'm sending each of them these amazing cards for the holidays. Spotted over at my boo Christina's LoveBrownSugar blog, Pardon My Fro has stationery that's modern, regal, well-crafted, glamorous and most of all unique. And just look at that 'fro. Swoon!
Shop HERE.
Of course, these 10 items are only the beginning! Here are even more items that caught my eye:
–

–
What's on your holiday wishlist, Glamazons? Would love to hear from you in the comments!
Kisses,
Glamazon Jessica
View Related Posts:
[fbcomments width="600" count="off" num="15"]