GLAM SCOOP: Solange Wedding Pics, Kendall for Estee Lauder and Toms for Target
Sunday, November 16, 2014
Glamazons!
I know you usually expect this on Monday but there's so much news going on that I had to write this post over the weekend. Well, honestly, I just wanted someone to gush about Solange's wedding with. Those portraits in Vogue are everything! Let's jump in, shall we?
Beyonce Releases New Song for Mama Tina
Glamazons, those Knowles ladies (or should I say Beyince, Carter and Ferguson ladies) just know how to make me melt! First, the internet exploded thanks to Solange's beautiful, regal wedding to Alan, and now, Beyonce's released a new track celebrating her mother's resilience after father, Mathew Knowles' infidelity and their subsequent divorce. I've been playing the song, "Ring Off" on repeat!
Here are some of the touching lyrics:
"You used to dress and fix your hair/Then you smiled through your tears/In the mirror you would stare/And say a prayer/Like, "I wish he said I'm beautiful/I wish it didn't hurt at all/I don't know how I got here/I was once the one who had his heart."/ Until you had enough then you took that ring off."
Listen to the full track below:
"Ring Off" is a bonus track off the platinum edition of Beyonce, which hits stores Tuesday. What do you think? [Necole Bitchie]
Kathy Griffin is The New Host of E's Fashion Police
Following the untimely death of Joan Rivers, E! announced that they would continue the late comedienne's popular show "Fashion Police" with a new host. Well, that host has officially been announced: Kathy Griffin. That's not the only change: the show will no longer air weekly. It will run occasionally during awards season instead. It's also unconfirmed as to whether George Kotsiopoulos (our personal favorite) will return to the show. What do you think about Kathy joining the cast? [TMZ]
Solange and Julez Dance to "No Flex Zone"
The wedding cuteness keeps coming. During Solange's gorgeous wedding in New Orleans (scroll down for pics), the new Mrs. Ferguson and her son, Daniel Julez, had an adorable choreographed dance off to "No Flex Zone." What a great way to include him in the festivities and create a memorable mommy-and-me moment. Check out the video below:
–

Solange and Julez NO FLEX ZONE from Charlotte Hornsby on Vimeo.
–
How beautiful is Solo's Stephane Rolland dress! So far, we've counted four outfit changes the whole night (more credits below). That's how a fashion girl does a wedding! Love it. [GlamazonsBlog Mail]
Solange Gets Married in New Orleans
Glamazons, Glamazons, Glamazons. I need to just take a moment and say how cool I think it is that Solange marches to the beat of her own drum, and sets trends in the process. The bride challenged the status quo this weekend, getting married to Alan Ferguson in a stunning open back pantsuit with a cape and plunging neckline by Stephane Rolland (she later changed to a Humberto Leon for Kenzo dress, Stuart Weitzman shoes and Jill for Lady Grey bracelets). Alan Ferguson wore Lanvin. And they arrived for their 2pm ceremony at the Marigny Opera House in New Orleans in white-painted vintage bicycles with baby's breath in the basket. *Swoon*
She walked down the aisle to Donny Hathaway's "I Love The Lord, He Heard My Cry." The night also featured performances by musician friends Kelela, Questlove, and Kindness, and there was a dance off between Solange and son Julez to "No Flex Zone."
All the guests wore white, and the bridal party looked stunning. Beyonce wore a fitted white tank dress and platform heels, Mama Tina slayed in a ruched white gown, Janelle Monae wore a long-sleeve mini dress and Blue Ivy looked adorable in a frilly white dress.
The evening before, the two had a short film viewing at NOLA's Indywood Cinema recapping their love story followed by a screening of "Mahogany." "Mahogany" is reportedly the movie they saw on their first date. *Swoon*
That night, Solange wore a fitted long sleeve white dress with a plunging neckline, kate spade new york's hello shanghai pollie bird cage-inspired handbag and Loeffler Randall 'Amelia' high heeled sandals.
Check out pictures from the wedding ceremony via Vogue:
This is how you celebrate love with freedom, elegance, creativity and style. Congratulations to the Fergusons! [Vogue]
Kendall Jenner Is The New Face of Estee Lauder
In Kardashians-who-work news, Kendall Jenner is now the face of Estée Lauder. The nineteen-year-old announced her new gig Saturday via Instagram to her sixteen million followers. She joins a list of industry veterans including Joan Smalls and Constance Jablonski.
Alongside a curated collection of Kendall's faves, Estee Lauder posted a video from behind-the-scenes of the campaign shoot including an adorable clip of Kendall playing with her Mom's Estee Lauder makeup as a child.
The news accompanied a gorgeous Patrick Demarchelier-lensed shoot in the December issue of Vogue, where Kendall can be seen modeling the latest party dresses:
She is a stunner! Congrats to Kendall! [Estee Lauder/Vogue]
Shop Toms for Target!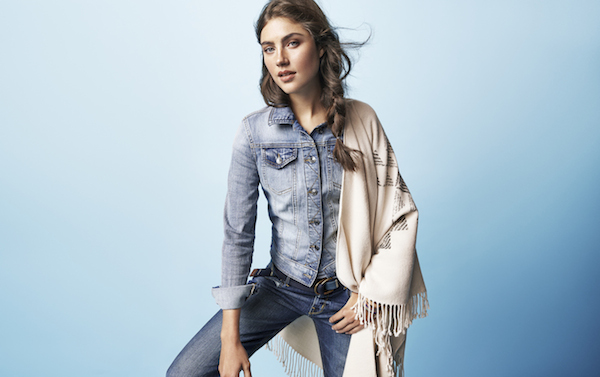 The collab everyone's buzzing about, Toms for Target, is officially in stores. Feast your eyes on sweaters, hoodies, tees, jackets, bracelets and of course, shoes all under $40. As always, for every purchase, a blanket, a pair of shoes or a week's worth of meals goes to someone in need. Love that!
Shop the collection here:
–

–
Happy shopping! [Toms]
Stay tuned for more news throughout the week.
Kisses,
Glamazon Jessica
View Related Posts:
[fbcomments width="600" count="off" num="15"]