#MFW: Why Moschino's Barbie Theme is Actually Pretty Genius
Friday, September 19, 2014
Glamazons,
When Jeremy Scott looked to megabrands McDonalds and Barbie for inspiration, he must've inherited some of their marketing genius. Consider Moschino's strategy over the last two seasons: churn out a playful pop culture-inspired collection, get it snapped on street style stars, watch it sell out in stores. It's brilliant and effective.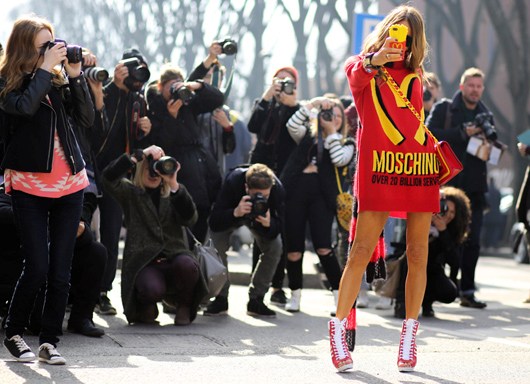 The Fall 2014 Moschino collection was lambasted by critics but adored by street style stars, bloggers and fashion enthusiasts. Most remarkable was the extent to which the accessories took off.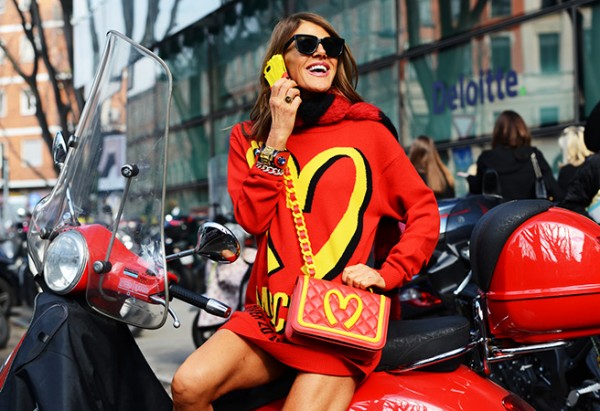 People (including yours truly) clamored over the motorcycle bag, MCDs-inspired quilted purse and the phone case, designed to resemble a carton of large fries.
So, although I admittedly cringed at the sight of some of the campy Barbie pieces for Spring 2015, when I saw Anna Dello Russo, Julia Sarr-Jamois and Chiara Ferragni of The Blonde Salad already wearing it (and boy, did it look cool on them), I had to take a moment to applaud Jeremy Scott and Moschino's marketing genius.
And wouldn't you know I'm already trying to buy the Barbie mirror iPhone case (available this weekend)? Natch.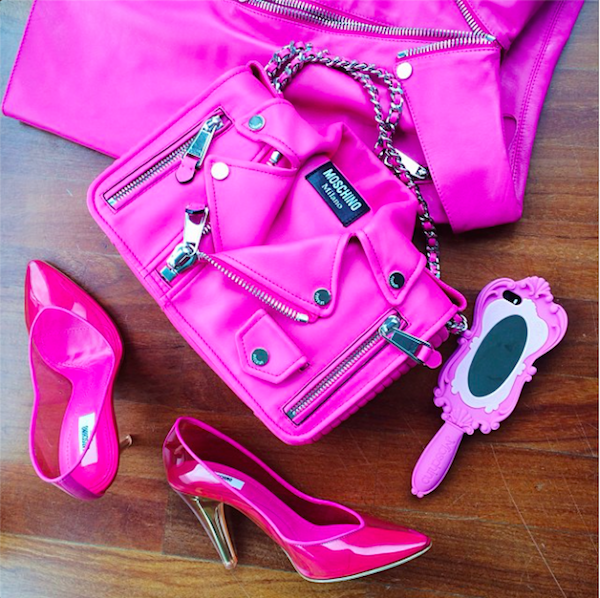 Here are the deets on Moschino Spring 2015: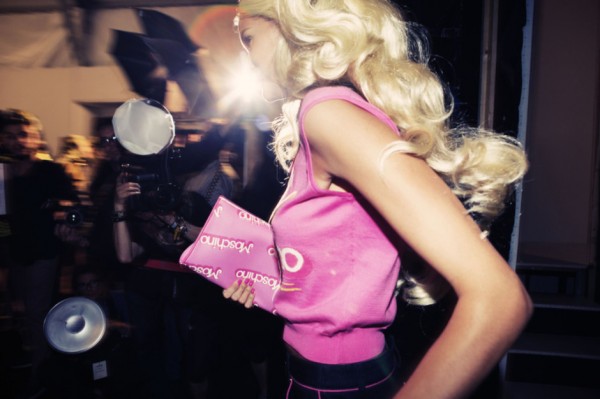 Inspiration: Quite literally, Barbie. Guests in the front row were greeted by a Barbie doll wearing the first look of the collection, in a box printed with the line: "The Most Moschino Barbie Doll Ever!"
A giant plastic pink comb was the invitation to the show.
Jeremy Scott told Style.com: "Like every girl and gay boy, I loved Barbie. It's hard not to; she's practically perfect. She's a good big sister, she's had every job in the world, worn every outfit. And it's just joyful. Her and I share the same things: We just want to bring joy to people."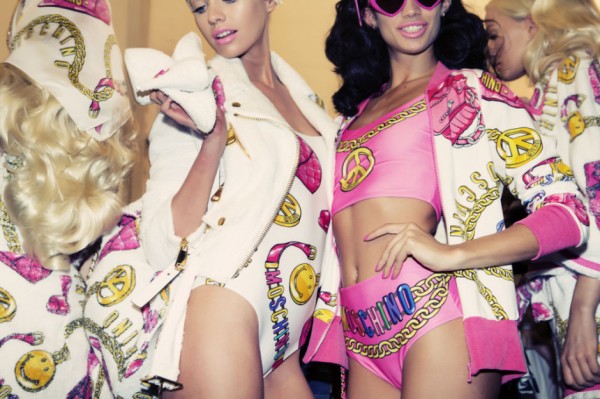 Key Pieces: A bubble gum pink sweatsuit with sweatband and weights (all branded with "Moschino" in Barbie letters), a skirt suit with diamante studs, yellow bikinis and swimsuits sewn atop turquoise and orange dresses, a denim vest and hotpants set, a white terrycloth towel dress and turban, leather bucket bags, branded belts, the Barbie mirror iPhone case (it brings new meaning to the word selfie), Barbie Shoes in the form of pink plastic pointy toe pumps and handbags in the shape of a pump.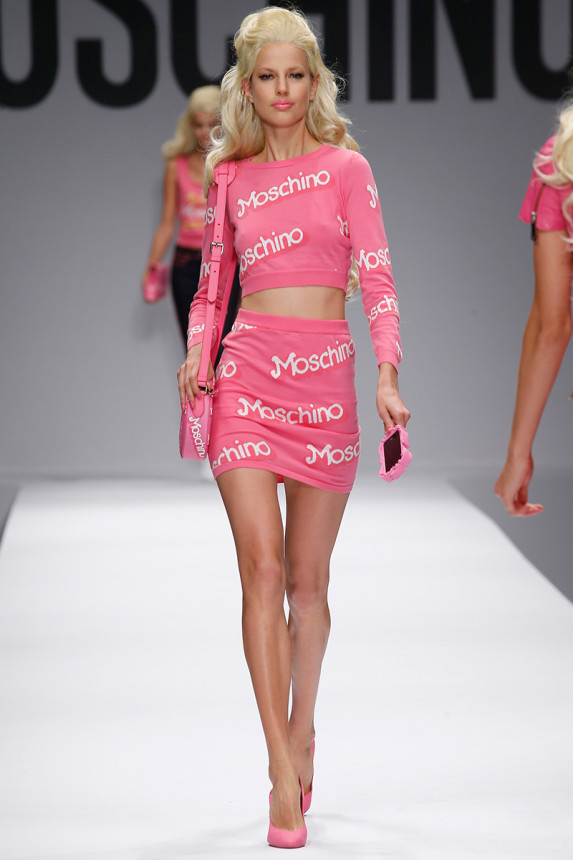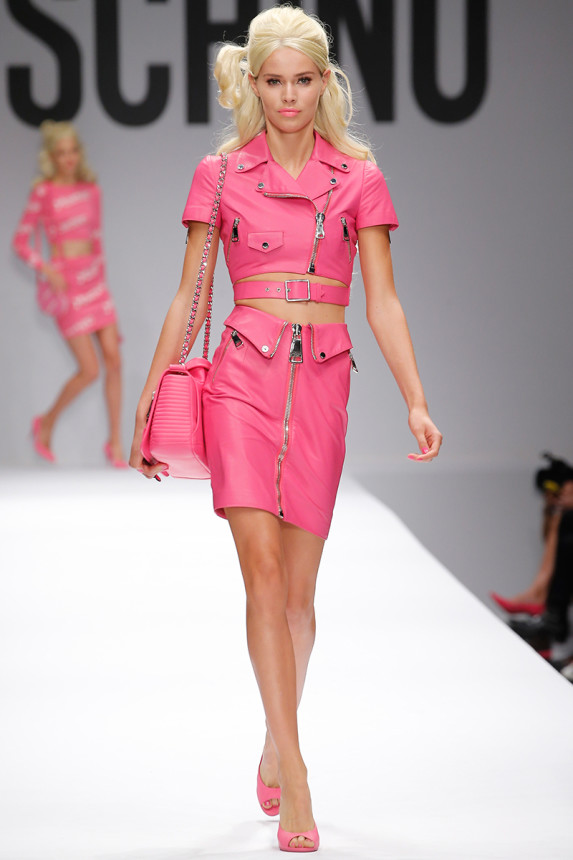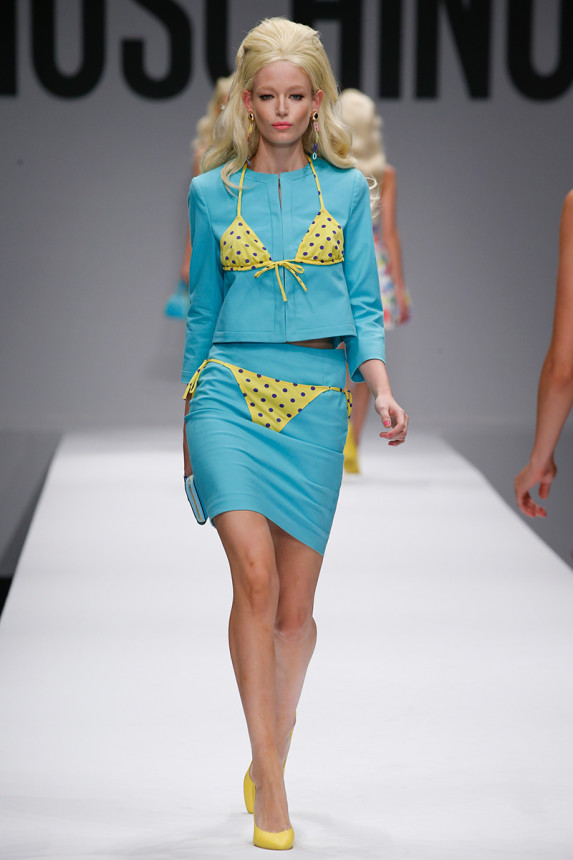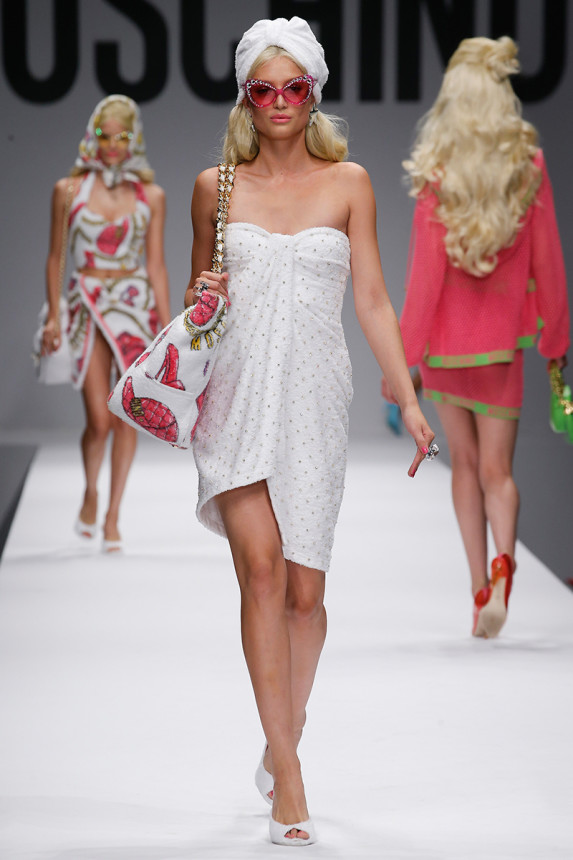 Of course, the mirror iPhone case, pink and black backpacks and motorcycle jacket bag are available this weekend.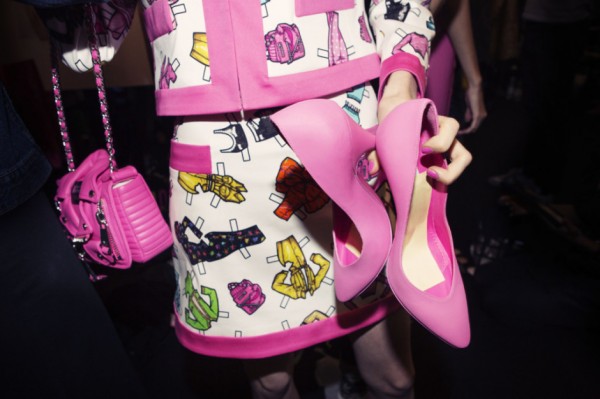 Who I Could See Wearing This Collection: Katy Perry, Rita Ora, Anna dello Russo, Jourdan Dunn, Lady Gaga, Miley Cyrus, Amber Rose, Nicki Minaj.
Check out more looks from the collection: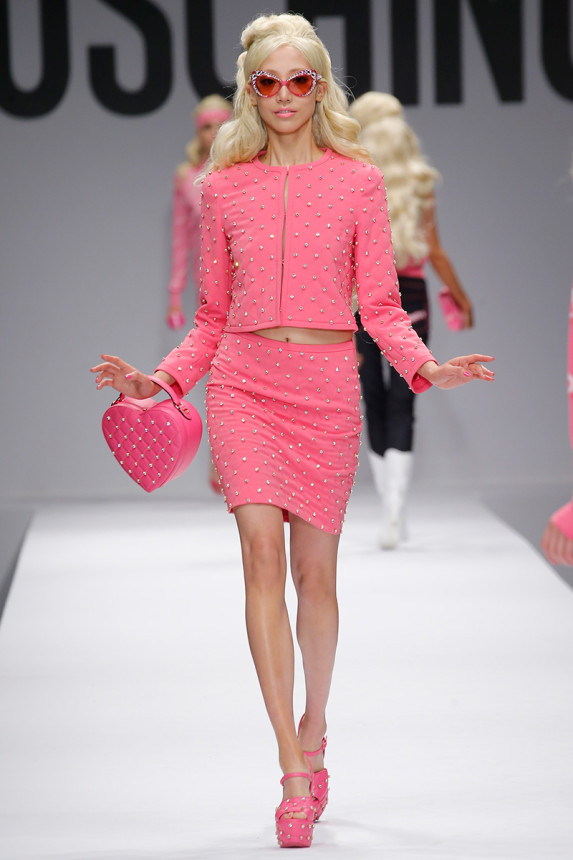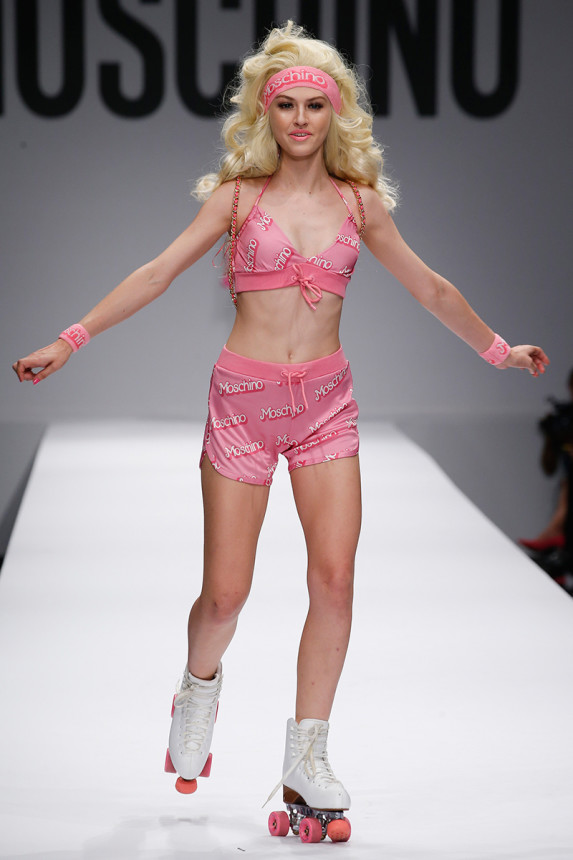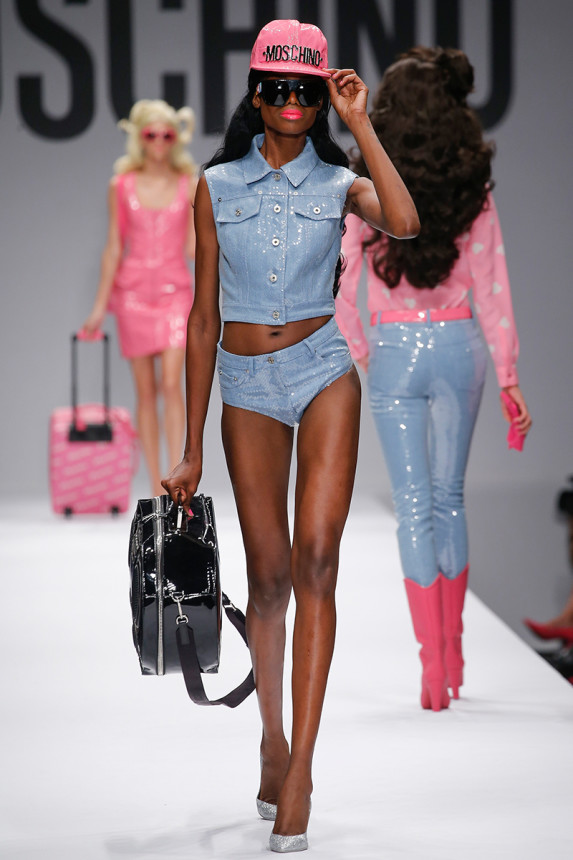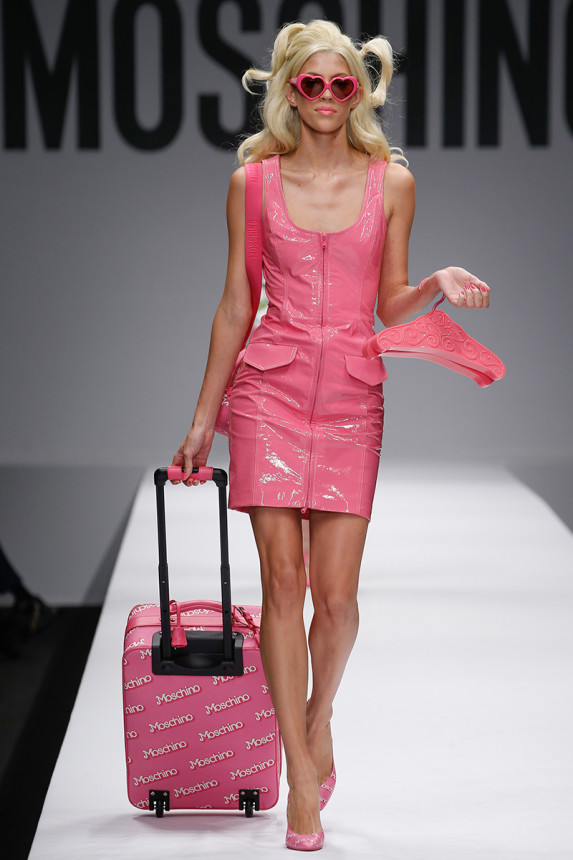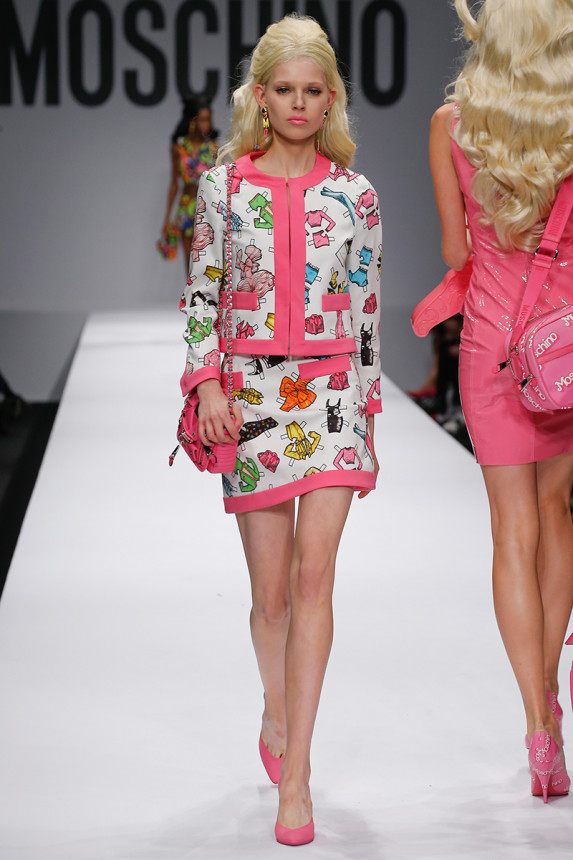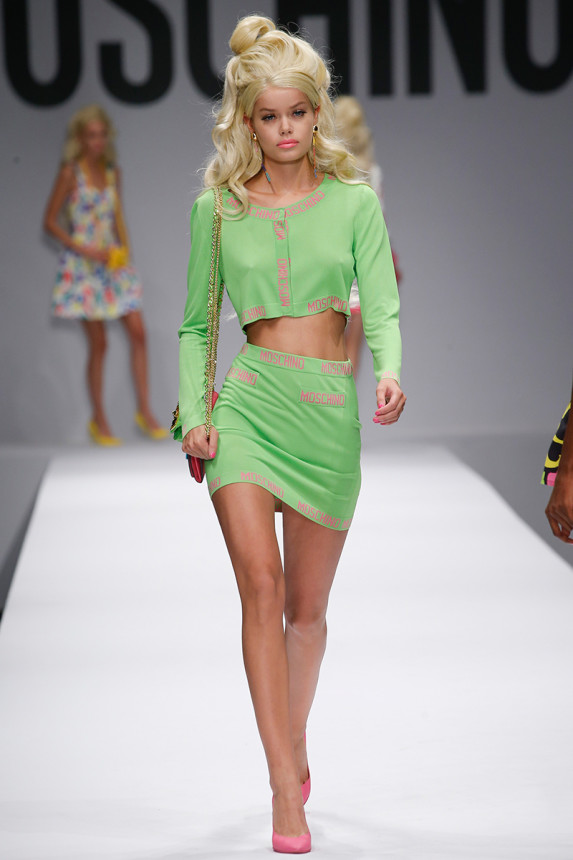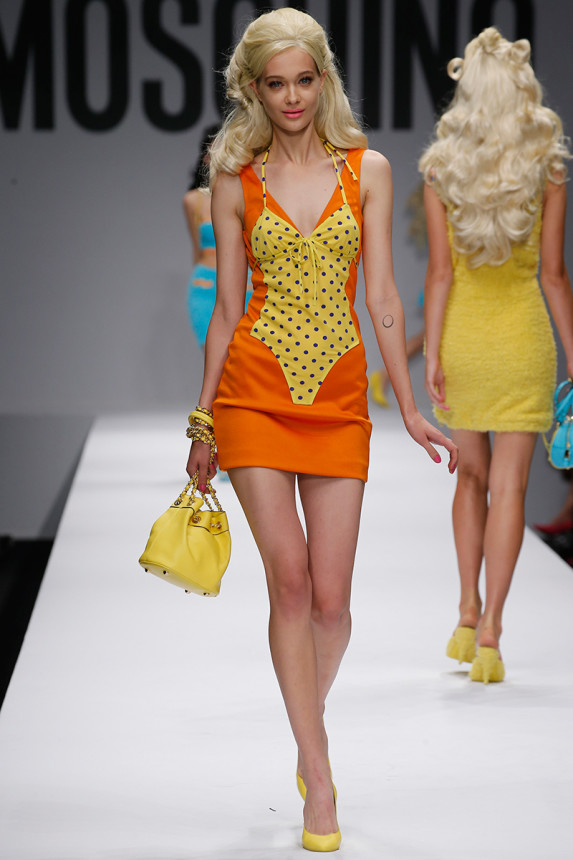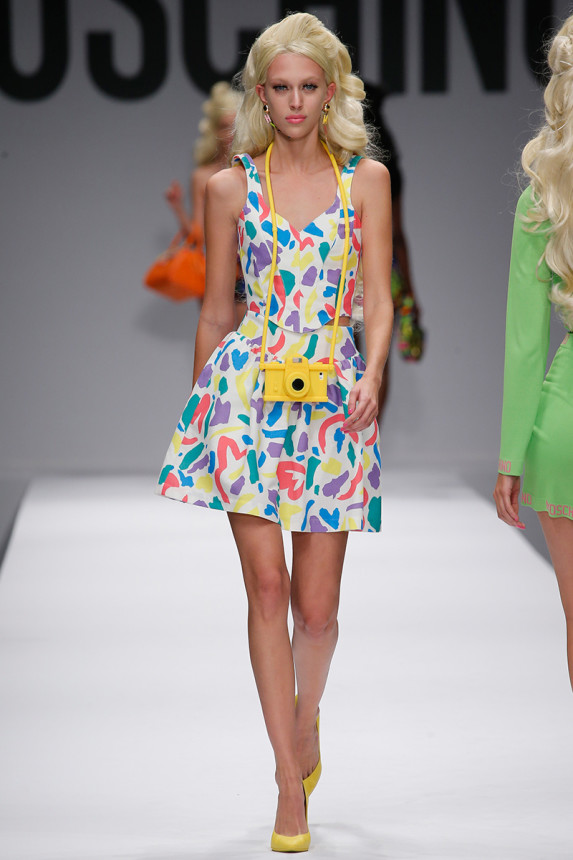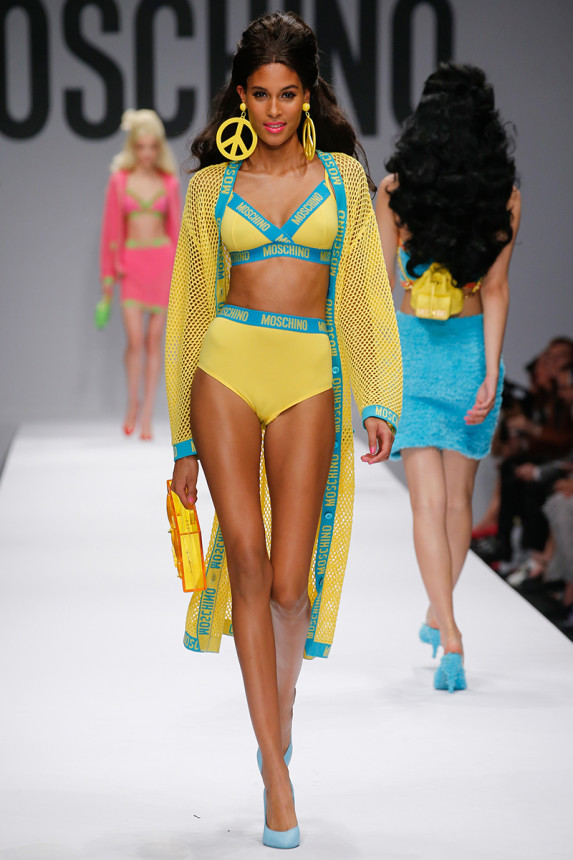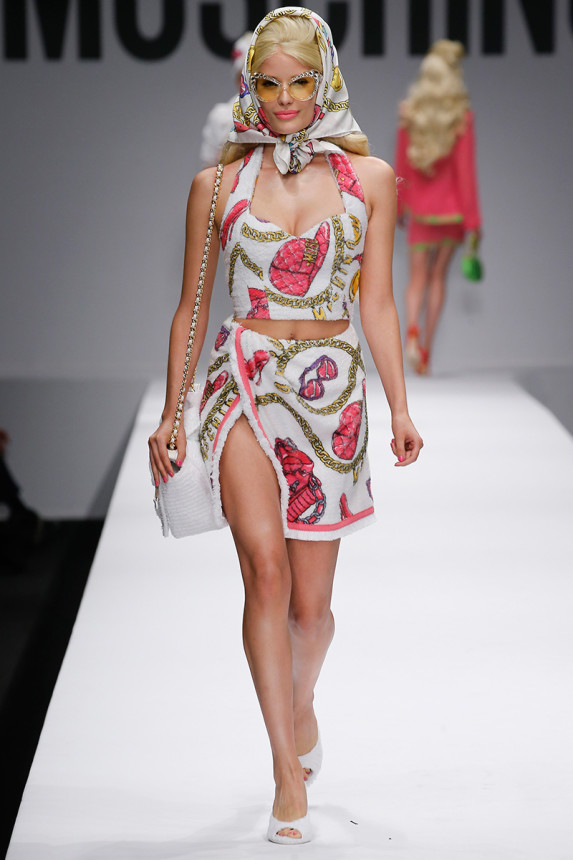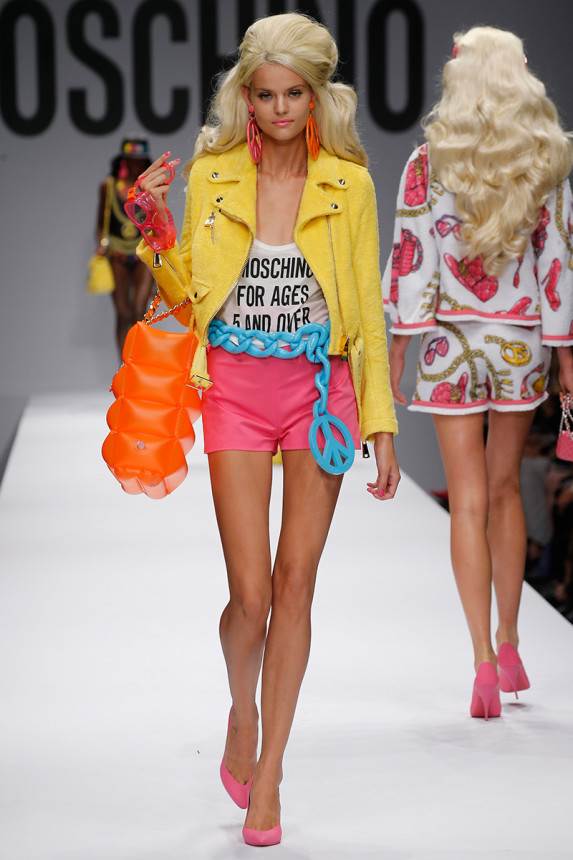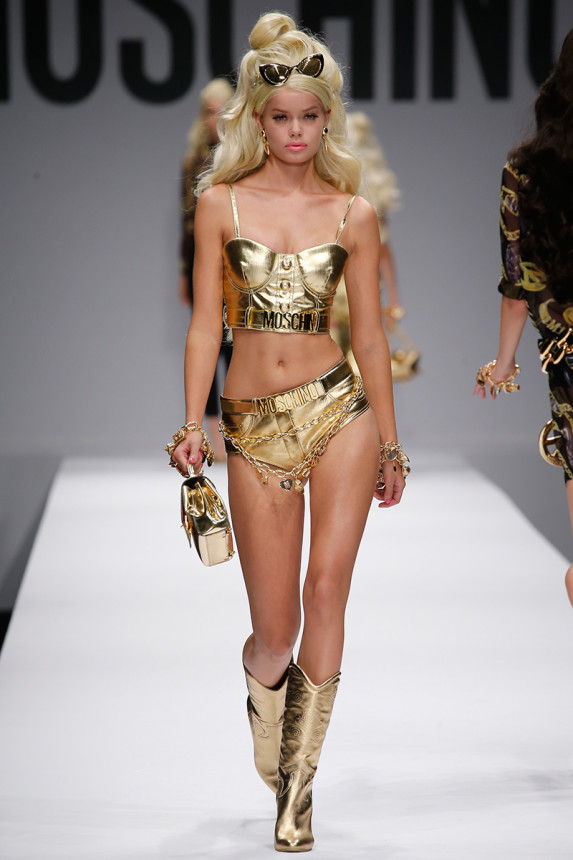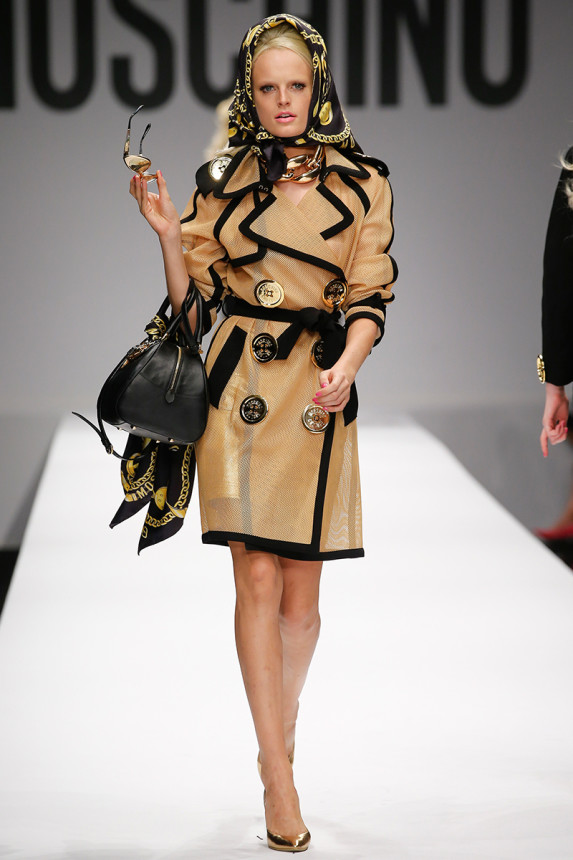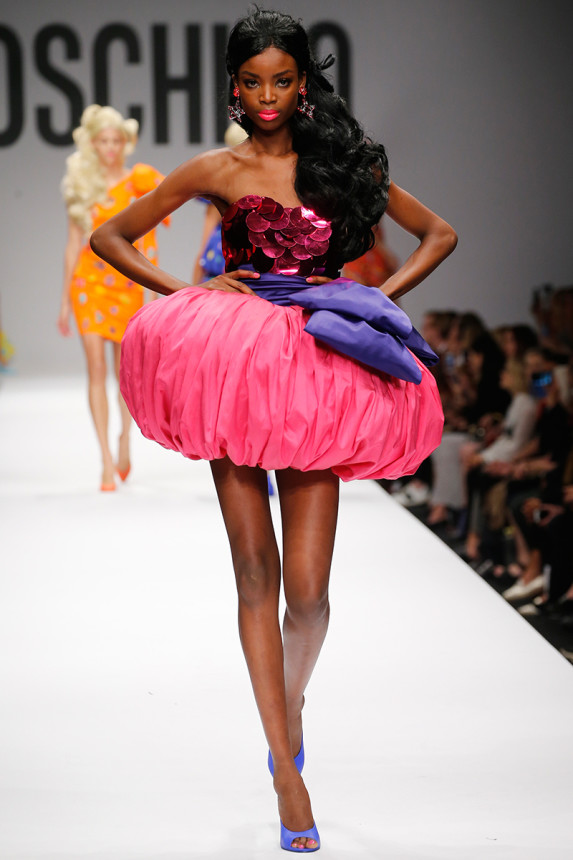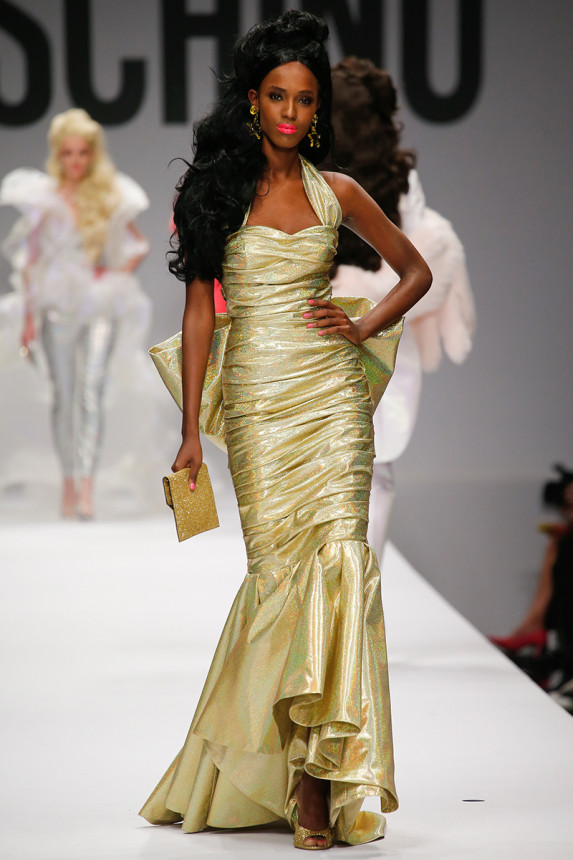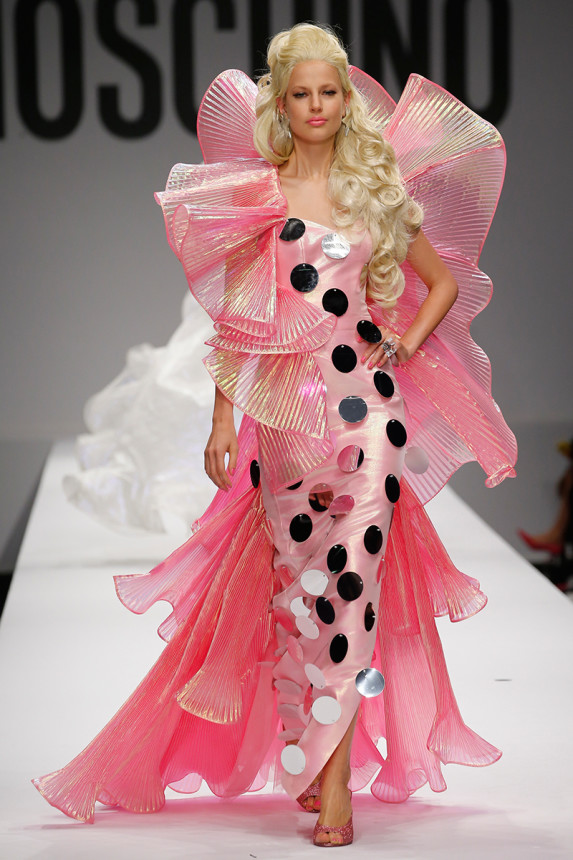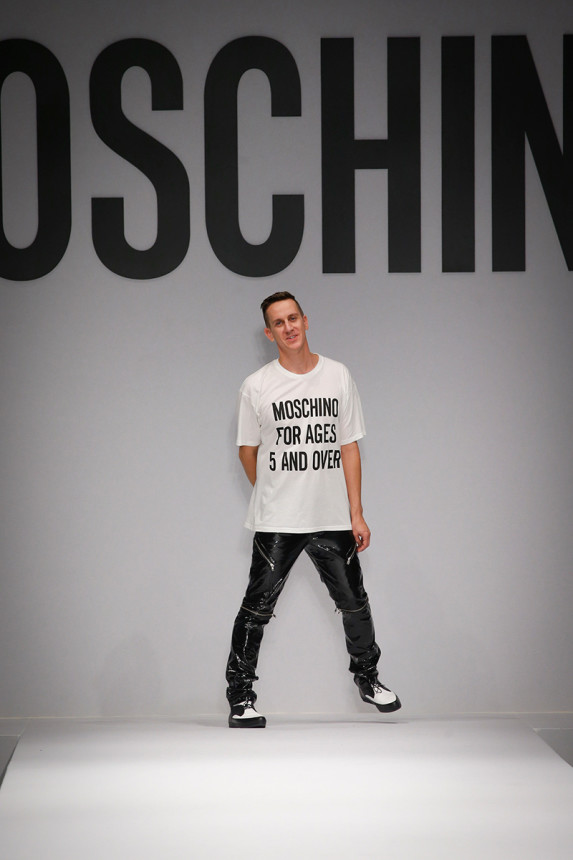 To be honest, I wouldn't wear most of it. But I DO have my eye on that case and it seems the bread-and-butter of these collections is the accessories. They serve as small reminders to lighten up, be playful and have some fun. The fashion industry could use more of that, right? What do you think of the line, Glamazons?
Kisses,
Glamazon Jessica
Images: Vogue/Tommy Ton/Moschino Instagram.
View Related Posts:
[fbcomments width="600" count="off" num="15"]