#NYFW: Marc by Marc Jacobs Spring 2015 is One Big '80s Rave
Tuesday, September 9, 2014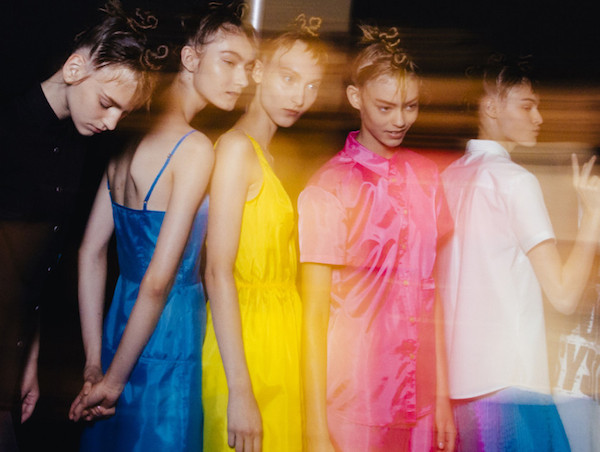 Glamazons,
Guests who walked into Pier 94 for the Marc by Marc Jacobs Spring 2015 presentation were greeted by flashing neon lights and speakers booming house music.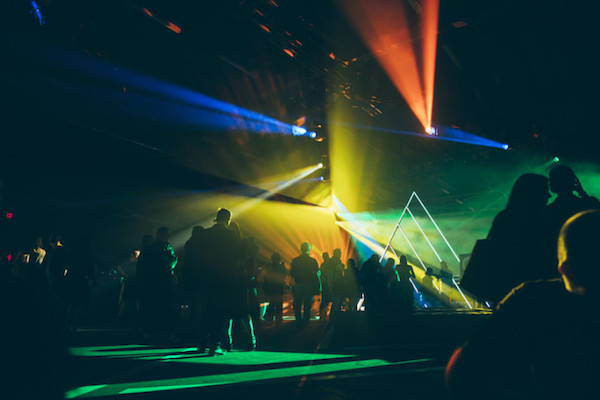 Since taking over creative control of this secondary line, Katie Hillier and Luella Bartley promised to shy away from cutesy girly looks and embody more of an avant-garde ruggedness. And that's exactly what they did with their latest collection.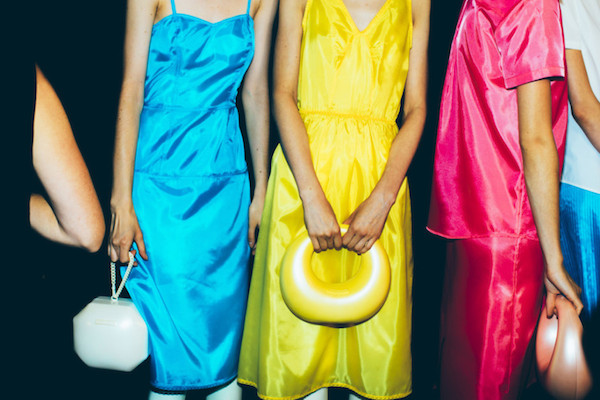 Marc Jacobs himself sat front row as models sported quirky separates, thick outerwear and plastic (yes, plastic!) accessories. So cool!
Here are the deets on Marc by Marc Jacobs Spring 2015: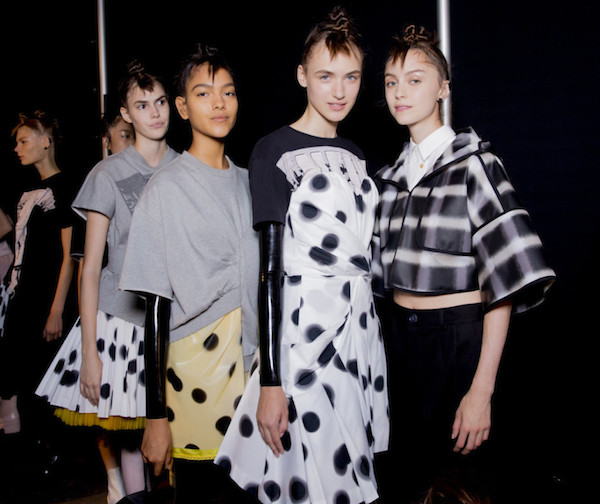 Inspiration:
Inspired by the punk raves of the '80s, Katie and Luella wanted to pay homage to the London club scene with a "rebellious, strong, bold, and euphoric collection" for the sophisticated party girl. Makeup artist Diane Kendall went for a minimalistic approach with filled-in brows, pared down makeup and dewy cheeks. "They wanted the girls to look as though they'd been out dancing."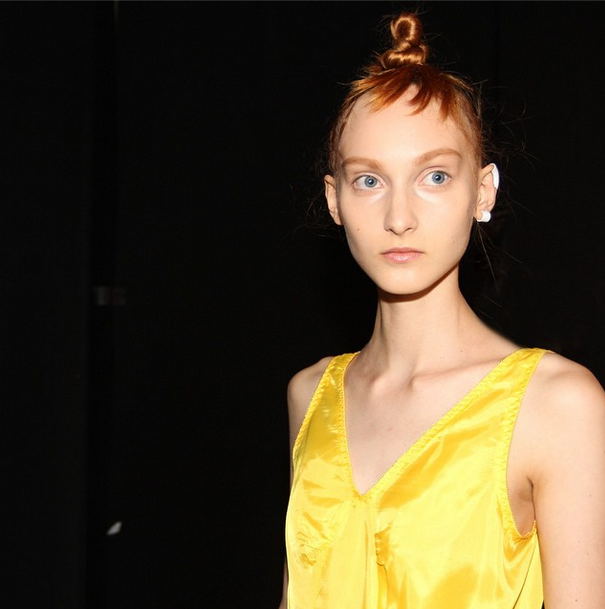 Image Source: Marc Jacobs Instagram
Taking cues from Gwen Stefani's signature rocker style and the eccentricity of Bjork in the '90s, Redkin stylist Guido Palau created the illusion of a mohawk with four messy top-knots: "The imperfections give this hairstyle charm and a Marc by Marc feeling, and the slightly sweaty feel makes you think they might have been in a nightclub."

Key Pieces:
Latex bodysuits and leggings, distressed graphic tees and sweatshirts with "New World System" written across the front, polka dot wrap skirts, menswear-inspired crop tops, harem capri pants, solid tees with patchwork design and asymmetrical pleated dresses.  Color palette was khaki, white, and black with splashes of pastel yellow, blue, and pink. Accessories included rubber boots, plastic handbags, and platform Mary Janes.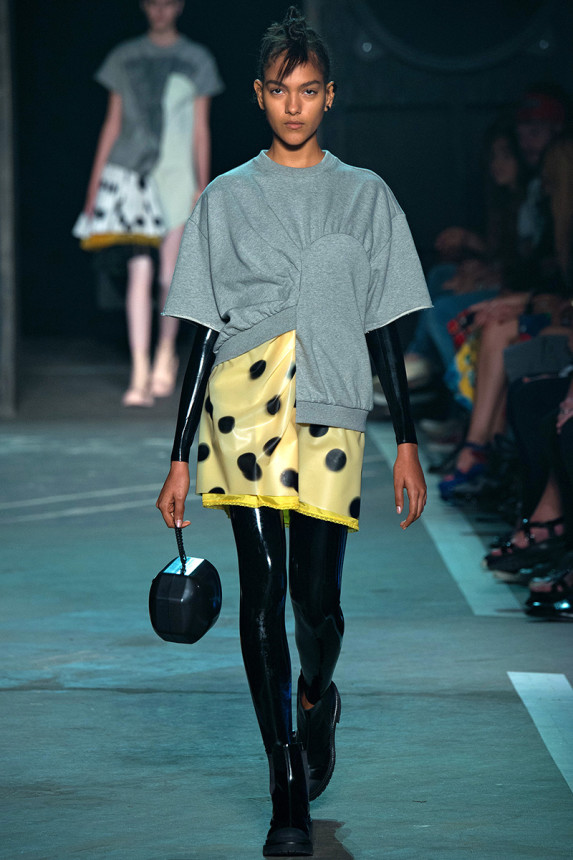 Who We Could See Wearing This Collection: Kristen Stewart, Cara Delevingne, Miley Cyrus, Rihanna and Leighton Meester.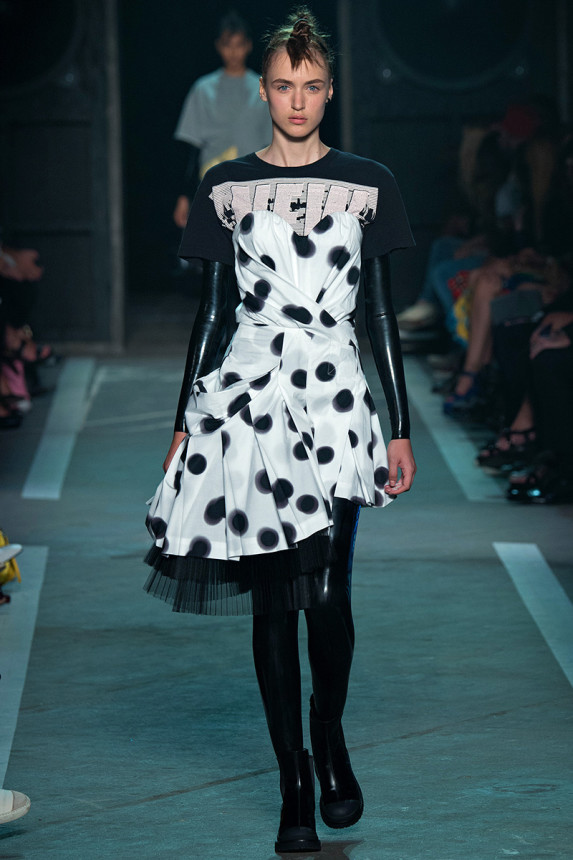 Check out more pieces below:
I absolutely love the amalgamated sweatshirt and pleated tulle skirt! Sort of like business up top and party on the bottom, no? What are your favorite looks from this collection, Glamazons? Let me know in the comments!
Keeping It Fashionable,
Glamazon Briea
View Related Posts:
[fbcomments width="600" count="off" num="15"]