#NYFWCrawl: Textured Bobs at David Tlale with Motions PLUS My New "Fearless" Style #DoYou
Thursday, September 11, 2014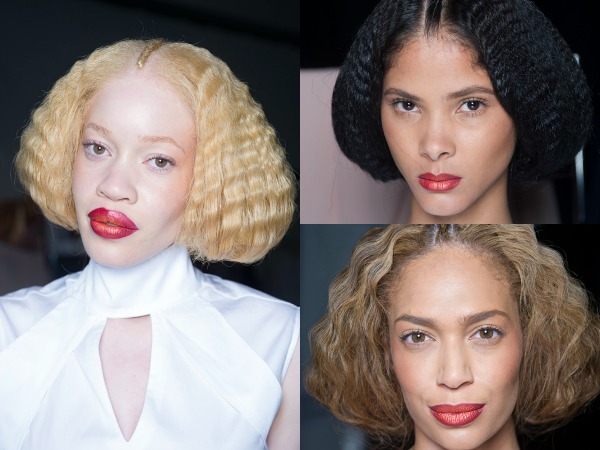 Glamazons,
I have this routine of jumping back and forth between long hair and bobs about every six months. I usually like to grow my hair long but then I randomly remember what a fresh bob does to your facial features (it makes them pop in the most beautiful way!) and then, I have to get a bob. The problem is I get tired of it, and then have to wait impatiently for my hair to grow back. UGH.  Well, the faux bob is like the best thing that could ever happen to me. I can switch up my hair in a way that's super convenient and noncommittal. It only requires a couple of pins!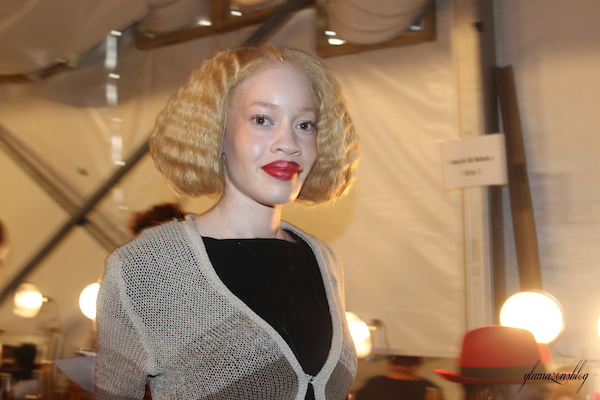 The stunning Diandra Forrest backstage at David Tlale
The faux bob was my hair obsession until I discovered a new twist: the textured. faux. bob. POW! I spotted it backstage at David Tlale Spring 2015 and immediately decided that this is my Fall look. Can't you already envision it with a turtleneck layered under a cape?! Too perfect.
Here are the deets!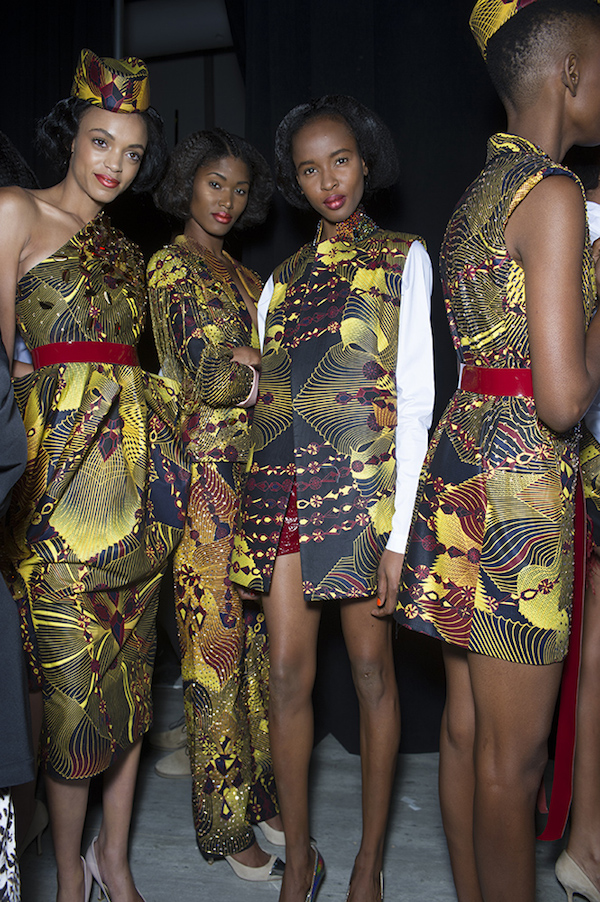 Inspiration: South African designer David Tlale cited femininity, elegance and power as his inspiration: "This collection is about giving women back their power and equipping them with a strong and confident sense of allure, without losing their essence and femininity."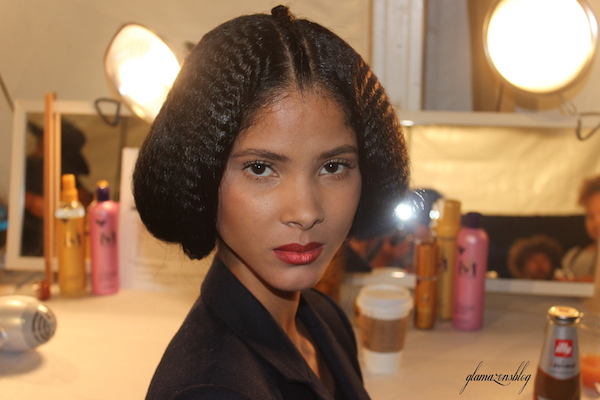 The hair mirrored that aura of confidence with the faux bob look created by Motions Salon Hair Care Celebrity Stylist (and Glamazon fave) Ursula Stephen. She chose a modern, chic style (what's more fashion-forward than the faux bob?!) but added gorgeous texture, inspired by African heritage. Beautiful!
You May Also Like: Keke Palmer's New Pixie Cut: Her Stylist, Ursula Stephen, Gives Us The Scoop!
Get The Look: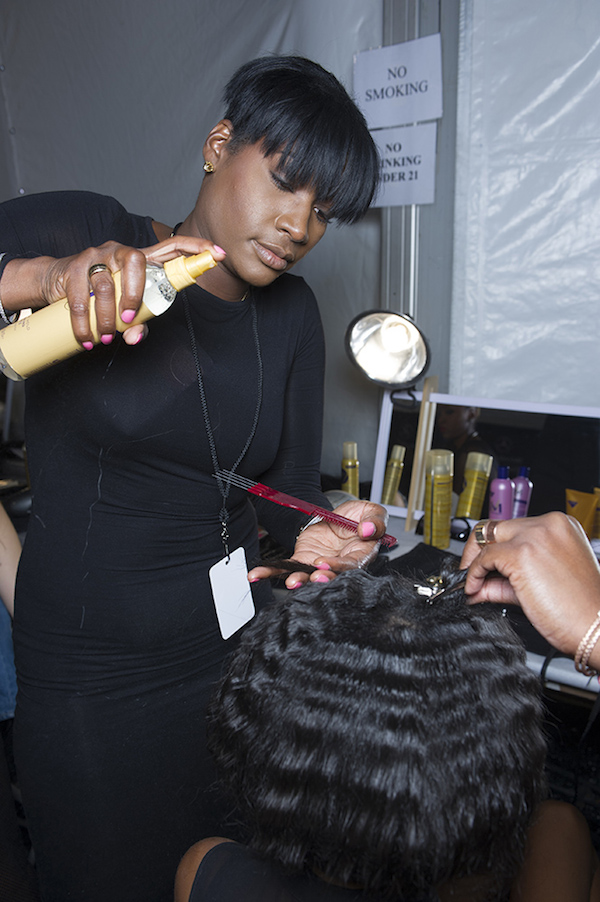 1. Starting with dry hair, create a defined center part and begin braiding at the hairline, carefully continuing a thin, definitive braid down the center-part using a "cornrow" technique until reaching the crown, and then using a standard 3-strand technique. Use Motions® Shine Enhancing Pomade on fingertips while braiding to smooth hair and provide a better grip.
2. Next, section the top portion of hair in a horseshoe shape and secure with clips. Then tease the remaining hair in sections from root to ends to create some body and texture
3. Using a flat brush, gently smooth the surface of the teased hair and section into two halves, securing each with a clear elastic. Carefully roll each section under, securing tightly with pins and shaping the hair into a "faux bob."
4. Remove the horseshoe section of hair from clips and use a crimping iron to create texture, spraying the Motions® Light Hold Working Spritz on each section. Once crimps are set, gently brush out and carefully lay hair over the faux bob foundation, tucking under with pins.
5. Set the look with a bit of Motions® Light Hold Working Spritz.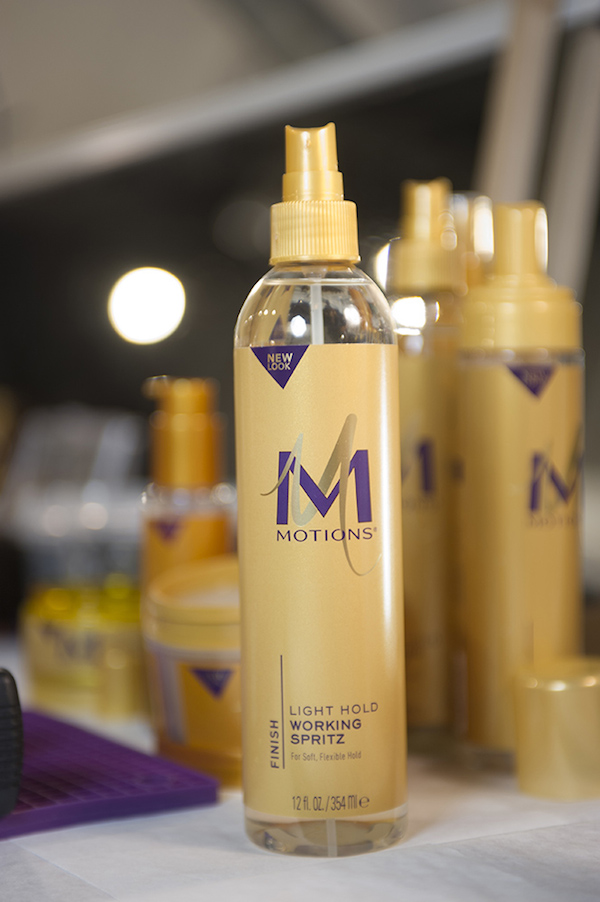 Shop the products below:
–
BTDubs, backstage with Motions was like a party. I hung out with Glamazon Andrea: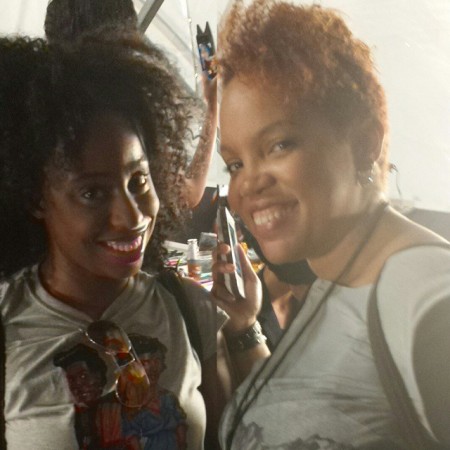 And spotted Tyson Beckford:
Then ran into my love B* Real head honcho Kadidja:
Fun!
Though I couldn't get my hair done backstage (I mean, they were only getting models ready for a show, LOL), I had my chance at the Motions Hair x Essence Magazine lounge the following week.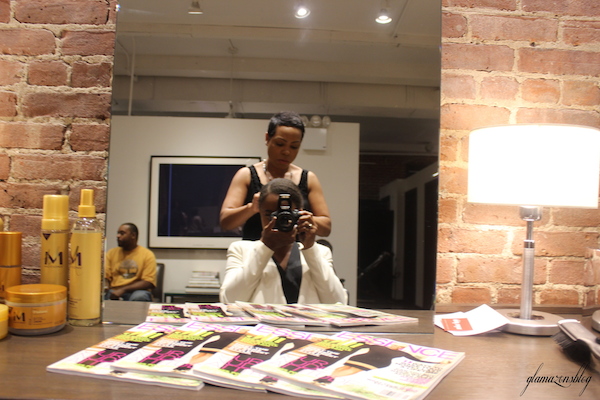 Since the theme of the evening was fearless style, I experimented with a braid on one side and my hair out on the other.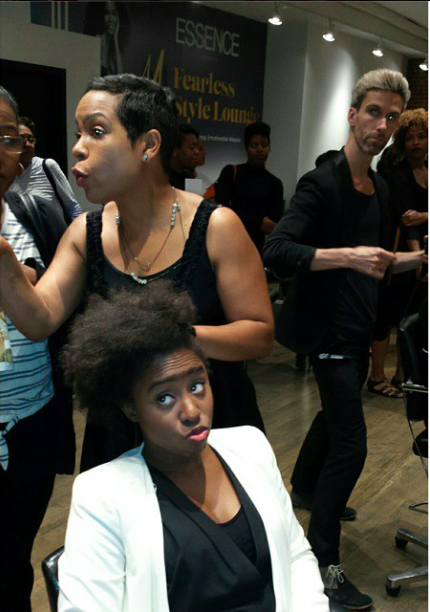 Pretty cool!
There were so many gorgeous hairstyles at the lounge – check a few below (and see tons more on Motions' Instagram page):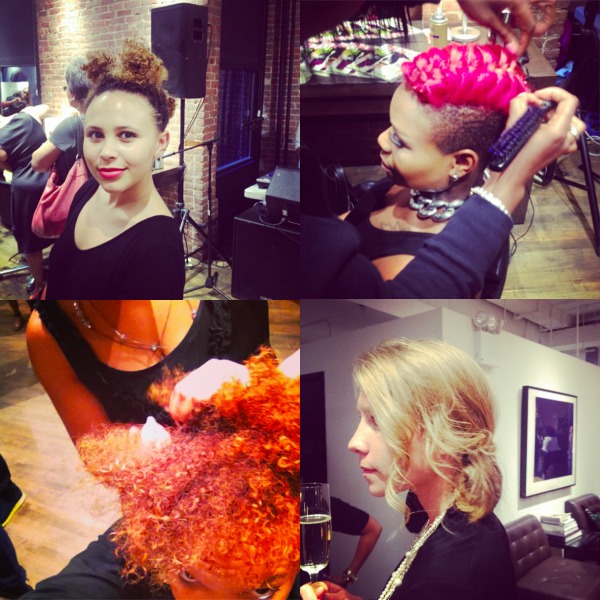 I enjoyed hanging with Glamazon Andrea, my boo Ursula Stephen and BabyBrownSugar at her first blogger event (!!) with Mommy Christina of LoveBrownSugar. Oh and we all had a blast dancing to tunes spun by DJ Quiana Parks!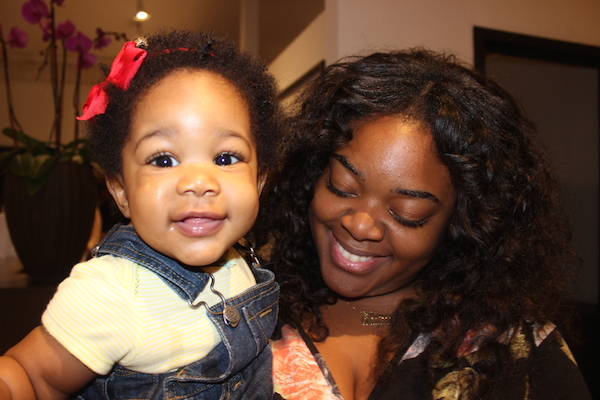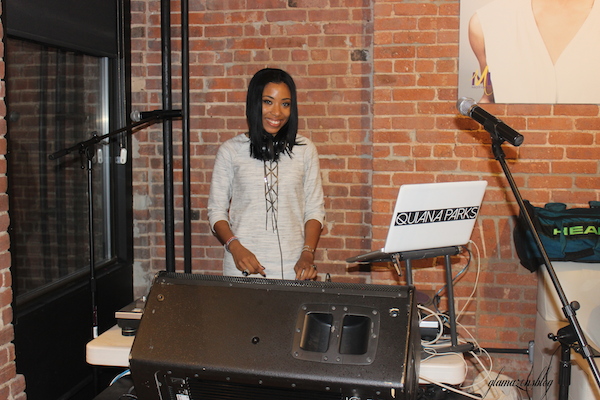 So much fun!
What do you think of the textured bobs backstage at David Tlale — and my "fearless" 'do? Tell me in the comments.
Kisses,
Glamazon Jessica
View Related Posts:
[fbcomments width="600" count="off" num="15"]