Nola Crawl 2014: All The Parties, Star Sightings, Concerts and More! #NolaCrawl
Saturday, July 12, 2014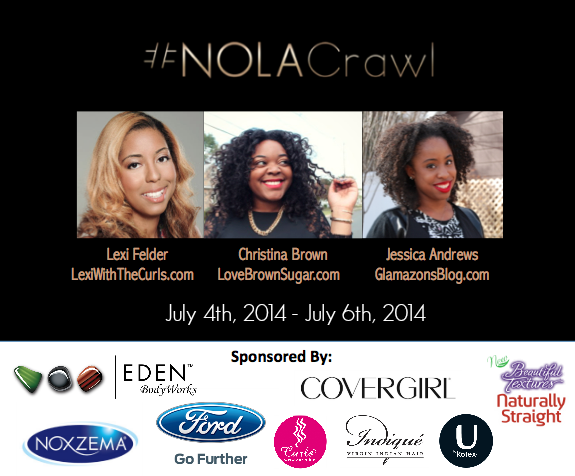 Glamazons,
If you haven't noticed, I LOVE Essence Festival (I know, understatement of the century). Let me count the reasons: it takes place in one of my favorite cities in the country, New Orleans; it incorporates the pastime I absolutely love: live music; my fave brands sponsor the best parties/dinners/giveaways; there's delicious Nawlins food everywhere; all my blogger friends from across the country come out so it's like a reunion; and I get to meet and kiki with my favorite celebs. How could I not love the festival and our #NolaCrawl?
Every year, the #NolaCrawl with my blogger besties Lexi of Lexi With The Curls and Christina of LoveBrownSugar is a blast – but this time was epic thanks to the Prince concert and our first-ever #NolaCrawl Style Suite event. And I'm so excited to share everything I did this weekend with you guys. Let's get to it, shall we?
Friday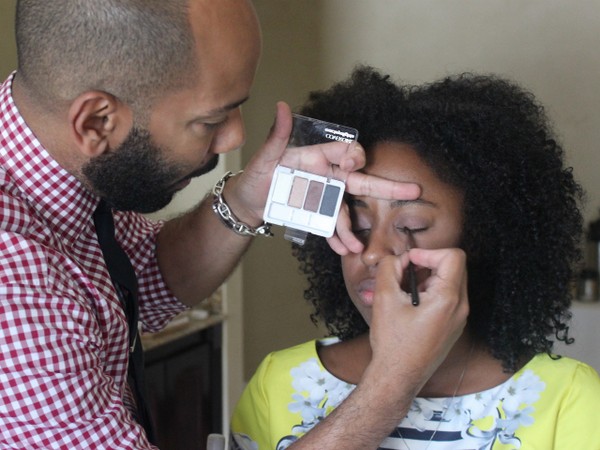 My first stop on the #NolaCrawl was the COVERGIRL suite at the Roosevelt Hotel to get my makeup done by THE legend Sam Fine. Can you even?! He used COVERGIRL bronzer, brown eyeshadow, liner and a nude lippie to give me the most gorgeous, natural makeup look (which he says is easy to recreate). It was a total pinch-me moment and the perfect way to start the #NolaCrawl weekend. Click here to see the finished look.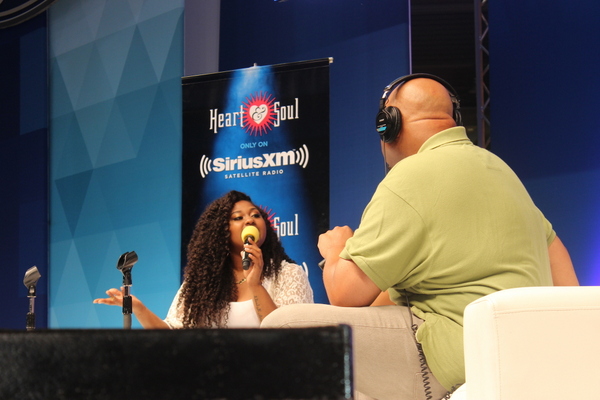 After getting our makeup done, we headed straight to the Convention Center to hang out at the Ford booth. We immediately spotted Tank, Jazmine Sullivan (above) and Ledisi talking to the good folks at Sirius. Ledisi even gave an impromptu performance. While there, we took pictures with the Ford Fusion and test drove it.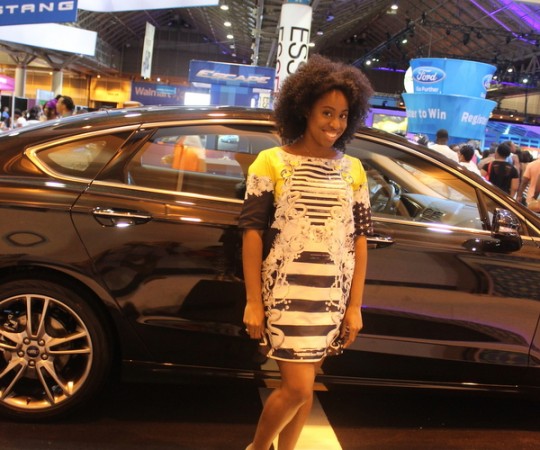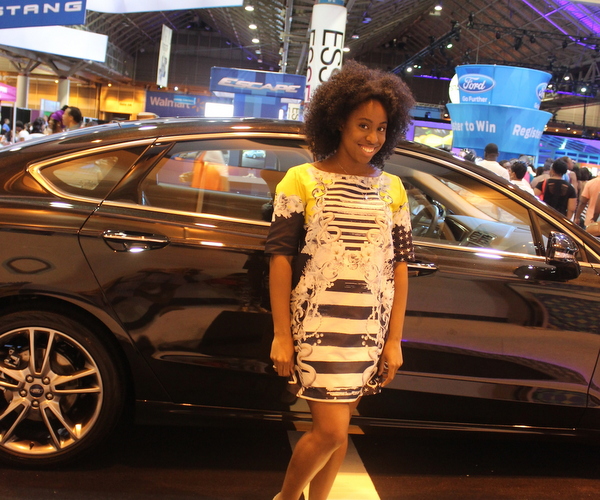 Fun! Find out what I thought about the car after my test drive here.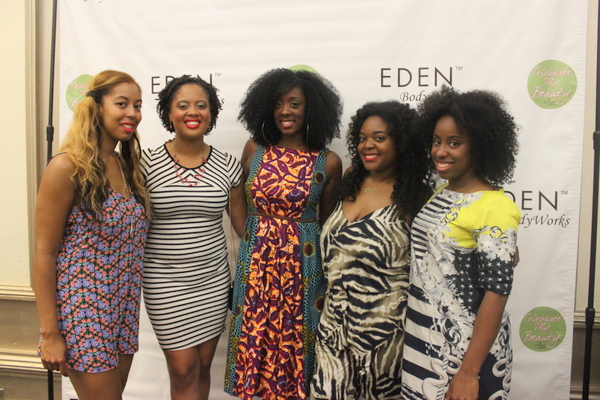 Next, the #NolaCrawl ladies and I hit the Eden Bodyworks #CelebrateMyBeauty event and got to catch up with PR maven Renae Bluitt of In Her Shoes Blog. I was so honored to meet the inspiring founder Jasmine Lawrence who founded the company when she was 13!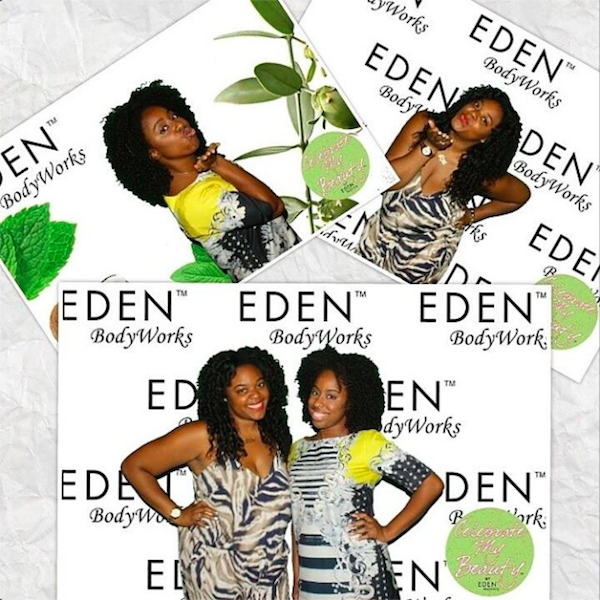 We drank smoothies, took pics in the photo booth, got massages and manicures, and walked away with my fave Eden Bodyworks products: the coconut shea curl defining creme (review here) and the peppermint tea tree hair milk (review here). Fun times! I posted more pics from the event this way.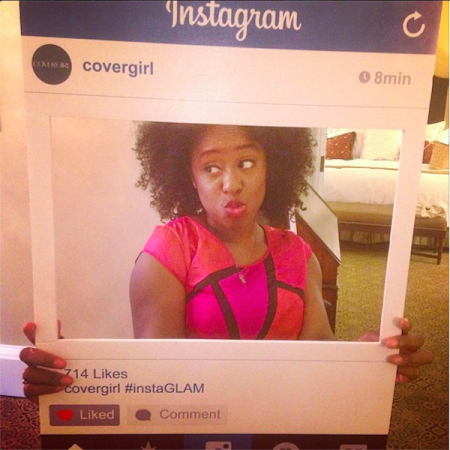 Later, I headed over to the COVERGIRL suite at the Roosevelt Hotel to get glammed up before Janelle Monae's concert. After the stylists hooked up my curls, I snapped a quick #Instaglam picture (above) and scored purple COVERGIRL lip glosses in honor of Prince. More on my amazing time in the COVERGIRL suite (including the products I scored!) here.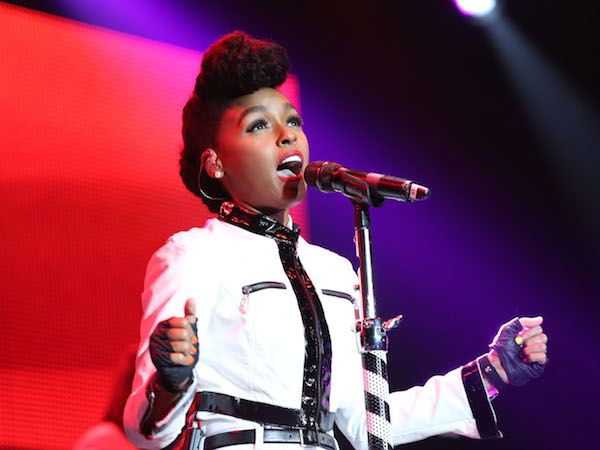 Janelle Monae gave a dynamic performance and her COVERGIRL makeup, applied by Sam Fine, was flawless! Sam Fine gave me the tips and products to recreate Janelle's look this way.
Prince was incredible. He treated the Superdome audience to classics like "When Doves Cry" and "The Glamorous Life," and I just felt so blessed to be able to see him perform the songs I've loved since I was a kid! Check out video below:
And I got to bring my Dad with me! Notice the superdome is purple for Prince. Love it!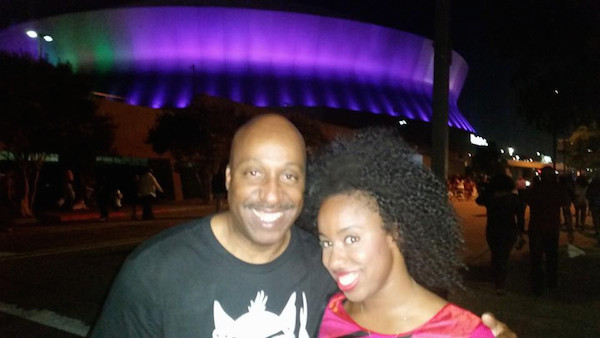 Later, in the All Access Lounge, Christina and I met the sweet Elle Varner: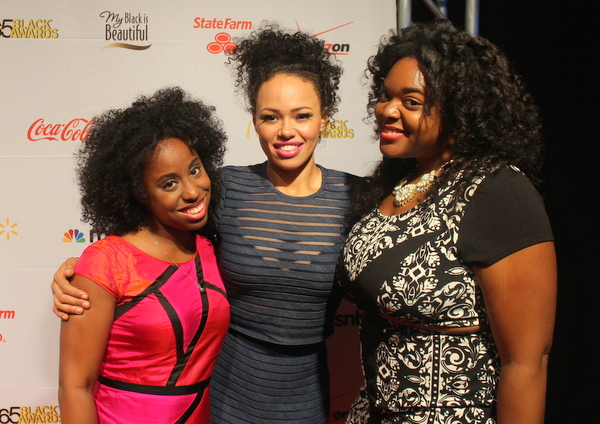 And the stunning Tika Sumpter, with whom I took this fuzzy selfie: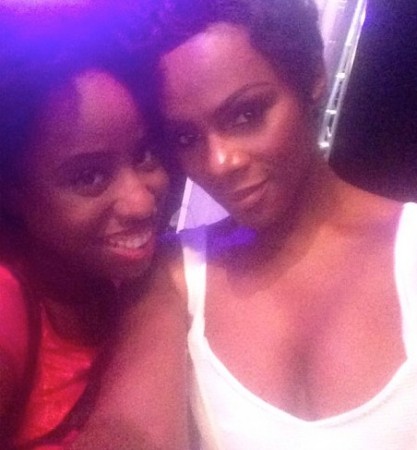 And I ran into my husband crush Lance Gross. We color coordinated our outfits for the concert: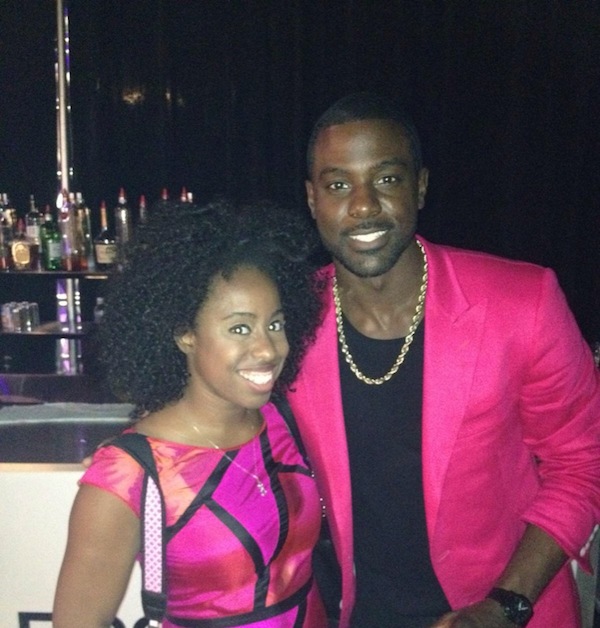 Lance snapped the cutest pic with Lexi: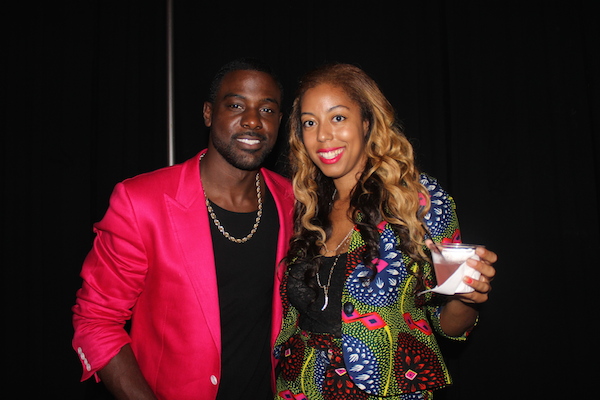 What an amazing night!
Saturday
Saturday was the day of our first-ever #NolaCrawl Style Suite at the Royal Sonesta hotel, presented by Ford!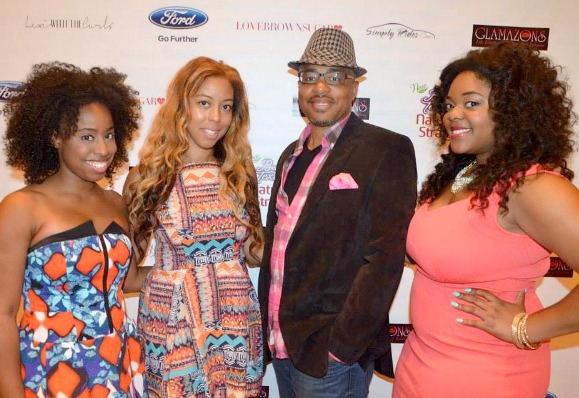 The #NolaCrawl ladies with our automotive co-host, Sekou Writes of Simply Rides
We worked SO hard to make the event a fun time for our guests, who enjoyed Beautiful Textures giveaways, OPI mini manicures, cocktails, light bites (King cake!) and so much more.

Angela Simmons stopped by and took pics with us in the Ford and Beautiful Textures branded photo booth. We raffled off Essence Festival concert tickets, Indique Hair bundles and a six month supply of Beautiful Textures products. All the guests walked away with a gift bag with goodies from Beautiful Textures, OPI, U by Kotex, CURLS, Red Bull and more. A great event, if I do say so myself! See all the photos from our #NolaCrawl Style Suite here.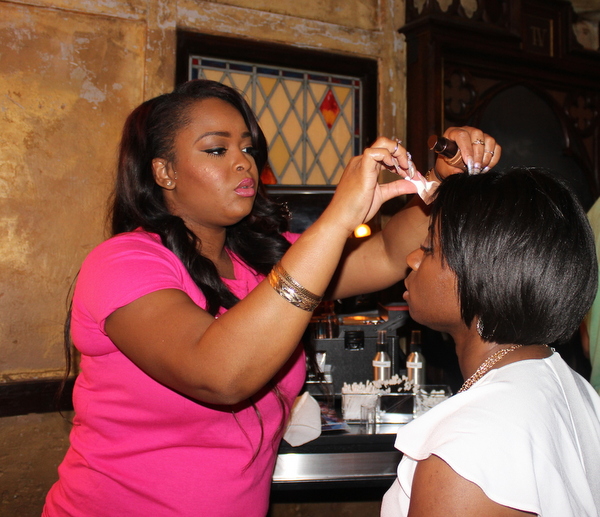 We were dead tired after our event but we couldn't miss COVERGIRL's day party at New Orleans' famous House of Blues. There were COVERGIRL makeovers for everyone, and we spotted Common and MC Lyte. Fun times! More pics this way.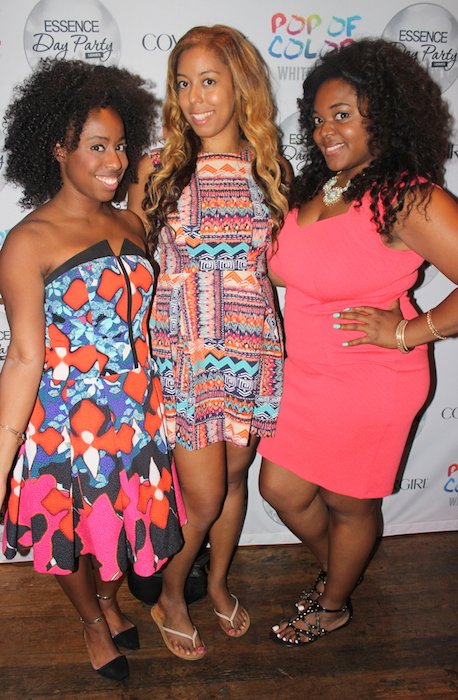 After the COVERGIRL day party, we headed over to the Gain Flings cocktail reception and My Black is Beautiful dinner at The Legendary Little Gem Saloon.
I caught up with my loves Demetria Lucas of A Belle in Brooklyn and Charreah of Essence Magazine at the dinner – told you it's a reunion!
I ran into DJ Kiss (who looked beautiful as always!) and the Braxtons (I LOVE Tamar and Vince, and was secretly stanning for them). But the highlight of the dinner for me was life coach Lisa Nichols, who you may know from "The Secret." She asked each of us to share the one wish we had for the young girl in our lives. My wish was for my niece and goddaughter Naomi to dream boundlessly, seek wisdom diligently and to always love God and herself first.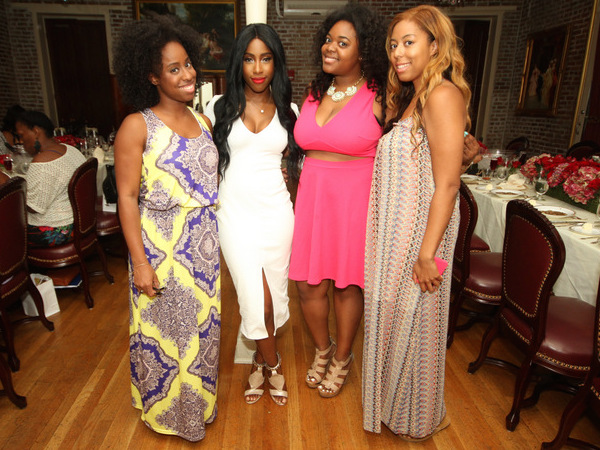 The next stop on our #NolaCrawl? Sevyn Streeter's birthday party at Muriel's Jackson Square. We attended the intimate dinner as guests of Beautiful Textures. We ate Muriel's delicious food (shrimp and grits!) and sipped cocktails by Rosa Regale: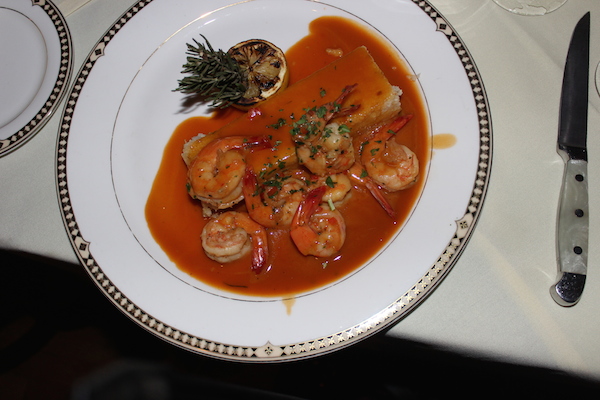 Over the course of the evening, we met Trey Songz, Tank, Raheem Devaughn and even Sevyn Streeter's mother (who is gorgeous and looks just like her).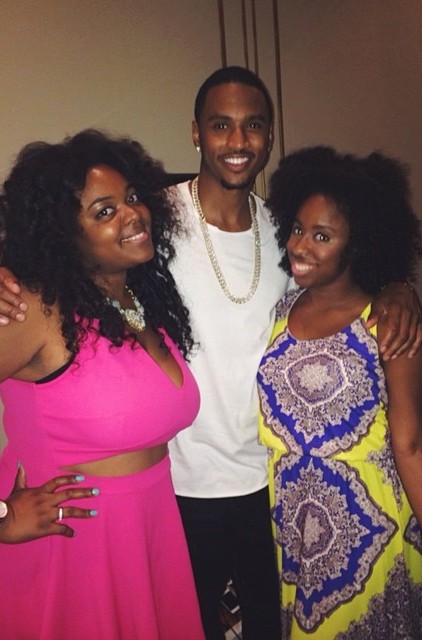 Amazing night! I posted more pics from the dinner this way.
Later at the Superdome, Jill Scott and Mary J. Blige shut down the MainStage and had the entire Superdome on their feet. And can we talk about how great Jill Scott's body looked?! She was serving curves and a tiny waist. Yass! 112 hit the stage in the Superlounge and they sounded as great as they did in the '90s. Everyone sang "Cupid" at the top of their lungs!
Sunday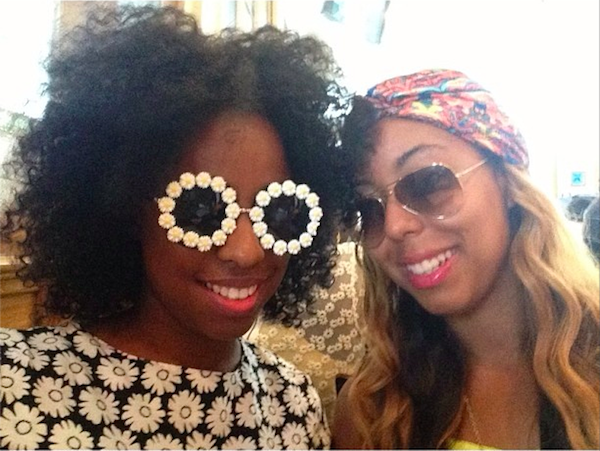 For the last day of the #NolaCrawl, we stopped by the Ruby Slipper for brunch. I can't believe I just discovered it this year! There was an hour wait (as is the case with most of the popular restaurants in Nola) but it was more than worth it once I tasted my catfish. I had the Pan-seared Mississippi farm-raised catfish over cheesy grit cakes, topped with poached eggs, sauteed spinach, tomatoes, a skewer of grilled shrimp and finished with a Creole mustard hollandaise: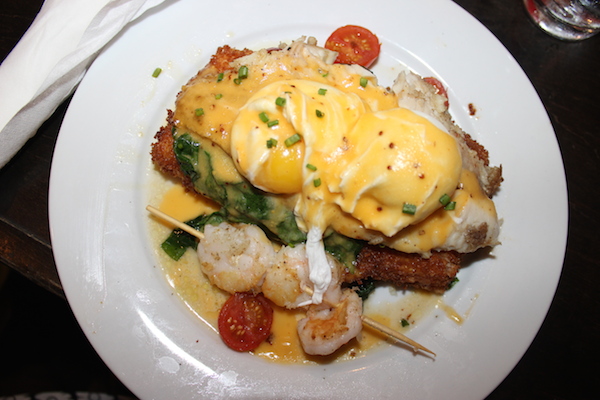 The seasoning was out of this world! Can't wait to go back.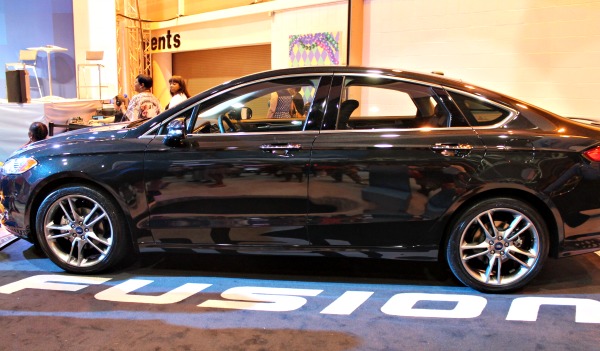 Next, we went to the Convention Center and stopped by the Ford booth to test drive the 2014 Ford Fusion. It was the last day to register to win the ALL-NEW 2015 Ford Mustang and the line to sign up was unreal.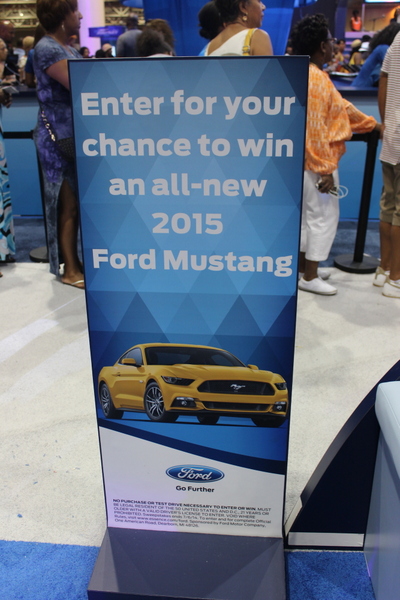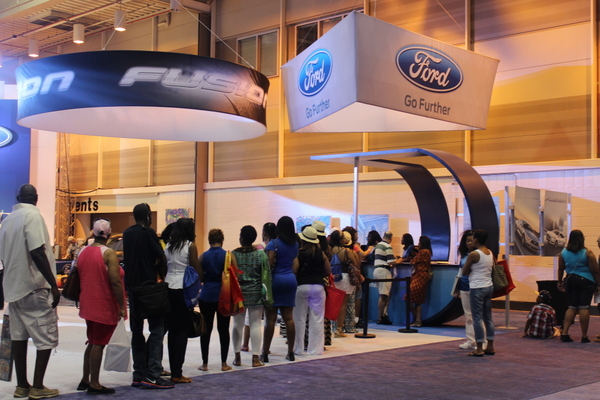 Everyone wanted that car!
Finally, we ended the day at the Superdome to see Lexi's fave, Uncle Charlie Wilson and to see Ford give away the All-New 2015 Ford Mustang. Nephew Tommy of the "Steve Harvey Morning Show" announced the winner: Anna King of Oklahoma City!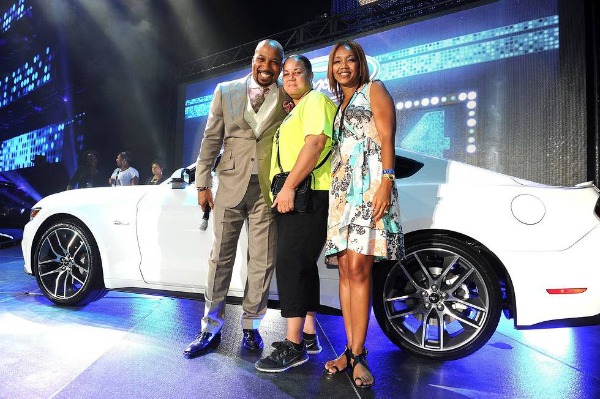 Nephew Tommy, Anna King and Shawn Thompson, Ford's Manager of Multicultural Marketing
Congratulations, Anna! We two-stepped in the All Access lounge to Charlie's hits like "There Goes My Baby." And then we headed to the Ford superlounge to catch Raheem Davaughn's performance and of course, to print pictures from the #FordUp photo booth (our favorite pastime).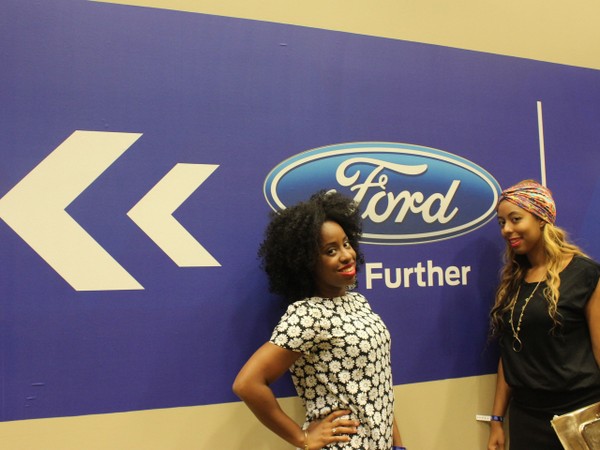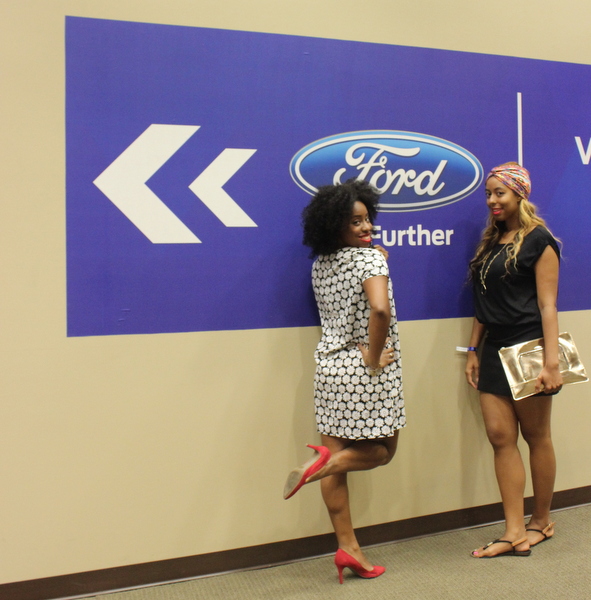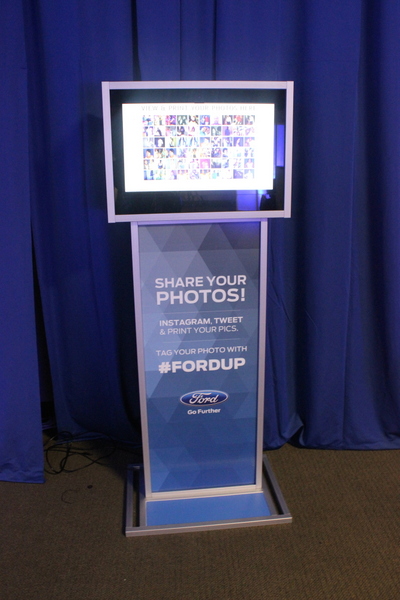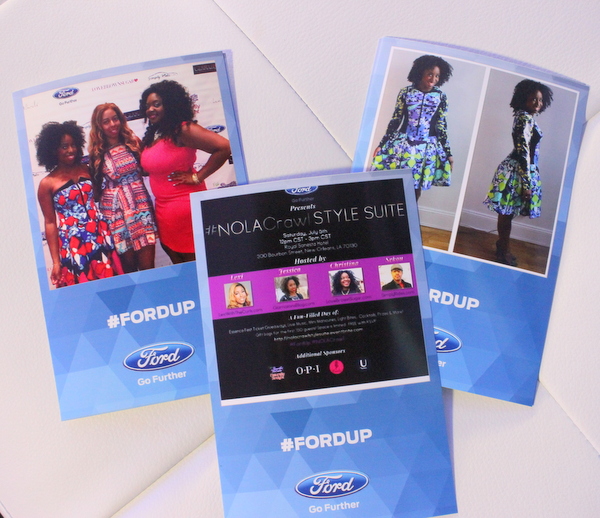 It was the best ending to our jam-packed weekend.
I didn't leave New Orleans until Tuesday to give myself an extra day to enjoy the city. I hung out on Bourbon Street and did the Wobble (it's not a New Orleans trip until I do the wobble):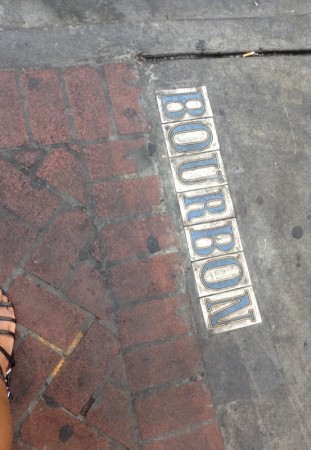 I picked up a fishbowl: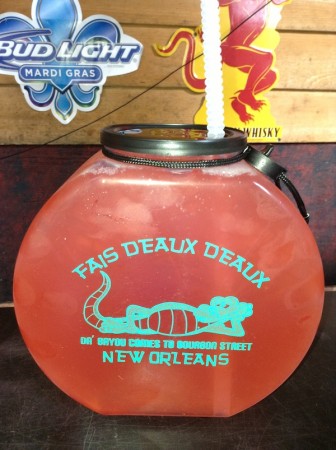 I had brunch at Mr. B's Bistro with my love Charreah…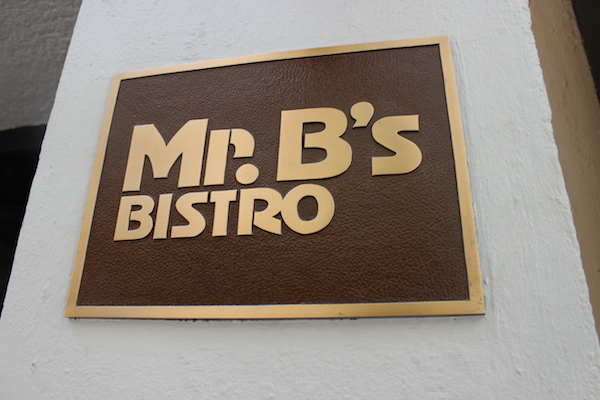 I ate their famous shrimp, wrapped in bacon, over grits: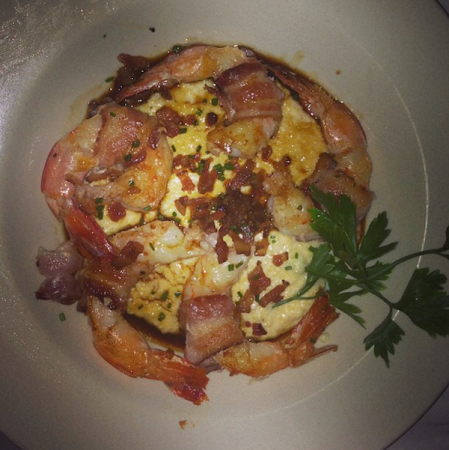 I went swimming in my hotel pool and met up with my family, my cousin Renee and Aunt Mary, who were in town on their own trip to Nola. I love that city!
I hope you enjoyed all our #NolaCrawl adventures this year. Stay tuned for a video recapping our event and as always, you can follow the hashtag #NolaCrawl to join the conversation on social media. Thank you Essence Festival, New Orleans and our title sponsor Ford for another incredible #NolaCrawl. Can't wait to do it all again next year!
Kisses,
Glamazon Jessica
Disclosure: This post is sponsored in part by Ford Motor Company, Eden Bodyworks and Beautiful Textures. The opinions expressed herein are those of Glamazons Blog and are not indicative of the opinions or positions of Ford Motor Company, Eden Bodyworks and Beautiful Textures.
View Related Posts:
[fbcomments width="600" count="off" num="15"]