Celebs, Concerts and Ford Giveaways: My Experience with #FordUp at #NolaCrawl
Friday, July 11, 2014
Glamazons,
Every year, when I enter the Convention Center at Essence Festival, I'm running around like a kid in the candy store. There are so many fun things to see and do. With Ford as our title sponsor this year, you could find me hanging out everywhere from the Ford booth at the Convention Center to the Superlounge during the Essence Festival concerts. And of course, the #NolaCrawl team and I organized our first-ever event, which Ford sponsored, and I feel so blessed that it was a huge success!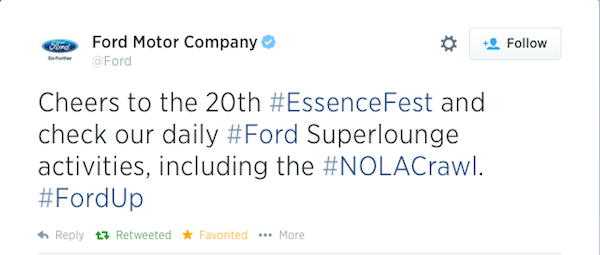 But let's start at the beginning. Here's what I got into with Ford this amazing weekend:
Ford Test Drive!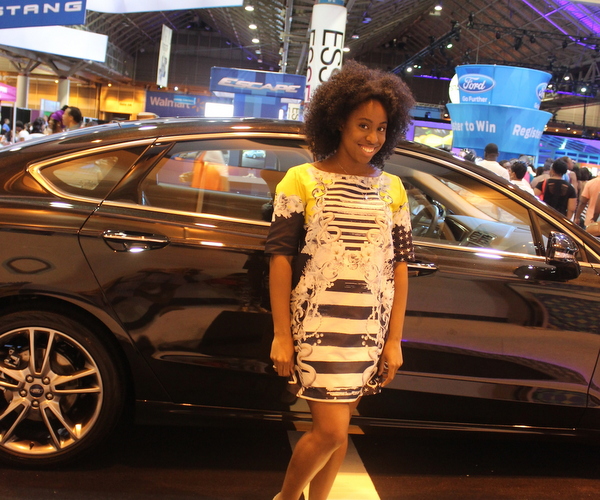 It's one thing to swoon over a beautiful car (I've been doing this since "That's My Car!" games as a child) but it's another to actually test drive it. Ford offered both at their booth at the Convention Center.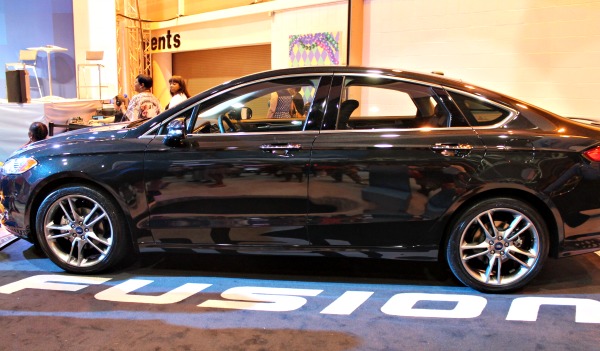 I got to lay eyes on the beautiful grill of the 2014 Ford Fusion. And later, we got to test drive it.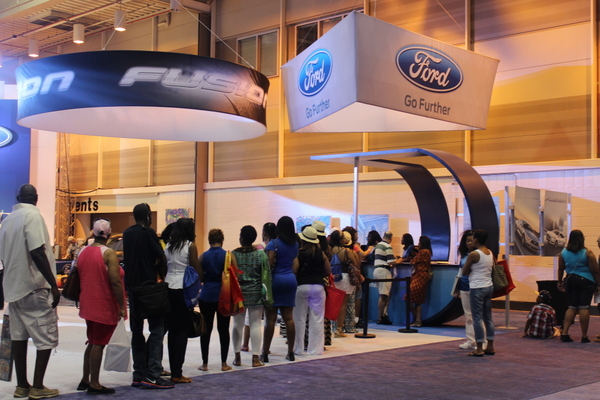 People lining up to register to test drive the Ford 2014 lineup
I was pleased to discover that the Fusion is fun to drive and has excellent fuel economy which goes a long way these days. Love that car!
Ford Went Pink on Friday for Breast Cancer Awareness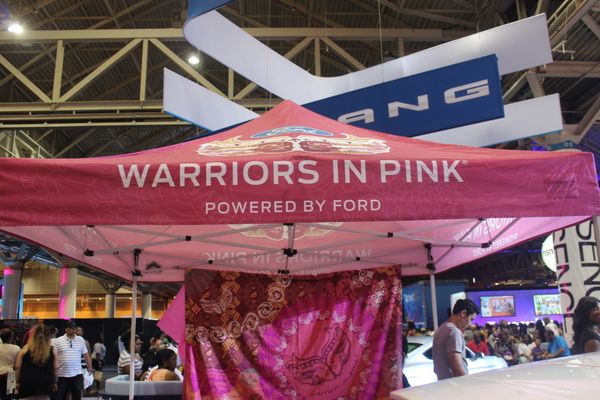 As you guys know, breast cancer awareness is a cause close to my heart so I'm thrilled that Ford went pink for the cause. To commemorate 20 years of their organization with Susan G. Komen, Warriors in Pink, they donated $20 for each person who signed up to test drive Ford cars on Friday to the Young Survival Coalition (up to $4,000).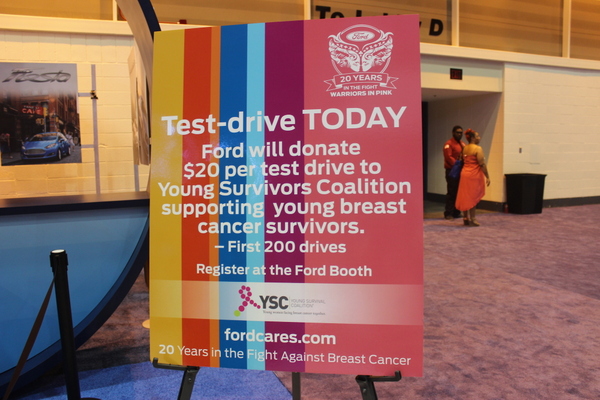 Their donation will help directly improve the lives of thousands of young breast cancer survivors. There were even breast cancer survivors hanging out at the Ford booth and wearing pink t-shirts. Love that! You can pick up your own shirt by shopping the Warriors in Pink line of apparel and accessories here.
Ford booth with Sirius broadcasting live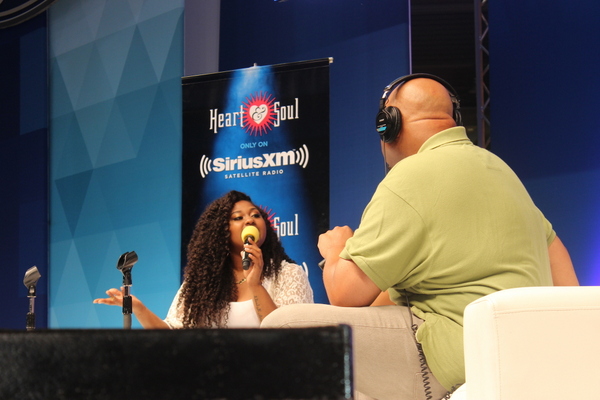 The Ford booth was so much fun! Since Sirius was broadcasting live from the Ford booth all weekend and hosting celeb interviews, we got to see live Q&As with some of our fave stars and even performances. I spotted Tank, Jazmine Sullivan (above) and Ledisi stopping through the booth. Ledisi gave an impromptu performance and the crowd (including me) went nuts! It was awesome.
#FordUp photo booth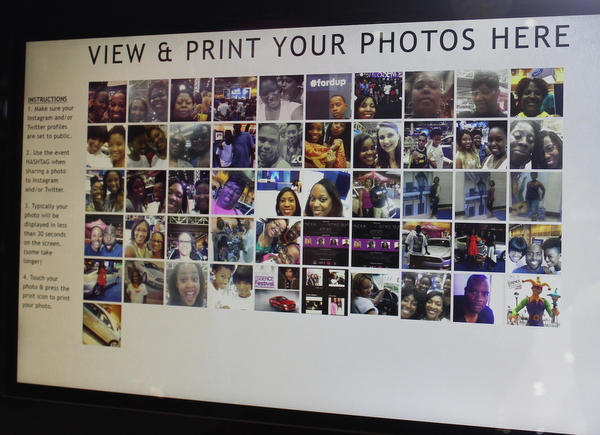 OK we had too much fun at the #FordUp photo booth. Basically, if you used the hashtag, your picture came up on this supercool screen and you could just tap the photo and print it. I obviously printed all our pics.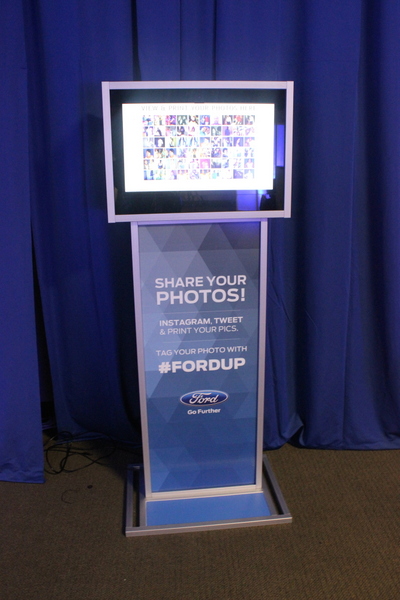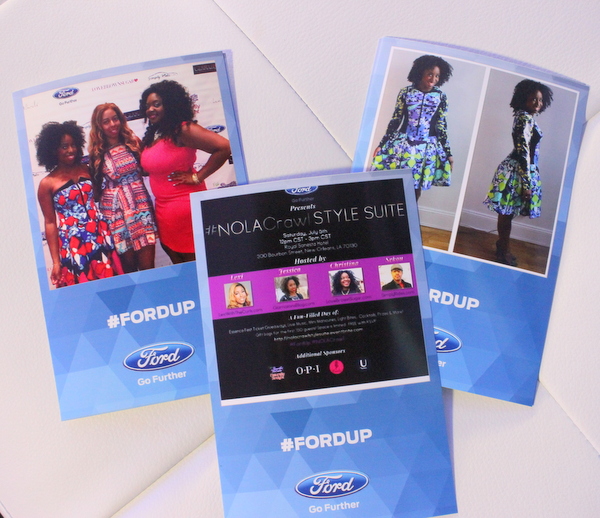 Cool stuff!
Sevyn Streeter's "My First Festival" Series on Essence.com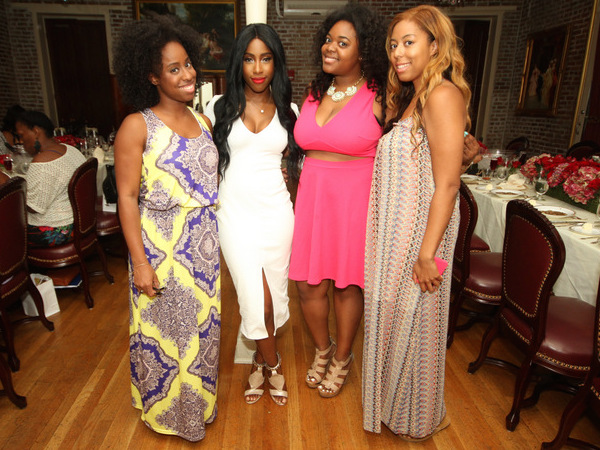 Sevyn Streeter, who I met here, commemorated her first experience at Essence Festival with the series "My First Festival" on Essence.com. She's so adorable that you're going to love every episode, trust me. Check out the series, which includes her Road to Essence performance in Dallas here.
Intimate Concerts at the Ford Superlounge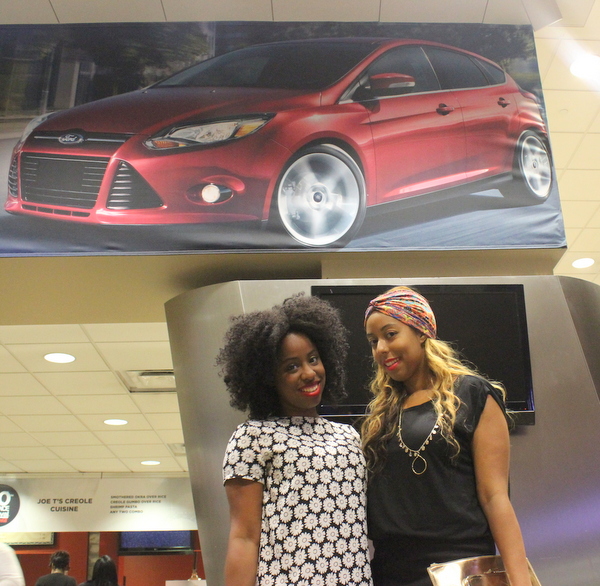 Glamazons, I know everyone talks about the MainStage at Essence Festival (as they should…Prince was there!) but the concerts at the Ford Superlounge are pretty amazing. I went there to see Raheem Devaughn perform and to hear his falsetto in an intimate setting with a crowd of super fans who know every word to his songs? Nothing like it. As a true music fan, it was one of the highlights of my weekend!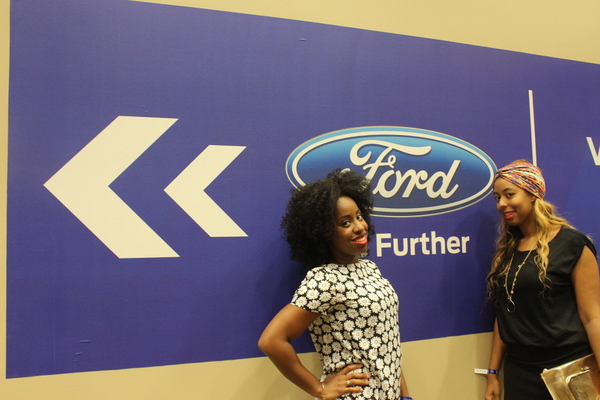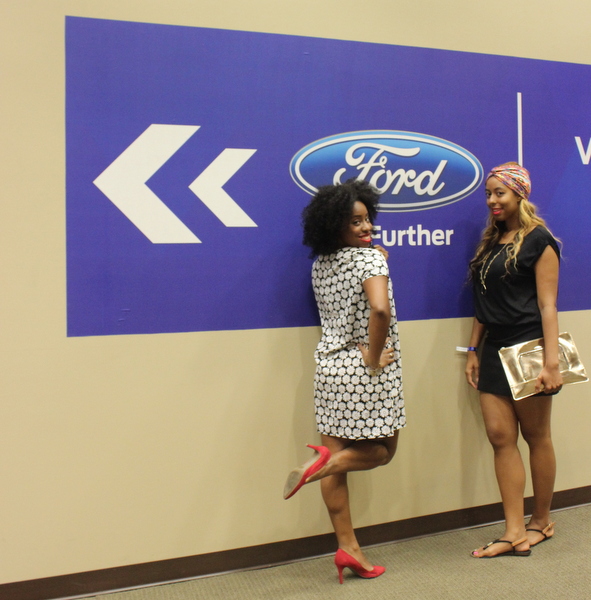 The All-New 2015 Ford Mustang Giveaway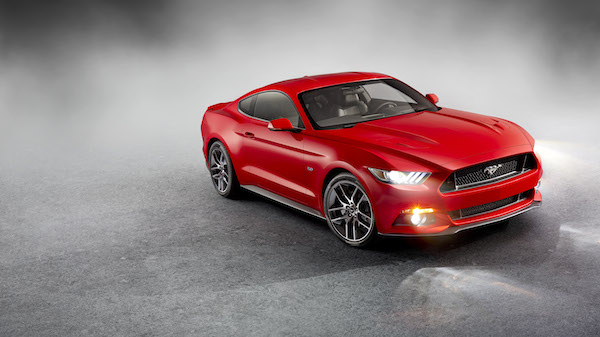 And we have a winner! Ford gave away the All-New 2015 Ford Mustang to Oklahama City resident Anna King aka the luckiest girl in the world! As you know, Ford Mustang is celebrating 50 years, which means it's a new member of an exclusive club of cars in continuous production for 50 years. And how else do you celebrate besides giving away a brand new car?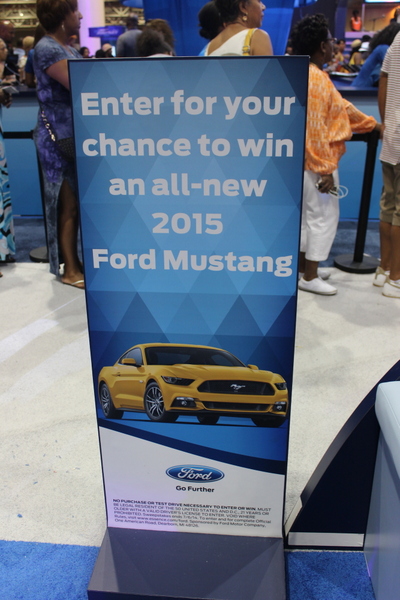 The car winner was announced on the MainStage at the Superdome on Sunday, July 6th. Nephew Tommy of the "Steve Harvey Morning Show" did the honors (and he was so funny!). Congratulations to Anna King. Don't forget to paint your nails with the Ford Mustang x OPI collection to match your new ride!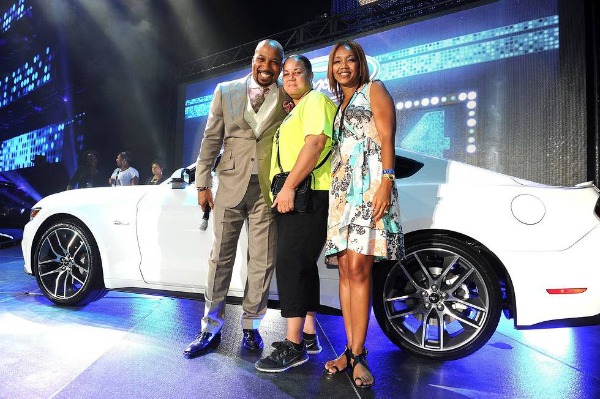 Nephew Tommy, Anna King and Shawn Thompson, Ford's Manager of Multicultural Marketing
Ford Presents Essence with $20,000 to the charity of their choice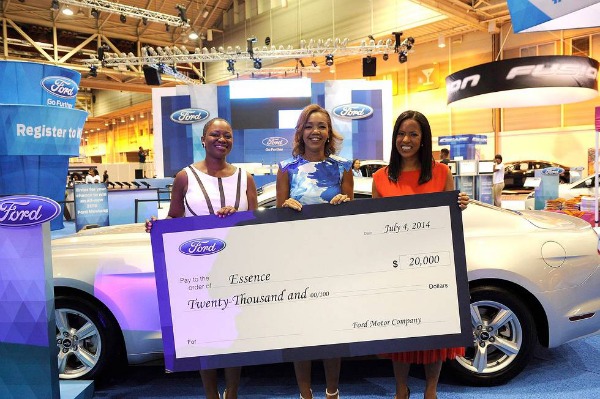 (L to R) ESSENCE Editor In Chief, Vanessa Bush, Shawn Thompson, Ford's Manager of Multicultural Marketing, President of ESSENCE Communications, Michelle Ebanks
To celebrate the 20th anniversary of the Essence Festival, Ford gave Essence Communications a check for $20,000 to be donated to a charity of their choice. What a beautiful way to honor Essence Festival's milestone achievement of 20 years! And the best part about it is Essence will use the money to give back and improve our communities in some way. Amazing!
Ford Presents The First-Ever #NolaCrawl Style Suite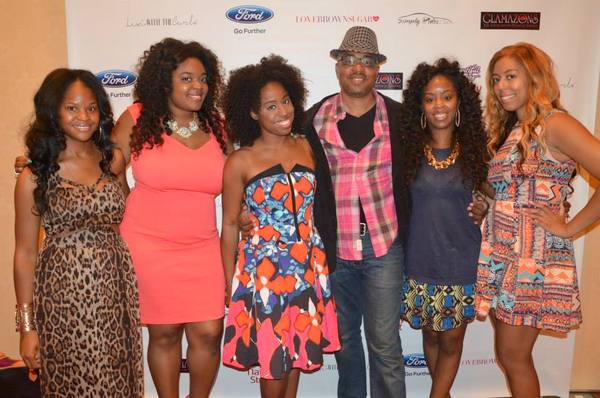 The #NolaCrawl Style Suite Co-Hosts with the beautiful ladies of Ford
Out of all Ford's activities, we're most proud of the first-ever #NolaCrawl style suite (I admit we may be a bit biased!). Hosted by Christina of LoveBrownSugar, Lexi of Lexi With The Curls and I, as well as our first automotive co-host Sekou Writes of Simply Rides, the #NolaCrawl style suite was a huge success with Beautiful Textures giveaways, OPI mini-manicures and gift bags with CURLS, U by Kotex and Red Bull.
We even gave away a pair of tickets to Saturday's Essence Festival concert for attendees who used the hashtag #FordUp and #NolaCrawl. It was a huge success and we're so thankful to Ford for making it possible!
What an incredible experience. Can't wait to do it all again next year!
Kisses,
Glamazon Jessica
Disclosure: This post is sponsored by Ford Motor Company. The opinions expressed herein are those of Glamazons Blog and are not indicative of the opinions or positions of Ford Motor Company.
View Related Posts:
[fbcomments width="600" count="off" num="15"]