Get Your Life: Solange Knowles, Erykah Badu and Ledisi Cover Essence Magazine
Tuesday, April 1, 2014
Glamazons,
I haven't had the urge to tape a magazine cover on the wall since I was a teenager crushing on boy bands. And yet, this Solange Knowles Essence Magazine cover has to go up somewhere. It's that dope!
The singer and her full textured afro are the epitome of natural beauty on the front of the glossy's May 2014 issue. Her powerful, confident pose reminds me of the Essence Magazine covers I grew up seeing in my Mom's room.
And that's not by chance. This cover marks a "new look" from the magazine and from what I see, it's a step in the right direction. It's a nod to yesteryear with Solange's 'fro and her pose (which just radiates #blackgirlmagic!) but the colors (berry, blue and yellow!) are so modern and fresh. And can we talk about how the Essence logo is rendered in her lip color?! That's a pretty bold, fashion-forward move for the magazine. The content seems to follow suit with the Best in Black Beauty Awards, "Shoe Game" feature and Solange's interview where we can assume she talks natural beauty.
Glamazons, I can't wait to pick this one up. And yes, it's getting taped on the wall. What do you think of the cover?
*UPDATE: Erykah Badu and Ledisi look stunning on alternate covers of the May 2014 issue as well: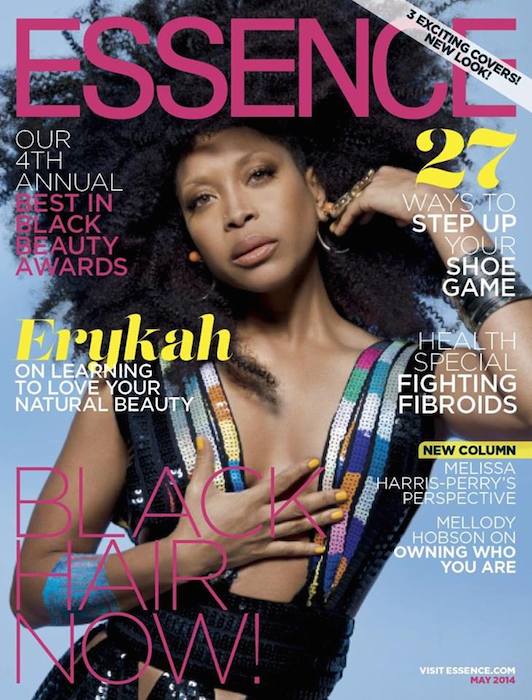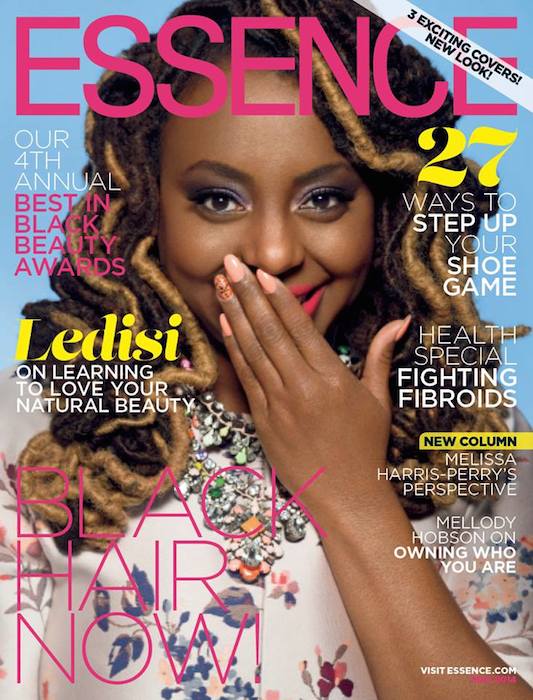 Erykah looks so fashion-forward and fly, and I'm obsessed with Ledisi's makeup. Well done, Essence!
Check out quotes from the three beauties:
Ledisi on her famous locs:
"Although I'm known for my long, colorful locs, I still don't take my hair too seriously. I experiment a lot, dyeing it and constantly switching styles to grab attention. My hair is one of my best accessories, and changing it helps express who I am."
Solange on hair freedom:
"We all have the option of how we want to express ourselves through our life, hair, style, or whatever we decide. We shouldn't be pigeonholed into any one category."
Erykah Badu on her approach to hair and fashion:
"I view my hair and clothes as functional art. I'm my own stylist, and I love it. But I am not trying to make a statement."
And here are even more inspiring quotes and images from the cover story: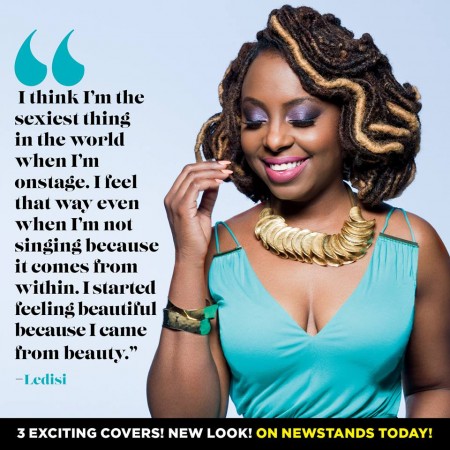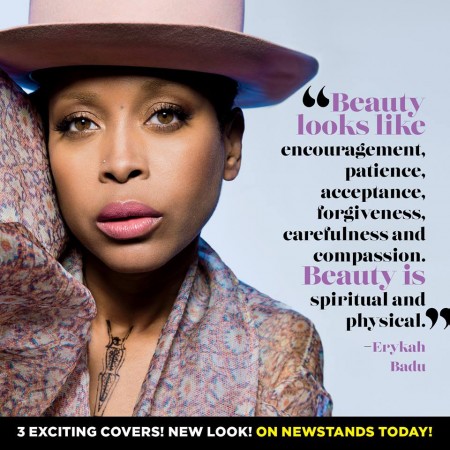 Read more at Essence. Can't wait to get this issue!
Kisses,
Glamazon Jessica
View Related Posts:
[fbcomments width="600" count="off" num="15"]