What I Wore: Sweatshirts and Skirts
Friday, April 18, 2014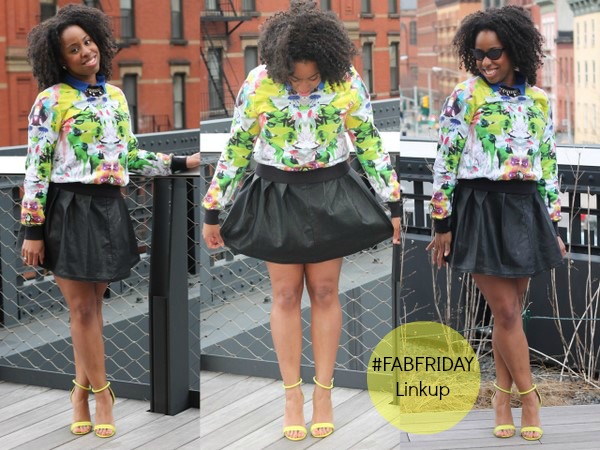 Glamazons,
Can I be honest? When I wear sweatshirts, they're usually either something from college I've worn for years (with the logo faded and everything!) that I put on to sleep or clean the house on the weekend. I've never worn them out on a date or to an event, let's say, but I do love them. If you've spent a day chilling in your favorite sweatshirt like I have, you know there's nothing more comfortable in the world.
But I never imagined I'd be wearing a sweatshirt like this: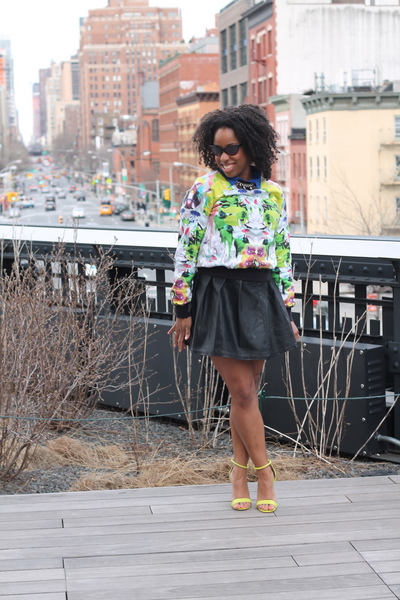 And with a skirt no less! But this Prabal Gurung for Target sweatshirt won me over with the ubercool digital "First Date" print. It's stylish, bold and most of all, just as comfortable as my college sweatshirts: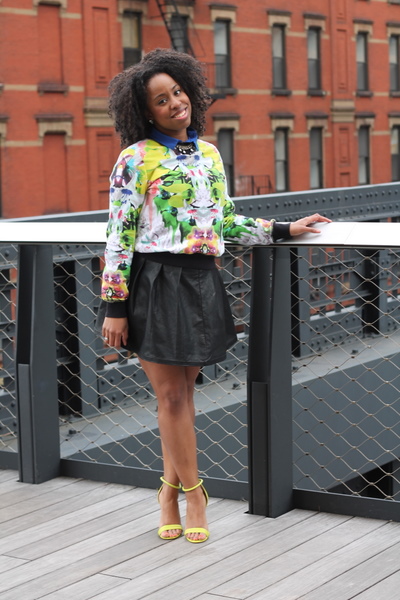 I wore it during the Fashion Week snowstorm (remember that random time I ended up sitting behind Eve at Nicole Miller…crazy!) but this time, I wanted to dress it up a bit. Cue my Forever 21 cobalt blue blouse, Reverse leather flirty skirt (from Urban Outfitters) and H&M jeweled necklace: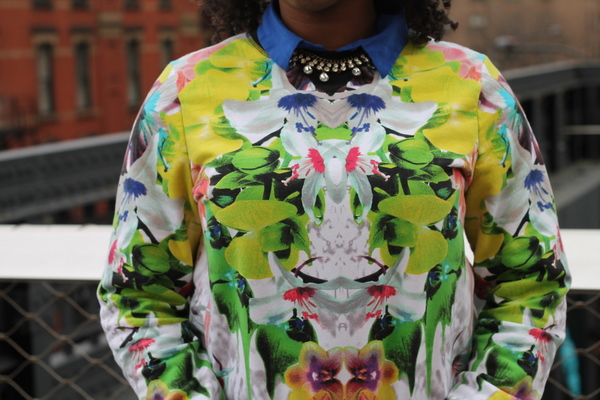 The final gag is I threw on my Prabal Gurung for Target neon heels to finish the look – and that's when I fell in love with it. When I tell you, a sweatshirt, skirt and heels may be my new uniform: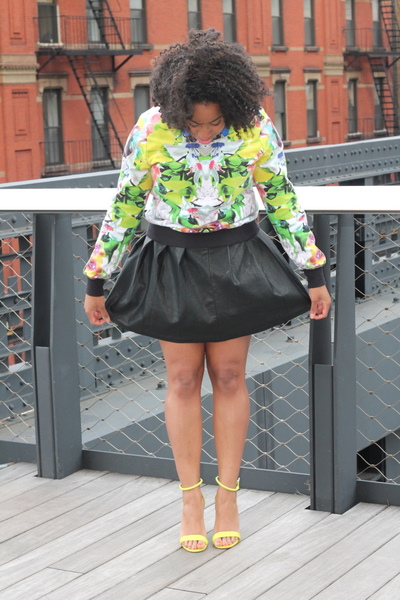 Not the worn-in college sweatshirts though…I'll stick to wearing those with sweats and slippers, lol.
What do you think of my look, Glamazons?
Sweatshirt: Prabal Gurung for Target | Leather Skirt: Reverse c/o Urban Outfitters (Similar) | Blouse: Charlotte Russe (Similar) | Jeweled Necklace: H&M (Old) | Sandals: Prabal Gurung for Target
–
I'm teaming up with my blogger boos Lexi of Lexi With The Curls and Christina of LoveBrownSugar to pay homage to a fab leather skirt for #FabFriday.
What is #FABFriday? Christina of LoveBrownSugar.com, Lexi of LexiWithTheCurls.com and I are posting with fun Fashion And Beauty (F.A.B.) themes on Fridays. We'll each take one theme and give it our own spin. We encourage other bloggers and readers to join in by linking below. If you don't have a blog, make sure you post on social media and use the hashtag #FABfriday !
Here are the #FabFriday link-up rules:
Link your themed outfit post with a new look or one that's no older than 14 days. Link back to Glamazonsblog.com, LexiWithTheCurls.com and/or LoveBrownSugar.com in your post. Share on social media with the hashtag #FabFriday. Link will stay open for 6 days.
Happy linking! Can't wait to see all your cool leather skirts.
Kisses,
Glamazon Jessica
View Related Posts:
[fbcomments width="600" count="off" num="15"]