You Can Now Match Your Car To Your Mani Thanks to Ford & OPI #FordMustang50
Monday, April 21, 2014
Glamazons,
In the New Jersey town where I grew up, cars are like the ultimate fashion statement. Whether you're in a red sportscar or a white SUV, your car says so much about your personality, attitude and lifestyle — just like fashion and beauty does. Ford Motor Company totally gets the connection: they've teamed up with OPI for an auto-inspired nail polish collaboration to celebrate the 50th Anniversary of the Ford Mustang.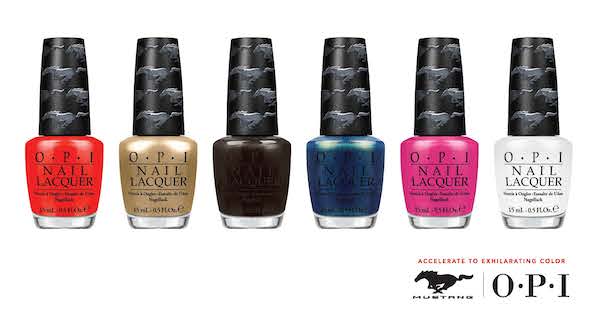 Naturally, the collection includes a bright red shade, "Race Red" as well as "50 Years of Style," "Queen of the Road," "Girls Love Ponies," "Angel with a Leadfoot," and "The Sky's My Limit." And the shades all have OPI's one-of-a-kind ProWide Brush which helps you apply it evenly.
Is this not the perfect set up for a Instagram pic showing off your pedicure when your feet are crossed on top of the dashboard? Am I the only one that thinks about these things?
Anyway, OPI EVP Suzi Weiss-Fischmann explained why Ford and OPI are the perfect match for a Glamazon: "Nail color, just like the car she drives, is the ultimate expression of a woman's personality. Automobiles are synonymous with style, and there is a special kind of love affair between a woman and her car."
It's so true! Susan Lampinen, the group chief designer, color and material at Ford Motor Company agrees: "Color is very personal to people and to how they express themselves. Similarly, color plays a key role in defining the character of a vehicle: Mustang paint colors need to denote performance, sportiness, and power. They are expressive, bold and eye-catching colors, like the ones chosen for this limited edition collection."
Yes! If your car is a bold color, it's only right that your nails are too. Pick up the new polish for $9.50 at Ulta when it hits stores in July. Will you match your mani with your ride this summer?
Kisses,
Glamazon Jessica
View Related Posts:
[fbcomments width="600" count="off" num="15"]