#CaribbeanCrawl: Inside My Carnival Fete Survival Kit #GlamazonTravel
Sunday, March 2, 2014
Glamazons,
If you've been following along on our #CaribbeanCrawl, you know I'm been having an incredible time in Trinidad and Tobago this week. While the food has been delicious and the beach is breathtaking, the whole reason I'm here is for Carnival.
And the Bacchanal festivities officially kicked off this weekend with the A.M. Bush fete on Saturday morning. Lexi of Lexi With The Curls, Danielle of Style and Beauty Doctor and I headed out at 2:30am to the middle of the forest dressed in our A.M. Bush shirts and Trinidad flag bandanas.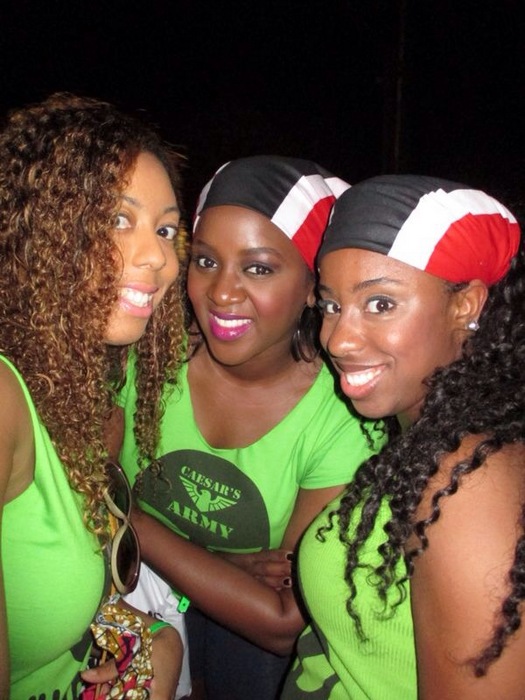 We took shuttles to a mystery location in the middle of the woods where we found trucks blasting soca music, and handing out liquor and food.
I heard that people throw around powder and paint at these fetes and eager to get a small dose, I went up to a guy with blue paint and asked him to throw it on me — "just a little, though" I said. He was immediately offended. "You gonna ask me to throw paint on you and then tell me how much I should throw?!" #wheretheydothatat
And with that, he splashed a ton of paint on my shirt: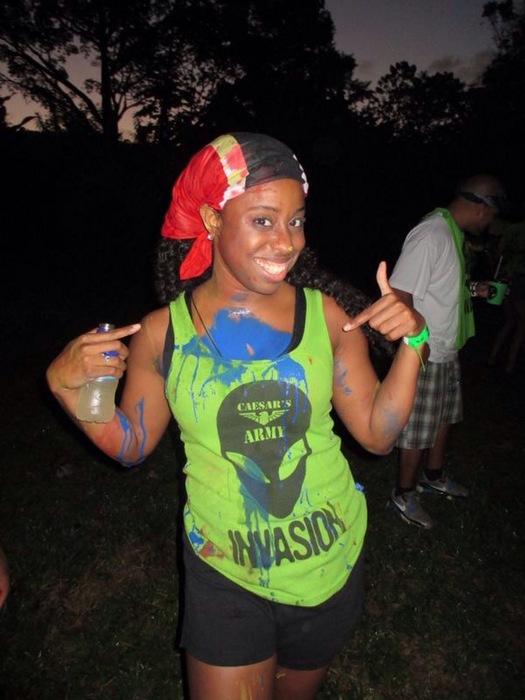 Welcome to Carnival!
Once you get paint thrown on you for the first time, you totally throw caution to the wind, loosen up and prepare to destroy your clothes all in the name of a good time. By the end of the fete, I was covered in paint and powder (like everyone else) and had the most fun I've had in…forever!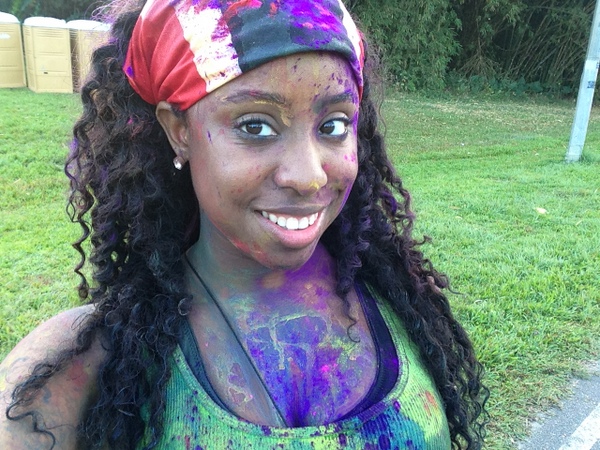 I danced all night by myself and with a few guys (I was so proud that I could keep up!).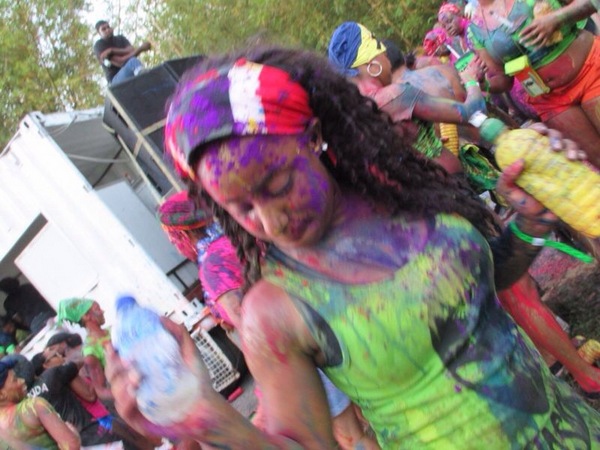 I grabbed two bottles of paint and made a game out of pouring it on people: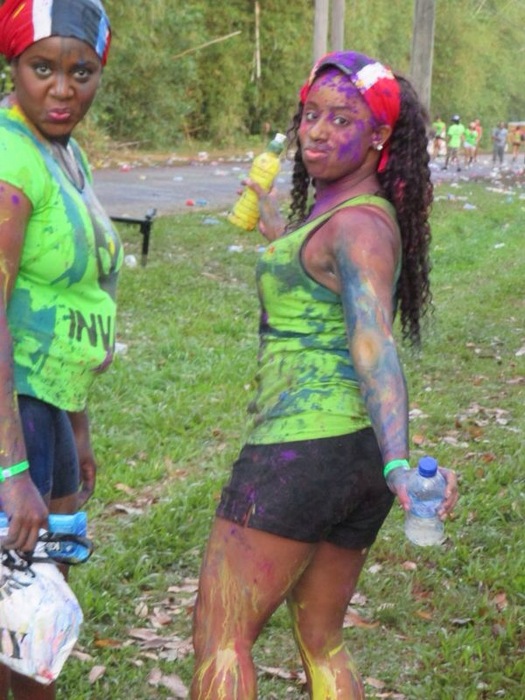 I even slipped and fell on the grass once trying to run and splash someone!
I snapped a picture with Usain Bolt who was wining, eating and having a ball.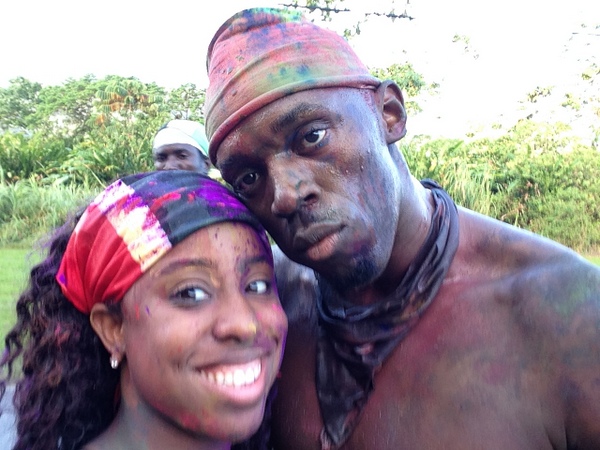 I never stopped dancing even when the sun came up in the woods (a beautiful sight!). We had doubles in the morning, which is my favorite Trinidad street dish (next to pholourie).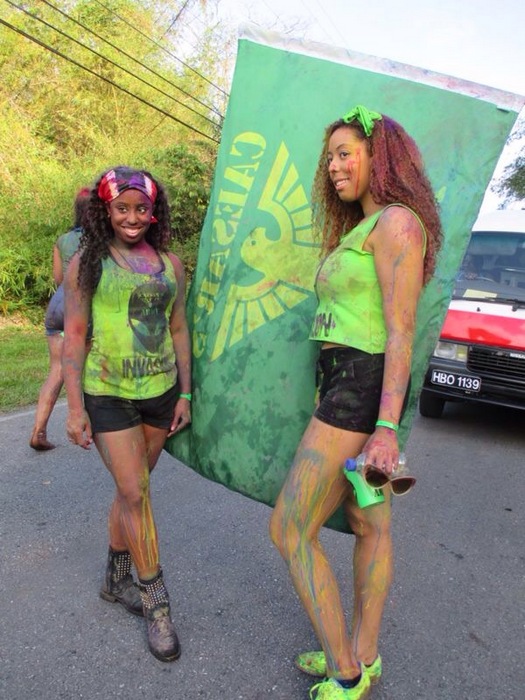 And then, we waited two hours for our ride during which time I chatted it up with Lexi and got (some) paint washed off in a short rainstorm. Win?
Check out more pictures from that incredible night: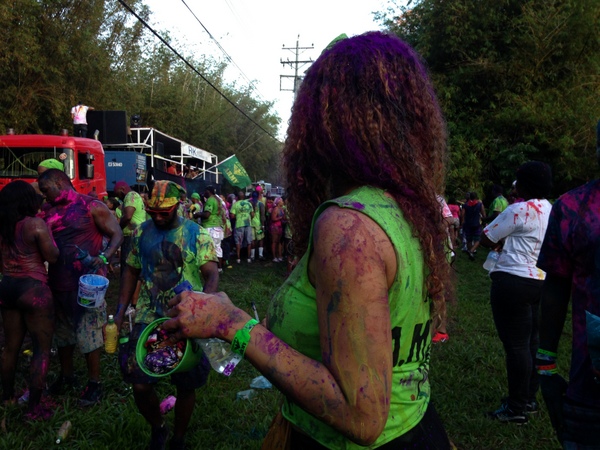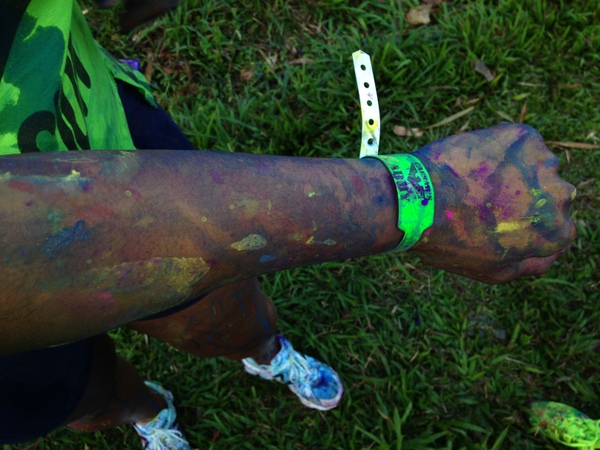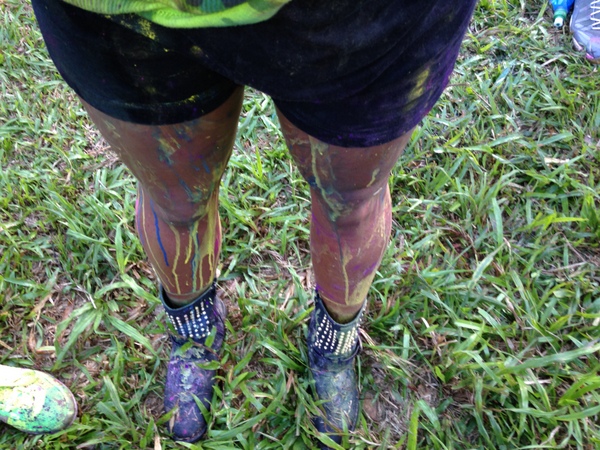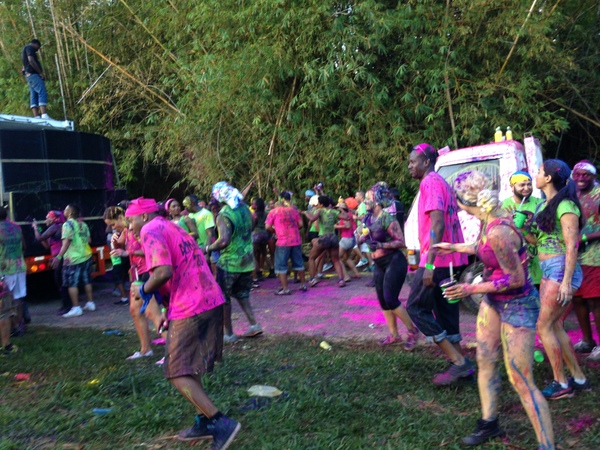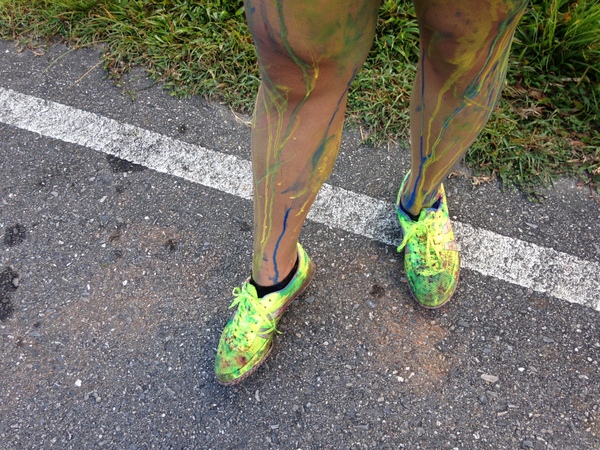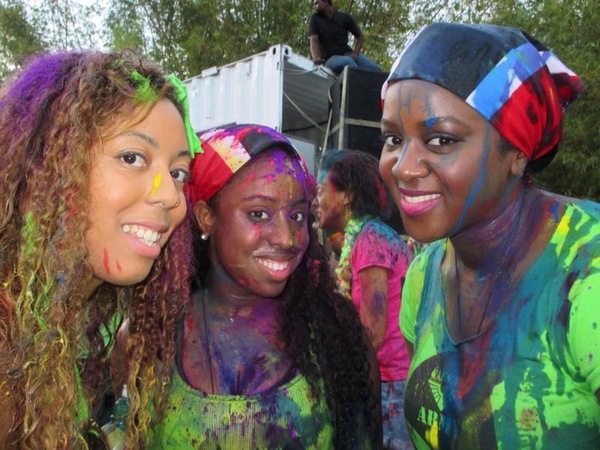 Speaking of paint, it's best to go into these fetes prepared. I let my hair flow free but I saw women with wigs, shower caps and scarves tied around their 'dos — not mad at that!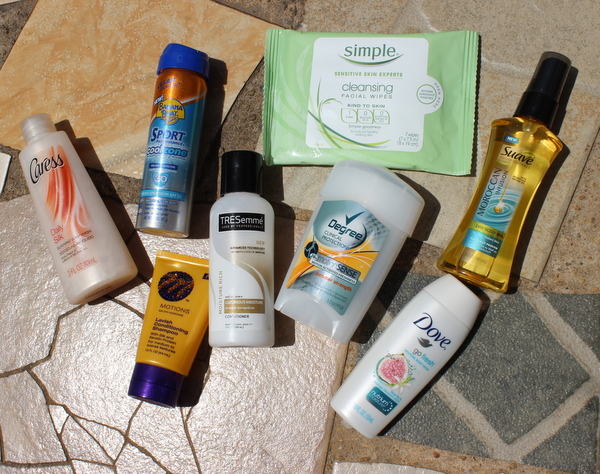 To prep and recover from my first Carnival fete, here's some of the steps I took and products I used:
1. Prep with body oil!
To get the paint to slide off easily after the fete, I'd suggest spraying Suave Moroccan Infusion Body Oil on your limbs beforehand. It's the difference between scrubbing like a madwoman and simply letting water wash over you to remove the paint. Bonus: you'll have super soft and radiant skin afterwards.
2. Spray sunscreen on the go.
Guys, am I late: I didn't realize you had to reapply sunscreen every two hours? Fortunately, we brought Banana Boat Sunscreen which we could easily spray on quickly and it was also cooling, which is a win/win in my book.
3. Invest in some strong deodorant.
Jumping and wining all night and morning calls for some strong and effective deodorant. I like Degree Clinical Protection for keeping me smelling fresh when I'm moving around a lot in sweltering temperatures.
4. Wipe your face down.
There's nothing as refreshing as pulling out a Simple Cleansing Facial Wipe after a night of partying. Especially when you go hard like me and there's paint all on your cheeks and powder in your eye (#thathappened).
5. Get clean with body wash.
I was happy to take a long, luxuriating shower after the festivities and lather up with Dove body wash with nutrium moisture which nourishes my skin. I plan to break out the Caress body wash in Barbados! (A girl can never have too many body washes).
6. Wash that hair!
If you're a brave soul like me and wore your hair out, you got some really cool pictures with rainbow streaked strands…and umm, kind of a mess when it comes time to wash all the paint out. Motions Conditoning Shampoo eased the process of separating my hair into sections, saturating with the conditioning shampoo and rinsing.
7. Detangle like your life depends on it.
Detangling with Tresemme's fab luxurious moisture conditioner finished the job. It moisturizes my hair just enough without being too greasy or heavy. I'm proud to say my hair's back to normal!
In short, if you can survive Carnival with this kit, you can survive anything.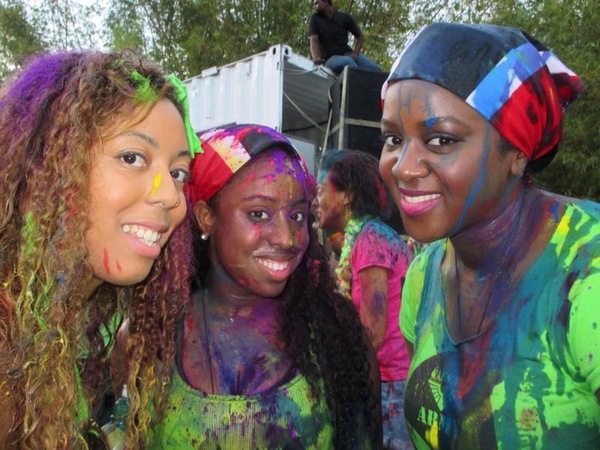 Have you ever been to a Carnival fete? What steps did you take to preserve your sexy and moisturize your situation (Diddy voice)?
Kisses,
Glamazon Jessica
View Related Posts:
[fbcomments width="600" count="off" num="15"]