GLAM SCOOP: Solange Knowles for Harper's Bazaar, Countess Vaughn Talks Wig Scalp Infection and 25% Off Sale at ASOS
Monday, March 17, 2014
Hey Glamazons!
Hope you are having a great week! As we head into even lower temps (seriously… is Mother Nature playing a joke on us?), the fashion and beauty world is moving full speed ahead! Let's get into the latest:
Naomi Campbell Poses for Shape Magazine, Talks Fitness Routine
Glamazons, wouldn't you know I was just obsessing over Naomi Campbell's afro wig on Facebook and now, she's slaying my life again with a cover shoot for Shape Magazine.
In her latest magazine feature, she flaunts her incredible body (and she's 43, ya'll) and opens up about her diet, fitness routine and kicking her cigarette habit.
On her first Shape Magazine cover:
"I've been on almost every magazine in existence, but this is my first time posing for Shape, and I'm thrilled. Of course. I wish I had done it when I was younger, but it's an honor to be here at any age."
On dieting and exercise:
"I don't believe in starving myself. I've never done it, and I never will. I'm even more active when I'm juicing, doing both yoga and Pilates every day." She also revealed she kicks off every day with hot water and lemon, and includes lots of veggies, teas and salads with fish or steak. Her workout routine includes at least an hour of yoga most days. And a power 10 minute workout on days she's short for time.
On her cigarette habit:
"People told me that cigarettes are harder to quit than alcohol. I didn't believe it, but you know what? It is harder."
All about a healthy diet and workout regimen! Get it, Naomi. Will you pick up the issue when it hits stands on March 24th? [The YBF]
LOVE Brandy's Senegalese Twists!
One of our fave Glamazons debuted a new look over the weekend at the Unstoppable Foundation's 5th Annual Gala in Century City. Brandy hit the red carpet rocking Marley Twists in a sophisticated updo and a dramatic black beaded gown.
Here's the back of her hair:
GLAM SLAM all around. You guys may remember when Glamazon Jessica rocked them here and here. So yes, we're a bit biased, lol. What do you think of her new look? [Necole Bitchie]
Solange Knowles Stars in a Colorful Shoot for Harper's Bazaar
–Solange Knowles just blows us away in shoot after shoot…effortlessly! Her latest turn in front of the camera was for Harper's Bazaar where she shows off colorful pieces from designers like Ralph Lauren and Moschino styled by Joanna Hillman and lensed by Julia Noni.
And check out excerpts from the story, penned by Charlotte Cowles:
On making her next album:
"I figure there's no better way to buckle down and finish it than to be as far away from everyone as possible, cell phone and computer behind. I'm not very good at writing songs when I have a lot of clutter in my mind."
On following in her sister's footsteps as an entertainer:
"My parents constantly tried to talk me out of being an artist. They had gone through the whole journey with my sister and just wanted me to have a normal teenage life."
On her first album:
"I still stand behind the stuff I did early on, but I was on a record label and I didn't have a lot of creative control. Another side of that is just being young and having bad taste. There was plenty of that too."
On motherhood, marriage and divorce:
"I was lucky with Julez. I was completely lost when we moved to Idaho, out in the country, and I devoted everything to him." The marriage didn't last, though, and Knowles filed for divorce in 2006. "In a lot of ways, emotionally and mentally, I feel far older than 27," she says. "Just going through a marriage and a divorce—which I essentially did by 21—will give you an insane amount of perspective on life."
On the evolution of her style:
"You can pull images of me from seven to 14 years ago and I was absolutely nuts. I have always been drawn to interesting pieces and colors, but I didn't quite know how to limit myself and make those statement pieces work." That epiphany took one simple thing: having a closet of her own, which she got when Julez started school in L.A. "I had to stabilize our lives and stay in one place," she says. "It sounds silly, I know, but having space for my clothes made a huge difference. I was able to get organized, free myself of clutter, and develop a style that felt like me."
On co-parenting with Julez' father:
"We co-parent really well. I'm able to say, 'I need to finish this album, can you step up and take care of the boy?"

On her current relationship:
For the past few years she's been in a steady relationship with video director Alan Ferguson. "Luckily, I dated all of the losers ages ago. My love life has been stable for a while," she says, adding wryly, "It's a fucked-up thing—without conflict it's a lot harder to write interesting songs."
So excited for her next album! [Harper's Bazaar]
Countess Vaughn Opens Up About Her Scalp Infection from Lacefront Wig Glue
-Guys, I've got the heebe gee bees thanks to this latest bit of news. In an appearance on "The Doctors," Countess Vaughn said her scalp was infected from lacefront wig glue. And the details are horrendous. Pus oozing, hair loss, skin discoloration (along hairline and under eyes) and even having to draw her hairline in now. Let this be a cautionary tale… [Hype Hair]
L'Wren Scott Found Dead at 47
–L'Wren Scott was found dead at age 47. She was reportedly found by her assistant hanging in her NYC apartment from a scarf. Police are currently investigating the situation but it looks like an apparent suicide. Scott was a renowned fashion designer whose glamorous gowns were worn by Nicole Kidman, Michelle Obama and more.
Naomi Campbell just released the following statement about the designer, who was a dear friend:
"I am deeply shocked and devastated by the news. L'Wren was someone I knew since I was 17. We travelled the world together many times. L'Wren was someone I always loved. She was the epitome of elegance and femininity yet still had a girlish quality. I will miss her honesty and I will miss her friendship. My heart goes out to Mick and all who loved her and were loved by her."
May she rest in peace. [Elle]
Zoe Saldana Gets Pretty for The Edit
–Zoe Saldana looks angelic on the cover of this month's "The Edit" in a white, pleated Alexander McQueen dress. In the issue, she discusses her ambition and staying true to herself in Hollywood.
#Flawless. [The YBF]
Tom Ford is on Instagram!
-I've been anxiously awaiting this day with bated breath! Tom Ford is FINALLY on Instagram and, of course, the first photo is ultra sexy! What else would you expect? [Instagram]
Keira Knightley Smolders for Chanel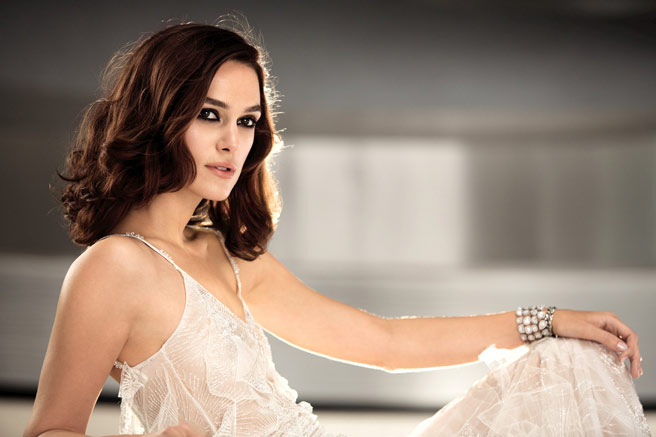 -The longtime face of Coco Mademoiselle, Keira Knightley, stars in the latest Chanel ad campaign. She smolders in a white sheer number with a wavy, brunette bob and smokey-eye. I'll admit, I am slightly obsessed! [Elle]
Lupita Nyong'o, Michelle Dockery and Stylist Michaela Erlanger Cover The Hollywood Reporter
-Fashion's IT girl Lupita Nyong'o stuns once again on the cover of The Hollywood Reporter's 'Most Powerful Stylists' 2014 issue.
The mag honored Lupita's stylist Micaela Erlanger who Michelle Dockery introduced her to!
Check out their cute behind-the-scenes video:
Love it! Now, let's work on Lupita's MAC campaign! #LupitaforMAC [MTV Style]
You Can Now Wear Your Instagram Pics on Your Nails
-New NailSnaps app will transform your dull nails into fun, personalized Instagram collages. Simply import your own IG photos to create one-of-a-kind, wearable nail stickers. Pretty cool, right? [Huffington Post]
Sephora Launches New Social Shopping Platform, Beauty Board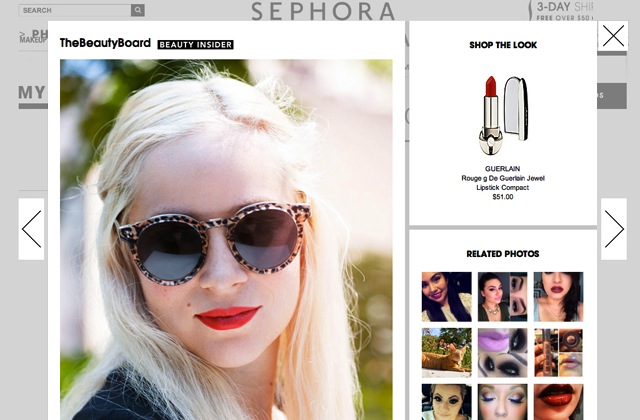 –Sephora's new social shopping platform, Beauty Board, will virtually transform the way you shop your fave beauty products.  Browse user-generated photos, find a look you love, and shop the products to create it! Simple enough. Can't wait to try it out! [Fashionista]
And Here's Another ASOS Sale…(because you can never have too many of those, you know)
-Glamazons, if you don't know by now, my weakness is shopping. ASOS is having a sale that you absolutely cannot miss.  25% off of all items, including dresses, accessories, pumps, and under garments. I browsed the sale beforehand and it is absolutely glamazing!
Check out the pieces I am obsessing over:
Happy Shopping! [ASOS]
Keeping It Fashionable,
Glamazon Briea
View Related Posts:
[fbcomments width="600" count="off" num="15"]