10 Things I Learned in Trinidad So Far #CaribbeanCrawl
Thursday, February 27, 2014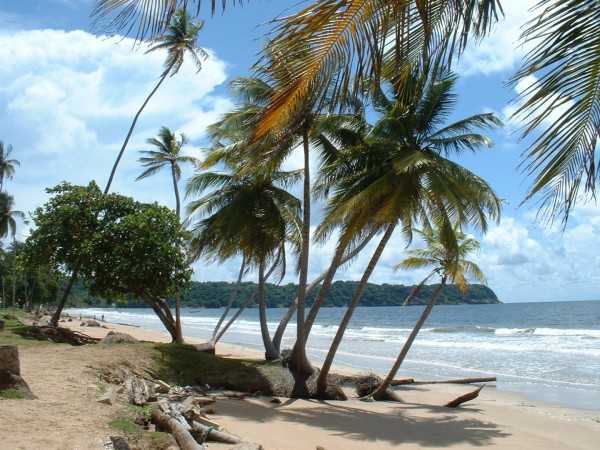 Glamazons,
If you're following me on Instagram, you know I'm in Trinidad for the #CaribbeanCrawl, in preparation for Carnival weekend starting this Friday. Danielle of Style and Beauty Doctor and I are here now, Lexi of Lexi with the Curls is joining us this weekend and we'll catch up with new Mommy, Christina of LoveBrownSugar in Barbados after Carnival.
I planned to jump and wine as soon as I got off the plane but since I landed here on Monday, I've got considerable time to just…relax. I've decided the ease of island living is the only known antidote to the frenetic pace of the city. Everyone is warm, laidback and worry-free, and there's a sense of peace and contentment that comes with that. Needless to say, I don't ever want to leave! (Or maybe I'll try and bring a piece of that calm and steadiness with me back to NYC.)
Danielle is graciously letting me stay with her family so I'm getting an authentic experience of what life is like in Trinidad.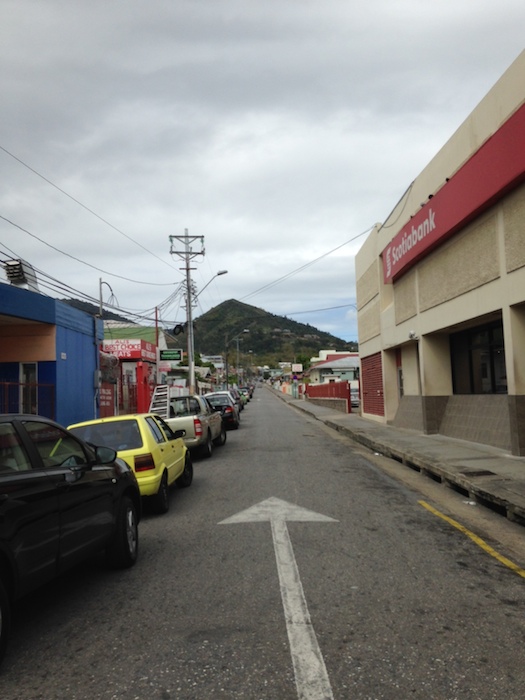 Here are ten things I learned in Trinidad so far:
1. Speak when you walk by!
In NYC, making eye contact with a stranger is considered rude. In Trinidad, people make a habit of starting conversation with everyone they pass. Even though I'm a tourist, I've never felt like a stranger; everyone is kind, friendly and warm and wants me to experience the best of their island.
2. Eat on the street.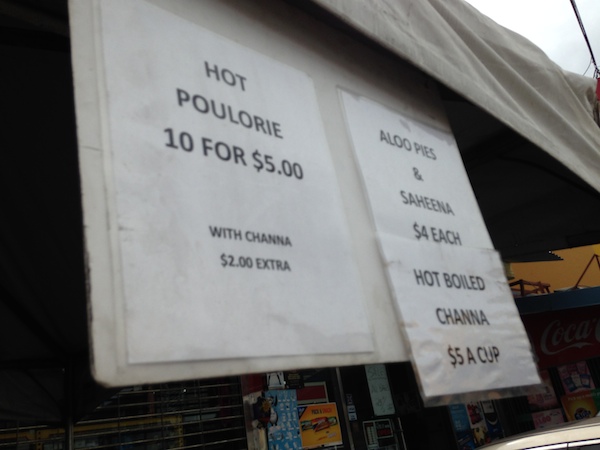 Best $5 TT I've ever spent
You can get the best eats off the street like pholourie (which is essentially little balls of split pea flour fried, eaten with a sweet chutney mango or tamarind sauce). I inhaled them on the road, and let me tell you: they are delish! And that's another thing: Danielle's cousin told me "you have to learn how to eat and walk." Eating and walking is par for the course, especially during Carnival.
3. Lime all day and night.
I mentioned earlier that the people of Trinidad are warm, friendly and social, but that extends past small talk to liming! I first learned about liming on Afrobella's blog as a pastime in Trinidad. It simply means to hang out at the bar, at someone's house, on the street, etc. And it's so laidback and fun. It's the only thing on my agenda today.
4. Extra Ketchup? Yes, please.
This is random but the ketchup is super delicious here. It's sweet and still tangy, and basically everything you ever wanted to dip your fries in. In fact, I've been having ketchup with fries on the side. I want to bottle it up and take it home!
5. Also, KFC is way better.
I know what you're thinking: you're in Trinidad eating KFC? But on the way to Tobago, Danielle insisted we stop by KFC in the airport so I could taste the difference. Island food is notoriously spicy, and KFC follows suit with heavily-seasoned chicken that puts ours to shame. Yum!
6. It's Hot, Do Your Makeup Accordingly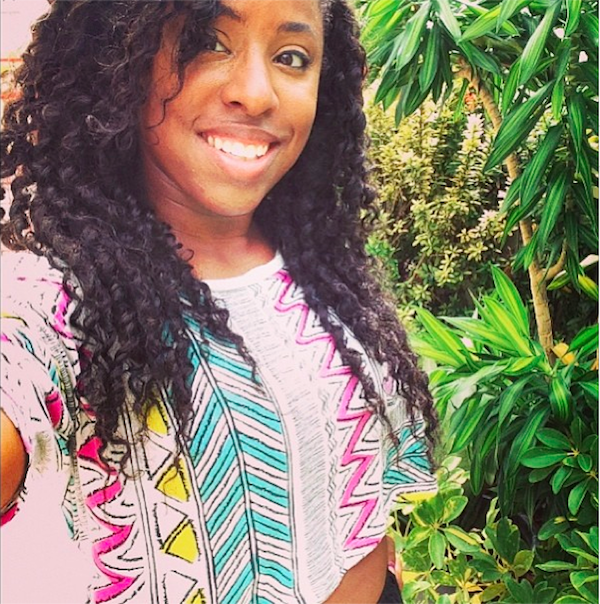 The only beauty look I can commit to on vacation: fresh-faced makeup and fuss-free hair. 
I'm all about easy, breezy beauty since I arrived here. The pace just makes a full session of beating my face seem so unappealing. That, and the fact that your makeup would run as soon as you step outside. I've only used Make Up For Ever Concealer and set it with powder on top so it stays in place in this heat. Also, Make Up For Ever has waterproof makeup products that will work for the beach in Tobago (more on this later).
7. Likewise, You're Not Going To Want To Spend A Lot of Time on Hair
The last thing you want to do is plug in a curling iron or sit under a dryer, which would make you even hotter. Fortunately, I got extensions from Echelon Hair before I came to Trinidad and the upkeep is super easy. I just spritz it with Toni & Guy texturizing sea salt spray and twist it at night. In the morning, I take the twists out and go. Also, African Pride Olive Miracle silky smooth edges works wonders for my leave out during the day.
8. Don't wear Camo. No, seriously don't.
Speaking of style, if you love camo print, be prepared to give it up for a trip to Trinidad. Camo print is illegal, and we found out just how serious they are about upholding that law at Customs. The reason for the ban? The government doesn't want people impersonating the military in a camo jacket and pants. It's a fair law, but losing your jacket at Customs is not fun.
9. Customs is a battlefield.
Oh yes, that happened. Danielle carried a camo bubble coat on her arms through Customs, but the officers weren't having it. They confiscated the coat (even though she informed them she wouldn't wear a bubble coat in Trinidad's sweltering temps) and even scolded me for not understanding their thick accent (I tried though!). The people are friendly, but customs officers are as tough as they come. You've been warned!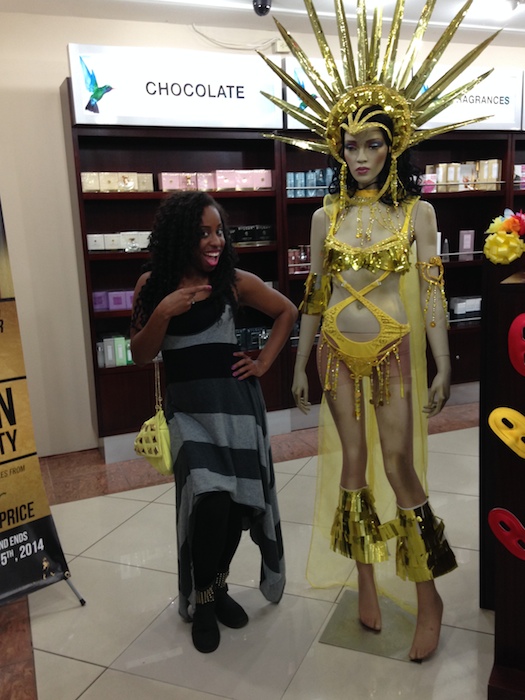 But they still couldn't kill my vibe. Because…Carnival.
10. Get into the Local Fashion
We were more than happy to replace Danielle's lost camo coat with some of the amazing local fashion. From handmade jewelry to a custom sequin dress, I scooped quite a few unique and fashion-forward pieces from local vendors. Many of the items are one-of-a-kind and I think it's pretty cool to have a story attached to pieces you wear.
–
*P.S. Here's No. 11: I didn't include this as one of the 10 because I've always loved soca but boy, is the music amazing! I can't wait to dance at Carnival to the new tunes I've heard from Machel Montano, Bunji Garlin, Destra Garcia, Iwer George and Kerwin Dubois (linked each of their names to my favorite song on YouTube!). Actually, dancing in my chair now, lol.
*P.P.S.: Randomness: We had an amazing flight on American Airlines into Trinidad, where the flight attendant gave us free drinks (she was the sweetest!). And What's App is a Savior because I can talk to all my friends on it at home without those awful roaming charges. You can also get a Sim Card from Digicell, but you have to make sure your phone is unlocked to use it.
And by the way, I found these posts really helpful about traveling to Trinidad: Afrobella's great post about 3 things to do in Trinidad besides Carnival and Trini Chow's post about eating like a local. In fact, that whole site is great!
Stay tuned for another post about Carnival prep and of course, you can follow the hashtag #CaribbeanCrawl on Twitter and Instagram for all the tea!
In the meantime, let's chat all things Trinidad: have you been? What places should I visit? What food do I have to eat? Any Carnival tips? Tell me everything. 
Kisses,
Glamazon Jessica
View Related Posts:
[fbcomments width="600" count="off" num="15"]