How To Survive New York Fashion Week with Oxygen The Face Modeltestants
Thursday, February 6, 2014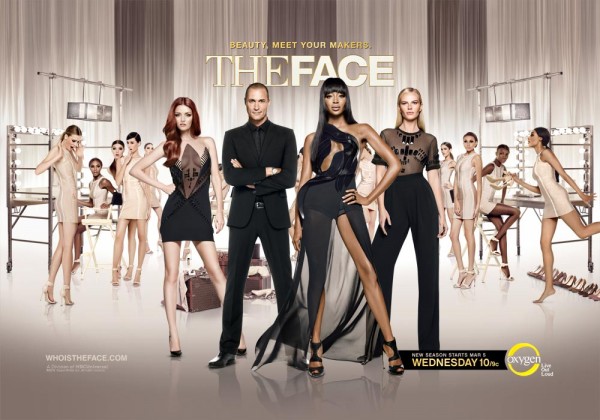 Glamazons,
Having survived 15 seasons of New York Fashion Week, I like to think of myself as an expert. I've come a long way from the wide-eyed, nervous suburban girl navigating the Fashion Week presentations for the first time at my job at The Magazine. Now, I can hang with the best of them, prepping for #NYFW, going from show-to-show (even in the snow!) and reporting every aspect of my experience for you guys on this blog and on social media.
I've had my share of missteps (remember when I strained my ankle and continued going to shows?!) and meltdowns (a scary incident last season where not eating and sleeping caught up with me) but I'm proud to call myself a "Facemaker" during Fashion Week.
What's that you ask? Well, it's a phrase for a Fashion Week insider who has a fair share of knowledge about what goes on behind-the-scenes at the shows. It can be anyone from a blogger or reporter like myself to a model to a fashion publicist. Facemakers you'll recognize? Oh, only Naomi Campbell, Anne V, Lydia Hearst and Nigel Barker, the supermodel coaches and host on Oxygen The Face.
I had the chance to chat with a few modeltestants from Oxygen The Face about tips for surviving New York Fashion Week. Here's what they dished:
1. Don't get sick.
Between the cold weather and busy schedule, it's so easy to get sick! Allison Millar says: "My biggest thing for Fashion Week is just not getting sick because the weather is so bad and it's so hard in New York because it's so cold so I really just try to stay as healthy as possible [by] only eating like really fresh food and trying to work out regularly."
2. Choose an easy go-to makeup look!
Felisa Wiley swears by mascara as her Fashion Week essential: "I'm always about putting on some mascara just to draw the attention toward my eyes." Allison goes for a natural face with a pop of metallic: "My must have makeup trick is to go with a natural face. And putting just a little bit of metallic on the eyes is really cool."
3. Don't give in to the pressure.
Alana Duval has great advice for dealing with the pressure of Fashion Week's fast-paced environment whether you're modeling or interviewing celebs for the first time: "When you're under pressure, you [have] just got to think and you got to tell yourself you've got this. You have to reassure yourself because if not, you let fear overcome you. Just be yourself. Calm down. Take a deep breath and just think positive because positive energy can really go a long way."
Great tips!
You can catch these gorgeous aspiring models on Season 2 of Oxygen The Face which starts on Wednesday, March 5th at 10/9c.
Watch the trailer here:
Looks fab, right? Be sure to tune in! And tell me what Fashion Week tips you swear by in the comments.
Kisses,
Glamazon Jessica
Disclosure: This post was sponsored by Oxygen's The Face through their partnership with POPSUGAR Select. While I was compensated to write a post about Oxygen's The Face, all opinions are my own.
View Related Posts:
[fbcomments width="600" count="off" num="15"]