GLAM SCOOP: ASOS 70% Sale, NARS New Fan Collex and First Look at Rita Ora for Adidas
Thursday, January 16, 2014
Glamazons,
I am still reeling from all the high-fashion red carpet looks at Sunday's Golden Globes. From my girl Kerry Washington flowing in Balenciaga and finally making her baby bump debut – I totally knew it – to Lupita Nyong'o rocking a red Ralph Lauren caped-gown, I got my life! Can't wait to see what they wear to the Oscars (congrats on that nomination, Lupita!).
While we wait for Lupita to slay the red carpet again with baited breath, let's get into the latest news!
Lupita Nyong'o Slays in Vanity Fair
Speaking of Oscar nominee Lupita Nyong'o, the beauty went right from shutting down the Golden Globes red carpet to sizzling on the cover of Dazed and Confused to now slaying a spread in Vanity Fair. Can our lives just be all Lupita everything?
Anyway, she looks absolutely ravishing against this white backdrop but not everyone is pleased. Critics are claiming Vanity Fair lightened her skin in the photo. On the flip side, some are saying Dazed and Confused darkened her skin. Now say what now? What do you guys think? [Huffington Post]
Lena Dunham Rocks Her First Vogue Cover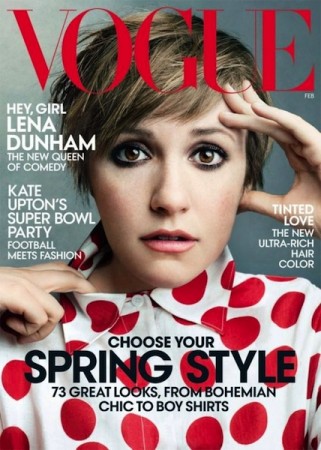 Guys, I bow at the throne of Anna Wintour but to be honest, I rarely get excited about a Vogue cover. I pore through the magazine, of course, but the covers (and ahem, cover subjects) are all pretty similar each month. But Lena Dunham's new cover blew me away!
Lensed by Annie Leibovitz, the Twiggy-inspired closeup shot on the cover, and the edgy, moody shoot that accompanies it, is the most gripping, fascinating work I've seen in Vogue in months. Check it out: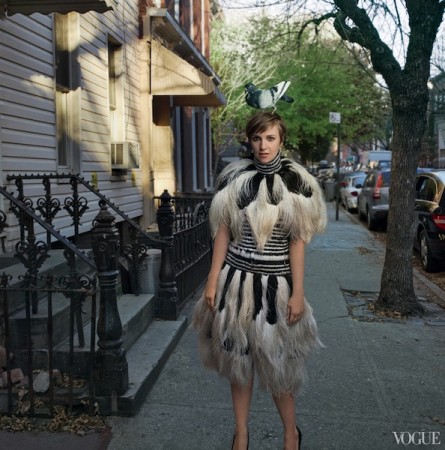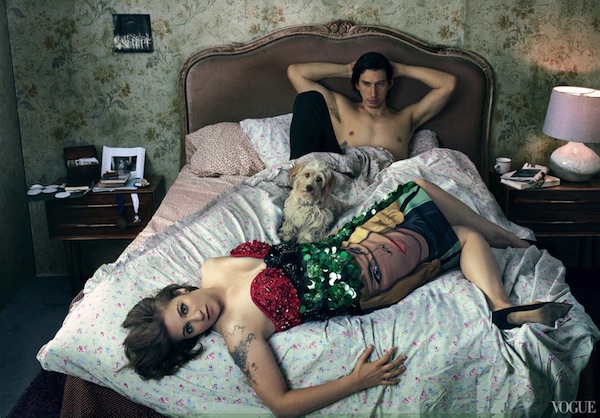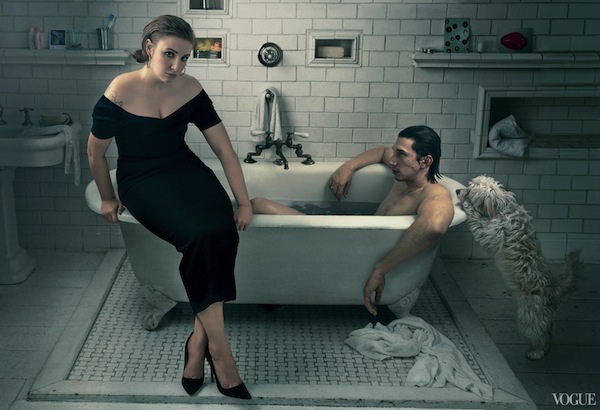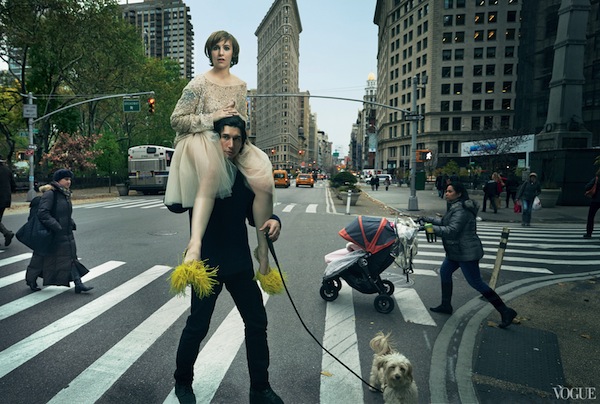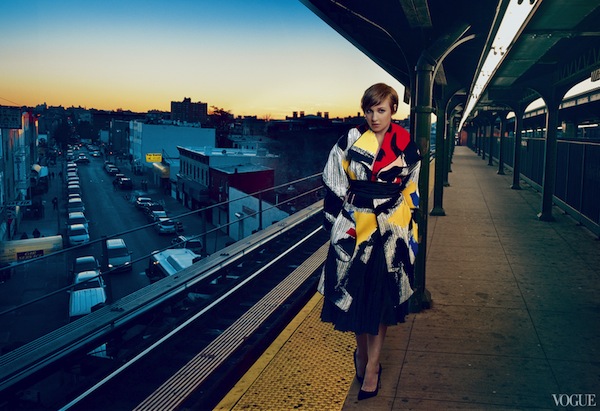 That last shot is breathtaking! We can only hope Kerry Washington is next. Yes, we do realize we're pushing our luck. [Jezebel]
We Kind of Love Rita Ora's Sneakers for Adidas
We're not necessarily sneaker girls or anything but if we stumbled upon some kicks that come with a copper captoe, we're all in. Rita Ora nailed it with the above metal-capped kicks from her forthcoming collection with Adidas Originals, which hits stores Fall/Winter 2014.
But what else would you expect from the Queen of sneakers paired with dresses?! Can't wait to wear mine with a skater skirt. [MTV Style]
The NARS Fan Collection is Almost Here!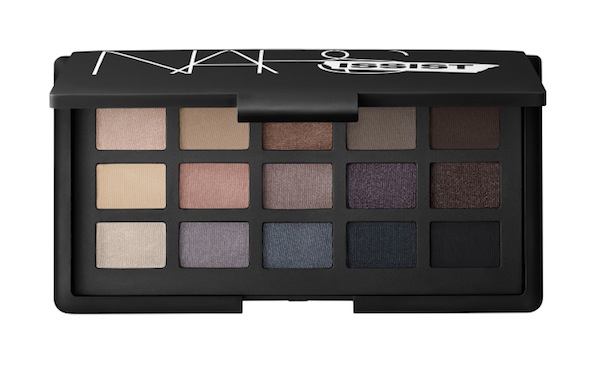 Die-hard NARS fans (aka every Glamazon living) are called NARSissists (how cute is that?!) and the landmark beauty brand is rewarding our steadfast devotion with a collection especially for us! The line, dubbed the NARSissist fan collection, will include an eyeshadow palette and a cheek palette, retailing for $75 and $49 respectively. It hits NARScosmetics.com on January 15th, and NARS boutiques and specialty department stores on February 1st. How cute is the packaging?! [Beauty High]
Alexander Wang is Moving His #NYFW Show to Brooklyn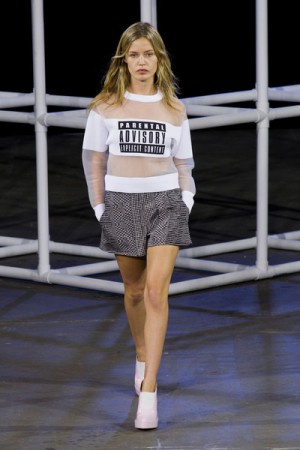 Can Alexander Wang get any cooler? Actually, yes he can. Moving your #NYFW show outside Lincoln Center seems to be the trend this season and instead of merely going downtown, Mr. Wang's presentation is relocating to Brooklyn. And not just anywhere in Brooklyn, near the Navy yard (Duggal Greenhouse at 63 Ship Ways Avenue, to be exact)! He says the collection "corresponds very well to this season's creative concept." CANNOT WAIT TO SEE IT!
Will the fashion editors bike across the bridge? Now that would be everything. [WWD]
The Met Costume Institute Gets Renamed After Anna Wintour!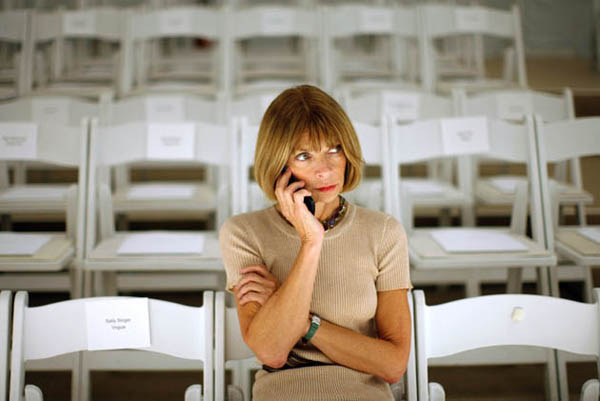 Really, everything in fashion should be renamed after Anna Wintour but let's work on one thing at a time. The first tribute to Anna Wintour? The Metropolitan Museum of Art's Costume Instute wing will now and forevermore be called the "Anna Wintour Costume Center." That is so major we need a new word for major. The honor is well deserved: Anna has raised almost $125 million for the Met. And of course, she personally curates the guest list (psst add us this year, Anna). [Stylecaster]
This Happened: An Ad Was Placed for Coachella Boyfriends
I'm here trying to get tickets to Coachella (Weekend 1…if you know someone) and figuring out what Boho clothes to pack, and these two California girls are way ahead of me. They're actually on the hunt for boyfriends to rent, erm, date for the festival. I'm dead serious.
And they're not looking for partners the old-fashioned way (like how Beyonce found her Coachella boyfriend, Jay Z, above). The "Coachella girlfriends," as they've been dubbed, placed an ad on Craigslist, asking for 2 men who are "30% bro, 7.5% hipster/indie, 12.5% raver, and 50% normal" among other hilarious requirements.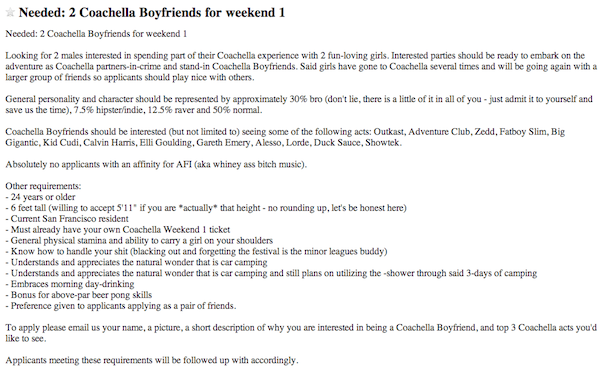 Craigslist removed the ad but not before it went viral. Elle got the scoop on the girls, why they placed an ad for BFs in the first place and the crazy responses they got. We totally would have applied but they weren't providing Weekend 1 tix. Bummer. [Elle]
Scarlett Johansson is the First SodaStream Brand Ambassador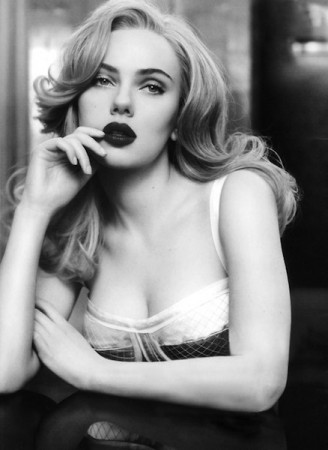 Scarlett Johansson has been named the first ever global ambassador for the brand SodaStream. What the heck is SodaStream, you're wondering?
It's an innovative, eco-friendly, and healthy beverage manufacturer which is sold in more than 60,000 retail stores in 45 different countries worldwide. Basically, it's a cool alternative to pre-packed bottles and cans and since it's healthy, the pairing is perfect (hello, look at Scarlett's impossibly fit bod)!
ScarJo is super excited to be the new face of the brand, saying: "I've been using the SodaStream products myself and giving them as gifts for many, many years. The company's commitment to a healthier body and a healthier planet is a perfect fit for me. I love that the product can be tailored to any lifestyle and palate. The partnership between me and SodaStream is a no brainer.  I am beyond thrilled to share my enthusiasm for SodaStream with the world!!"
The multi-year partnership begins on February 2nd, with an ad appearing during the Superbowl. Can't wait! [NYTimes]
Target Launches New Beauty Concept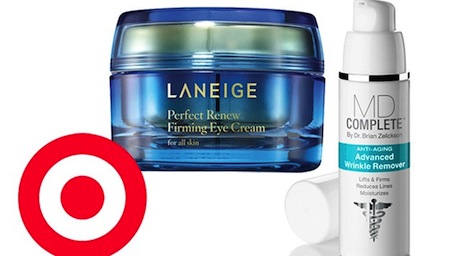 Unless you've been living under a rock, you know that Target has really amped up its image in terms of fashion (example: Peter Pilotto for Target). Now, the beauty department is getting its very own makeover with a new skincare concept that will feature more exclusive brands as opposed to drugstore brands. Fancy!
The store will include four exclusive brands (29 by Lydia Mondavi, Borghese, AmorePacific's Korean line Laneige, and MD Complete) and three more accessible brands (Vichy, La Roche Posay, and Own Skin Health). The products, which range from $8 to $57, will hit select stores February 17th. Are you excited? [Fashionista]
Get Your Life at ASOS 70% Off Sale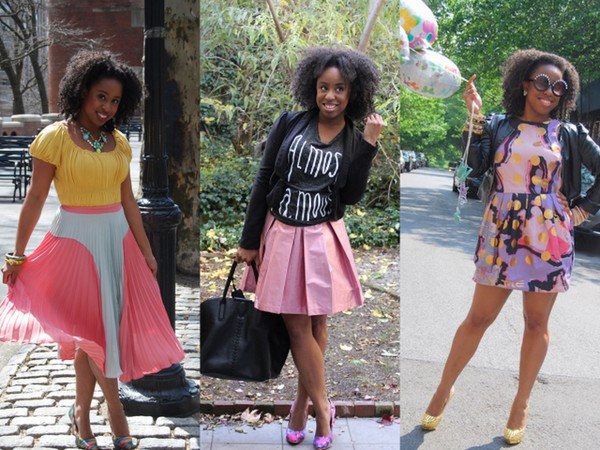 If you haven't noticed, shopping is one of my (and Glamazon Jessica's) favorite things to do. Okay, who am I kidding? Shopping is my favorite thing to do. Nothing excites me more than a great sale. Much to my delight, ASOS is having a sitewide winter sale with up to 70% off AND you can use the discount code JAN10 for an additional 10% off!
Wondering what to buy? They've got cool, trendy printed jackets, jeans, heels, and more. Go IN!
Happy shopping! [ASOS]
Keeping It Fashionable,
Glamazon Briea
View Related Posts:
[fbcomments width="600" count="off" num="15"]