Beyonce Slayed Our Lives: She Rocks The Blonds, DKNY, Norma Kamali and More in New Visual Album!
Friday, December 13, 2013
That's Beyonce laughing at us because our lives are now in shambles.
Like Glamazon Briea, I was on the floor, my heart palpitating from the mid-winter finale of "Scandal" last night. Then, as soon as I could muster up enough strength for a drink of water, Beyonce slayed me again by surprise releasing the album we've all been waiting for all year.
I downloaded it immediately (duh! you can get it here) and now, I'm walking around bald and half-dead with my edges, wig and roots snatched.
Have you taken a second to hear her rap then sing then rap/sing on "Partition," (yes Yonce!), finally open up about the raw and painful ups and downs of marriage and love on "Jealous," and fully tap into her sensual side on cuts like "Rocket" and "Drunk in Love"? Strictly, from a music standpoint, this is one of her best albums yet.
And then, there's a video. For every song. Our first question was: When did she make time for all this? When she was touring around the world? creating her new fragrance? giving birth? curing cancer? We needed the dates.
What we learned is the album took a year and a half to make, she started recording in the summer of 2012 in the Hamptons and enlisted Jay Z, Timbaland, Justin Timberlake, Pharrell Williams, Drake, The Dream, Sia, Miguel, Frank Ocean, Hit Boy, Detail, Hype Williams, Terry Richardson, Melina Matsoukas and more for the project.
The videos were shot during "The Mrs. Carter Show" tour and were on location everywhere from Brazil to New York (on the famous Cyclone Rollercoaster in Coney Island) to Paris to a roller skating rink in Houston, Texas that she frequented as a child.
In every video, she looks breathtakingly beautiful, takes edgy style risks (that cut makes an appearance) and is in impeccable shape. *bows*
Though everyone's talking about how groundbreaking her album is for music, it's also pretty significant for fashion. Beyonce tapped several familiar faces in fashion for her video album, including:
Diandra Forrest:
Shaun Ross:
Joan Smalls, Jourdan Dunn and Chanel Iman:
We see you, Ty!
And her Destiny's Child bandmates make appearances, obvs:
There she goes with hubby Jay Z:
And heyyy, Blue Ivy!
Just adorable.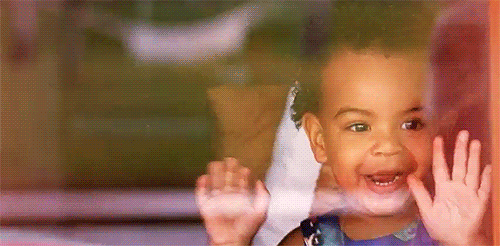 Naturally, Beyonce rocked glamazing fashion throughout! We spotted:
The Blonds in "Pretty Hurts":
Norma Kamali in "Pretty Hurts":
Vintage DKNY leggings in "Blow":
3.1 Phillip Lim in "Yonce":
Tom Ford boots in "Grown Woman":
And we got the tea on her glow-in-the-dark nail polish from the "Blow" video, which is by Ciate:
SLAY!
Check out previews of all her videos:
Pretty Hurts
–

–
Ghost
–

–
Haunted
–

–
Drunk in Love
–

–
Blow
–

–
No Angel
–

–
Yonce
–

–
Partition
–

–
Jealous
–

–
Rocket
–

–
Mine
–

–
XO
–

–
Flawless
–

–
Superpower
–

–
Heaven
–

–
Blue
–

–
Grown Woman
–

–
And here's a playlist of every song:
–

–
Now excuse me while I go back to getting my life. What's your favorite video? Favorite song? I can't decide between "XO," "Mine," "Partition," and "No Angel." And "Drunk in Love." Ugh! Are you still reeling from all this like I am?
Kisses,
Glamazon Jessica
Image Source: DKNY/Instagram/YouTube | GIF Source
View Related Posts:
[fbcomments width="600" count="off" num="15"]