Glamazon Jessica's Personal Highlights of 2013: Writing for ELLE, #NYFWCrawl, Janelle Monae and More!
Tuesday, December 31, 2013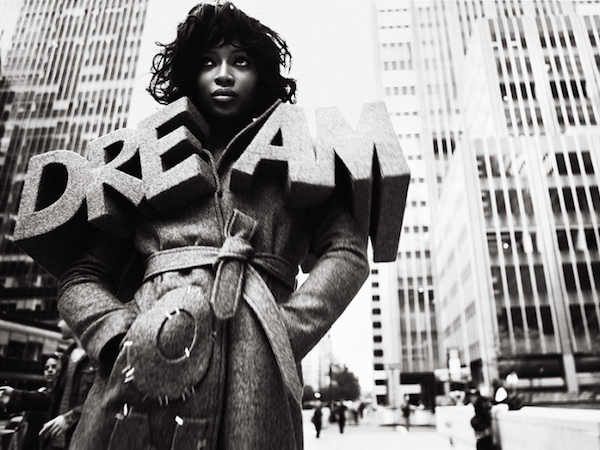 Glamazons,
You set dreams for yourself as a child and nurture them throughout your teenage years and even in adulthood. And then, you get to the point when it's less about dreaming and fantasizing, and more about putting your actions behind your words in order to make your dreams a reality. 2013 was my year to actively pursue the dreams I had put on the shelf. And that requires faith, and courage.
Something I admittedly didn't have a lot of. I let fear deter me from pursuing a lot of opportunities. It was like the sting of rejection and failure was hovering over me as I worked toward my goals, which always seemed so far away.
And then, I got some great advice from my cousin D to "do it afraid." It stuck with me. That change in perspective characterized 2013 for me, which was full of risks in my career and personal life. Here are some that paid off that I'm particularly proud of.
1. Writing for Elle
This year, my career as a writer went to heights I never imagined when I was daydreaming about a fancy New York City job as a child. I was published in on ELLE.com! I remember tearing pages from Elle to hang on the wall in my bedroom in New Jersey when I was a teenager. It's still so surreal. Right now, I'm working on a project for one of my favorite magazines of all time that I'll share with you guys in 2014 (so excited!). I'm glad I pursued opportunities with these mags and just believed that it would happen for me regardless of how many times I was rejected or deterred.
2. Our Crawls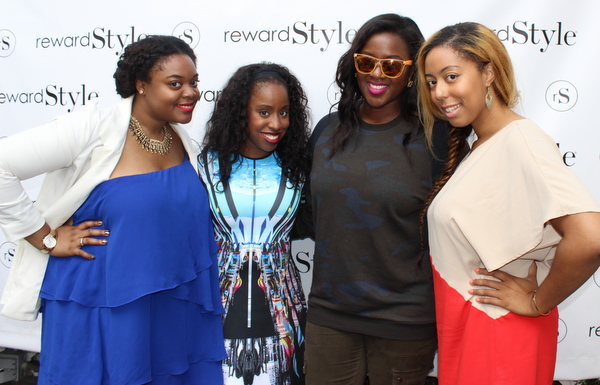 What just started as an idea between four friends, Danielle of The Style and Beauty Doctor, Christina of LoveBrownSugar, Lexi With The Curls and I, blossomed into a real franchise with our crawls. Through the #NYFWCrawl and the #NolaCrawl, we shared our dynamic experiences at Essence Music Festival and New York Fashion Week with you guys.
And though there was no real precedent for our crawls, it was worth the risk to try something new within the blogging arena. Looking back at its success and looking forward at all the exciting things we have in store for 2014, I'm so glad we took the leap of faith to get our crawls started.
3. Street Style to InStyle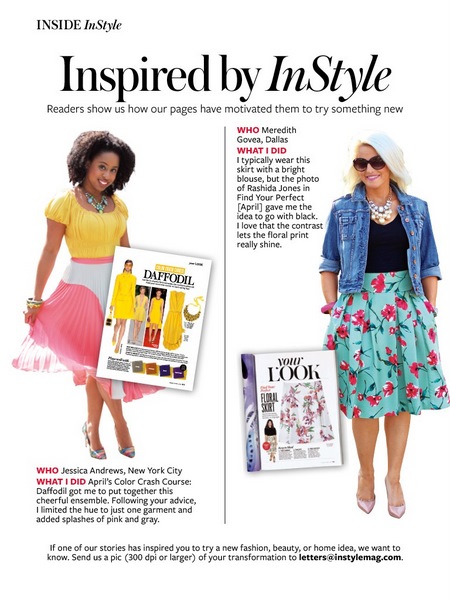 In my Cocotique feature, I spoke about the fear I felt when I first started shooting outfits (would anyone like them?! would people pick me apart?). I'm so glad I had friends like Christina to encourage me to get over it.
Now, I look forward to my outfit posts and have a blast putting them together for the site. And the response has been overwhelmingly positive. It's opened doors for me, from a feature in InStyle (that taught me a lesson on being persistent and optimistic) to an article on Hello Beautiful about wearing a skirt five different ways.
4. Evolving as a Blogger
Style is viewed as shallow by most people, but I'm always in my feelings about it. The fact that images of beautiful women with different body types and hair textures encourage me to fall more in love with my body and my hair is super deep to me. Nothing shallow about that.
This year, I strayed away from the run-of-the-mill coverage about style and wrote more about the deeper things that make me tick like the way Iman courageously wore dreads to a Vogue shoot so that various hairstyles were represented or how Janelle Monae made a choice to not sell her body along with her music to show young girls there's another way to get noticed.
Both ladies, who don't know me from Adam, were pretty moved by my words. Iman tweeted this: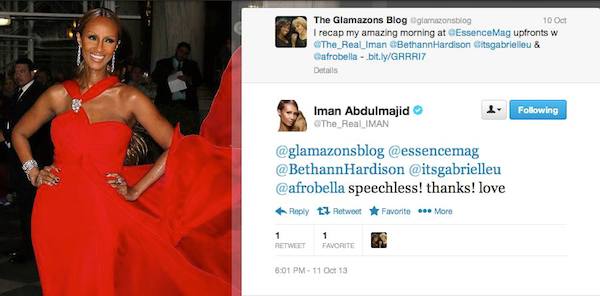 And Janelle Monae shared a link to this story about her Essence dinner, out of all the coverage on the internet about it.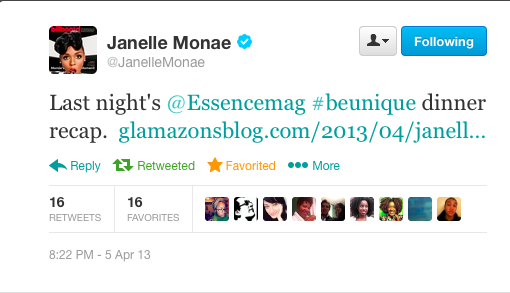 To me, that was confirmation that my words meant something to them, and that makes me proud. Though I love covering fashion, shopping and celebrity style (and will continue to!), this year, I'm going to write more about the things I'm passionate about as well and I hope it connects with you, too.
5. Being More Adventurous
The risks I took this year weren't solely in my career. I went to a church retreat for the first time and was so scared not knowing what to expect or having a lot of friends there: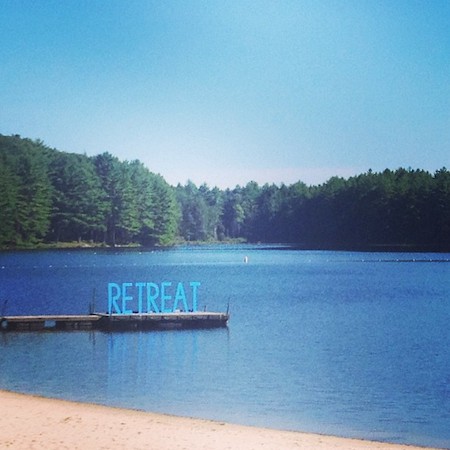 It ended up being a life-changing weekend that helped me grow spiritually in so many ways.
Though terrified at first, I went snorkeling in deep water with my family and saw the most breathtaking colors and fish: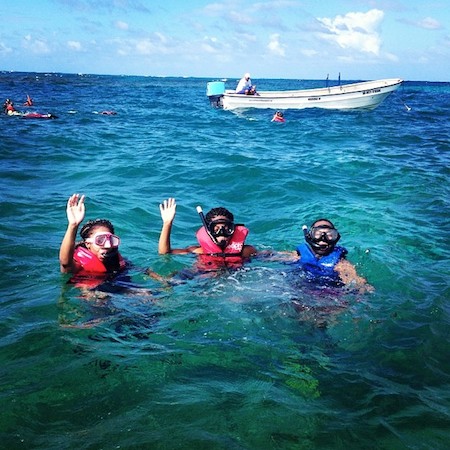 Speaking in public is still scary to me but I swallowed my fear and spoke on a panel at the Let Your Hair Down expo. Not only was I comfortable but I felt like I was in my element talking to the crowd. That was groundbreaking for me!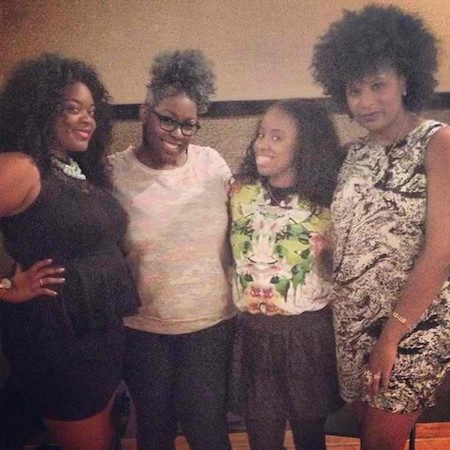 What lessons did you learn in 2013? How did you evolve? What are your goals for 2014? Tell me in the comments.
And by the way, I'm in awe of how much my vision board (which is my screensaver on my phone) helped me visualize my dreams coming true this year. Stay tuned for a post on vision boards in the new year!
Happy 2014, Glamazons! Love you, mean it!
Glamazon Jessica
View Related Posts:
[fbcomments width="600" count="off" num="15"]