GLAM SCOOP: Announcing Peter Pilotto for Target, Chrissy Teigen Weds in Vera Wang and Scandal Season 3 Promo Pics
Monday, September 16, 2013
Glamazons,
New York Fashion Week is officially over – what am I going to do with myself for the next five months (besides reminisce by looking at the #NYFWCrawl hashtag)? *Sighs* Until then, I guess I'll just keep myself busy shopping my fave designers' new pieces which won't be difficult at all, lol!
Anyway, in the meantime, let's chat about the latest in beauty and fashion. Here's the scoop!
Announcing…Peter Pilotto for Target!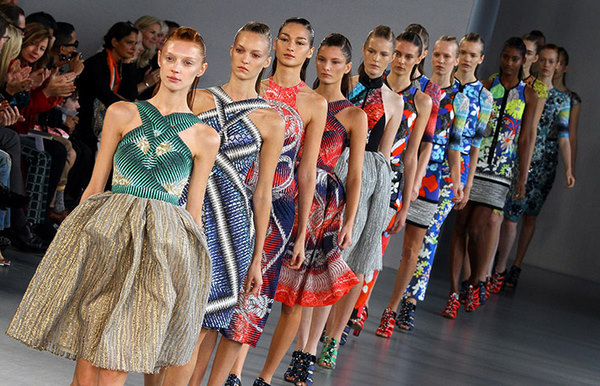 Ahhhhh! We just finished shopping Phillip Lim for Target (literally…we spent all day yesterday online and in stores) and already, Target is announcing their next collaboration.
They're producing a line with none other than…Peter Pilotto! GAG GAG GAG.
Yes, that Peter Pilotto behind the brilliant prints spotted on Kerry Washington, Jada Pinkett-Smith and Beyonce that the entire fashion industry goes crazy over.
The dresses cost thousands, but the Peter Pilotto for Target collection of 70 pieces is all under $80. And it will include swimwear, as well as Womens Apparel and Accessories. *squeals*
Here's what Peter Pilotto designers, Peter Pilotto and Christopher De Vos, had to say via Target.com:
"By working with Target, we're able to broaden our reach and bring our design aesthetic to an entirely new audience," said Peter Pilotto. "This is a pivotal moment for our brand. Our collection for Target embodies the elegance and spirit of our own line, but makes it accessible to everyone," added Christopher De Vos.
It launches on February 9th at Target.com and most Target stores in the U.S. and Canada AND NET-A-PORTER will offer the collection to international fans. How freaking amazing!
Check out a teaser video discussing the collab here:
–

–
And get more info here. Are you as excited as we are? [SheFinds]
And about the Phillip Lim for Target collaboration…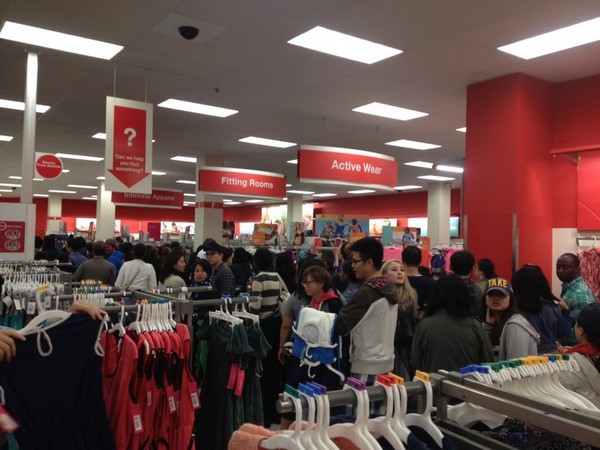 Despite already shopping the pre-launch party event with Solange Knowles, Glamazon Jessica got up early Sunday morning to shop the Phillip Lim for Target collection online (she scored the leopard print sweatshirt and skirt and the oversized carry all bag). What?! She did tell you she had a long wishlist.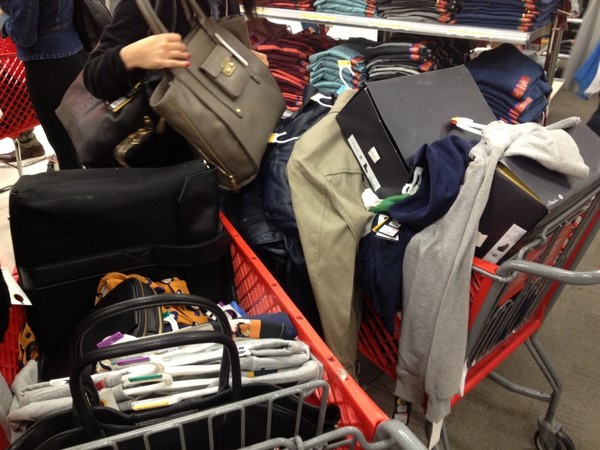 After shopping online, she went over to Target at 6 in the morning with Danielle of The Style and Beauty Doctor — and what happened next is straight out of "The Hunger Games." In fact, Danielle recapped their outing like it was a scene from "The Hunger Games" with a crowd of "Career Tributes" (crazy Target shoppers) and "Peacekeepers" (the Target employees).
Luckily, they made it out alive, with the sweatshirt in "Boom Print" and large travel bag. But read about their shopping adventure here. [Style and Beauty Doctor]
Chrissy Teigen Weds John Legend In Vera Wang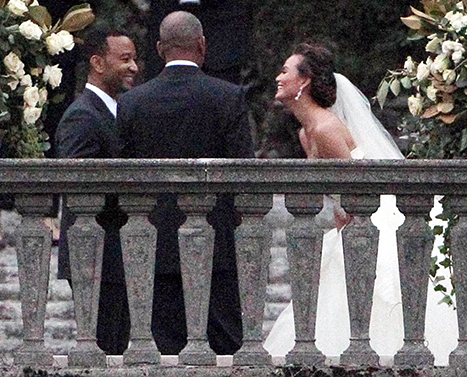 John Legend and Chrissy Teigen are finally hitched! The long-time couple tied the knot in Italy this past Saturday.
Mr. and Mrs. Legend were surrounded by family and friends, including Kanye West and Stevie Wonder. Actress and model Brooklyn Decker was the maid of honor and Biz Markie helped DJ the celebration.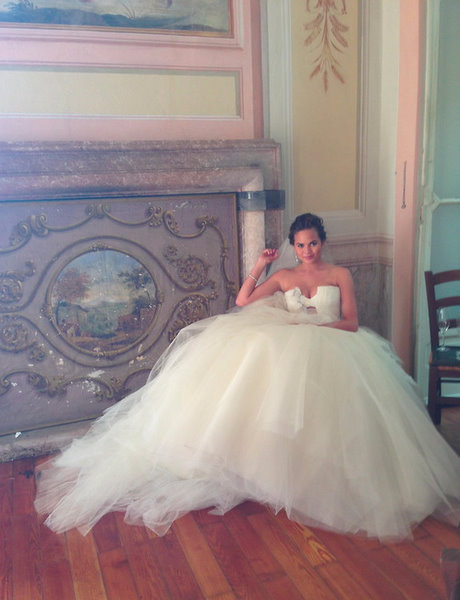 And now for the dress – or should I say dresses? –  Chrissy wore three Vera Wang gowns to her wedding.
We've got the deets below from Vera Wang's folks:
"The ceremony gown was an ivory strapless open back, V-neck ballgown with lifted tulle skirt and tiered flange, hand-cut petal embroidered detail. The reception gown was an ivory strapless mermaid gown with micro pleated bodice and sheared organza full skirt. The after party gown was a crimson strapless mermaid gown with hand-draped bodice and inverted flange skirt with embroidered crystal wheat detail."
Chrissy is one lucky gal, isn't she? *Sighs* I'm jealous, lol! Can't wait to see more pictures! [GlamazonsBlog Mail]
Kelly Rowland Covers Shape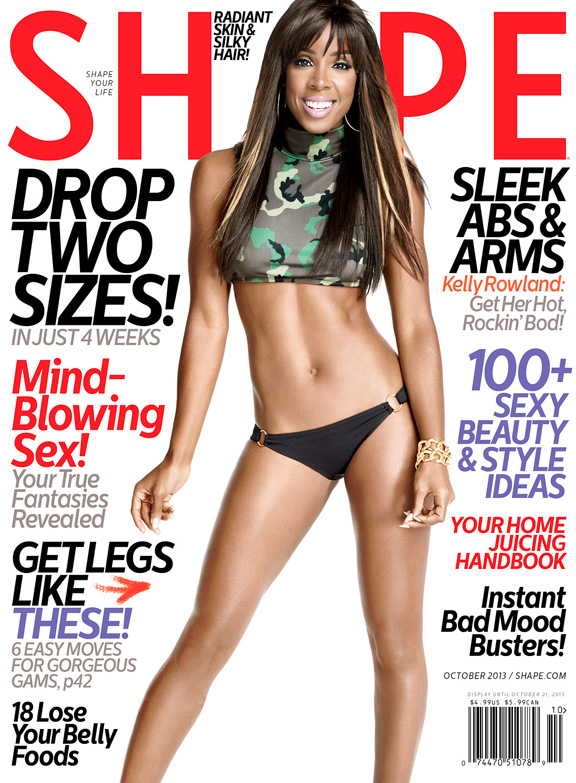 Kelly Rowland is flaunting her killer body on the cover of SHAPE's October issue.
Posing in a camo-print crop tank and a black bikini bottom, the new X Factor judge spills some of her secrets for getting fit and toned. And I'm taking notes. I mean, did you see those abs?
Check out a few excerpts from the story, written by Ashley Ross:
On her workout routine:
"I work out five or six times a week. I feel better, look better, sleep better. As I'm getting older, the Rowland family trait of having bigger bottoms is taking its toll on my hips and butt. The other day, [my trainer] had me doing squats that were so hard I wanted to kill her. But my behind is getting higher and tighter. Exercise really does change your body."
On her very strict diet:
"When I want a steak, I grill some Portobello mushrooms and put a little goat cheese on them. And I've learned to satisfy my sweet tooth by replacing Reese's Peanut Butter Cups with half a tablespoon of almond butter on half a banana."
Talk about some serious discipline! The issue is on newsstands now. Can't wait to pick up a copy! What about you? [Shape]
Rihanna's Steamy New Fragrance Ad Video
Glamazons, everyone – and I do mean everyone – is talking about Rihanna's sexy new ad for her third fragrance, "Rogue." Have you seen the video yet?
In the clip, Rihanna is seen wearing the slinky spaghetti strap black dress from the ad (above) while posing seductively on a chair. The shots are interspersed with behind-the-scenes clips of RiRi arriving at the photo shoot, picking out her look and more. Check it out below:
–
–
HOT, right?
Here's what Rihanna had to say about the inspiration behind "Rogue": "People are always changing and evolving. And with Rogue, I wanted to switch it up to reflect who I am today. It's a personal fragrance that's more self-aware. It's rogue, it's me."
You can shop Rihanna's new fragrance here and receive a super cute – and free – clutch with your purchase!
What do you think of RiRi's newest fragrance ad, Glamazons? [People StyleWatch]
Lady Gaga For Elle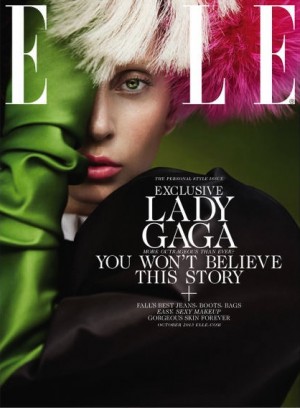 Lady Gaga is back! Her newest single "Applause" is burning up radio stations everywhere. I'm sure all the little Monsters (including Glamazon Jessica) are going crazy right now.
And though Mother Monster technically made her comeback last month, something about her ELLE October cover makes it official.
Check out the ethereal-looking shots lensed by filmmaker Ruth Hogben:
Cool, right? Here are a few excerpts from the story, written by Nojan Aminosharei:
On handling pressure:
"What are you talking about, pressure? I'm great under pressure. I'm a warrior. I'm Rocky, round 12."
On the difference between her onstage and offstage personas:
"I am—Stefani is—a perpetually tortured artist. That's why I changed my name. I can't be her in public. She would be a mess!"
On her new album Artpop:
"I went to look back to myself being 19, with all my Warhol books and all my Yoko Ono and John Lennon CDs, my Rolling Stones CDs and my Bowie…, and I said, what would she want me to do right now? Well she'd want you to call Jeff Koons and Robert Wilson and Marina Abramović and Inez and Vinoodh…And that's what I did!"
Can't wait to read the full interview! The issue hits newsstands September 24th. Will you be picking up a copy? [ELLE]
#NYFW Tickets Are Going For $1,000 On Craigslist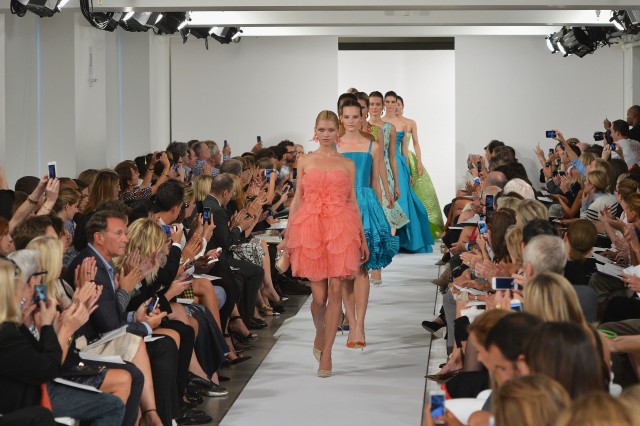 Some people will do anything to get into #NYFW (myself included, lol). But would you be willing to dish out a thousand buckaroos?
Apparently, some people would! According to reports by both The Daily Mail and BuzzFeed, two tickets for Friday's Vera Wang show were posted on Craigslist for a wopping $1,600. Smaller shows like Custo Barcelona and The Academy of Art Institute show were also listed for a hefty $500 each.
Glamazons, you know how much I love fashion but I honestly can't see myself dishing out hundreds – or perhaps thousands of dollars – to see the latest collections before anyone else. Could you? [Fashionista ]
Check Out The Scandal Season 3 Promo Pics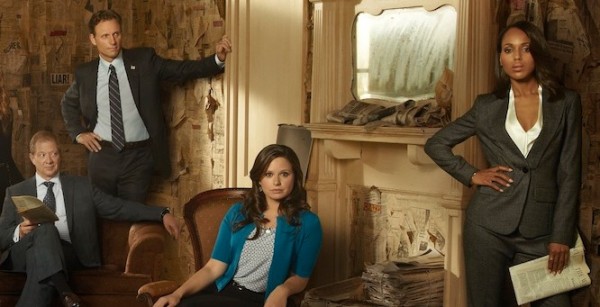 Glamazons, "Scandal" is almost here! *jumps up and down with joy*
ABC released Season 3 character photos to go alongside the promo that debuted a few weeks back. And just like the teaser video, the photos are very telling.
Check them out:
Olivia Pope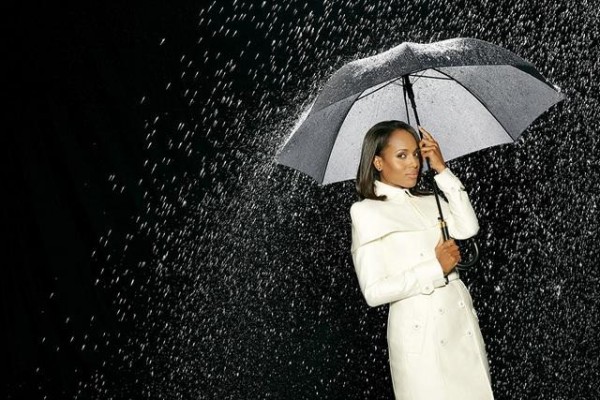 President Fitzgerald Grant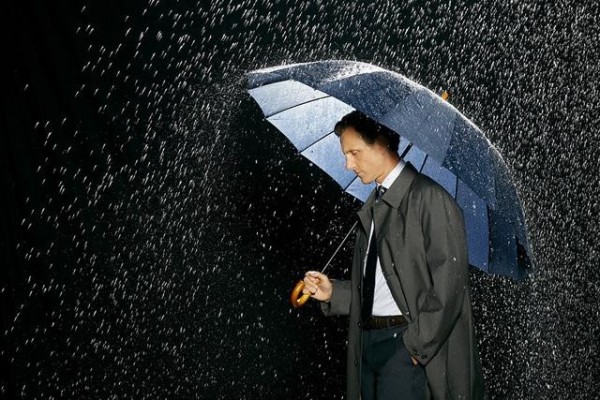 Cyrus Beene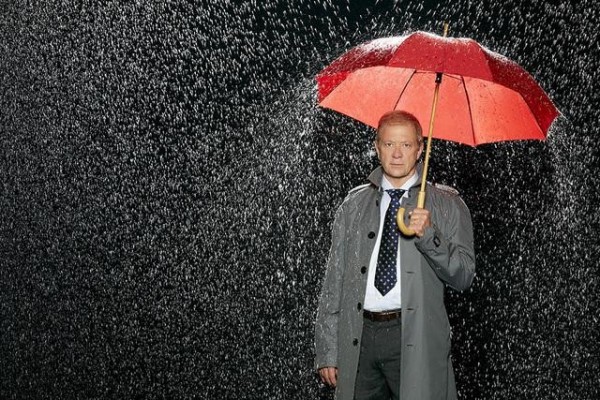 Harrison Wright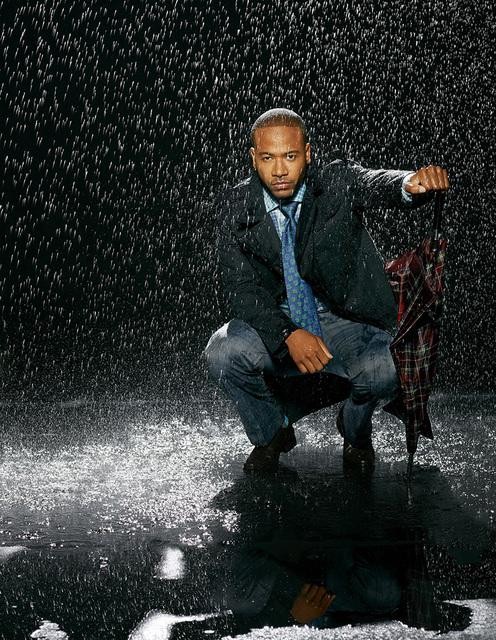 Mellie Grant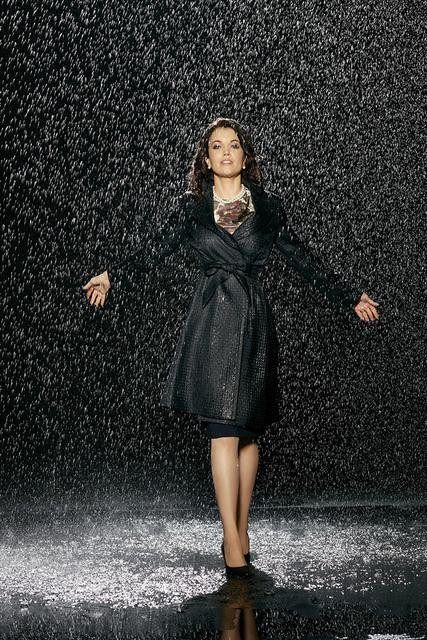 Quinn Perkins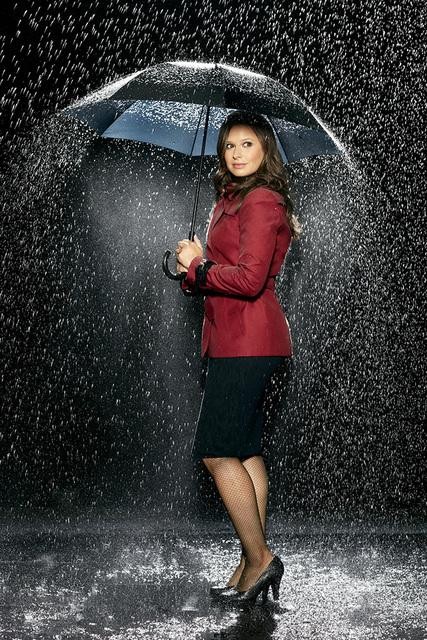 Abby Whelan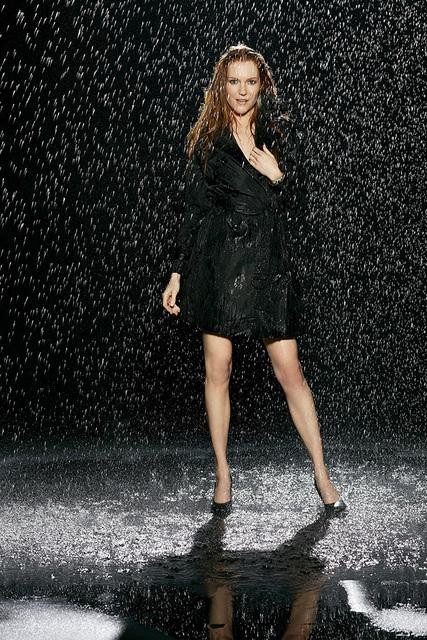 Huck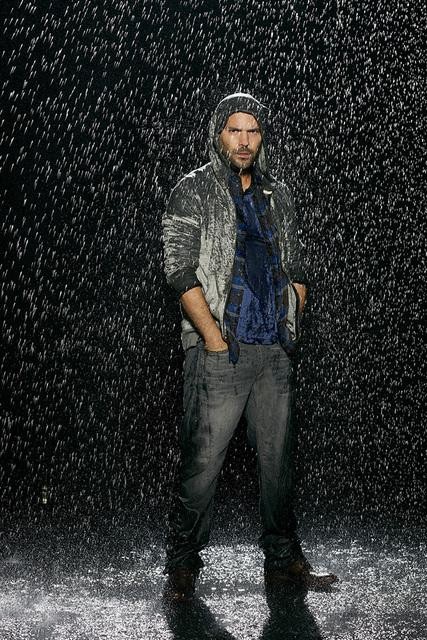 Call me crazy but I think the rain is supposed to symbolize the dreary conditions the characters will have to face this season. The storm is coming!
Despite all of the major drama Olivia Pope will have to face, I'm sure she'll handle it like the pro that she is, and look fabulous while doing it (as evidenced by her wearing white and looking perfectly poised in her rainy photo).
Will you be tuning in Thursday, October 3 when "Scandal" returns? [Hypable]
Until next time!
Smooches,
Glamazon Princess
View Related Posts:
[fbcomments width="600" count="off" num="15"]