GLAM SCOOP: Kerry Washington's Full Vanity Fair Spread, Rihanna's New Fragrance and Sneak Peek at Sephora's Massive Nail Polish Collection
Tuesday, July 2, 2013
Glamazons,
Hope you had a fantastic weekend! Mine was pretty laid back for a change. Did anyone else check out the BET Awards Sunday? I really enjoyed the Charlie Wilson tribute (R. Kelly's performance wasn't too bad either)!
Anywho, it's time to catch up on the latest in beauty and fashion! Let's get right into it!
Kerry Washington Slays The Cover of Vanity Fair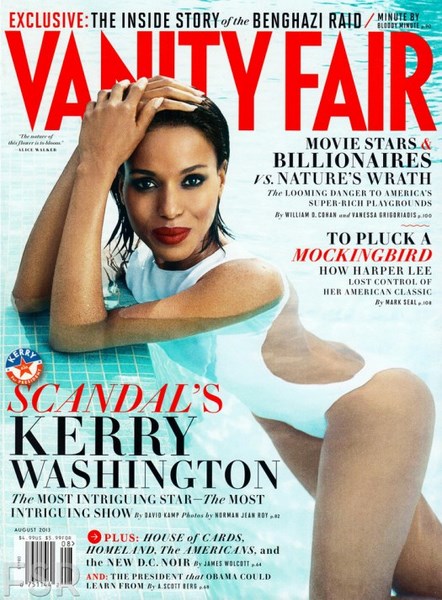 Finally, our dear Kerry Washington Olivia Pope is getting the praise she is due! She looks gorgeous — drop dead gorgeous — on the cover of Vanity Fair.
Get into these iconic shots shot by Norman Jean Roy, Glamazons!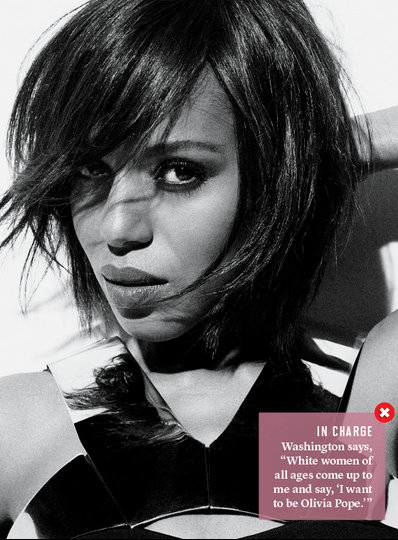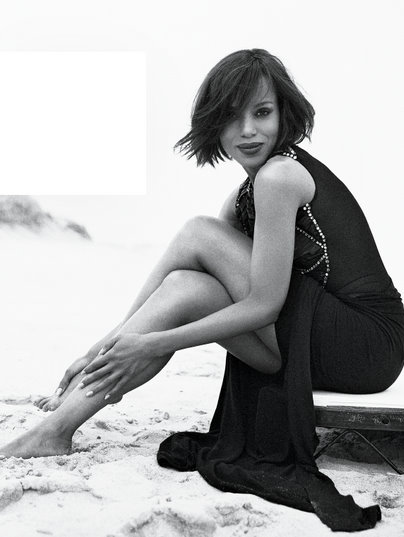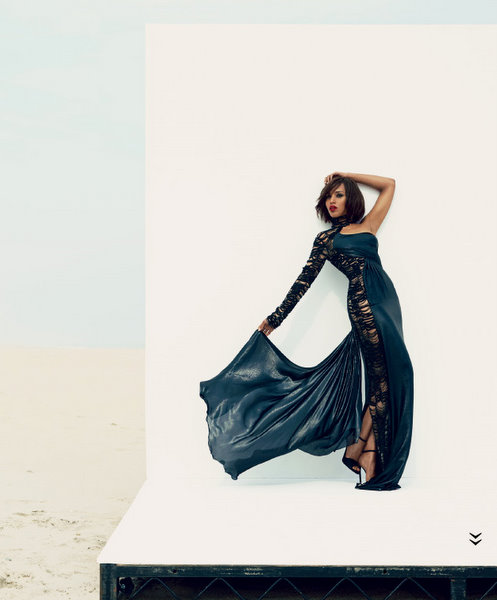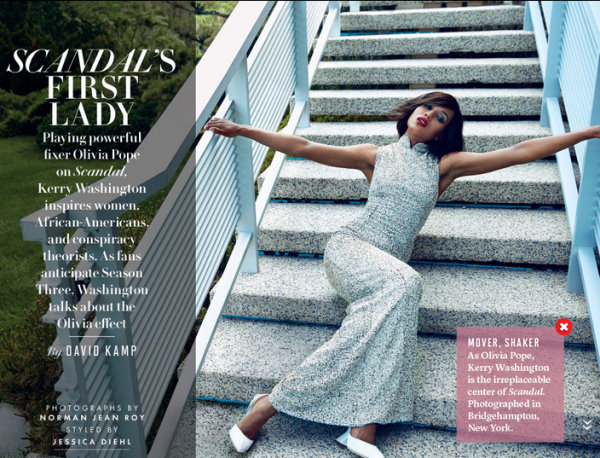 This marks Kerry's first cover for the magazine, and being that she was just on Elle, Vogue just has to be next. Don't you agree?
Styled by Jessica Diehl, Kerry wears a Lanvin Spring 2013 white bodysuit on the brilliant cover.
Check out a few quotes from the story, written by David Kemp:
On white women loving Olivia Pope:

"One of the most profound things for me about the show is the number of white women of all ages who come up to me and say, 'I want to be Olivia Pope.'"
"It's especially profound in a place like South Africa," she continues. "It's called The Fixer over there, and it just started its second season. The fact that white women can see this woman of color as an aspirational character is revolutionary, I think, in the medium of television. I don't think white women would feel that way about Olivia if her identity as awoman, period, wasn't first in their mind."
On what she loves about her Scandal character:
"What I think is cool about Olivia is that she fully owns being a woman. There's a very nurturing sense of 'I'm going to take care of you—don't worry about it. I'm gonna be your mom in this situation. You come stay in my office, have a cup of tea, and let my gladiators take care of you.' There's something very maternal about it. But there's also something very executive about her, and I mean 'executive' in a presidential way."
On why she's so passionate about politics:
"My becoming a voting citizen was celebrated the way other people would celebrate a Sweet 16. My parents took me out to dinner, and we talked about who I was going to vote for."
Tell us: how in love are you with this shoot? [Scandal Moments]
First Look at Rihanna's New Fragrance!
Yep, that's right! After launching three very popular fragrances in the last couple years, Rihanna is releasing yet another fragrance, Rogue. The fragrance will be in two installments, first women's, with men's following shortly after. Rogue is expected to hit stores this fall. We can't wait, RiRi! [Love B Scott]
Get into Rebecca Minkoff's New Denim Collection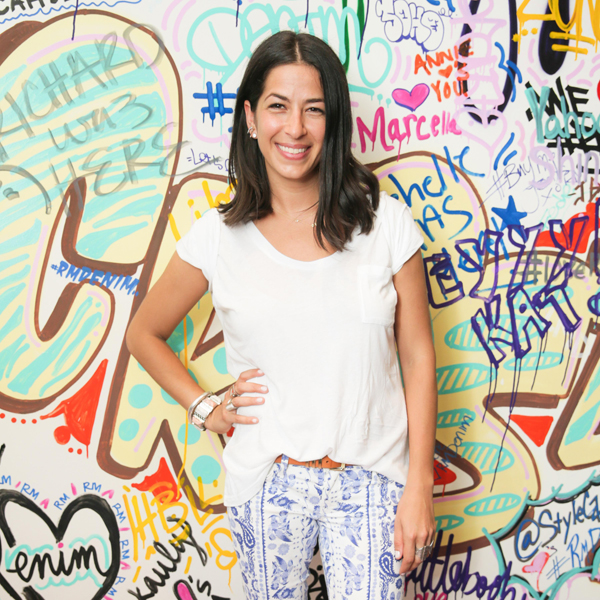 Designer Rebecca Minkoff released her first-ever denim collection last Wednesday.
Minkoff told Fashionista: "I love denim and I wanted to give my customer another casual staple to add to her wardrobe."
The collection (ranging between $48-$128) includes three styles of jeans and two styles of shorts. Side note: I might just have to pick up a few pairs. Hey, you can never have too much denim in your life right, Glamazons?! [Fashionologie]
Butter London Releases Neon Nail Polish Collection Inspired by London Fashion Week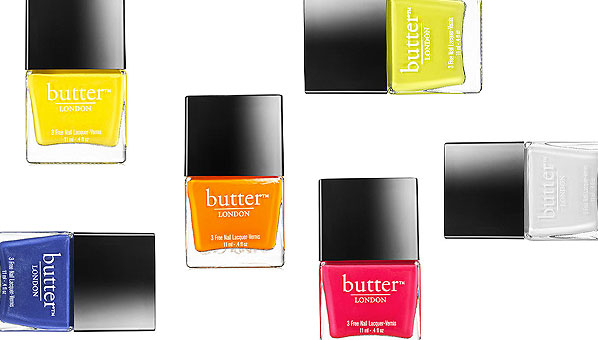 More exciting news for nail polish junkies like myself! butter LONDON just released its fall Colour Clash Collection, and if shocking pinks, oranges and yellows are your thing, then you'll love this collection.
The six neon shades were inspired by the bold, unexpected colors seen during London's Fashion Week. The butter LONDON Colour Clash Collection ($15 each) is now available in stores and online.  I'm loving it, Glamazons! Are you? [She Finds]
Well, This is a Celebrity Line We Didn't See Coming: Kate Moss is Designing Cell Phone Accessories
Supermodel Kate Moss is teaming up with UK phone dealer Carphone Warehouse to design cell phone accessories.
Kate says: "My phone's as much a part of my look as my bag or shoes, and yet there's so little choice out there. My whole approach was to treat this as any other fashion collaboration; I was heavily involved in the design process and loved seeing my vision come to life in the final product." 
The Kate Moss Accessories Collection will launch later this summer! [Elle]
MAC Cosmetics Announces Two New Collections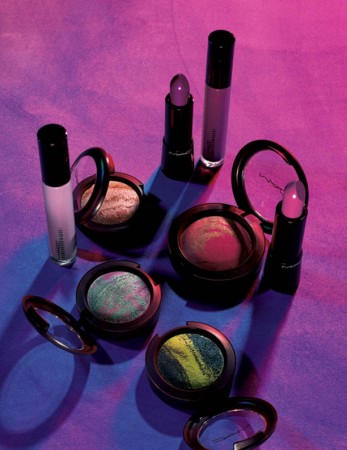 If you're anything like me, you probably spent a good chunk of time surfing the web this past week trying to find swatches and reviews of the new RiRi Loves MAC collection. And because MAC wants to drive me crazy, they're releasing two additional collections: MAC Tropical Taboo and MAC Illustrated.
MAC Tropical Taboo is a new limited-edition color collection, and just the name alone makes me want to go out and purchase it! But in all seriousness Glamazons, the different shades of lipstick, skinfinish, blush and eyeshadows are absolutely gorgeous, reminding me of a beautiful sunset.
MAC Illustrated, a limited-edition collection of makeup bags, was designed by Anja Kroencke and Indie 184. While working their magic, they ended up as MAC puts it, "transforming M·A·C makeup bags into mini-masterpieces."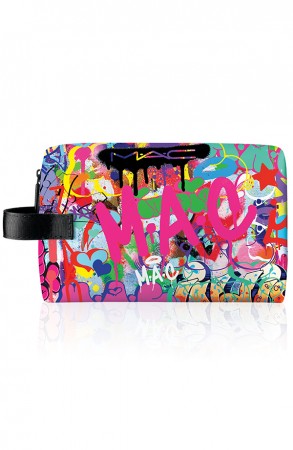 MAC Tropical Taboo is available online now and in stores June 27 through August 11. MAC Illustrated will be available online July 2 and in stores July 11. Will you be picking up these collections? [Style and Beauty Doctor]
Feast your eyes on Sephora's New Massive Nail Polish Collection!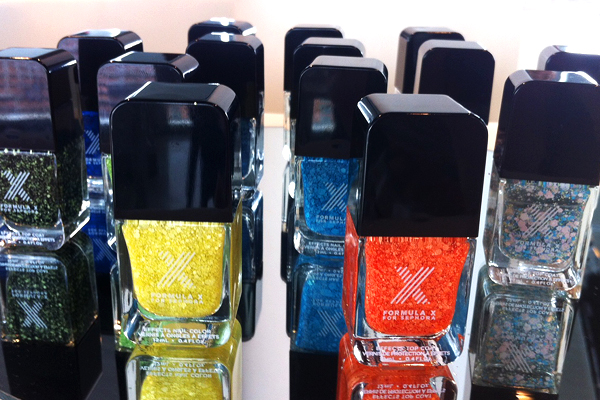 Sephora is stepping up its game and in a huge way! The beloved beauty retailer is launching Formula X, a line of over 200 nail lacquers. With everything from classic shades to metallics, this collection has something for every Glamazon!
The collection (ranging from $10-$14) officially launches in September and will be available at all Sephora stores and online. [Fashionista]
Smooches,
Glamazon Princess
View Related Posts:
[fbcomments width="600" count="off" num="15"]