GLAM SCOOP: Beyonce for Flaunt Magazine, First Look at Isabel Marant for H&M and Win a Shopping Spree at Victoria's Secret!
Wednesday, July 10, 2013
Glamazons,
I hope your Fourth of July was super fun! Mine consisted of spending the day with family and eating good barbecue while watching "The Twilight Zone" marathon (a tradition in our house). I had a blast, but I still managed to squeeze in a little time to finish up an article I started earlier last week – I guess you could say I'm a little bit of a workaholic.
But enough about me already! I know you're ready to catch up on the latest in beauty and fashion, so here we go!
Beyonce Flaunts It for Flaunt Magazine
If you got it, flaunt it. Boy, I know you want it…
Beyonce rocked an iconic photoshoot for Flaunt Magazine's July 2013 issue.
Experimenting with hair, jewelry and body makeup, Beyonce looks more stunning than ever.
And that body is rocking!
Here's an excerpt from her interview via Necole Bitchie:
Flaunt: Gay men are drawn to you and empowered by you, as they have been to "gay icons" Judy Garland, Barbra Streisand, Cher, and Madonna. What is it about you, and those women, that gay men love?
Beyonce: "I'm flattered if I'm in the company of those great women. I think they love that we are bold, unafraid to love, and flaunt our sexuality and strength."
Flaunt: Some were critical at your participating in a Pepsi campaign after you moved your body for childhood obesity. Where is the balance between your career objectives and your philanthropy?
Beyonce: "Pepsi is a brand I've grown up seeing my heroes collaborate with. The company respects musicians and artistry. I wouldn't encourage any person, especially a child, to live life without balance. When you work out, take care of your body, rehearse as hard as I rehearsed in the commercial, I think it's great to have a Pepsi or Diet Pepsi when you want one. It's all about choices."
Flaunt: Millennials make up a huge part of your fan base. Thousands of them have responded to your Instagram hashtag #beygood to promote goodwill. How do you feel about the media's take on youth as the "me me me" generation, or a generation of "slack-tivists" [people who are activists online but not in the real world]?
Beyonce: "At my concerts I see the opposite. They are engaged in making a difference. We have collected tons of donations that will go towards creating jobs and helping people get jobs. That's something I want to celebrate. For Chime for Change we raised awareness and over $4 million in one day for equal rights for girls everywhere. So many people at that concert were young. They are more socially responsible than they get credit for."
You have always carefully sculpted your image and controlled public access to your off-stage life. Is there anything to envy about stars who don't care about safeguarding their private lives?
I have chosen to keep certain aspects of my life private. But I also love sharing what makes me happy, especially through photography.
Is there a sex scandal in history that you find not so scandalous, and instead just kinda awesome?
Antony and Cleopatra. The legend of that love affair affected history and lives to this day.
Flaunt: A number of magazines list the top X number of ways to please your lover. Anything missing on these lists typically?
Beyonce: "If you have to read those lists, you're already in trouble."
Flaunt: What bores you?
Beyonce: "Lack of creativity."
What do you think of her shoot, Glamazons? [EverythingYNTK]
The Rock heats up Essence Magazine
–
That's right, ladies!
Dwayne "The Rock" Johnson
is steaming things up in the August issue of
Essence Magazine
. Sporting a navy blue, form-fitted t-shirt (man, is it getting hot in here, or is it just me?),
The Rock
is revealing a much more vulnerable side. *swoon*
Check out a few quotes from the story, written by Essence senior writer and friend of The Glamazons, Jeannine Amber:
On what he wants in a relationship:
"I want someone who can trust that my big hands are going to take care of them."
On how his divorce helped him become a better man:
"I want to be a man who is truthful and who won't let pride get in the way of my ripping myself open to my partner and saying, 'Here I am. This is me.' I feel there's something powerful when a man reaches a point in his life when he can be completely vulnerable."
Love it!
The August issue of Essence is on newsstands now. Ladies, get ready for some serious eye candy! [Essence]
Check out Taylor Swift's collection for Keds!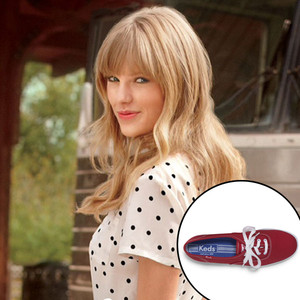 Taylor Swift's summer collection for Keds was such a hit that she's creating yet another collection for fall. The shoes are classic with a feminine touch featuring lace, polka dots, paw prints and sequins. Check out some of the shoes below: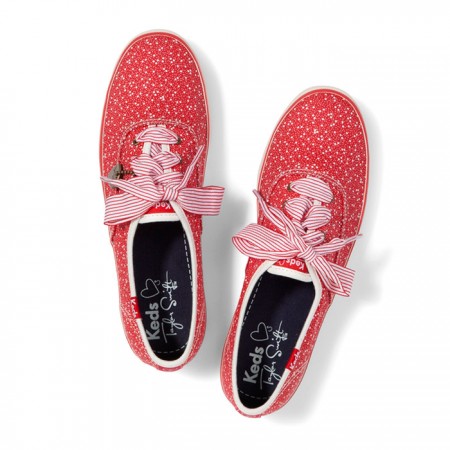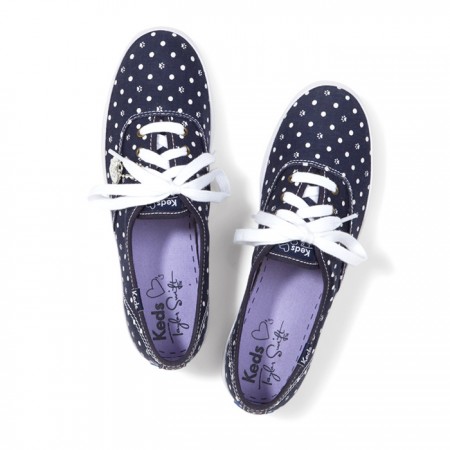 Adorable! The collection is already available online and ranges from $50-55. Will you be sporting a pair? [Styleite]
ModCloth introduces Plus-Size Fashion!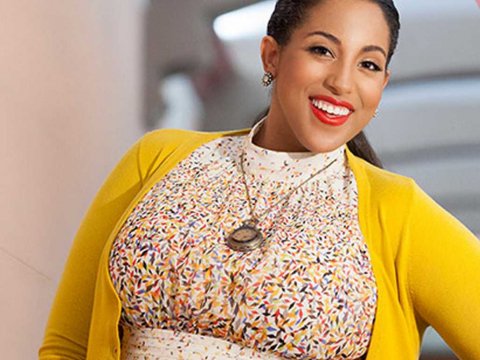 ModCloth, the go-to place for all things vintage, has finally expanded their online store to include plus size fashion after receiving an overwhelming amount of customer feedback.
I'm happy to report the pieces (available in sizes 16-30) are stylish and not in the least bit frumpy! Will you shop the new line, Glamazons? [Vibe Vixen]
Kanye West is Designing a Menswear Line!
Glamazons, when I heard this news, my first thought was "whaaaaaat?" But on second thought, it isn't that shocking that Kanye West is designing a menswear line. After all, he's always had fun and taken risks with mens fashion so penning his own collection seems overdue.
The rapper and new father is collaborating with French brand A.P.C. to create a line of jeans, t-shirts and hoodies. Here's a photo of the tag from the jeans that first appeared in Vogue France:
Cool, I guess? The A.P.C. Kanye Capsule Collection will go on sale July 14. Are you excited for it, Glamazons? [Time]
Rebecca Minkoff and Nivea Launch New Website, Style, Uncapped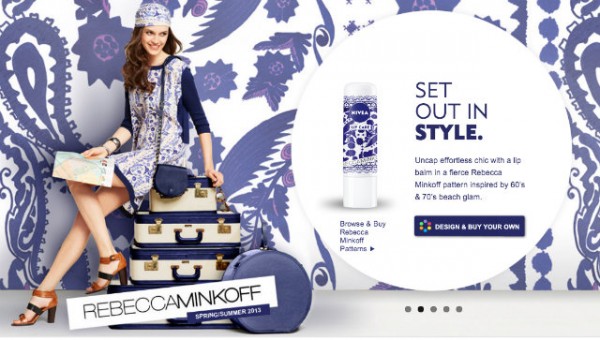 Designer Rebecca Minkoff teamed up with popular skincare brand Nivea to launch Style, Uncapped, a new website where customers can design their own lip balm caps by choosing from over 400 designs inspired by Rebecca's Spring/Summer collection.
One lip balm goes for $6 but if you're anything like me, Glamazons (and I'm sure you are), you'll want to buy five for $5 each or 20 or more for $4 each.
Who knew lip balm could be so fashionable? [Beauty Blogging Junkie]
Win a $1,000 Gift Card from Victoria's Secret!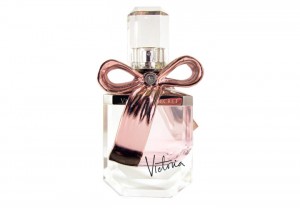 To celebrate the launch of their new fragrance "Victoria," Victoria's Secret is giving one lucky girl a $1000 gift card.
All you have to do is tweet or re-tweet @Cosmopolitan and @victoriassecret using the hashtag #ShoppingSpree and gush about your favorite Victoria's Secret beauty product, what you'd buy with a $1000 or why you love Victoria's Secret. Be sure to follow both Twitter accounts, too.
The contest ends July 30 at 11:59 p.m. EST, so tweet now — you can enter up to five times! Good luck, Glamazons! [Cosmopolitan]
First Look at Isabel Marant for H&M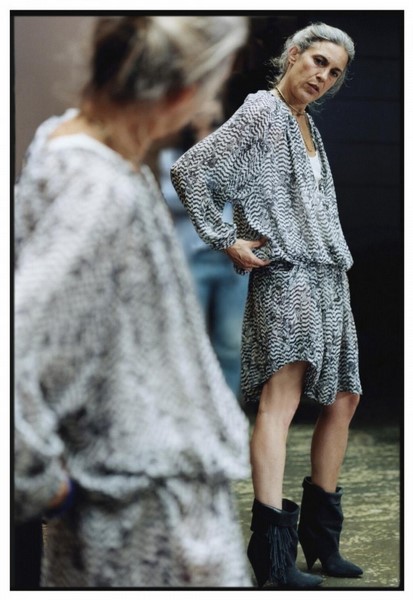 –
I love social media for moments like when H&M gives us all a twitter sneak peek of their new hotly-anticipated line. Followers got their first look at Isabel Marant for H&M in a twitpic that features the designer herself wearing a dress and boots from the collection.
The tribal print, loose-fitting dress is chic and the boots look trendy and super comfy. Are you excited for the collection yet? It hits stores in November. Obvs, we'll be first in line. [Fashionista]
Until next time!
Smooches,
Glamazon Princess
View Related Posts:
[fbcomments width="600" count="off" num="15"]