A Day in The Life: Essence Magazine Cover Dinner with Janelle Monae and Iman
Friday, April 5, 2013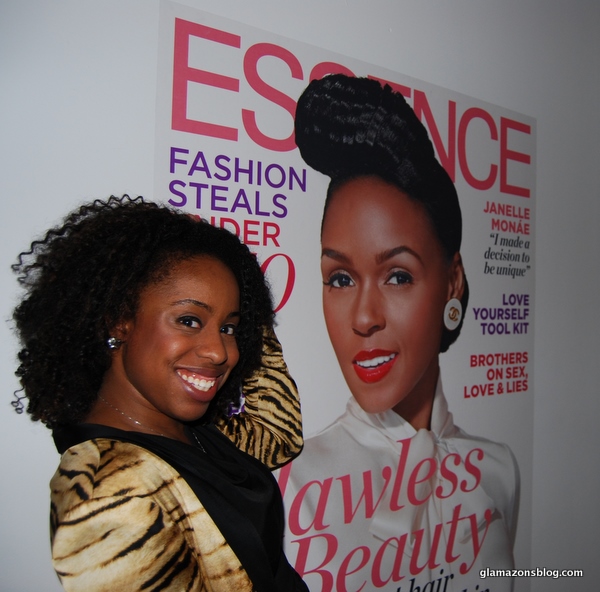 You know, some nights I really feel like NYC is a dream. Those nights are full of pinch-me moments when I can't believe my reality. Yesterday was a lot like that.
I was invited to dine at the Mondrian Soho, a spectacular hotel in downtown New York City, to celebrate Janelle Monae's first cover of Essence Magazine. Never did I imagine when gushing over the cover on Tuesday that I'd be able to share my congratulations with Janelle herself.
But as soon as I walked into the beautiful venue, which had a breathtaking view of New York City and was set up with purple flowers, white glasses and white plates rimmed with black, I got to meet Janelle for the first time.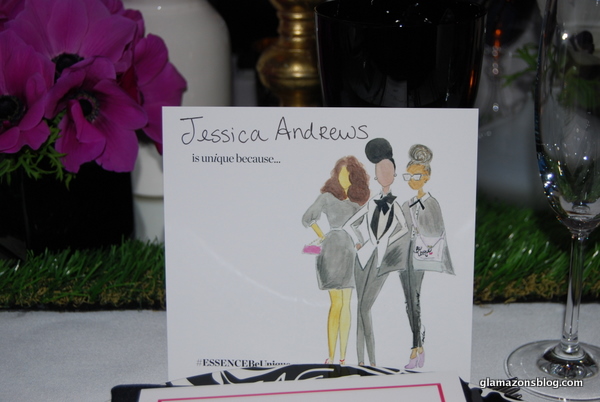 The name cards were so creative!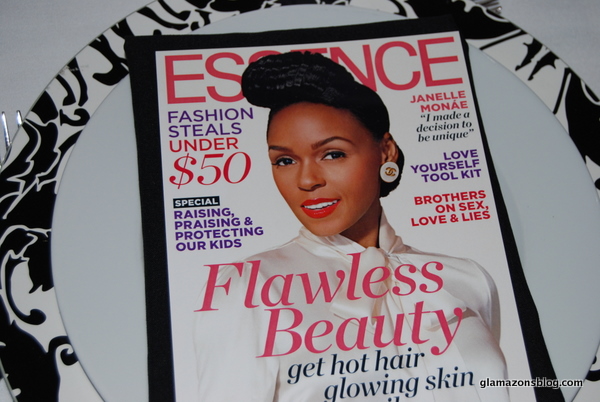 When she walked in, she teared up at the sight of the dinner set up to honor her (so sweet!).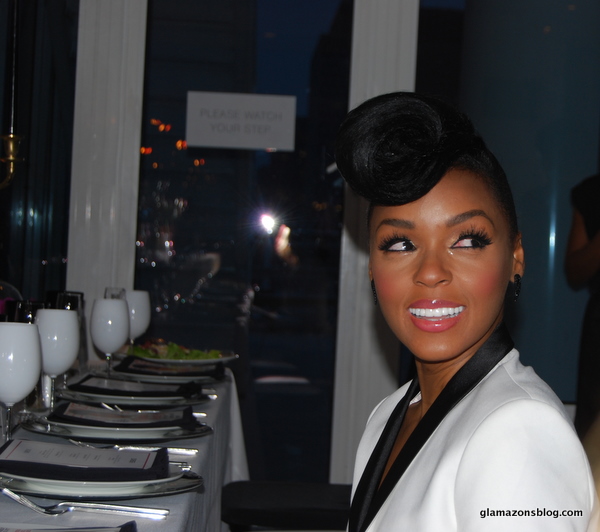 She chatted with me about natural hair (she loves how versatile it is!) and her belief that she doesn't have to show skin to make it in music (she joked she was "showing skin" that night in a white and black tuxedo blazer with a plunging neckline). (Werque!)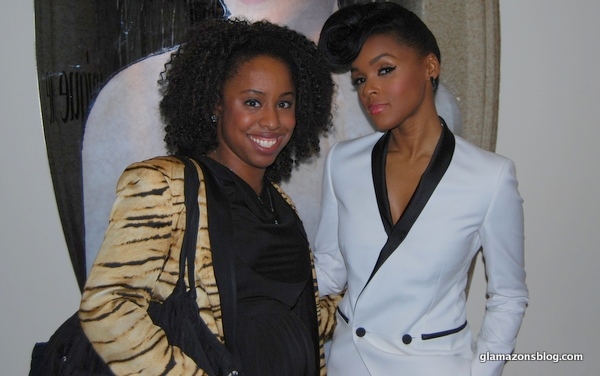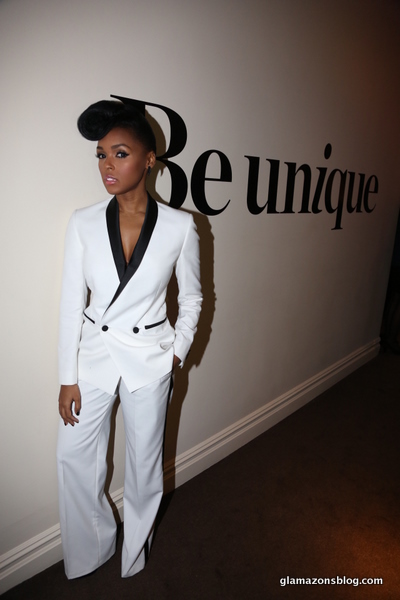 Soon, the room was filled with writers and editors I've always admired like Essence Magazine Editor-at-Large Emil Wilbekin, Entertainment Director Cori Murray and Managing Editor Vanessa Bush, Huffington Post editor Julee Wilson and The Fashion Bomb's Claire Sulmers. Fashion icons like Bethann Hardison and June Ambrose, beauty moguls like Iman and tastemakers like DJ Kiss also came out to support Janelle. What a crowd!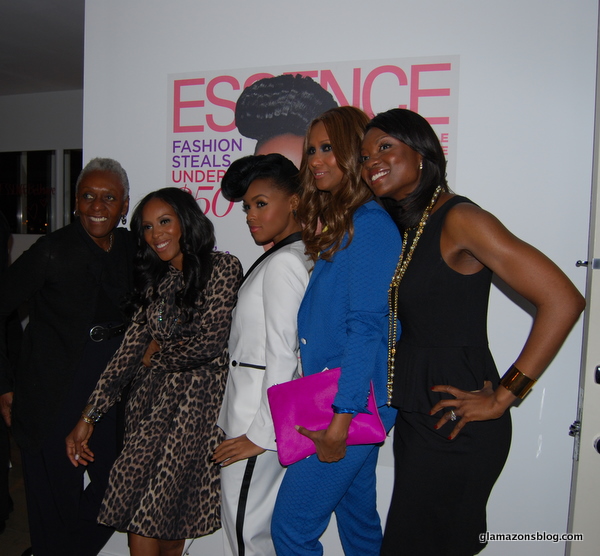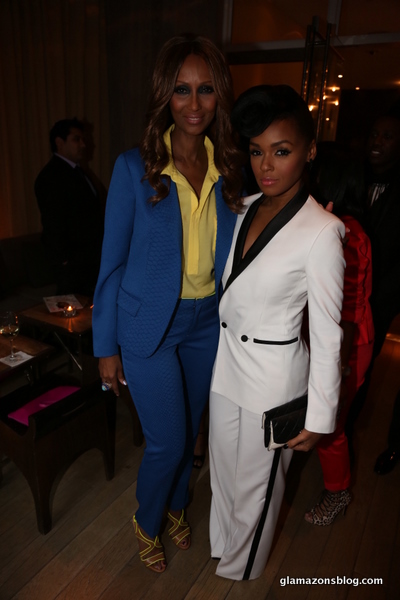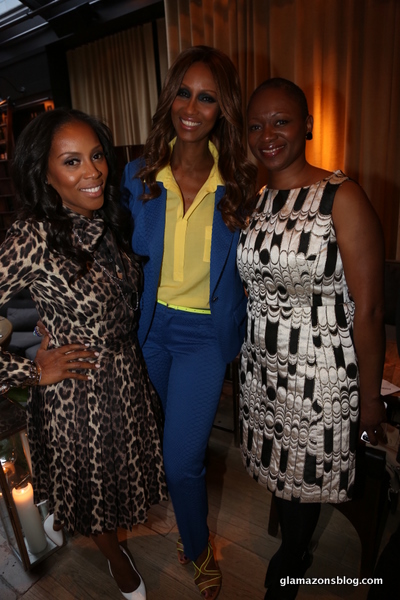 We ate salad, margherita pizza, alaskan halibut and the most delicious S'Mores of life (seriously, I engulfed mine in less than three seconds!). And then, we had a champagne toast led by Vanessa Bush and Janelle Monae.
That's where Janelle made me tear up, Glamazons (and I admit that's kind of easy).
Vanessa opened by saying: "We admire [Janelle] not only for her independent spirit, but also for her desire to serve as an example to young women. It takes a lot of courage in this day and age to say that I'm not going to show a lot of skin because I feel that it's not necessary. I can still be big in this business without it. We should celebrate her for that. Janelle, we are just so excited for you and really excited that you're going to be appearing at the Essence Music Festival. We know how electric your performances are and you're going to take the stage by storm." 
I couldn't agree more! What I love most about Janelle Monae is that she is genuine. The fashion industry can be so cutthroat and full of brown nosing and social climbing so it's rare to see someone whose heart is so pure and honest that they can break down in tears in front of a room of editors, beauty moguls and fashion icons. But there was Janelle Monae stopping several times during her speech to compose herself as tears fell from her face.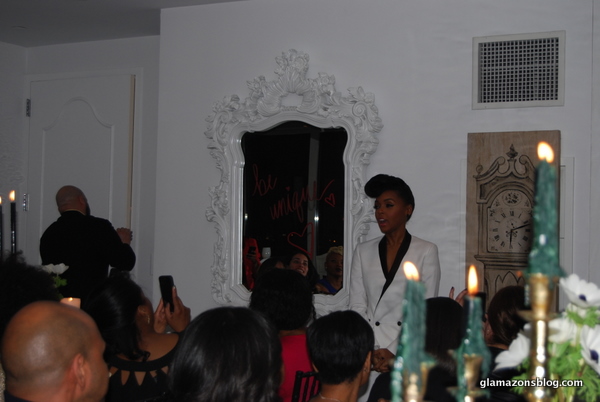 Here are some excerpts:
On Being Emotional Because of the Cover:
"I am just overwhelmed. I'm overjoyed. I came here with the intentions of just saying 'Thank you' and to be greeted with your time, your love, your genuine excitement around what it is that Essence has been so gracious in doing for me, it truly does mean more than I'm able to articulate at the moment. All we have are our testimonies, our stories, and I'm just going to try not to tear up. I'm an artist. I'm naturally emotional and very passionate. This didn't have to be my life. [starts crying and takes time to compose herself] I didn't plan on crying on a Thursday! But as you can see, I am genuinely moved, I am touched. I'm just very moved. I'm honored."
On Being Chosen For The Cover Out of Her Peers:
"There are lots of beautiful young women of color out there who would have been just as gorgeous or even more gorgeous on this cover. And for you guys to see something in me, for my story to connect in a way that you've allowed me to have this platform to tell my story to your readers, it's just something I won't take for granted. I want to continue to do what's right, and by what's right is continuing to lead by example."
On Having a Message for Young Girls:
"We don't know [she cries and pauses] when we'll exit. And I try to always keep that in mind when I'm given a day. It's a conscious decision to make. Sometimes, you can take for granted your days. I didn't have to have this life or answer to the calling that I just feel in my heart. I love making music but at the same time, I understand the importance of having a message and having something that you're bringing awareness to, something that other people coming up can be inspired by, something that can guide their lives, something that I can do to open up doors for young girls."
On Her Upbringing:
"I'm from Kansas and I grew up in a hard-working class family. My mother's last occupation was a janitor, my father delivered trash and my step father worked at the post office. So whenever I'm given these opportunities, I always keep that with me. I thank God for giving me that life because it just keeps me anchored and I'm able to have as much compassion as I possibly can."
On Living Her Dream and Inspiring Others To Live Theirs:
"I just wanted to say thank you so much to everyone at Essence. People are just really inspired by it, and it's just a dream that has come to reality. I look forward to continuing to partner and do things that can encourage our young girls to be comfortable in their own skin, to know they don't have to sacrifice or…they don't even have to be like Janelle Monae to be on the cover of Essence so there you go."
Her dream is a lot like mine. I remember first writing in Essence and then The New York Times and Vibe and am just so floored how I've lived things that I never thought were possible. Sometimes you need to give yourself the space to just have a good cry and take it all in while never forgetting the time when it was just a dream.
I was genuinely inspired by Janelle Monae and her accomplishments and I'm touched by her passion and humility. And so was everyone else in the room from Iman to Bethann Hardison.
And by the way, Janelle is stunning! Her skin is flawless, her (super-long) natural hair was styled perfectly in a pompadour and bun updo (get tips on re-creating it here) and her makeup was gorgeous.
Essence Magazine and Covergirl were so kind as to give us the products used on her beautiful cover look: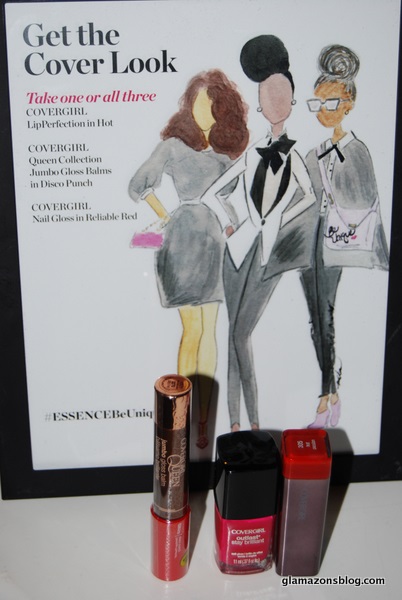 Pick them up here:
Overall, the night was a dream come true and I'm so honored to have been invited.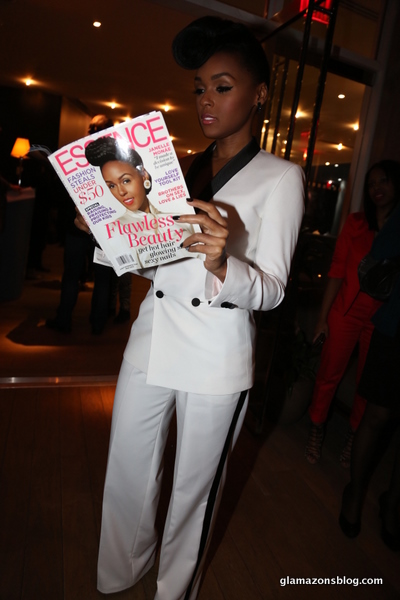 Congratulations again to Janelle Monae and thanks to Essence Magazine for having me!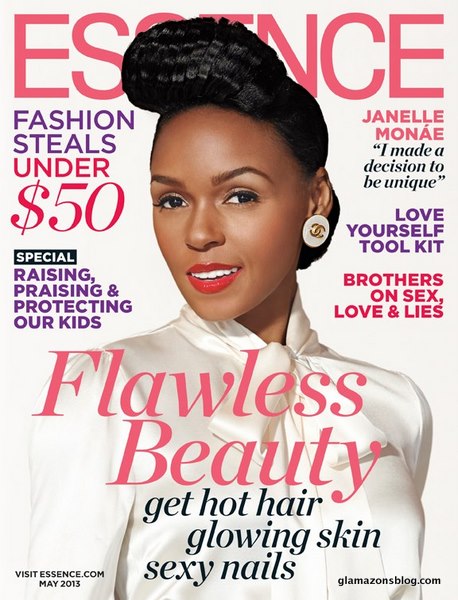 Kisses,
Glamazon Jessica
Images: Yours truly. Johnny Nunez.
View Related Posts:
[fbcomments width="600" count="off" num="15"]