A Day In The Life: BET's Rip The Runway Taping with Kelly Rowland, Jada Pinkett-Smith and Boris Kodjoe
Friday, March 1, 2013
Glamazons,
After the dust has settled from New York Fashion Week and my feet are no longer sore from running around the city, I always look forward to BET's "Rip The Runway" (RTR) taping.
RTR, which airs March 20th at 10P/9C on BET, fuses style and music for an exciting, eventful show that's always entertaining to watch.
Hosted by the beautiful Kelly Rowland and fiooone Boris Kodjoe, this year's show included killer performances from everyone from Rick Ross to Luke James and exciting brands like Willow Smith and Jaden Smith's MSFTS (which they told me about at the BET Awards) and Boris Kodjoe's Alfa line.
I got all dressed up to hit the taping at New York's famed Hammerstein Ballroom, with my friends Sandrine and Chris of Fresher Than Chris. I laughed and danced and snapped pics from the top balcony, and had a blast.
Here are my five top highlights from the show:
1. Ms. Kelly Rowland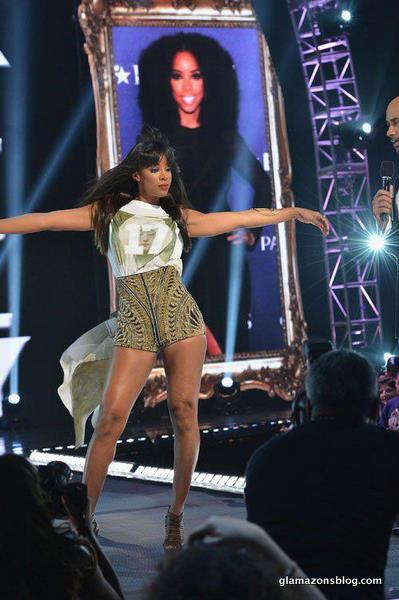 So you know how Kelly Rowland's legs kind of stole the spotlight at the Superbowl? Well, all I heard about at Rip The Runway was "when did Kelly R. get a butt?" Yep, she was killing it in a pair of gold shorts that are now inspiration for me to do extra crunches.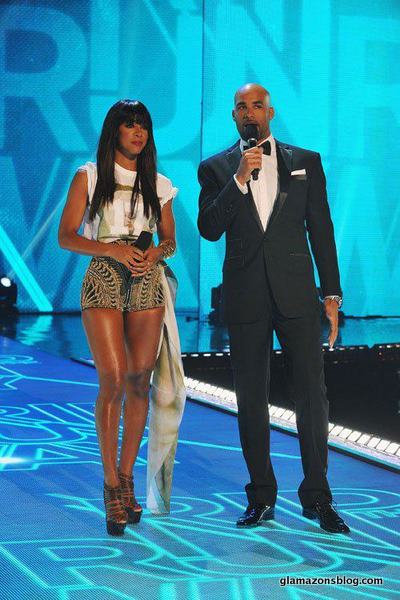 Gold shorts included, her outfit changes were the talk of the night. She wore a red and white turtleneck Balmain mini, a floor-length gold shimmering gown and a white keyhole cut-out with a floppy black hat in shoes from Giuseppe Zanotti to Christian Louboutin.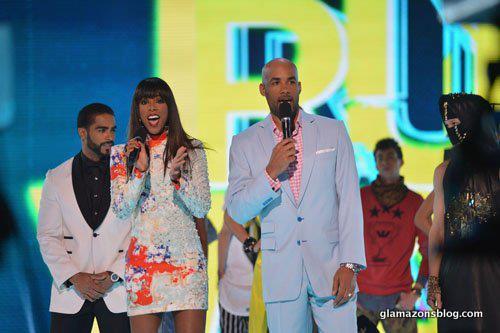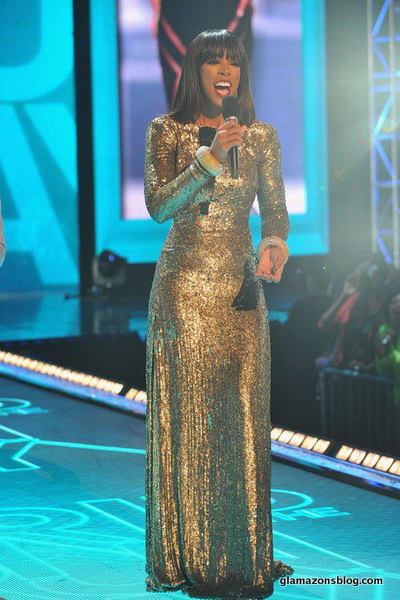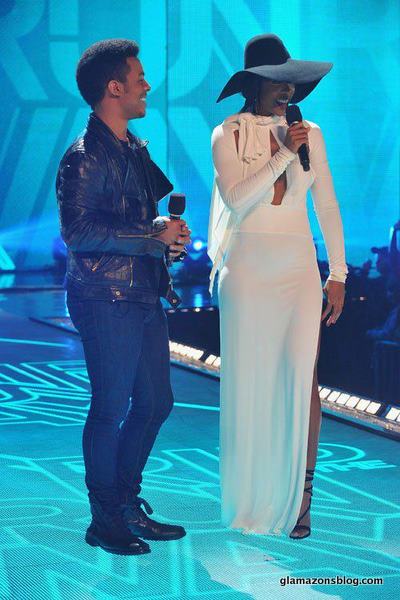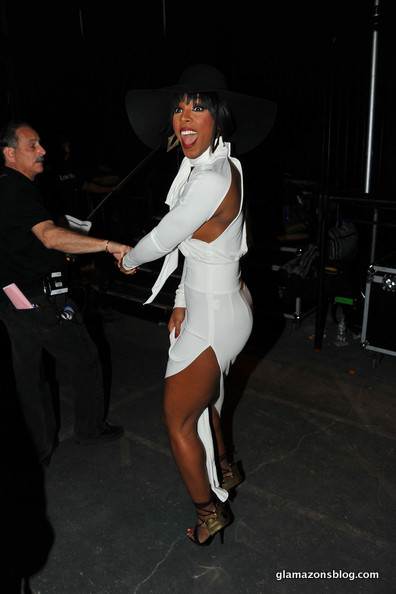 She obvs slayed every look.
My favorite part of the show is when Kelly got candid about how her style evolved on the red carpet. She first showed us a fashion fail (a yellow halter dress that could've doubled as a tank top) and then, her best-dressed moment at the Grammys in a Georges Chakra Couture gown. She's come a long way and I love that she's honest about the journey.
2. I want to squeeze Willow's cheeks!
Willow and Jaden Smith are freaking adorable, I can't stand it. The siblings and their Mom, Jada Pinkett-Smith, hit the red carpet at "Rip The Runway" looking fashion-forward of course.
Jada wore an Iro 'Tery' colorblock crepe jumpsuit and Christian Louboutin 'Boudubou' booties.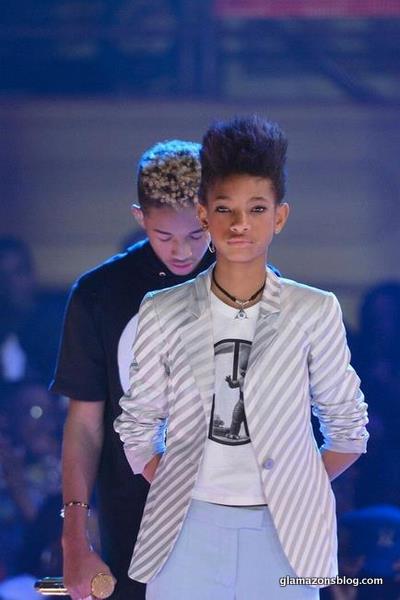 And then Jaden took the stage to perform while Willowmodeled from their new line, "MSFTS."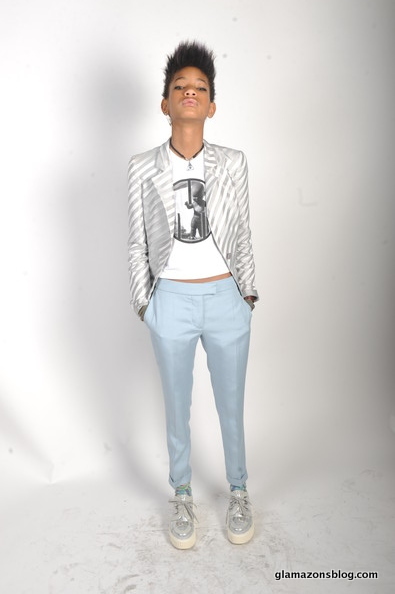 "MSFTS" is as edgy as it sounds with graphic tees, colorful blazers, oversized pants and models in masks storming the catwalk. These two are a creative force to be reckoned with, and I'm here for it all.
3. Boris Kodjoe shows his Alfa line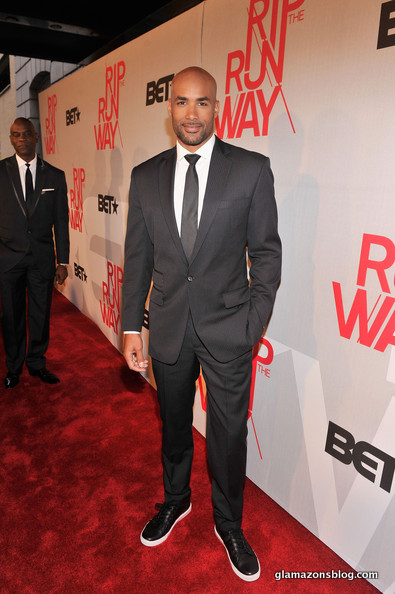 Remember when we gave you guys the tea that Boris Kodjoe is not only a fine actor and hubby to beautiful Nicole Ari Parker but a designer as well? He totes his Alfa line as revolutionary in mens fashion as you can custom design your look online and pick from a wide variety of sizes to suit your unique measurements.
He presented it on the runway for the first time at RTR to the sounds of Sevyn Streeter and the pieces were polished, dapper and cool. The custom aspect makes Alfa stand out from the myriad of menswear brands, and should make it a hit among men who want their look to be one-of-a-kind. Loves!
4. The Performances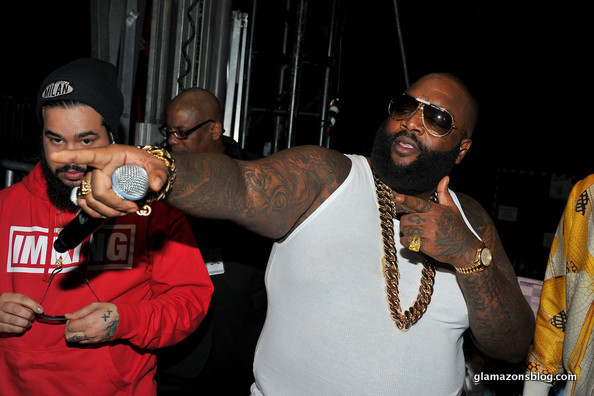 When any show is being produced on BET, you can guarantee the music will be worth watching. RTR was no exception with standout performances by Rick Ross (the crowd went WILD when he came out), Trinidad James (he said…"Popped a molly I'm sweating, Woo" with the hand movement…a record four times! Yes, that all it takes to make my night) and Sevyn Streeter, who has the voice of an angel (If you don't know her now, you will!).
5. The Curvy Girls Segment
But my faaavorite part of the show is undeniably the Curvy Girls segment, where gorgeous, full-figured models like my love Chasity Saunders bring beauty, style and sass to the runway. Last year, they walked while Robin Thicke crooned (and I got my life!) and this time around, Omarion sang which made every girl in the room scream at the top of their lungs.
But I was more fascinated by the fashions. I especially loved the curve couture gowns designed by Shanda Freeman, who is married to Fat Man Scoop, with details like metallic panels and fringe that would look amazing at any formal event.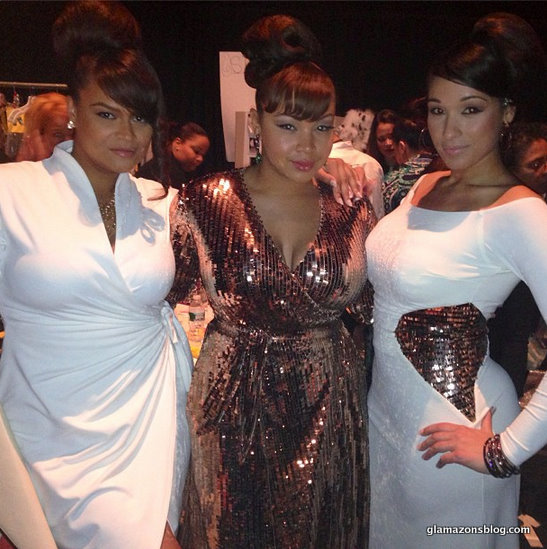 Sickening! — All and all, I enjoyed the show and hope you like it just as much I did when it airs on BET on March 20th.
Check out more pics here:
–
Which part are you most excited to see? Tell me in the comments.
Kisses,
Glamazon Jessica
Photo Source: YBF, EverythingYNTK, ShandaSays.
View Related Posts:
[fbcomments width="600" count="off" num="15"]