Marsha Ambrosius Shares Her Hair Secrets PLUS Why She Loves Dark & Lovely Au Naturale Collection
Wednesday, February 27, 2013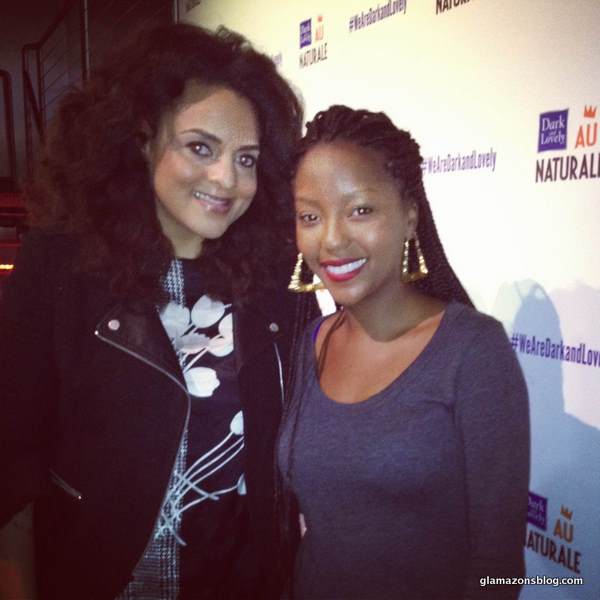 Pssst Glamazons, can I fill you in on a secret? Did you know that one of our favorite curly haired divas Marsha Ambrosius was a librarian prior to embarking on her singing career? I KNOW! Who knew?
I found out this little gem and tad bit more when I chatted with the singer at the Dark & Lovely Au Naturale launch party last week. Held at the upscale Arena event space in New York City, it was absolutely worth traveling in the freezing temperatures for.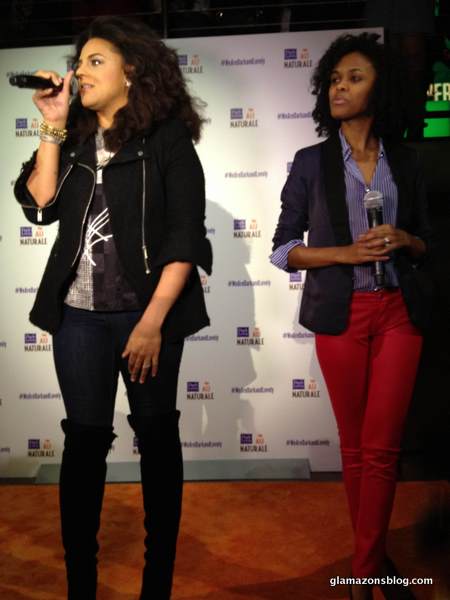 Stepping in last minute for an ailing Chrisette Michelle, the British songstress Marsha Ambrosius and gorgeous natural hair blogger Curly Nikki hosted the fun-filled soiree.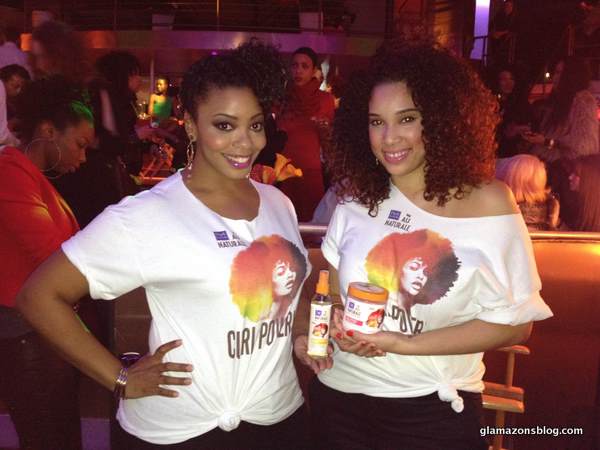 Okay, wait, I know what's you're thinking. Dark & Lovely does natural products? You're completely shocked that I mentioned Dark & Lovely plus Au Naturel in the same sentence. Well, I was just as skeptical the first time I heard about this unlikely combination. But let me explain how they won me over.
For the longest time, the brand has been synonymous with providing women of color with a premium brand of relaxer products. Fast forward to 2013 and the company is now stepping into the natural hair industry.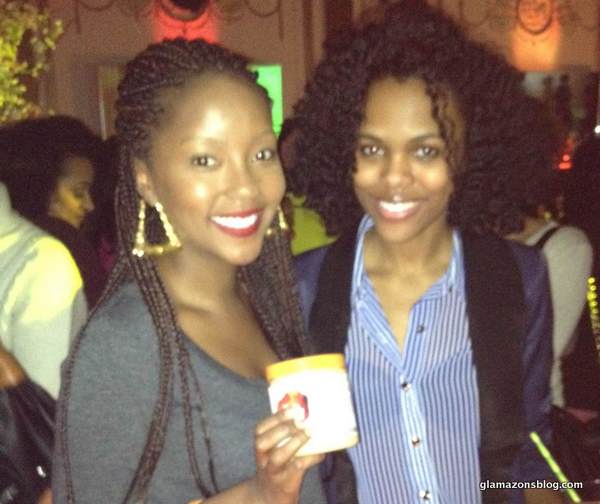 Newly-minted author Curly Nikki put it best when she spoke to crowd and declared "women that chose natural hair were marginalized in the past but now we are on TV, at the Oscars, in boardrooms with more and more women going natural." I agree with Nikki, natural hair is more than a seasonal trend. It's here to stay. It's a beautiful thing to see more brands starting to accept that reality and create high quality products for our hair.
And Marsha Ambrosius swears by them. I got a chance to sneak in a quick chat with Marsha and of course I asked her if she's used the product. Her response? "Hell yeah, I've used it. My curls have stayed and it smells great because of it."
Speaking of her hair regimen, the chanteuse told me that "its a process but I love it. But if I don't keep up with it that's when the problem comes into play."
The "Butterflies" singer revealed more about her hair maintenance plan: "it's lot of leave-in conditioner. My biggest thing is moisture and my hair losing it's moisture. Especially in the winter, it can get really temperamental. With this Dark and Lovely Au Naturel set, it's given me everything that I need. It has bamboo milk and mango oil which is everything I would have done as a home remedy. My hair keeps it's moisture and also keeps the curls in tact."
And while we're talking about keeping up with your coif, Glamazons, have you ever found yourself in this hairy situation: your Afro starts out fabulously Diana Ross-huge and as the day progresses it shrinks into a miserable mess! UGH. I've so been there.
Well, the Dark & Lovely products provide anti-shrinkage goodness that really elongates the hair and gives you long-lasting curls. And the products are made with mango oil and bamboo milk meaning they smell so good you might just want to eat them. LOL.
Usually at these kind of parties, you'll receive a small gift bag with unsavory items which you toss in the trash on the way out or re-gift later (haha). Lucky for me, this wasn't that kind of party. Everyone received the entire Au Naturale full size set including:
Hydrating Soak Shampoo
Knot-Out Conditioner
Curl Defining Creme Glaze
Curl Moisturizing Souffle
Sheen Sealing Nectar
10-in-1 Styles Gelee
Nioce!
Adding to the incredibly cool factor of the night, DJ Amanda Seales delivered 110%. I mean she had the crowd rocking. You guys know nothing makes or breaks a party than a DJ.
When we weren't tearing it up on the dance floor doing the tootsie roll, the crowd received top tips from professional stylists on how to use the products.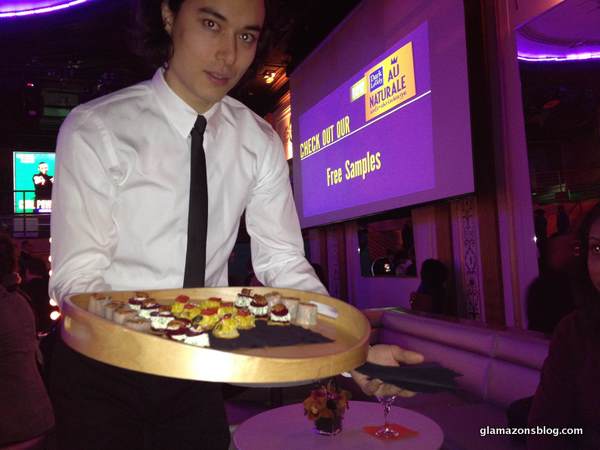 Dark & Lovely also kept our bellies full throughout the night with guests nibbling on finger food and sipping a tasty assortment of wine and premium liquor.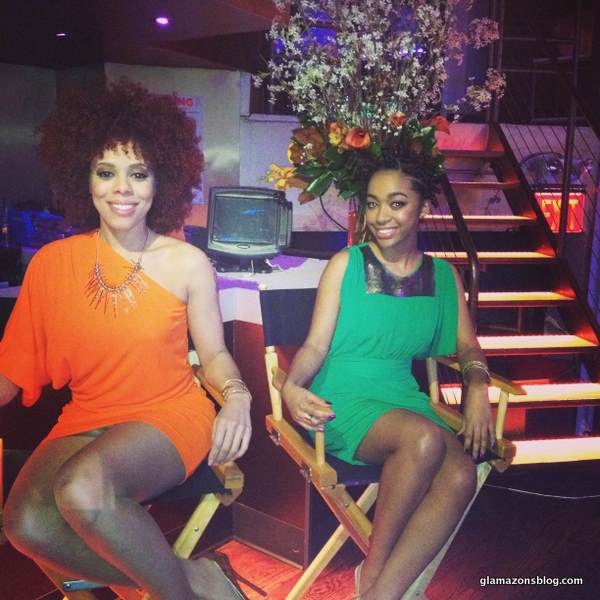 As I was walking out of the party, I heard one of the attendees mention that she hadn't partied like that with like-minded positive women in a long time. Too often you hear stories of women being catty and unable to vibe together or just relax and have an obscene amount of fun in a group setting. It was refreshing to be the exception to that rule.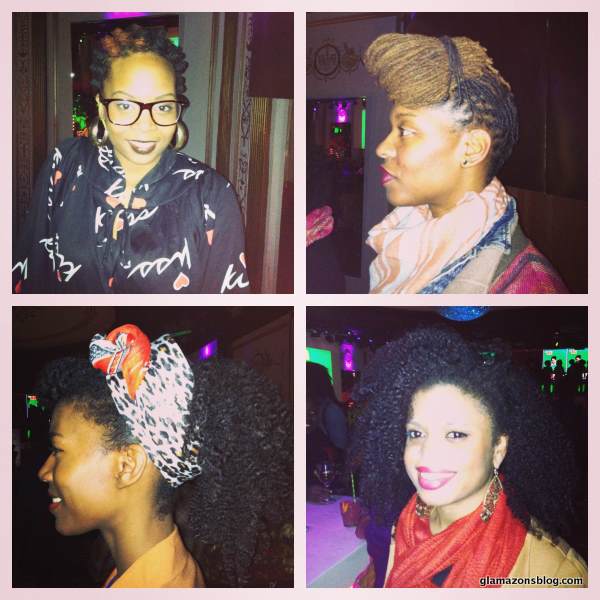 And all the beautiful natural hair girls in the room, like these lovely Glamazons above, were the icing on the fabulous cake.
xo,
Glamazon Makho
View Related Posts:
[fbcomments width="600" count="off" num="15"]