GLAM SCOOP: PETA's Mad at Beyoncé, Rihanna for Elle UK and Marchesa Designer for JCPenney In Stores
Thursday, February 28, 2013
Happy Thursday, Glamazons!
Can you believe Scandal won't be on for three weeks? THREE weeks?! What on Earth are we supposed to do in the meantime?
I'm literally waiting for the subway train wondering how Fitz is going to react when he finds out that Liv and Jake are dating as if I know them. As if they're even real people. And I have to get through three weeks without updates on their lives. Le sigh.
I plan to go knee-deep in Scandal Fashion Recap posts to get my Olivia fix so stay tuned for those. In the meantime, here's what's happening in the real world:
–Beyoncé is like a well-dressed Mother Teresa these days, and I'm here for it, Glamazons. The Pepsi spokesbeauty has joined Salma Hayek and Gucci's Frida Giannini for a Womens Empowerment campaign called "Chime for Change."
The foundation will help women in education, health and justice by accepting donations through their site and telling powerful stories through ten short films. The films will even feature new music from Beyonce (which means her new album will have new girl power anthems!).
Check out the video manifesto below:
—

—
Love it! – The Daily Beast
-When I have a rare moment to relax and I'm sitting on my couch, eating chips while watching "Law and Order: SVU" marathons, I'm pretty sure I look like a slob or a "couch monster" as my brother rudely calls me. Naomi Campbell, however, looks like a goddess. The proof is in her new editorial for V Magazine, "Prime Time," which proves she really is as perfect as we thought. – Fashionista
–PETA's mad at Beyonce's custom "King Bey" Isabel Marant wedge sneakers which were customized by PMK with exotic skins like stingray. They also hate her homie Kanye West and mother-to-be Kim Kardashian so atleast she's in good company. – E! Online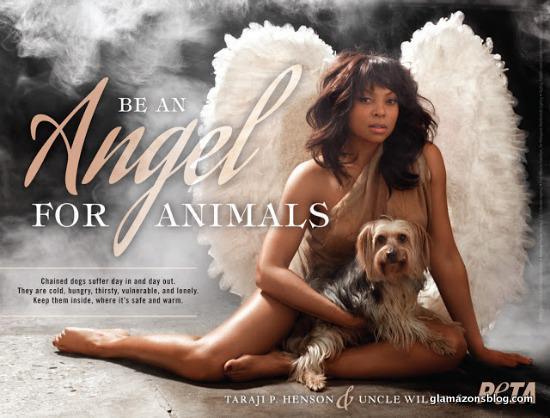 -Speaking of PETA, Taraji P. Henson does incredible shoots for them! Her first nude ad was a stunner and in her latest, she dresses up in angel wings and poses with a dog, Uncle Willy. Gorgeous, no? – The YBF
-More pictures are in from Rihanna's shoot for Elle UK and I'm officially obsessed with her haircut. Seriously, it slays all her other looks and frames her face perfectly, right?
No wonder Chris Brown thinks she's the most beautiful girl in the world. (Awww) – The Fashion Bomb
-And Givenchy likes her face so much they put it on a t-shirt. Yes for that red lippie! – Rihanna's Instagram
-Chile, I've officially heard it all. In Johannesburg, South Africa, folks are straight cutting people's locs off on the street and selling them on the black market for $200-$2,000 rand.
The increasing demand for hair is due to the recent popularity of crocheting, a practice where human hair pieces are attached to short hair to create instantly long locs. Now folks are holding people down, shaving their heads and trying to sell their locs to salons. Crazy! – Clutch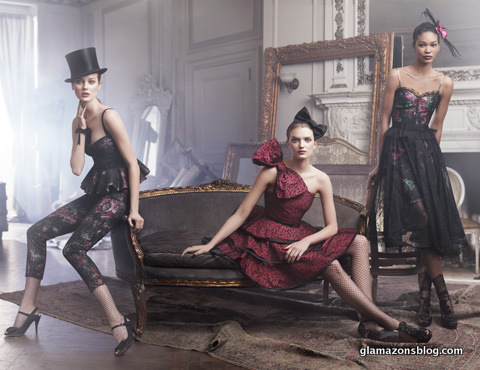 If you have swooned over many a Marchesa gown on the red carpet, this news is a dream come true. Marchesa designer Georgina Chapman's collection for JCPenney, a 78-piece line of gowns and cocktail dresses, is in stores March 1st but available online now. – Glamazon Diaries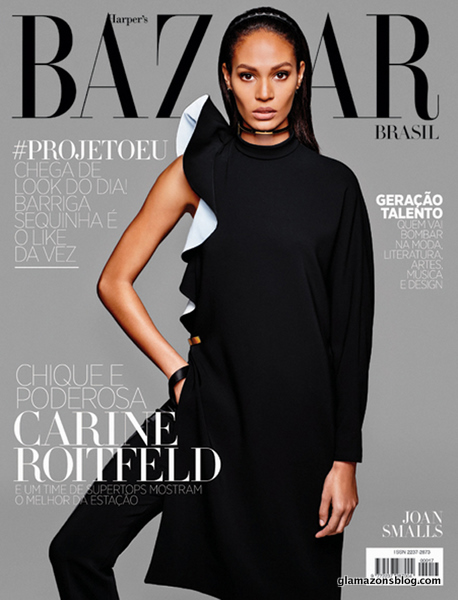 –Joan Smalls proves again why she's the #1 supermodel in the world on the March 2013 cover of Harper's Bazaar Brazil. Pay homage to those cheekbones! – Beauty Is Diverse
Until tomorrow!
Kisses,
Glamazon Jessica
View Related Posts:
[fbcomments width="600" count="off" num="15"]