Glamazon Jessica's Personal Highlights of 2012: President Obama, The New York Times and More!
Monday, December 31, 2012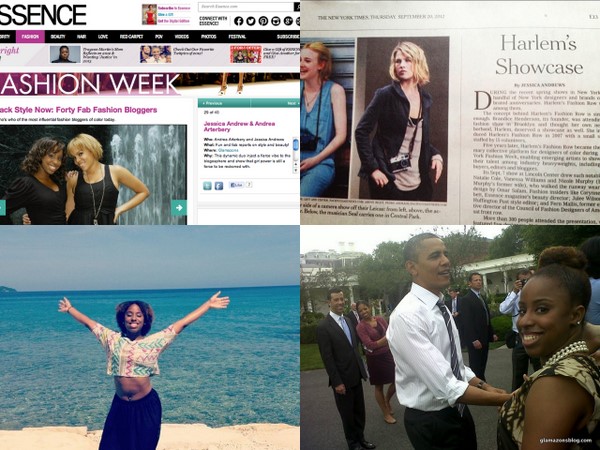 Can you believe 2012 is already over? It flew by, no? Well, this has been one of the most incredible years of my life.
I've accomplished so many things I dreamt about but I also understand there's so much more to life than just professional success. The best moments for me were taking better care of my health, growing spiritually and the times when I stepped out on faith, took huge risks and saw great reward for it.
Here are four moments in no particular order that made this year amazing for me:
-Meeting the President and First Lady Michelle Obama!
It's no secret that I love POTUS and FLOTUS so being able to shake hands with them this year was a dream come true. I can't believe I actually hugged Mrs. O (ahh!) AND remembered what I wanted to say to them (not to mention I said it without crying, shaking or fainting)! The best part about meeting them is how warm, friendly and approachable they are despite all their power and fame. To say they are an inspiring couple is an understatement.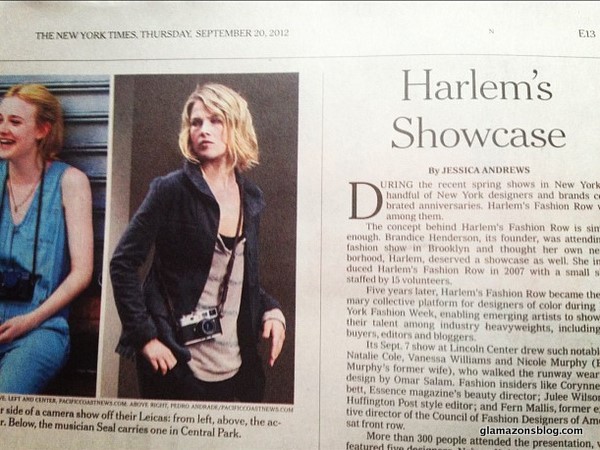 -Writing for The New York Times!
I've wanted to be a writer for as long as I can remember. I had big dreams of moving to New York City, spending my days away typing away on my laptop like Carrie Bradshaw and becoming a successful journalist. I thought it would be as easy as Carrie made it look (I mean, she just walked into Vogue and got a job, right?).
But when I took a job at The Magazine, my dreams quickly began to deteriorate. I was in a tough, thankless role that didn't give me the chance to write a word. I felt like a failure. Now, I see the experience and connections I gained from The Magazine set the foundation for my future accomplishments. I've written for MTV (after applying for six years!) and this year, I was even published in The New York Times! I appreciate those successes even more because I see how far I've come. Seriously every time, I go to a cafe, set up my laptop and write articles for various pubs, I want to pinch myself.
After all the all-nighters and crying fits at The Magazines, the subsequent jobs I had where I wasn't being paid on time (ahem) or randomly was fired or laid off, I am finally, finally, living my dream. And writing F/T is not without its challenges, but it feels good. I still have a very long way to go but am blessed to have made it this far!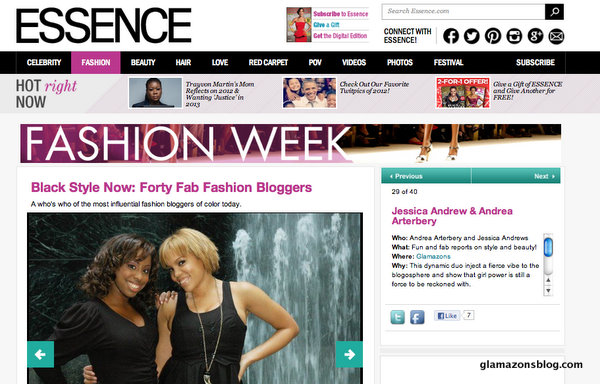 -This Blog!
I love Glamazons and appreciate all of you guys for reading so much! It started as a way for me and Glamazon Andrea to write during The Magazine days and has evolved to become so much more. Blogging on Glamazons really is one of my favorite things to do.
We've grown so much since we started and especially last year. We joined The Glam Network and were featured in a 40 fashion blogger roundup on Essence.com, in a video on Ebony.com and on Vibe Vixen (I was Vixen of the Day! What an honor). As happy as I am for our current success, I'm ready to take it to the next level and that requires a lot of time, dedication and courage.
I've always had a typical 9-to-5 job but am devoting more of my working hours this coming year to this here blog. No risk, no reward, right? I'll also be sharing more of my personal life and style (thanks to encouragement from my amazing blogger bestie LoveBrownSugar). You only get out of life what you put in, and I plan to give this site 100%!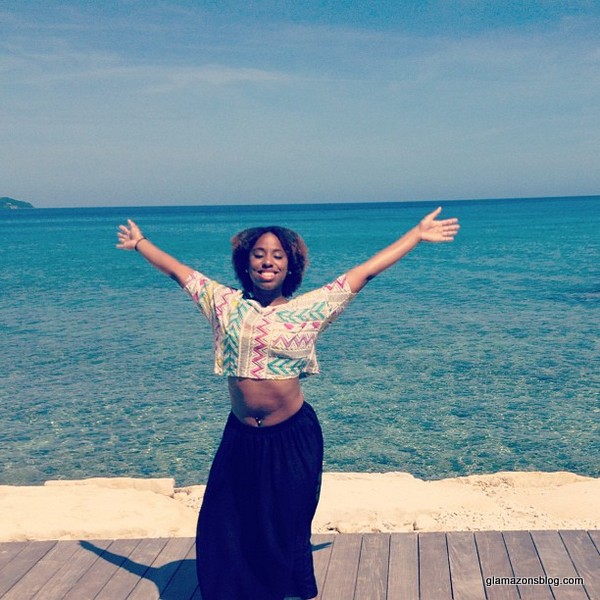 -Finding A Better Work/Life Balance
So not sure if you were aware of this, but I am a total workaholic. And I quickly realized that in order to be content, my life needed more of a balance. It's not enough to check boxes off my list of career goals, if my emotional, physical and spiritual health is all out of whack. Like, who wants to wake up with a whole bunch of accomplishments and not be truly happy?
To get my life in order, I started prioritizing things that actually matter. I spent even more time with my amazing family, focused on my spiritual growth by going to church regularly and studying the Bible, enjoyed my favorite hobbies (I looove to cook and learn new dishes; and to travel), fell in love, and surrounded myself with loving, positive people.
Going natural really inspired me to pay more attention to my health (I suddenly had to pay attention to the ingredients of products I was using and when you're not eating right, natural hair shows it!). Inspired, I got into a realistic workout routine at the gym and have been eating much healthier than I ever have.
It's amazing how much I was lacking by just focusing on one area of my life. I feel much more grounded and centered now and there's much more to do.
So for all those reasons and more, 2012 has been a year of challenges but most of all, growth. I know 2013 has so much more in store!
To start the year off, I'll be working on another vision board. Last year's board had a picture of a woman working out and traveling, a happy couple and The New York Times and MTV logos. So yeah, I totally recommend it for mapping out what you want for your life and having a constant visual reminder pushing you to go for it and make it a reality.
What were your highlights of 2012? What are your goals for 2013? Tell me in the comments.
Vision board post to come!
Kisses,
Glamazon Jessica
View Related Posts:
[fbcomments width="600" count="off" num="15"]